Disclosure: This post may contain affiliate links. We receive a small commission at no extra cost to you when you make a purchase using some of our links.
Graphics Tablets can replace the paper and save manual drawing hours. These drawing tablets now gripping itself firm in the markets. Wacom Tablets are one of the best drawing pad. These days, many artists and illustrators have started to show their passion for using tablets for their art jobs. A good graphics tablet support a lot of features includes with greater responses, accuracy in drawing, multi color support, and a direct link to PC, etc.
Here, we've got you some of the best digital drawing pads that are quite innovative and trustworthy.
Wacom Intuos Pro
The Wacom Intuos Pro is an exclusive drawing pad designed for hardcore electronic artists that sketches. Wacom tablet converts these sketches into digital art from start to finish and exports them as vector files. You can either start your artwork on paper or can start directly on this drawing tablet. This graphics tablet is of the same size as that of the regular paper. To draw digitally, just remove the paper and its clips off. The Intuos Pro comes with a pressure sensitive pen with a greater tilt response. The 8200 pressure levels see to it that there is barely any lag and provides you with more accurate stroke controls.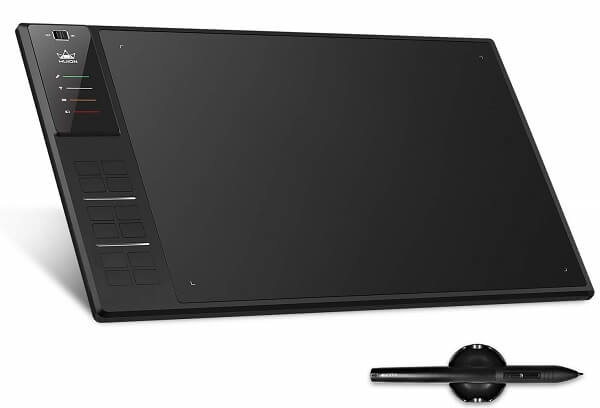 Moreover, you can work wirelessly and can send and receive files by just connecting it over the Bluetooth. Whatsmore, these Wacom tablets work with any software programs. The drawings created in the paper mode can be imported into your PCs or smartphones via the Inkspace app. Even after converting the paper drawing into digital art, you can add them into the Adobe Suite or other editing apps for further editing works accordingly.
Buy from Amazon: Wacom Intuos Pro
Also Read: 10 Best Drawing Apps for iPad to be More Creative and Artistic
Huion Kamvas Pro
The Huion Kamvas Pro is a 13.3″ tablet that suits artists and kids who love to live in the world of digital art. This drawing pad features a robust IPS screen with reduced outer dimensions, giving you more screen area to work on. The tilt function battery-free stylus comes with 8129 pen pressure levels that provide greater stroke response and pleasant drawing experience. Plus, the pen gives you around 60 degrees of natural tilt recognition also. Coming to the dimensional aspects, this pen tablet is less than a kilogram, making it easy to carry wherever you go. The thickness of around 11 mm makes it quite compact among its competitors.
Whatsmore, you can also adjust the viewing angle according to your need, thanks to the adjustable stand that comes with the delivery. The Kamvas Pro a 3 in 1 USB type C cable that helps you connect your Mac or PCs easily. This pen tablet is compatible with Windows 7 or later and Mac OS 10.12 or later. A thing to note is that you need an active PC connection to draw your artworks on the Kamvas Pro. Also, you cannot really get your drawings directly from paper into the device, like that of the Wacom tab.
Buy from Amazon: Huion Kamvas Pro
Wacom Cintiq Pro
The Wacom Cintiq Pro is yet another mainstream drawing tablet that has made quite a lot of admirers in within a short period of time. The Cintiq is one of the most suitable drawing tablets for pros who take digital art quite seriously. This Wacom tab features a 23.6" touchscreen LCD display that supports the 4k resolution and gives you each and every minute detail without getting pixelated. The 4k resolution helps you get greater drawing accuracies and helps you manipulate your strokes with a greater level of detail. The Cintiq comes with the Wacom Pro pen with tilt and pressure recognition technologies.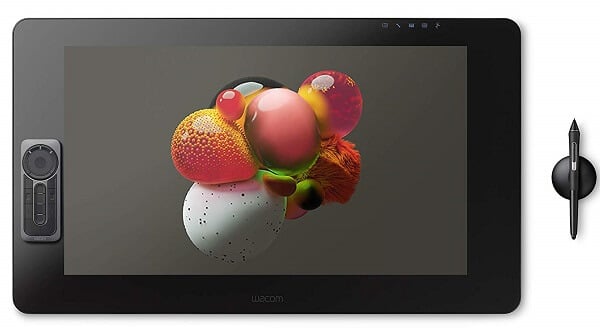 The 8192 levels of pressure sensitivity give you exceptional stroke controls and accuracy. In fact, with this Wacom Pro pen, there is literally any lag while you draw your artworks on the tab. Other technologies such as the optical bonding eliminate parallax and mimic the feeling you get while drawing on the normal paper. The Cintiq connects directly to your PC or Mac through the common USB-C cable and the HDMI port. It works with all major editing and manipulating software such as the Adobe Illustrator, Lightroom, etc.
Buy from Amazon: Wacom Cintiq Pro
Also Read: 6 Best Cross-Platform Note Apps for Windows, Mac, iOS & Android
Huion Giano
The Huion Giano is a compact drawing tablet that is intended to meet the needs of budding digital artists. This drawing pad approximately 14 inches wide with around 8.6 inches of workspace. This graphics tablet features navigation and other necessary buttons on the remaining screen area. The screen texture is more or less close to the fine paper and you can feel it a bit smoother. This graphics tablet comes with a pressure sensitive pen that gives you smooth texturing. The fine level pressure sensors make it easy to do strokes with ease.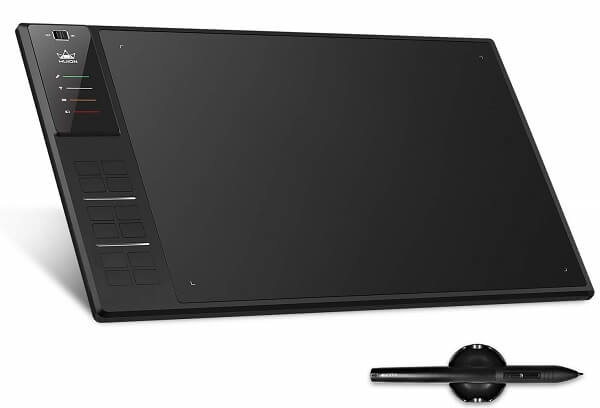 The 2048 pressure levels and the smooth handy design makes it the best stylus pen yo pair it up with the H610. Unlike other smart drawing pads mentioned above, this digital drawing tablet comes with an internal 2000mAh battery that gives you around 40 hours of continuous usage on the wireless mode. The charging time clocks at around 5 to 7 hours to get fully charged. Also, it is compatible with all major editing and digital art software. It works well with the window 7 and the later versions and Mac 10.8 and above.
Buy from Amazon: Huion Giano 
HUION H610
The Huion H610 might resemble the Intuos Pro at the first look but unlike the later, but this one we got here is a budget-friendly drawing pad. This digital drawing tablet meets the needs of budding digital artists and kids who love to create doodles and illustrations. With this graphic drawing tablet, you get 10"× 6.25", giving you ample area to create and edit your artworks. Also, it comes with 8 hotkeys that are useful for navigation and other selection purposes. It has 2048 levels of sensitivity. Yes its limited from that of the top ones mentioned above, but the H610 does give a good fight of its own.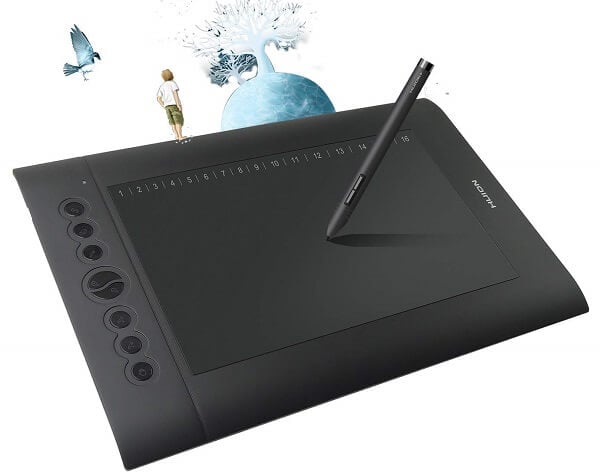 The tablet is wired and goes into your Pc or Mac via a USB connector. The pressure sensitive pin that comes with the H610 has an internal battery slot that can accommodate a AAA battery. It has a nib that has a stroke control which has the ability to control the level of stokes. Finally, coming to the compatibility part, this drawing pad works well with Windows 7 and their versions. If you use the Mac, make sure your system is above 10.8. it also works well with most of the graphics software like Adobe Photoshop, Illustrator, sketchbook, etc.
Buy from Amazon: Huion H610 
UGEE M708
The UGEE M708 is a compact drawing tablet that's quite budget friendly and innovative. It offers a good degree of customization and other options at a reasonable price. This graphic drawing tablet is of 14" and comes with an active area of 10", which is a fairly good size and fits the average user. The remaining area is occupied by right express keys that help you program and navigate through files, software etc.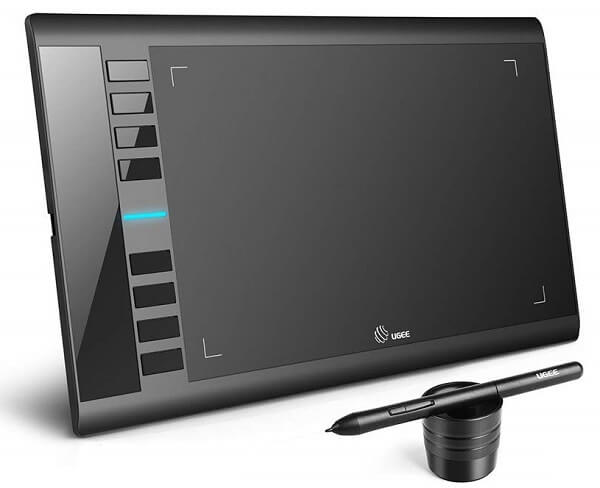 The stylus features 2048 pressure sensitive levels that allow you to scribble a good amount of thin and thick lines easily. The stylus also has a good rubber grip that reduces finger fatigue. Additionally, the stylus works with a AAA battery. You need to get yourself one in advance as batteries are not included. Coming to the compatibility section, like all major drawing pads, the UGEE M708 works well with the Window 7 and Mac OS 10.8 and their later versions.
Buy from Amazon: UGEE M708
XP-PEN Artist 12
The XP-PEN Artist 12 is one of the newest drawing pads to hit the markets. It is a tablet that lets you design creative contents easily and displays contents in HD IPS display. Its ideal for photography, animations etc and suits newbies and kids and even the pros. The reasonable price tag and a couple of good features make this digital drawing pad stand out among competitors. The Artist 12, as its name suggest comes with a 12"display and gives you around 9" of an active workspace.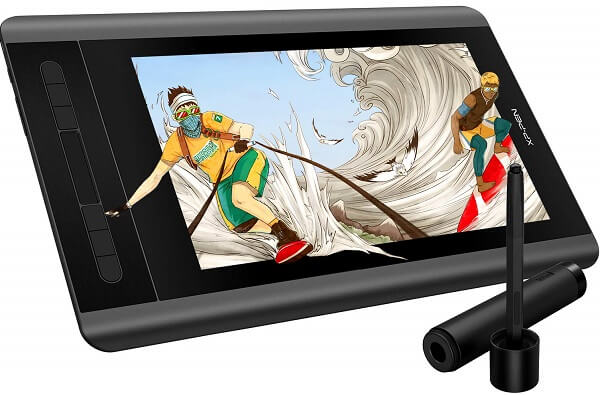 Being not too big and yes, not too small makes it famous among people as its far more portable. Also, it has 6 short cut keys that help you with some quick navigation and selections when you need. The stylus or the rapid responsive pen has 8192pressure levels that give you grater stroking responses. The pen features a unique hexagonal design that adds more stability and grip while you draw.  The Artist 12 support Windows 7, Mac 10.10 and their latest versions.
Buy from Amazon: XP-PEN Artist 12
Best Drawing Pads for Professionals
Being a graphic designer is tough work. There will be countless occasions which require you to think and act outside the box. You might require more than just PCs to get things done and hence, there are the digital drawing tablets just for you.
As you know, choosing the best graphics tablet for your projects is the key to get good quality digital artworks. While some of the tablets that we've mentioned have the same degree of features and specs, it all down to one thing, your preferences, and usage. Hence, make sure to analyze your need before jumping into conclusions. They are the top among this category of gadgets and yes they are coming at a reasonable price too.