iPad Pro is the ultimate means to draw and paint for artists and talented people. iPad Pro combined with the Apple Pencil works as a digital canvas turning every artist's dream come true. With Apple Pencil, you will get the feeling of hand drawing instead of using a mouse and computer screen. In addition to this, the big and optimized screen of the device sums up into a high fun sketching tool with the drawing apps for iPad. By using these art apps, anybody can create some exciting artworks with some basic talent.
Here is the list of the best drawing apps for iPad that gives you an amazing experience on the screen to sketch.
Tayasui Sketches
Feel the beauty of every stroke and make the more realistic drawings with Tayasui Sketches. The user interface of the tool hides while working to give the user a clean canvas with just minimum buttons. With more than 20 tools, it allows every artist to make their sketch more realistic and provide some fantastic rendering.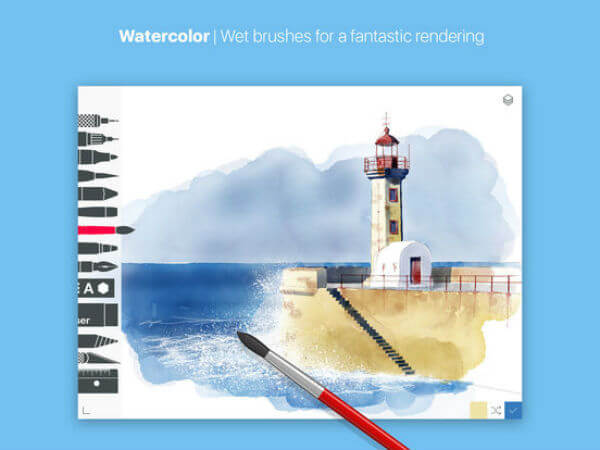 With this best drawing app for iPad pro, organize your drawings in beautiful and personalized folders. Every stroke falls perfectly as it adapts the pressure, angle as well as the width of the tip to give exact effect. Unlike other drawing apps, Tayasui sketches can export every sketch into a separate PNG format. Also with the features of transparency and layers, this excellent art app for iPad simplifies and enhances your work.
Download from iTunes: Tayasui
Related: 7 Best Graphics Tablets for Professionals and Architects.
Paper by FiftyThree
The simple, quiet interface of the app gives the users the space to create magnificent sketches. This iPad pro art app can be used for sketching, annotating the photos and diagramming. The tool's navigation is very different from the other drawing apps due to being based on gestures. Use templates like grids, lines, and storyboards to present on it for supporting your idea.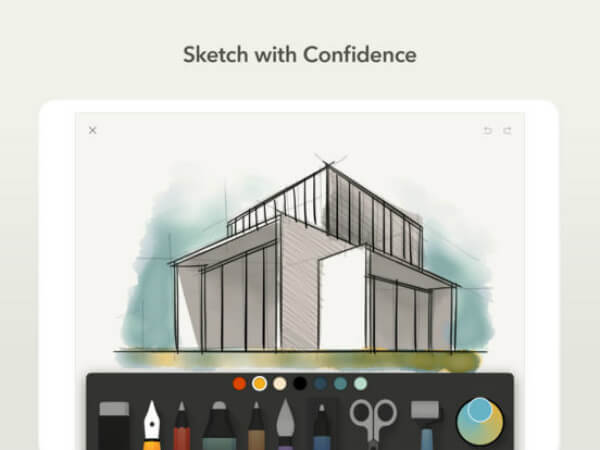 Furthermore, you can arrange the drawings and sketches in your set of journals with beautiful covers to enhance your creative space. Unlike other iPad pro drawing apps, the user can handwrite their notes and even undo the movement with a quick gesture. Upgrade to Paper Pro and get additional features to take the creativity to the next level.
Download from iTunes: Paper
Drawing Desk: Draw, Paint, Color & Sketchboard
Want to create some impressive artwork? Then Drawing Desk is your ultimate destination. It is one of the best drawing apps for iPad pro users with its multiple unique modes. The art app includes innovative features and concepts to maintain the excitement as well as passion.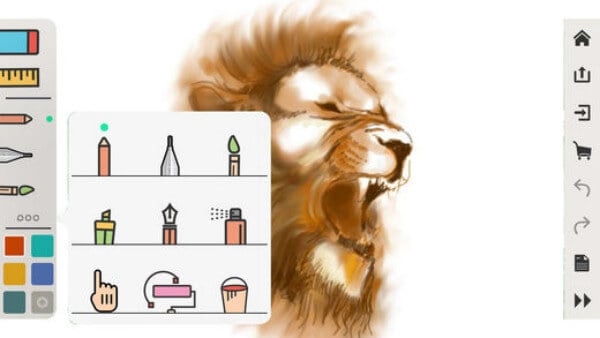 The modes in the app are named as per their offering Kids Desk, Doodle Desk, Sketch Desk and Photo Desk. By using the strokes, the user can engage in creative sketching and get brilliant results. You can import photos from social networking platforms like Facebook, Instagram, Flickr, Picasa, Pixabay and Unsplash to draw and sketch.
Download from iTunes: Drawing Desk
Adobe Photoshop Sketch
With the power of Photoshop engine and the exclusive toolset, Adobe Photoshop Sketch is the ultimate app for artists. Adobe Photoshop's latest sketch offering gives the ability to add multiple images and layers to the creations, which are easily customizable. Restack, rename, transform and merge the layers, do, as you want on the designs. Also, you can get complete control over the brush tools by changing pressure the sensitivity and velocity.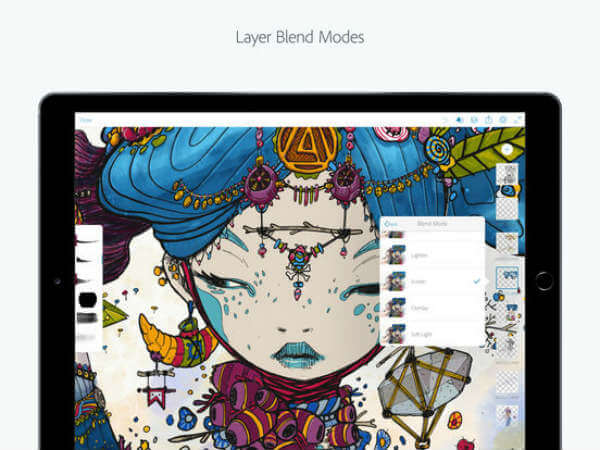 Any user can organize their favorite tools and colors in the toolbar as per their needs. With the presence of Adobe Stock, one can quickly search for high-res and royalty free image inside the app. The app gets an edge than other iPad Pro drawing apps, because of support from Adobe.
Download from iTunes: Adobe Sketch
Procreate
For many artists working on iPad Pro, Procreate inherits the most intensive sketching and painting tools available for a mobile device. The tool is optimized for iPad Pro and Apple Pencil allowing the users to work comfortably. You can perform about 250 levels of undo and redo to attain the perfect sketch on the empty canvas. With the continuous auto-save feature, avoid any worry about losing the work again.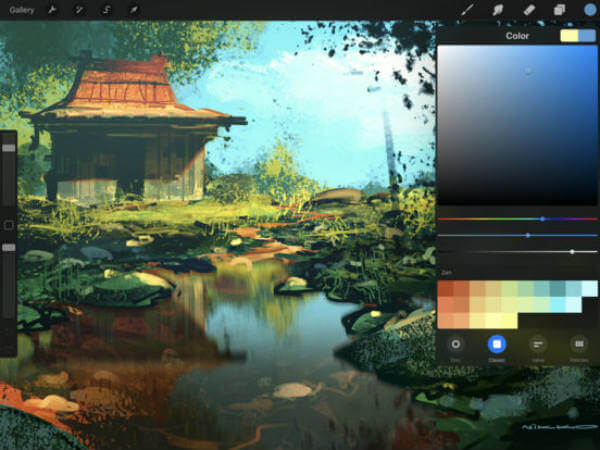 The iPad pro art app provides diverse strokes with 136 beautiful brushes with 35 customizable settings for each brush. Customize your own Procreate brushes to get the perfect touch. Procreate is highly powerful than other drawing apps for iPad.
Download from iTunes: Procreate
Adobe Illustrator Draw
Whether you want to create vector artwork or create layers with most delicate details, Adobe Illustrator Draw is the one to assist you. This best iPad pro app lets you check whether everything is perfect, using its 64x Zoom to get the exact view. Efficiently work with multiple images and draw layers as well as retitle, duplicate, unite and adjust each distinct layer to perfection.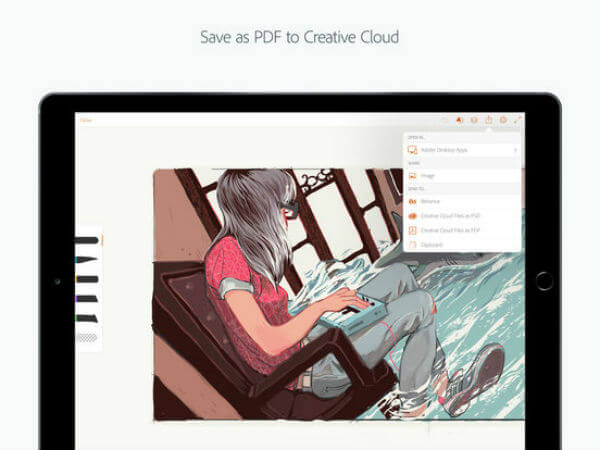 Compatibility with pressure-sensitive pens like Apple Pencil lets you draw with precision and control. The art tool offers a digital ruler that allows the artist to create straight rays, circles, squares, and triangles. Also, you get about 2GB file storage complimentary for file synchronizing and sharing the sketches.
Download from iTunes: Adobe Draw
Autodesk SketchBook
SketchBook almost inherits everything that an artist needs to create a beautiful design or artwork. It is available for the people that are creative professionals and aspiring to bring their imagination to life. The brush engine has 170 default customizable brushes for the users that mimic natural media. The rapid user interface gets you significant workspace on the device.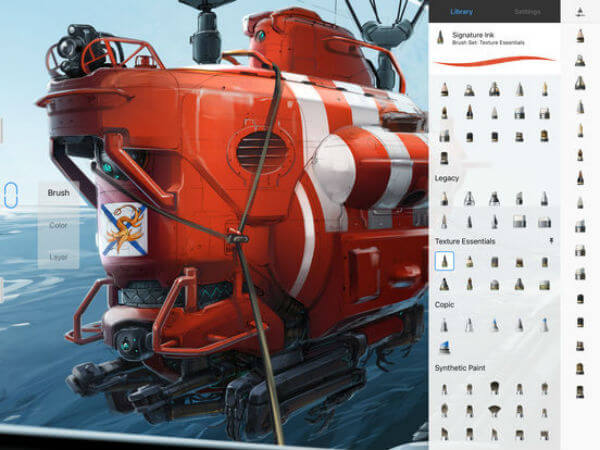 Each action is recorded allowing you to undo the changes and get back to the previous state. SketchBook can transform the line drawings on the paper into the digital form. Avoid losing your work with the Autosave option of the app.
Download from iTunes: Autodesk
Inspire Pro
Inspire Pro is there to deliver an incredibly realistic painting, drawing and sketching experience on your iPad Pro. More than 20 different settings are there for the users to customize their brush strokes with for better adaptability. Every brush can be used as Wet Brush, Dry Brush, and Eraser.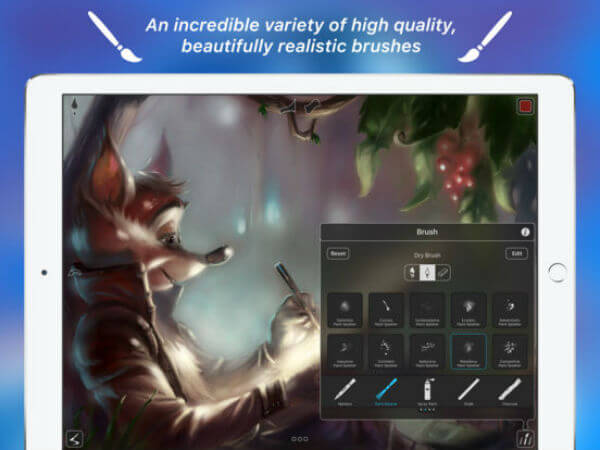 With the smart keyboard support, the user can do a lot more with 20 context-sensitive shortcuts. Over than 900 levels of undo and redo are available in the app allowing the person to work without any worry. You can save your favorite colors to a palette with a simple drag and drop to the canvas.
Download from iTunes: Inspire Pro
Pixelmator
Take full advantage and benefit of every feature of your iPad Pro with Pixelmator. Designed just for iOS, this efficient drawing app is fast and powerful for the users. Paint more naturally than ever with the Apple Pencil as it supports palm rejection, pressure, tilt and acceleration sensitivity. Open and edit the Photoshop images with ease to save them with changes.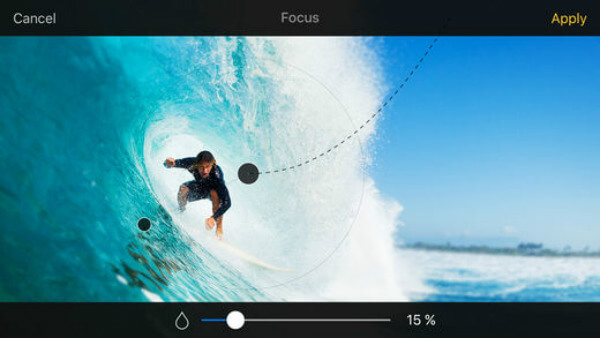 The user can apply non-destructive layer styles over the image and make it look pixel perfect. The background image is removable, and objects can be passed from one image to another. Not all drawing apps for iPad are built from scratch for the iOS 11 like Pixelmator.
Download from iTunes: Pixelmator
SketchClub
No need to just draw and paint with SketchClub on your iPad device, do a lot more within the process. Inspire yourself with the creative people all around the world and bring your thought to life by the app. The app inherits loads of built-in tool presets that regularly get upgrades from the community.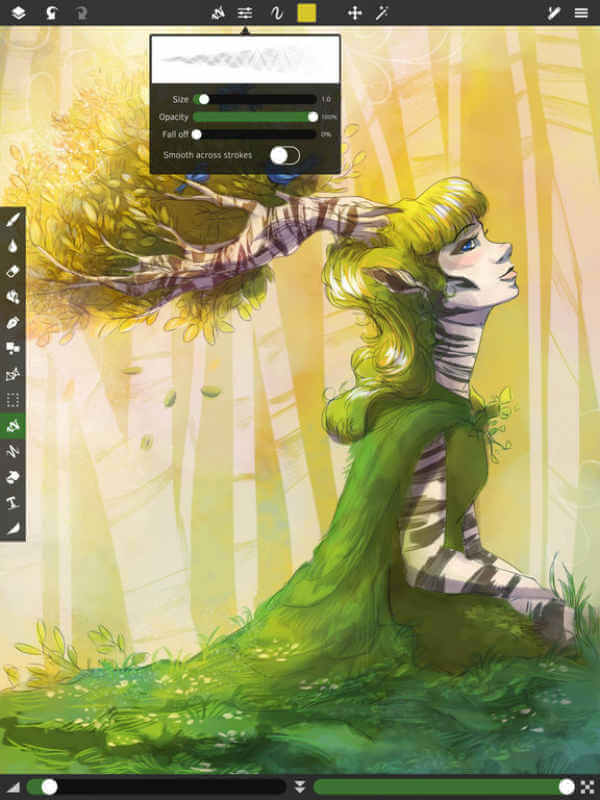 There are no annoying in-app purchases or ads to interrupt the workflow. The drawing app features some of the best designs and creations every year to promote art and designs. Live stream and chat for feedback as well as for fun while you draw on the app. The community of SketchClub is quite significant in comparison to other drawing apps for iPad available in App Store.
Download from iTunes: SketchClub
Nothing can be more creative and imaginative as drawing a figure or structure on an empty canvas. Kids and adults have the urge to draw as well as sketch their imagination out on the plain. Nothing can replace the traditional sheet of paper, but why not change with technology and adapt the new things. With the advancements in technology and presence of drawing apps for iPad, anyone can experience more flexibility with it.
Feel free to express your imagination and unleash the inner artist with these drawing apps for iPad. Use the art apps to practice and sharpen your skills to do better sketches. Almost everything in need is present in these iPad drawing apps to get started on to make a magnificent piece of art. Try any one of these to drawing app to sketch or paint on your Apple iPad Pro device.