Android has always been the more customizable OS of the two popular smartphone operating systems. However, iOS hit the ball out of the park with its recent lock screen customization features. It also introduced an emoji wallpaper generator powered by generative AI. You can at least get the iPhone emoji wallpaper generator on Android now, too.
Although, the feature is only available for Pixel devices and will probably not be released for other Android smartphones. Not by Google, at least. The new emoji wallpaper generator is part of the June 2023 Pixel Feature Drop. And it is better than Apple's implementation as well. These wallpapers follow the material in your colors and will fit very nicely with your material widgets and icons.
How to Create Emoji Wallpaper on Pixel
The Pixel Feature Drop also brings some other features such as Cinematic Wallpapers, which are available on the Pixel 6, Pixel 6 Pro, Pixel 6a, Pixel 7, Pixel 7 Pro and the Pixel 7a. However, emoji wallpaper is available on all these devices as well as the Pixel 4a, Pixel 4a (5G), Pixel 5 and Pixel 5a (5G).
Since this is part of the June 2023 update, make sure you've updated your device to at least the June 2023 update. If you meet these requirements, here is how to create your own emoji wallpapers on Android.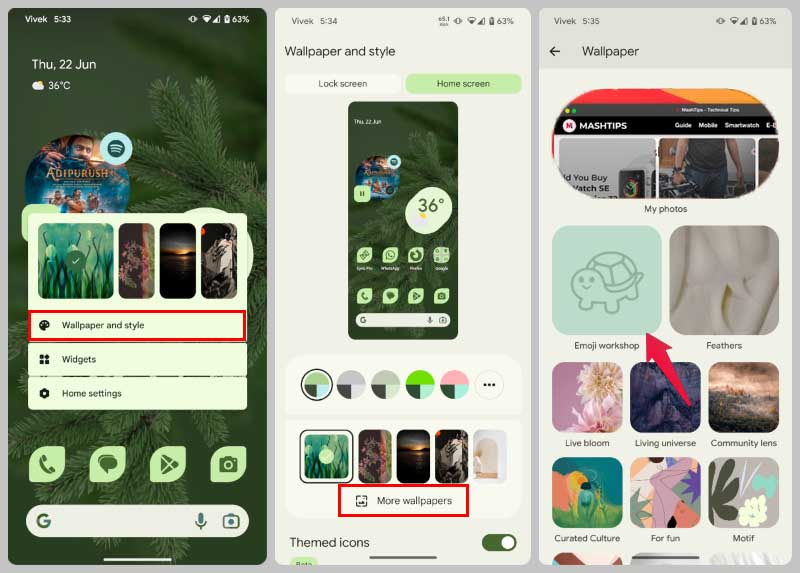 Long-press on an empty space on the home screen.
Select Wallpaper and style.
Then tap on More wallpapers.
Select Emoji workshop. This is where you can create your emoji wallpaper.
If this is your first time, you will immediately be allowed to start editing your wallpaper.
You can tap on Edit Emoji to pick the emoji you want, and you can select up to 14.
Then you can pick the Patterns, and decide how often they repeat the zoom level using the slider.
You can also pick one of the available color options, but you cannot pick a custom color.
The Randomize button can also work wonders if you hit it a few times.
When you're ready, tap on the check mark button in the top-right.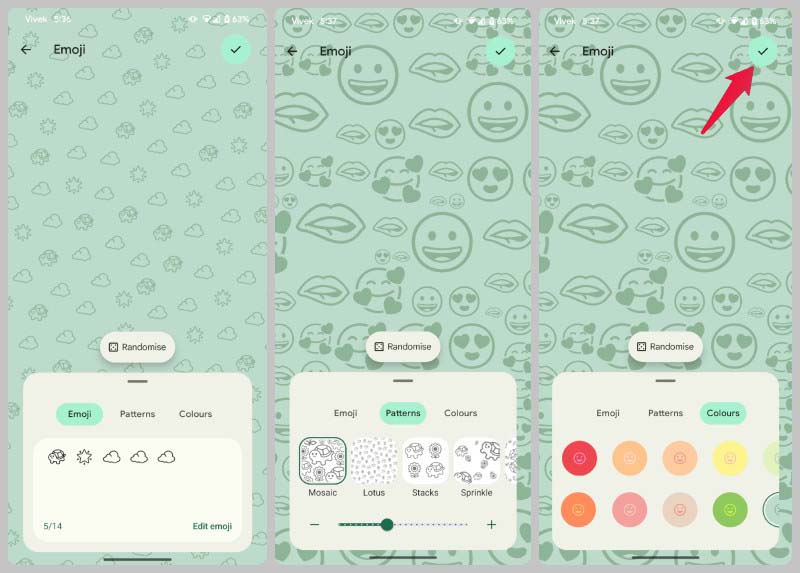 After that, you can preview the wallpaper both on the Lock screen and the Home screen. If you're satisfied with the look, tap on the Set wallpaper button in the top-right.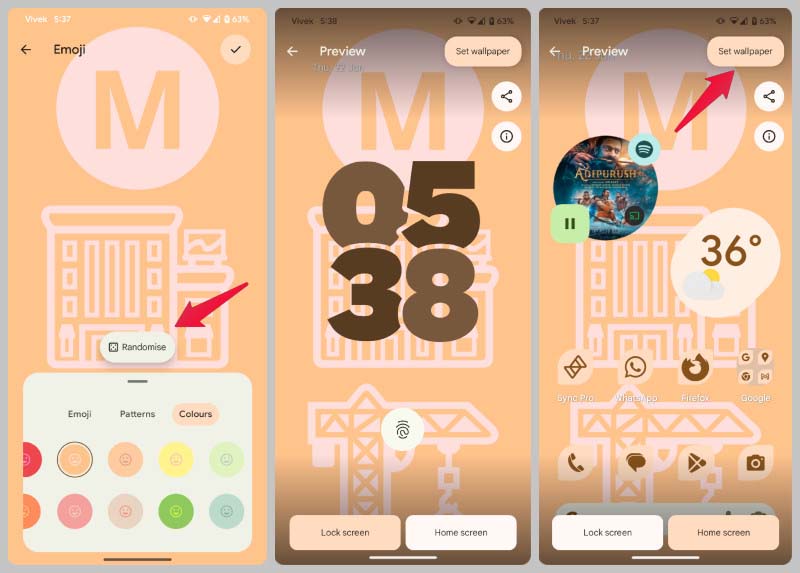 Emoji Workshop Options
If you're a little confused about what all these different options are for, here's a quick explanation.
Emoji: By default, a couple or maybe more emoji will be picked automatically for you. Bt you can tap on Edit emoji and select more or remove the existing selection. You can select up to 14 emoji all of which will show up on the wallpaper.
Patterns: There are 5 patterns for you to choose from. These are Mosaic, Lotus, Stacks, Sprinkle, and Prism. Once you've selected one, you can set the zoom level using the slider.
Colors: This is self-explanatory, but you can choose from a variety of colors for the wallpaper. There are 20 shades to pick from, and you cannot select a custom color.
Any wallpapers that you apply are also saved in the Emoji workshop, so you can re-apply them easily if you ever need to.
I don't know how many of you were dying to set emoji as your wallpaper or have the iPhone emoji wallpaper generator, but it's here now. And it does not look awful with the material your colors. Especially if you've really adopted the Material, You look at the icons and widgets.
iPhone Emoji Wallpaper Generator on Android devices marks an exciting development for emoji enthusiasts and Android users alike. Whether adding a touch of humor, conveying emotions, or simply showcasing individuality, this generator empowers users to transform their device wallpapers into vibrant and engaging works of art. Get ready to embrace a new level of self-expression and make your Android device your own with the iPhone Emoji Wallpaper Generator.