A reliable and speedy internet connection is crucial in today's fast-paced digital world. A slow internet connection can be frustrating and hinder productivity, whether you're working remotely, streaming your favorite shows, or engaging in online gaming. That's why having the right tools to test and optimize your internet speed is essential. If you're a Windows user seeking to measure and enhance your internet performance, look no further. This article unveils the seven best internet speed testing apps specifically designed for Windows. These apps will empower you to make informed decisions and ensure you get the most out of your internet connection.
Get ready to turbocharge your online experience as we dive into the world of Windows internet speed testing apps. If you want to test your internet speeds using your Windows 11 PC, we have the best ones listed below. Check them out.
Ookla Speed Test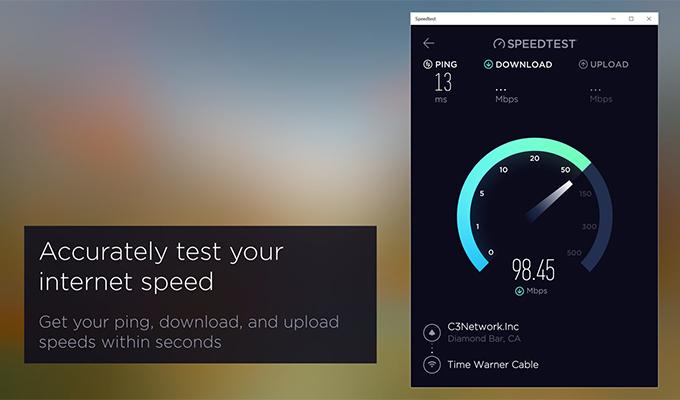 You surely have heard of the Ookla Speed test app as someone who uses their mobile devices a lot. You can now use the same app for your Windows 11 PC to test the speeds of your internet connection. You can choose between using it on your favorite web browser or getting the app from the Microsoft Store on your Windows 11 PC.
The app does everything like the mobile app. Since your Windows PC will generally connect to wifi or ethernet, the video test section is not available for the Windows version of the Ookla Speed test. The browser and the app version are simple and easy to use. All you have to do is click on the big Go buttons, and the service begins to test your upload, download, latency, ping, and jitter immediately.
Key Features: Supports All Web Browsers | Quick 20-second Speed Tests | See Latency, Jitter, and Ping | Free Speedtest App Available | View Previous Test Results | Quick Share Results |View IP Address | Display Location Coordinates
Ookla Speed Test: Web | Microsoft Store (Freemium)
Network Speed Test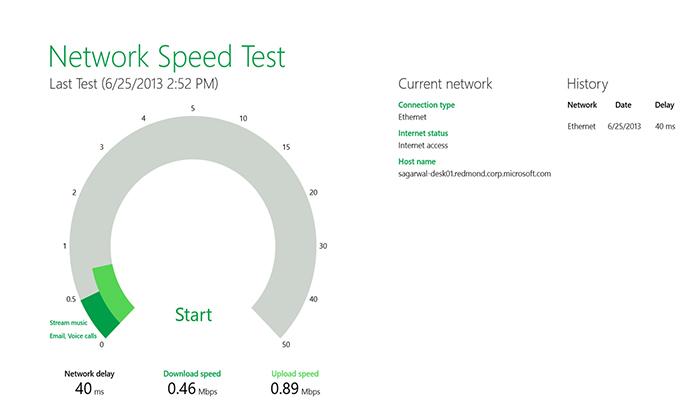 How about using an app that Microsoft has developed to test your internet speed? Yes, there is a speed test app released by Microsoft that is free and has zero ads. The app is simple to use. All you need to do is launch the app and click on the Start button. The app displays a green meter to test your upload and download speeds. You will also be able to see the network latency.
This simple app will also show you if your network can make video calls and stream low-quality and high-quality videos. You will also see the time and date you took the speed test. And yes, the app also has the option of saving and viewing your previous speed test results.
Key Features: Free | No Ads | Basic Speed Test | View Upload, Download, and Network Delay | VIew Type Of Internet Connection | See Previous Speed Test Results
Network Speed Test: Microsoft Store (Free)
FAST.com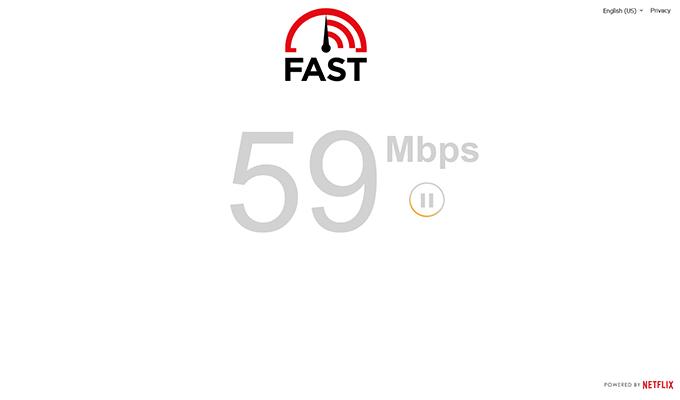 Yes, that is the actual name of the speed test application you can use to test your internet speeds on your Windows PC. This is a speed test service that the popular streaming service provider, Netflix, powers. You can access this speed test on Windows using your favorite web browser. The app shows you your downloads, uploads, and network connection latency.
FAST.com connects to the Netflix servers to test and see whether your connection can stream videos easily at high quality or not. Apart from the speed, you also get information such as your location,  IP Address, and the network service provider. This speed test service also shows you how much data has been used to test your upload and download speeds.
Key Features: Free | No Ads | View Upload and Download Details | See IP Address and Network Provider | View Server Location | Works On All Web Browsers
FAST.com Web (Free)
Google Search- Speedtest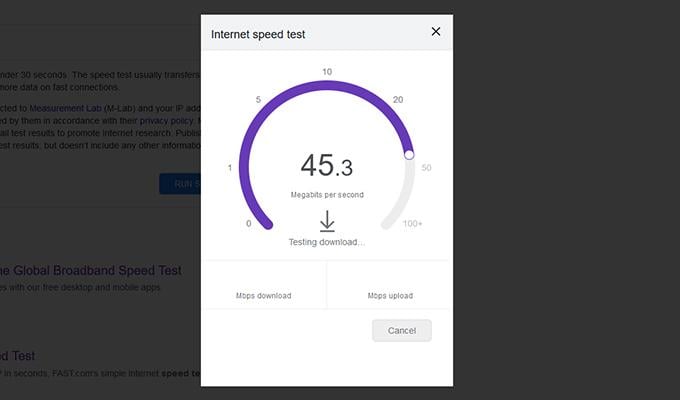 We all love the services that Google provides. Well, they also have their own service to test the speed of your network for free. This requires no app- just your web browser. To get the speed test, open your web browser, type in Speedtest, and hit enter. The speed test will begin right away. The speed test shows you what your upload and download are. 
This is great for those who want to test their network speeds quickly without wanting to look at any other information out there. This is free and will work when your browser has Google Search as its default search engine.
Key Features: Very Basic | Quick |Free | No Ads | No Purchases Needed | Supports All Web Browsers With Search As Default Search Engine
Google Search Speedtest: Web (Free)
Speedof.me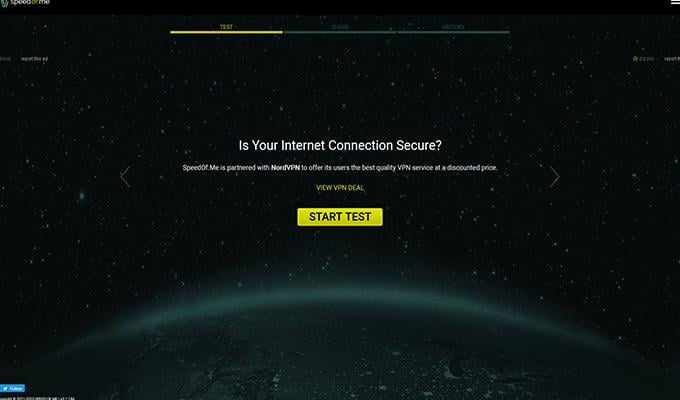 Not really a service that people know about. Sppedof.me is a web app that lets you check your internet's speed. This is a fairly simple and easy-to-use service. Simply launch your web browser and head over to the Speedof.me website. Click on the Start buttons, and the testing will begin. The service will display a graph that will move in real-time. Once the tests are complete, you can see the green and yellow graphs.
The green graph represents your download, and the yellow represents the upload. Speedof.me also shows you the latency, IP address, and test server location. You can easily share the results thanks to its dedicated Share tab. If you use this service often, it will also show you the results of your previous speed test.
Key Features: Great Interface | Upload and Download Graphs | Quick Share Tab | View Average Speeds From Previous Results | Export Previous Results As CSV | View Minimum and Maximum Upload and Download Speeds
Speedof.me Web )Free)
Bandwidth Place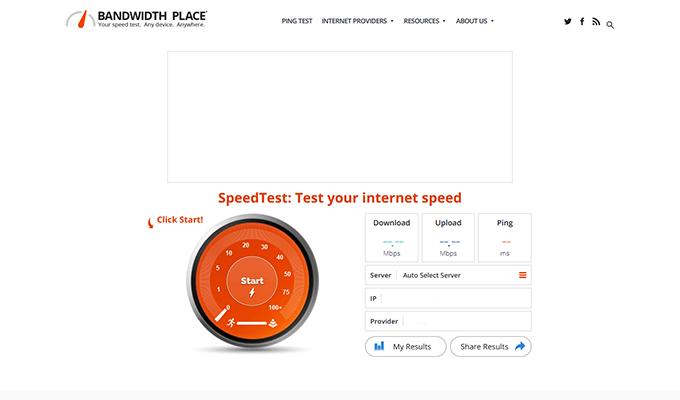 Bandwidth Place is another underrated speed-testing app you can easily access using your web browser. This speed test app lets you not only see the upload and download speeds but also lets you connect to almost any server worldwide and see how good or bad your internet speeds are. The app has a nice small orange speedometer that shows how fast or slow your internet speeds are.
When it comes to viewing the results, Bandwidth Place does it well. It will show not only your last speed test results but also a graph of your upload and download speeds from previous results. You can easily view the results of all servers, servers, and network providers.
Key Features: Quick and Easy Speedtest | Choose Any Server You Like | Share Results Easily via Social Media | View Detailed Speedtest Results | Graphical Speed test History | HTML 5 Supported | Works On All Browsers
Bandwidth Place: Web (Free)
SpeedSmart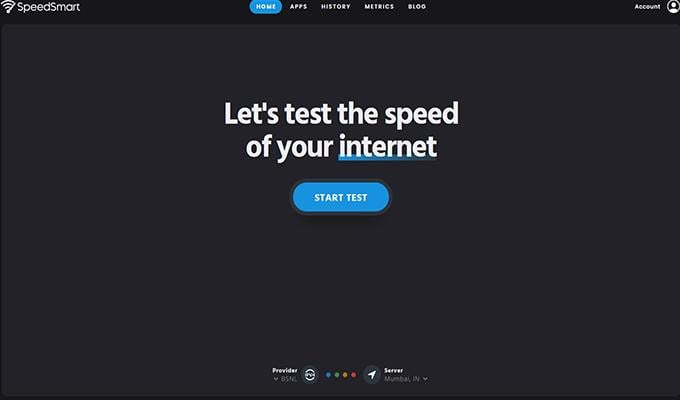 Here's another HTML 5 speed test app that works well with any web browser. If you like a speed test app that is pleasing to look at and has some color to it, SpeedSmart is what you should be using. When you begin the speed test, it will show you your IP Address, server, and network provider immediately. The green color wave represents your upload speeds, and the blue wave represents your download wave.
You can easily share your results with SpeedSmart and view previous results with a few clicks. Like Ookla, SpeedSmart also gives you a rating of 5 stars to describe your experience with internet service providers. This tool also lets you choose any server worldwide to test your speeds.
Key Features: HTML 5 Supported | Free | Colorful Interface | Change Servers According To Your Choice | Supports All Browsers | View Previous Results | Share Results Easily
SpeedSmart Web (Free)
These are the best speed-testing apps that you can use to test your network's internet speeds on your Windows PC. Well, it's not just for Windows; as long as you can use a service that requires a web browser, you can even run these tests on your macOS, Linux, Android, and even iOS devices. From these speed testing apps, I would prefer to go with Ookla and Bandwidth Place for all my speed testing requirements.
Whether you're streaming, doing some office work, completing school homework, or for that matter, even gaming, you need the internet. You can easily choose between using Wifi or Ethernet. It is important to know whether your network service provider is providing you with the speeds you have opted for or whether you are being taken for a ride by your provider.