Apple Watch is one of the best devices that come handy when you want to record a voice memo. No matter if it is a classroom lecture or office meeting, you can immediately engage your Apple watch to record voice. For Apple Watch owners, there are dozens of Apple Watch voice memo apps available.
All of these voice notes apps transform your wristwatch into an excellent recording device. In this article, we present the best Apple Watch voice notes apps.
Voice Record Pro
Record on-site sounds and voice memos easily with this professional Apple Watch voice memo app. The Voice Recorder Pro records sound with configurable quality at unlimited length. This Watch recording app supports WAV (PCM), MP3 (MPEG), and MP4 (AAC) formats, and it can also convert recorded files in all supported formats.

This app supports to export the recorded files to iCloud Drive, Google Drive, Dropbox, etc., in addition to FTP Server, SoundCloud or Web base Script. This voice recorder for watch app lets you convert your recording to a movie clip and send it to your Photo Albums. Also, apply some additional effects to the voice like echo, pitch & speed, distortion, volume/gain, reverb, and 3/6/10 band equalizer.
The recorder app supports duplicate records and converts them to other formats. Security is guaranteed as you can protect the app using a passcode. With the Family Sharing feature, up to six members of a family can use the app. There is also improved duration accuracy in the app. Also, use the toolbar in the notes dialog to control playback while editing notes.
Key Features: Adding notes, photos and bookmarks to records | Supports WAV (PCM), MP3 (MPEG), MP4 (AAC) formats | Modifying ID3v2 tags | Joining multiple records into one | Splitting record into various parts | Trimming records | Changing Playback speed in Advanced Edit | Download from Apple Store: Voice Record Pro
Voice Recorder HD – Recording
This Apple Watch voice recorder app meets all your recording needs and helps you work effectively. The app includes audio recording, management, playback, editing, sharing and more. Besides, there are different recording modes available like Record only when speaking, Record and mix selected audio or video, Record via Bluetooth device, Start Recording at the scheduled time, etc.


Voice Recorder HD allows you to record and mix currently playing sounds and mark important moments. You can edit audio by increasing the volume, changing the speed and pitch, mixing, merging, splitting, and trimming. Best of all, the app supports Apple Watch, Mac, iPad, and iPhone, and you can sync recordings through iCloud.
Key Features: Saving files to the album, iCloud Drive or iTunes File Sharing | Adding reminder | Making ringtone | Transcribing to formats like AMR, WAV, AIFF, AIFC, CAF, MP4, AAC, M4A, and MP3 | Download from Apple Store: Voice Recorder HD – Recording
SimpleMic
SimpleMic is now entirely redesigned for iOS 12 with support for Siri Shortcuts. With iCloud Drive Sync, you can collect all audio files on all devices. Its beautiful user interface contains gesture-based controls and gives the best usability. Swipe right or left to get a glowing level meter when the mic captures clear audio. Also, its three recording modes are each custom-made for different real-world situations.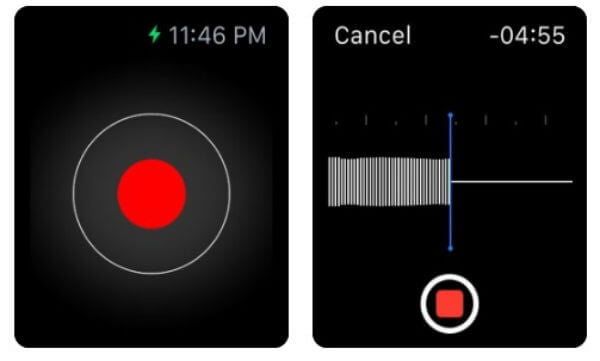 Sound Activated mode quickly starts recording from a few seconds prior to the beginning of the sound. Thus, this voice notes app ensures that you get a perfect recording each time. You will never get that annoying rattling sound when you set your device on your desk and tap "record". In other words, it's No Motion Activated mode that makes sure your device is completely still before recording.
Record on Start feature allows you to record audio automatically when launching the app. Also, you can access and manage all your audio files from the recordings list. Choose your label manually to add notes even though your recordings get tagged by location and date. Find all your recordings on your Mac running OS X Yosemite in iCloud Drive.
This app is also perfectly optimized for VoiceOver feature and Siri shortcuts. You get support for Show Last Recording and Start Recording actions through Siri shortcuts. With these actions, you can create voice shortcuts or add recording support to your workflows.
Key Features: Recording audio from any device or app | Custom notes and labels | Automatic geo-tagging | Uploading directly to Dropbox, SoundCloud or email | Sending recorded audio files to other apps on the device like GDrive, Evernote and MS Sky Drive | Multiple color themes for app | Download from Apple Store: SimpleMic
Just Press Record
Just Press Record brings transcription, one-tap recording, and iCloud syncing to all your devices. You can edit your transcriptions and audio right inside the app and start new hands-free recordings with Siri. Just Press Record app offers unlimited recording time, and you can also record in the background discreetly. Also, this Apple Watch voice note app supports recordings from AirPods, external microphones, or the in-built mic. Besides, record on your Apple Watch independently and then sync later.

While recording, you can start or stop recording from the Lock screen through a 3D Touch Quick Action or URL. Also, the app lets you convert speech into searchable text and rename recordings. The app supports over 30 languages irrespective of the device's language settings. Also, add text to transcriptions and make changes to the existing text easily.
You can share your recordings to iTunes on PC or Mac through the Lightning Port. There is a dedicated tab for quick access to your records made on your Apple Watch. It is also possible to store your recordings in your local device. However, recordings stored in your device cannot be accessed outside the app.
Transcriptions are saved within the audio file on the Just Press Record app. The app's Customizable Audio settings greatly improve your recording experience. You get to listen to supreme quality audio up to 96kHz / 24-bit. The app supports AIF, WAV, and standard iTunes M4A (ACC). Amazingly, you can record from your Apple Watch even without your iPhone. The app also comes with a dark mode to help you use the app conveniently in the dark.
Key Features: Starting recording with a single tap on Complication | Discreet recording in the background | VoiceOver and reduced motion support | Volume adjustment with Digital Crown | Download from Apple Store: Just Press Record
Voice Recorder & Recording App
Simple Recorder can easily record meetings, lectures, speeches, interviews, or more.
This Apple Watch Voice Recorder app offers playback and many editing capabilities like Mix, Insert, Join, Split, Copy/Cut/Paste, and Trim. Your recording is clearer with the Noise Reduction feature. Conveniently, you can turn speech to text, especially for long-duration recordings.


You can select a specific audio position easily using markers with this voice note app. Recover the edited file to its original version through File Recovery. You can share files with friends through messages, email, and more. Moreover, manage Favorites, Folders, Sort, Search, Trash, and more with File Manager. The first month is the trial period, and after that, the subscription fee is $19.99/year.
Key Features: Changing pitch and speed with Voice Changer | Elegant colorful themes | Download from Apple Store: Voice Recorder & Recording App
Voice Record Pro 7
Voice Record Pro 7 is a voice recorder based on the powerful engine of Voice Record Pro, but with a more flat design. Record on-site sounds and voice memos with configurable quality at unlimited length. Voice Record Pro 7 can record directly in MP4 (AAC), MP3 (MPEG), and WAV (PCM) formats and also convert function for all supported formats.

Voice Record Pro 7 lets you export files to FTP server, SoundCloud, or any hosted Web-based Script. You can import files from and export them to Microsoft® OneDrive, DropBox, Google DriveTM, and Box Cloud.
Pro Voice recorder allows you to add photos, bookmarks, and notes to records and modify ID3v2 tags. You can append one recording to another one and split a recording into various parts. Moreover, convert spaces to dashes, dots, or underlines for title-based file names, a newly added feature.
Key Features: Effects like Volume/Gain, Reverb, Echo, Pitch and Speed, 3/6/10 Band Equalizer and Distortion to imported or recorded files | Family Sharing for up to 6 members of a family | App protection with passcode | Trimming and duplicating records | Download from Apple Store: Voice Record Pro 7
Awesome Voice Recorder
Awesome Voice Recorder app has been ranked as the number one business app in thirty-five countries. Its interface is cool, and it supports both Apple Watch and Widget. This voice recorder app for Apple Watch is perfect for business persons, tutors, reporters, sound engineers, audio experts, university students, school personnel, and others who use voice memos often. The best part is, this fast and user-friendly app is available on both iPad and iPhone.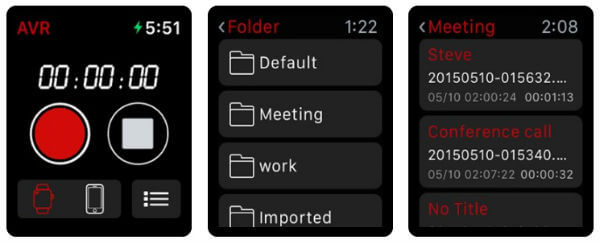 The app supports M4A, WAV, M4R, and MP3 audio formats. Recording time is unlimited, and the recording quality is ultimate. You can record voice with this Apple watch app while using other apps. Stereo/mono recording features and wave display for recording status are also available. Also, the recordings are playable in various media modes. The audio quality options are 48,000kHz, 44,100kHz, 22,050kHz and 11,025kHz.
You can pause your recording for up to three minutes during phone calls. The microphone designs are Studio, Studio Pro, Classic, and Professional. There are light and dark color themes and a music library import function. File creation with noise reduction and sorting file functions are present.
You can AirDrop, Email, or Share voice notes recorded on Apple watch. This Apple watch voice note app has an earphone remote control playback. It supports SoundCloud, OneDrive, Box, GoogleDrive, Dropbox, and iCloud Drive. Create folders to control and save your files easily. Forward, rewind, replay, and fine-tune playback speed. Likewise, trim and cut audio recordings using left and right pointers as you wish.
Key Features: Adding sound tags to files | Supports M4A, WAV, M4R, and MP3 audio format | Reducing background sounds with Noise Reduction feature | Family sharing for up to 6 people in family | Identifying voice sections quickly through Audio Visualization | Download from Apple Store: Awesome Voice Recorder
Audio Memos
Audio Memos is an audio recorder that is full of amazing features. This Apple Watch Voice recorder app has a simple and intuitive interface. You can use this app comfortably in lectures, interviews, briefings, and music sessions. Simplify your recording process to a great extent with this app. App quality is simply the best, and this app also fits your needs perfectly.
The volume is amazingly loud and gives you the best experience. Access your memos from everywhere with iCloud. The background recording feature is available to multitask effectively. Variable speed scrubbing and unlimited recording time are available. Furthermore, it can record even during sleep mode and pause automatically during phone calls.
You can send the voice notes from Apple Watch through WiFi. App safety is guaranteed with an application lock code. As per your wish, use the in-app purchases to extend the functionalities. With voice-activated recording, you can stop recording silence. You can upload files to WebDAV, FTP, Evernote, Box, Google Drive, or Dropbox.
It is very easy to compress audio files and email hours of records with ease. You can add pictures to memos and adjust reading speed. Also, you can record with timer activation, and recording will stop if any other app uses audio.
Key Features: Family Sharing for up to six family members | Encrypting memos that are sent to cloud services (IAP) | Merging, trimming and overwriting recordings | Setting reminders and fixing memo alert dates | Download from Apple Store: Audio Memos
Voice Recorder, voice memo
Voice Recorder, voice memo is a user-friendly Apple Watch voice notes app. One-Touch Recording and One Touch Stop & Save are possible in this app. Store your recordings in both mp3 and raw formats. You can create voice memos and also send out voice emails up to 5MB. You get the impressive Voice iCloud feature with this app. Happily, share recordings through the iMessage app with your friends using iMessage.

Other features of this voice note app are unlimited recording, Playback Counter, and Record Timer. Additionally, share memos with one tap through Facebook Messenger, Files, Google Drive, WhatsApp, Dropbox, and other apps. Transfer your recordings to your PC or Mac via USB. There are also Auto File Naming and Supported background recording features.
Time Stamps and File Sizes get displayed in the app. The app can work completely offline without any ads. You can search for your files easily with sticker colors. For high-security files, you can use a fingerprint scan, face ID, or touch ID. Besides, an unlimited screen recorder feature is available, but it is non-inclusive of the price.
Key Features: Moving voice memos | Editing and trimming recordings | Adding titles to records | Help section available in various languages | Access to all files in Apple Watch | Support for 3D Touch | Download from Apple Store: Voice Recorder, voice memo
All the above apps are among the best, and they provide the best recording experience with Apple Watch. Most of these voice recording apps are free of cost, but some may require you to pay a little amount of money. All you need to do is choose one of them for your Apple Watch to take voice notes. Enjoy the app to record audio seamlessly for all purposes. Voice recording is now more convenient with the best Apple watch voice recorder apps.