Cyclists love to roam around the country with their bikes all day long. If you're having a cyclist buddy then it's time to gift them the best bike accessories in town. This includes a basic bike bag to repair tool kit that will help them in any situation.
We've compiled a list of some of the best eBike and Bicycle accessories to consider if you wish to gift your friends or family with some.
Vibrelli Mini Bike Pump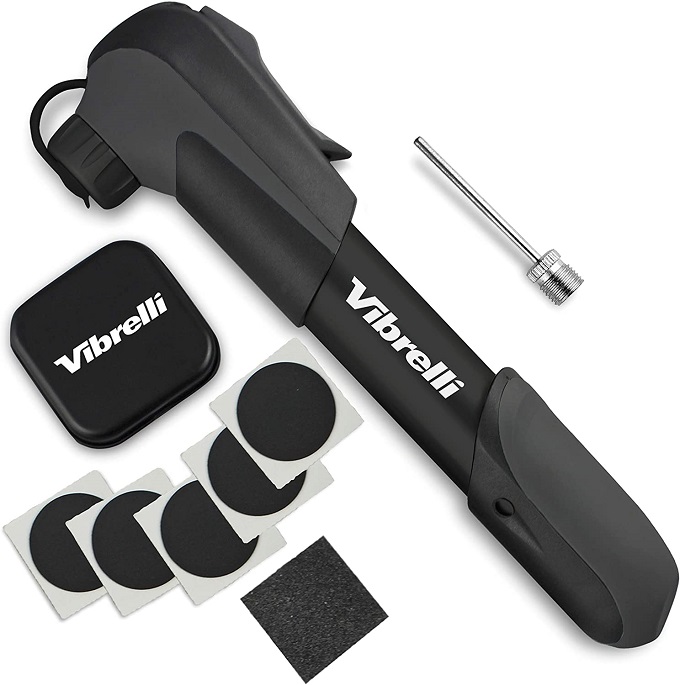 The Vibrelli Mini Bike Pump is more than just a gift for some. It is an essential bike accessory that could turn out to be your lifesaver once you are stuck on the road. The mini bike pump is durable and can pump up to 120 PSI within no time. It automatically fits both the Presta as well as the Schrader valves and can easily switch between them with a tap of a button.
The mini pump flaunts an ergonomic design that's easy to use and carry. The telescopic handle allows easy shift between high pressure and low pressure with ease. A thing to note is that the device isn't a replacement for the full-size air pump. It's a quick and emergency tire inflator that will definitely come in handy during your long tiresome rides.
Key Features: 120 PSI Inflation Rate | Easy Valve Switch | Aluminium Alloy Body | Telescopic Handle | Easy Operation | Includes Mini Glueless Patch Kit
WSDcam Bike Alarm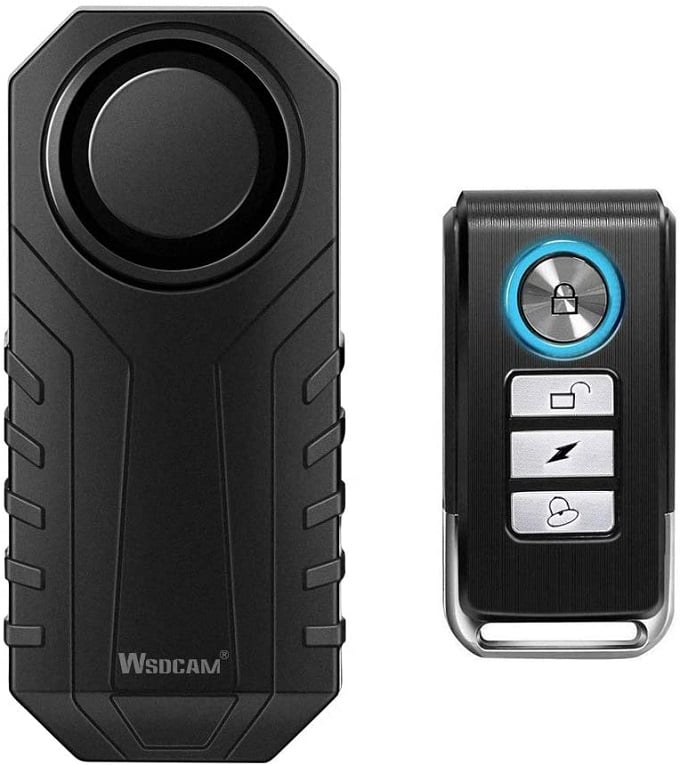 Having a sturdy and unbreakable bike alarm is essential. That's where the WSDCam Wireless Bike Alarm steals the show. It's a pretty durable and sturdy bike alarm that comes with a wireless remote for easy operation. This anti-theft bike alarm gets triggered by vibrations and can sound an alarm that's up to 113dB loud. It comes with a 7 level adjustable locking sensitivity and has 3 level alarm volume preset.
The device is rated IP55 meaning it is weatherproof and durable to the core. The remote works at a wireless range of 66ft. Both the remote as well as the alarm work on the removable AAA batteries. Apart from being an all-out anti-theft alarm, there is the SOS feature as well as the vehicle search trigger. That's something worthy to have up your sleeves when you're out roaming in the public.
Key Features: 113dB alarm | Remote Controller | 7 Level Sensitivity Adjustment | IP55 Rating | SOS function | Low battery indicator | Arming and disarming by remote
Today's Deal: $3.60 Off
Related: 10 Best Anti-theft Security Alarm for E-Bikes and Motorcycles
Uzopi Bike Light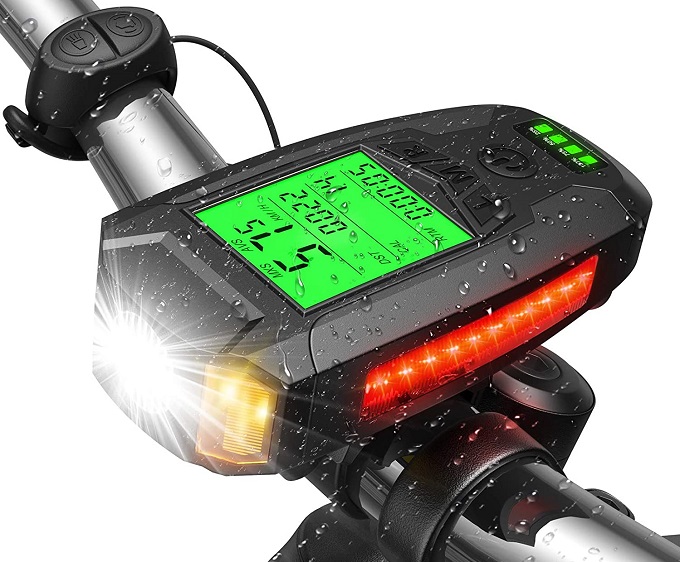 The Uzopi Bike Lights include both a USB-powered LED headlamp and an integrated tail lamp. The lights offer 5 lighting modes and offer a good amount of brightness. The White LEDs are coupled with two yellow fog lamp-like LEDs so that you get better visibility during the dark. These USB-powered lights come with an integrated 1200mAh internal battery and offer a battery backup of 7 hours.
There is also an LCD backlit display and an anti-theft alarm that enhances safety. Although the tail light's a bit dim, the main headlamp offers a max brightness of 300 lumens. Apart from that, near the display, you'll find an auxiliary USB port. This helps you charge your phones or other USB-powered gadgets while you enjoy the ride.
Key Features: USB Rechargeable | 5 Lighting Modes | SOS Emergency Light | Fog Light+Warning Light | IP55 Rating | Inbuilt Horn | Anti-theft Alarm | 1200mAh Internal Battery | Up to 7-hour battery backup
Related: 10 Best Hidden GPS Tracker for Cars and E-Bikes
Pro Bike Tire Inflator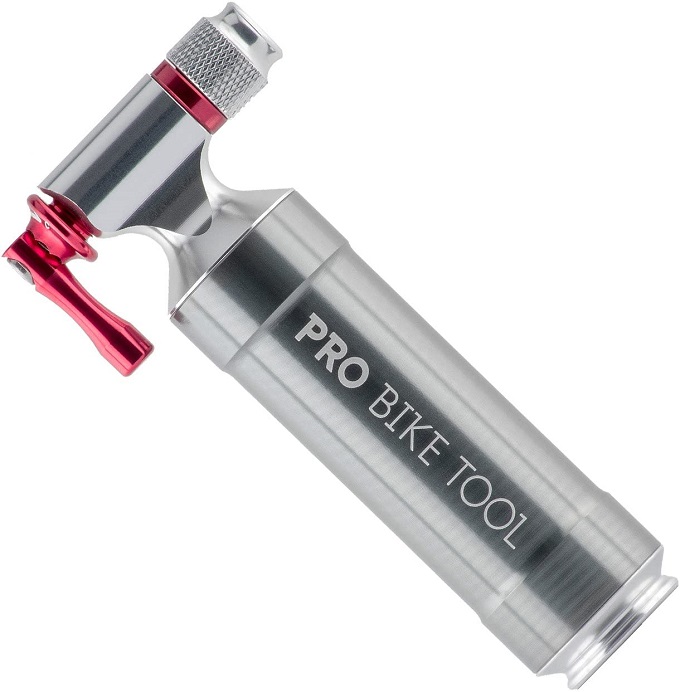 Here is another emergency Tire Inflator to look out for a serious bike enthusiast. The Pro Bike Tire Inflator is a reliable tire inflator that can pump up your flat tires in no time. This CO2 inflator is quite compact and easy to carry. It has a unique lever design that allows easy operation.
With a single value system, the Pro Bike Tire Inflator works with the threaded Presta and Schrader valves with relative ease. A thing to note is that this tire inflator is a replacement for your full-size tire inflators. The device works by inflating CO2 to the tires through an inner tube. You'll need to re-inflate your tire with the correct prescribed value once you back home. Also, a thing to note is that there isn't a tire pressure monitor incorporated with the inflator.
Key Features: Reliable Tire Inflation | 1-Turn Valve System | Twin Valve Head | CO2 Inflation | Safe Cartridge Storage | Integrated canister | Compact & Lightweight |
Touhuhot LED Bike Lights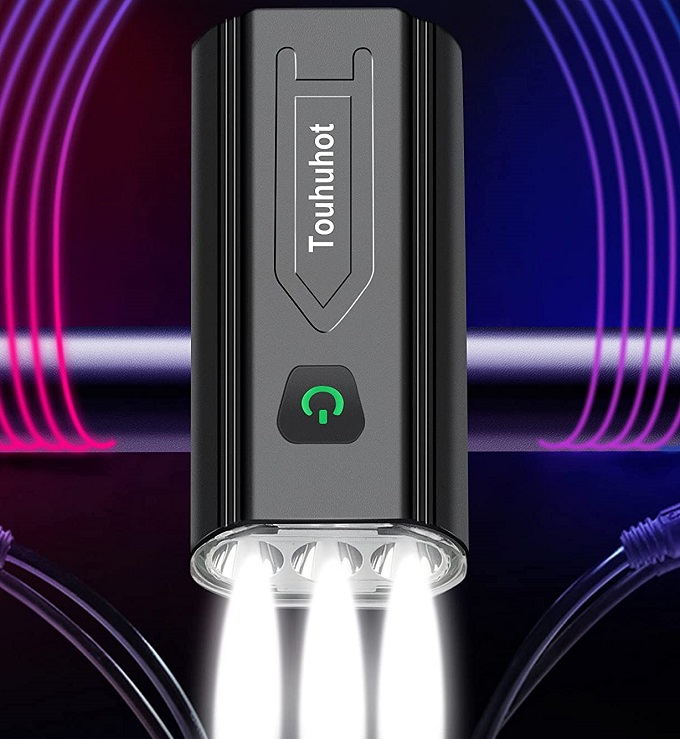 The Touhuhot LED Headlights are a cluster of 3 strong LEDs that offer a mammoth brightness of 7000 lumens. The headlight offers 5 lighting modes, including slow and fast flash modes. The headlight unit is easy to install. All you need to do is to tighten it on the handlebar and align it accordingly.
You will also get a free taillight that's battery-powered. The multifunctional taillight hooks onto your belt, running gear, backpacks with ease. You can also mount it on your helmet as there includes a Hazard mode apart from 4 flash modes.
Key Features: Super Bright LED | Up to 7000 Lumens Brightness | Works on lithium batteries | 15+ Hours Of Battery Backup | 5 Lighting Modes | Includes a Multifunctional tail Light
MEACHOW Handlebar Rearview Mirror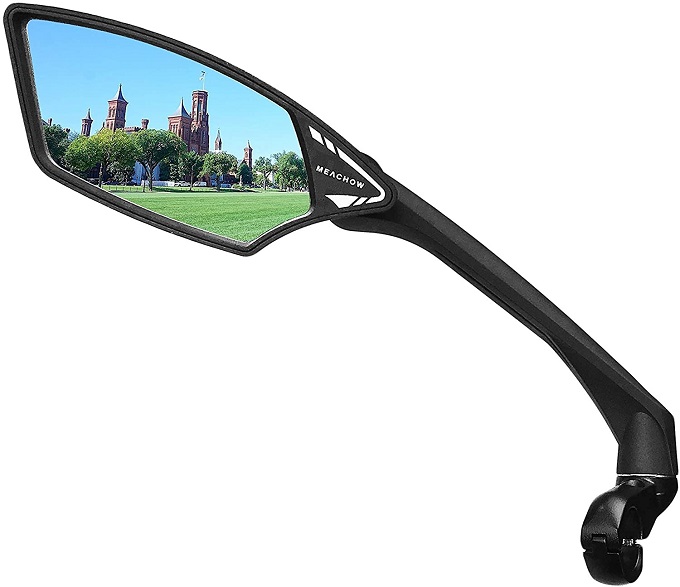 Most bikes normally don't include a rearview mirror. But it's one of the important accessories to ride safely through the roads. On that note, we've got the Meachow rearview mirror. These pair of scratch-resistant rearview mirrors let you keep an eye on what's coming from behind. They increase the riding experience and make your ride far more safe and secure.
This eBike accessory is blast-resistant. There is an anti-glare coating that gives you a clear view. The rearview mirror, on the whole, is rotatable. This lets you park your bike anywhere with ease.
Key Features: Lens–Blast-resistant | Stylish and durable | Easy to install | Scratch and impact-resistant | 360-degree rotation
Related: 12 Best Ebike Accessories and Parts to Buy
BV Bicycle Bag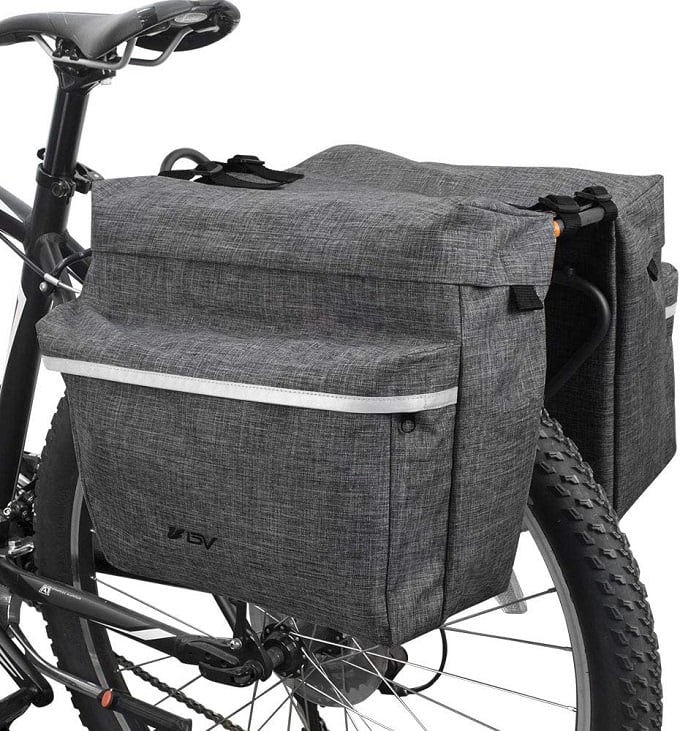 The BV Bicycle bag is an excellent storage option for your rides. It's also a pretty good option to gift your cyclists buddies. The BV Bicycle Bag is basically a pair of king-sized rider panniers that are useful during long rides on your bike. This bike accessory comes with large pockets and compartments that let you store almost anything.
The bicycle bag features an angled pocket design that ensures easy riding. Each pannier has a rigid back panel that maintains easy access so that you can store as well as take things out with ease. You can mount the panniers into the rear carrier. There are mounts with two bungee hooks and straps that fit most bikes with ease.
Key Features: Total Capacity: 26 L | Waterproof and durable | 3M Scotch Lite reflective trim | Rigid Back Panel | 2 adjustable bungee hooks
TruActive Bike Phone Mount Holder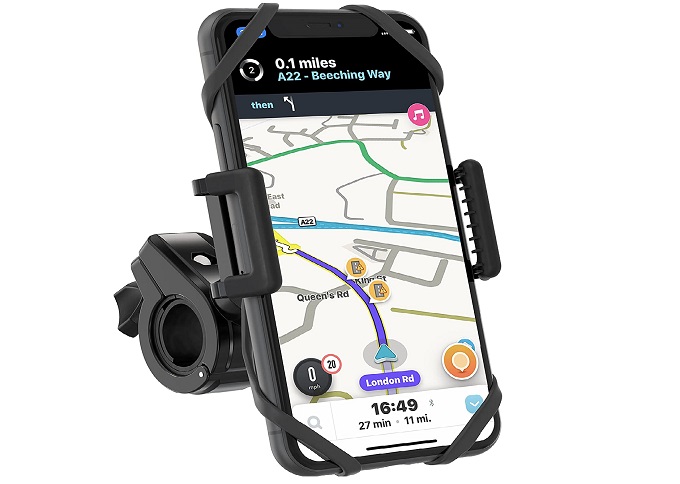 The TruActive Bike Phone Holder is a great piece of eBike accessory to look out for. It is solid, durable, and is made of high-quality materials. The whole phone holder can be mounted on the handlebar with a strong ball joint. It allows easy adjustments and alignment while you're riding the bike.
There is also a custom locking grip that keeps the holder intact with the handlebar. What's more, you'll also get an elastic strap to keep your device from wobbling around. This mobile holder can fit almost all smartphones and iPhones of up to 6.6-inches.
Key Features: Durable Design | Non-Slip Padding | Custom Fitting | Universal Fitting | Rubber Phone Grip | Easy to Install | Accommodates up to 6.6″ smartphones
Today's Deal: $9.01 Off
Related: 12 Best Motorcycle Phone Mounts for Bikers and Cyclists
WaterFly Bicycle Frame Bag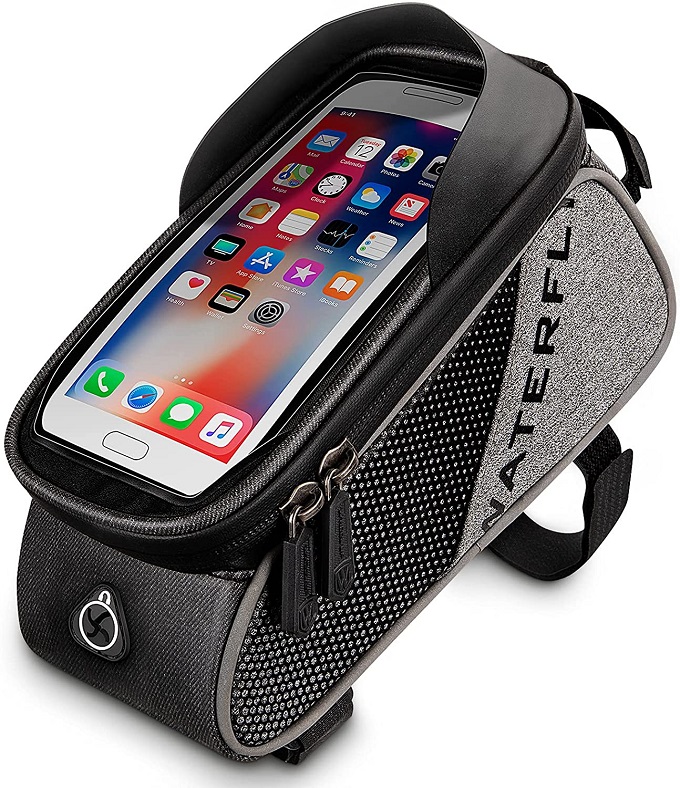 The WaterFly Bicycle Frame Bag is a high-quality waterproof essential carrier bag that attaches to your bike frame. Its made of polyester and comes with double layered zippers an extra rain cover and a clear TPU phone mount. The TPU phone mount is located at the top and keeps your device safe while you're on the roads.
The bag as a whole is not so bulky and doesn't cause any stability issues to your bike. You can keep almost all bike-related accessories, your wallet, and other stuff safe and secure all the time. What's more interesting is that the bag comes with velcro straps, so that you could attach it all by yourself, hassle-free.
Key Features: Waterproof Polyester | Double Zippers | Shake-proof, and Non-Deforming | Extra Rain Cover | Hidden Earphone Hole | Waterproof TPU Transparent Touch Screen Phone Mount
Today's Deal: $2.00 Off
Wotow Multifunction Bike Repair Tool Kit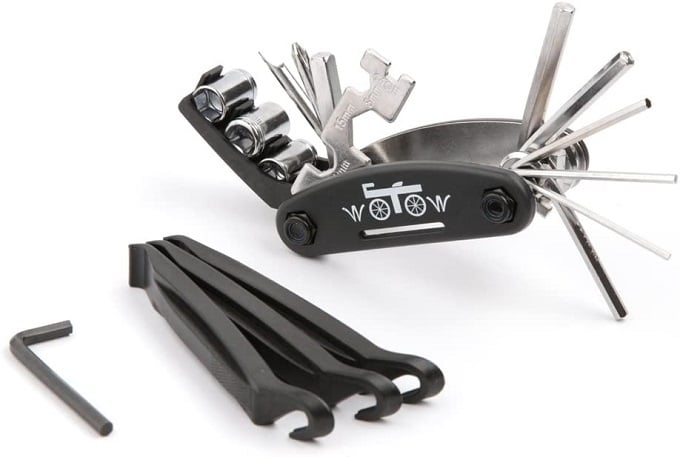 It's important to keep a portable tool kit with you when you hit the roads. The Wotow Multifunctional Tool Kit is a compact 16-in-1 swiss-knife that includes all the necessary wrenches screwdrivers exclusively for bikers.
The whole toolkit is quite portable. It is roughly the size of your palm but is made of good-quality aluminum. It is an affordable eBike accessory that comes at a reasonable price tag. The Wotow multitool kit is one of the best Multifunctional tool kits available online at cheaper price tags.
Key Features: Set of 16 essential tools | Durable | compact and portable | Made of good quality aluminum | Easy to use
Today's Deal: $1.30 Off
NDakter Bike Frame Bag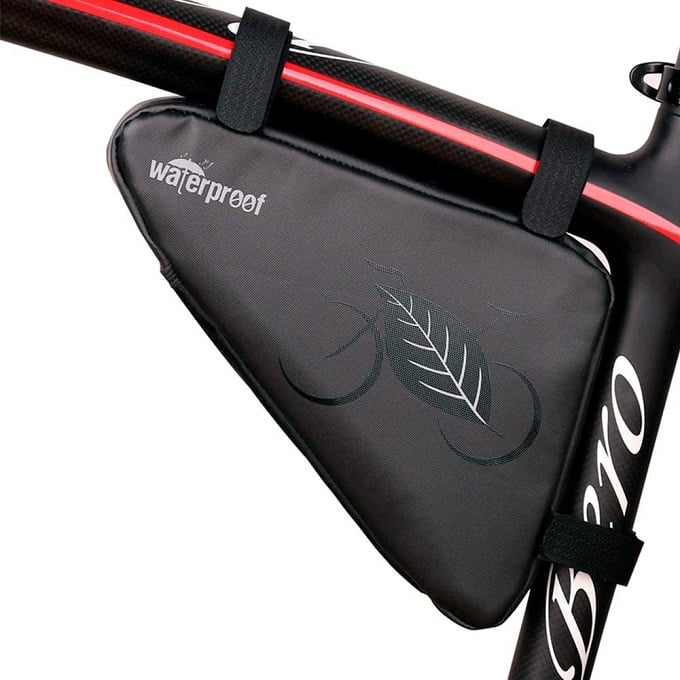 We've got yet another bicycle frame bag on our list, the NDakter Bike Frame Bag. This cycling accessory is a water-resistant, durable eBike frame bag that comes with quite a lot of storage area. The bag's made of superfine carbon material and even the zippers showcase its quality quite well.
With this bike frame bag attached, you can Store your smartphones, cycling glasses, keys, wallets, and almost all cycling essentials in one cozy place. You need to fasten the 3 adjustable velcro straps according to your preference. The tripe velcro design is a great way to keep the bag intact and attached firmly to the bike frame. This reduces stability issues to a great extend.
Key Features: Water-Resistant Design | Ultralight and Stylish | Durable Zipper Closure | Large Storage Space | Easy to Install | Quick Release Design | Velcro Attachments
Schwinn Thrasher Bicycle Helmet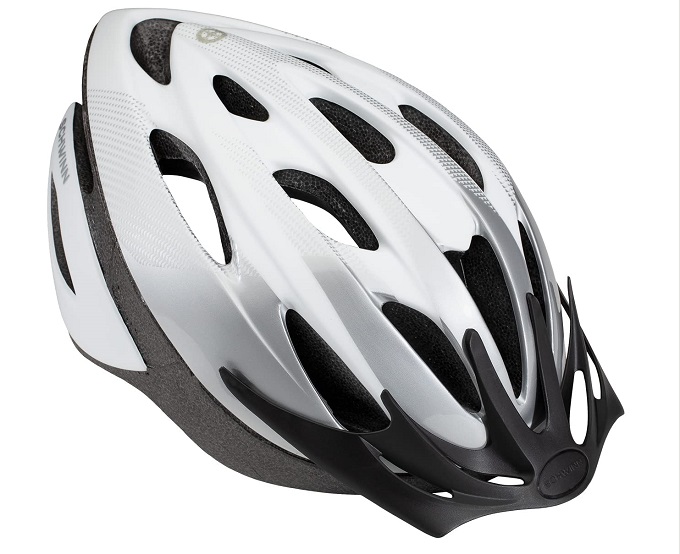 The Schwinn Thrasher is one of the best affordable cyclist helmets for adults. It offers a great fit and provides the best in class protection while you're on the roads. This bike helmet comes with an in-mold polycarbonate shell with EPS lining. The Schwinn Thrasher even pairs a dial-adjustable fit system with full-range padding for the perfect customized, comfortable fit.
The bicycle helmet is comfortable to wear and is the best one when it comes to impact and shock absorbing standards. The proper air vents ensure proper airflow between the bicycle helmet and your head. This bike helmet is a great option to consider as it is adaptable to everyday commuting as well as pro cycling.
Key Features: In-mold Polycarbonate shell | 20 airflow vents | Impact and Shock Absorbent inner layer | Nano bead EPS foam | Wind tunnel ventilation system | Anti Microbial padding
Today's Deal: $1.91 Off
Related: 12 Best Bicycle Helmets to Stay Safe on Road and Trails
BikeHand 17 Piece Tool Kit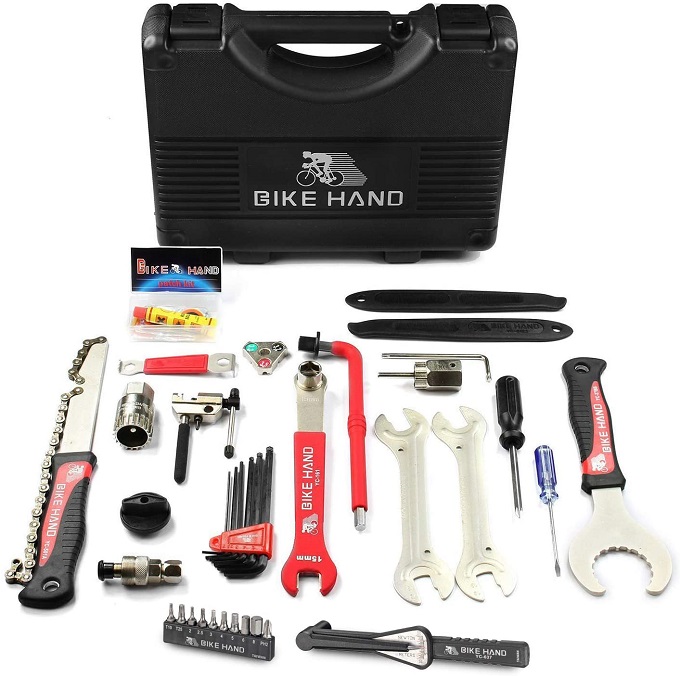 The BikeHand Tool Kit is a comprehensive repair kit that includes all those essential tools that you should gift an avid cyclist. It's a single stop for all those cross drivers and spoke gauges. The tool kit includes chain rivet extractors, different-sized wrenches, lockring removers, and many more.
There are also those necessary hex keys and screwdrivers and other essential repair tools. The tools included are pretty much durable and are made of aluminum alloy. The whole tool kit includes a storage container to keep each and every tool organized.
Key Features: Set of 17 essential tools | Durable and Lightweight | Aluminum Build | Pocket Friendly | Torque Wrench | Hard Case | External Bottom Bracket Tool |
It is important to have the best of the best cycling accessories if you wish to have a safe and pleasurable ride. These accessories are also a great option to gift your cyclist buddy this Christmas. We've included almost all eBike and Bicycle generic accessories, ranging from helmets to LED headlamps and all in one tool kit.