Apple does not let the users record phone calls on the go. There is neither an inbuilt feature nor third-party apps to record phone calls on iPhone. So, how to record a phone call on the iPhone is a tricky question. Therefore, if you have an iPhone, there is no way you can record phone calls that are made over the cellular network. However, there are certain workarounds you can make use of, to record phone calls iPhone.
In this article, we show you the best-proven methods to record a phone call on the iPhone.
Editors Note: There are some regulations and restrictions based on your state or country for recording phone calls. Please refer to your state law before starting to use any call recording apps on your phone.
Can You Record A Phone Conversation on iPhone
Apple iOS does not support any kind of call recording directly, for the sake of privacy. Unlike the Android platform, you cannot even use any third-party apps to direct record calls from your device itself. However, you can still record calls made using your iPhone using various techniques.
Recording phone calls on an iPhone is not as same as you do on Android devices. However, it may sound like recording landline calls using specific devices or services. Here are some best methods to record a phone conversation on the iPhone.
Record Phone Calls Using A Second Phone
It is obvious that you cannot record a phone call on the go, without using any inbuilt options or third-party apps. Even though there are several workarounds you could try to record phone calls on iPhone, they are difficult to set up during an emergency. However, you can still "record" the sound from both the sources using a normal recorder.
When you are on the call, simply put it on speaker mode. Then you can use another smartphone to record the conversation using the voice recorder app. This is not an essential solution if you want a clear record of your voice calls. However, this is the only hack you can use when you want to record phone calls on iPhone without any other tools.
8 Best Voice Recorder Apps for Apple Watch to take Voice Notes
Record Calls with Apple Watch Voice Memo
Do you know you can record the voice memos with your Apple Watch? Just go to the Apple Watch voice momos app and tap to start recording. Before you start recording, change your voice call to speakerphone for maximum clarity and volume to record on Apple Watch. Follow the steps below to start recording;
Switch iPhone voice calls to the speaker.
Open the Voice Memos app on your Apple Watch.
Tap the Record Button on Apple Watch.
Tap again on the Record Button to end the recording.

You can play this voice memos right form the Apple Watch. In addition to this, Apple Watch automatically syncs these voice memos to your iPhone, Mac, iPad, and any iOS devices where you're signed in with the same Apple ID.
Use Google Voice Number to Record iPhone Calls
Google Voice lets you get a valid phone number in available countries, and to make calls just like normal cellular plans. if you have a valid Google Voice number, then it is possible to make calls from the Google Voice app, instead of the inbuilt dialer on the iPhone.
Therefore, you can have more control over your phone calls and voice mails using the Google Voice number. Here is how you can record phone calls on iPhone using a Google Voice account number.
You need to enable incoming call options on the Google Voice app to record phone calls. Here is how to do it.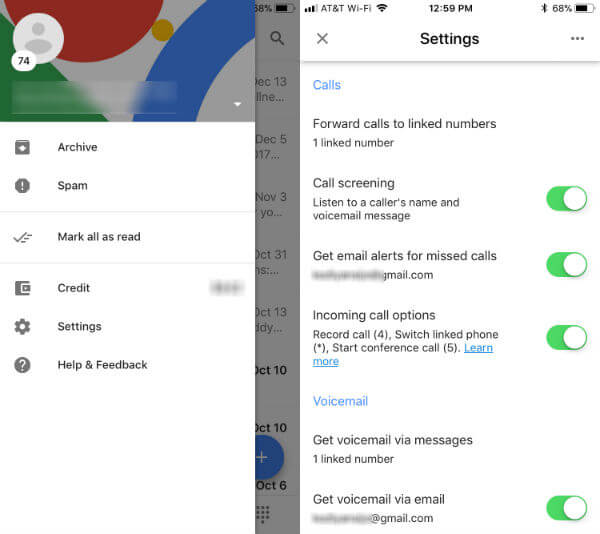 Open the Google Voice app on your iPhone.
Tap the menu icon at the top left corner.
Tap "Settings."
Toggle on Incoming call options.
There are certain incoming call options for Google Voice, and you can choose them during a call. After enabling the Incoming call options for your Google Voice account, you can easily record the incoming calls as follows.
Attend the incoming call on your Google Voice number.
Tap the dial pad icon.
Tap 1 to attend calls.
Dial 4 to start recording your calls.
All the recorded phone calls will be saved on the voicemail section of your Google Voice account. You can open Google Voice app on your iPhone, or on Web to find the saved call recordings under voicemail. Check here more about recording voice calls using Google Voice on iPhone.
Also read: Cheap Cell Phone Plans (Post Paid) in US that Cost Under $20.00
Use Call Recorder Apps for iPhone
Although Apple does not let you record phone calls on iPhone by default, there are certain call recording apps you can make use of. Getting this straight, it is obvious that you cannot simply record your phone calls on button click or just like the built-in voice recorder app. They all follow a three-way call recording policy.
The three-way call recording service will record your phone call only while you dial and merge the recorder service line with an ongoing call. To be more clear, the call recording is not being placed within your iPhone. The third-party server, which you merge with your ongoing call, records your conversation and stores for you. Most of the services have a clear data protection policy. Therefore, you do not need to worry about the matter of privacy.
There are many call recording providers in which you can choose based on the variety of services they offer. Some have incoming call recordings only, while others have both ways call recording option. Among them, you can also choose to save the call recording files in the local storage itself or in the cloud.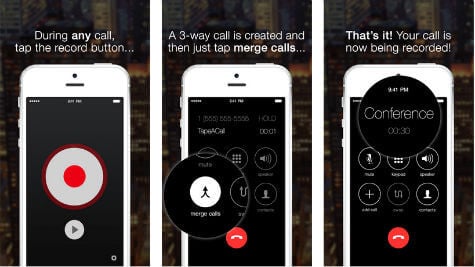 TapeACall Pro is one of the best call recorders for iPhone you can get now. With a one-time payment method, you can subscribe to the unlimited call recording features on TapeACall Pro. There is no limit for the duration of the call you can record.
This uses a three-way call merge recording mechanism. As soon as you hang up you will be able to find the call recordings on the TapeACall server. You can later move on to your iPhone, PC, Mac, or other cloud storage services including Google Drive.
If you are looking for more app options to record calls on the iPhone, check out our article on the best apps for iPhone to record calls. 
Merge Call With Your Secondary Number and Record
All the third-party tools you use to record phone calls merge ongoing calls with their server line to record calls. However, you can do it in your own way, if you have a secondary smartphone.
First of all, you need to verify the secondary smartphone is an Android device and does have the call recording feature enabled. If you are looking for a cost-effective method to record your important phone calls on the iPhone, without using any third-party tools, this solution is for you.
If your Android device supports call recording, insert a SIM card for the incoming calls. Whenever you get or make a call on your iPhone, you can merge the call with your secondary number and record on Android. Here is the entire process described step-by-step.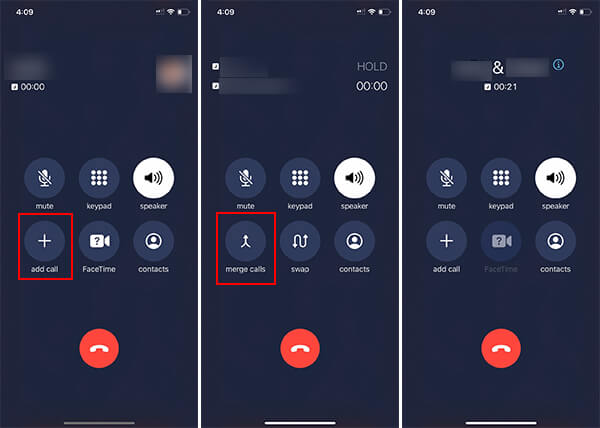 Tap the "Add" button on your iPhone's calling screen during the conversation.
Choose your secondary number from the contact list and make the call.
Attend the call on your Android.
Tap "Merge" on your iPhone.
On your Android device, tap "Mute."
Tap the recording to start the call recording.
Once the call ends, you can get the record file of the phone call from your Android device, and share it among your devices.
Use Call Recording Hardware Devices
Even though third-party call recording apps and services make the call recording process much easier, they cannot be trusted in every scenario. If you are very concerned about your privacy and do not want any apps or cloud service to get your call recordings, you can opt for hardware options.
Certain call recorder hardware devices including headphones and direct recorders are available on the market if you are looking into a hardware solution for this. All of them are plug and play devices, so you can plug them to your iPhone's lightning port and talk normally while it records your conversation at the highest quality.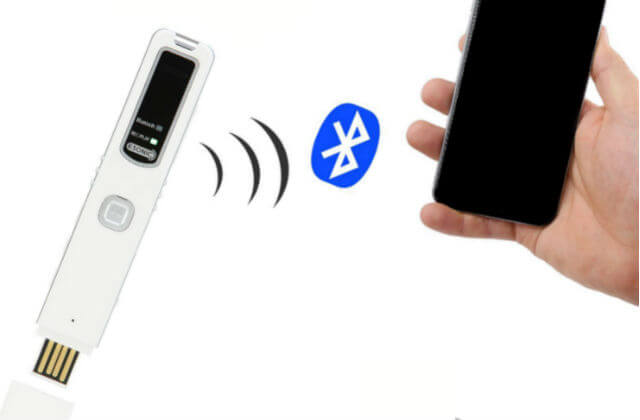 RecorderGear Bluetooth Cell Phone Call Recorder is an amazing device you could consider if you are looking for a hardware solution to record phone calls on the iPhone. It can connect your iPhone over Bluetooth and record the entire conversation.
You can connect it to your iPhone over Bluetooth and use the device to make the conversation over the cellular. It has an inbuilt earpiece speaker and a microphone to use as a calling device as well as a call recorder.
We have also listed many top performing call recorder devices you can buy right now. Find the top 7 call recorder devices and headphones for iOS and Android.
Related: How to Record WhatsApp Calls on Android and iPhone
Even though there is no direct solution to record iPhone calls, you can use any one of these solutions to record Phone calls on iPhone. All these solutions have their own pros and cons based on the solutions. You can pick the best solution that matches your requirements to record iPhone calls.