Prices for mobile plans have been rising, just like everything else out there. You must be looking for the ways to reduce the mobile plan bills. There are many options available if you want a cheap cell plan with unlimited everything or at least a good amount of data paired with text and talk.
Here we list out the best, cheapest cellphone plans you can subscribe to if you are looking for unlimited data, calls, and texts along with international calls.
Cheapest Phone Plans with Unlimited Everything
Tello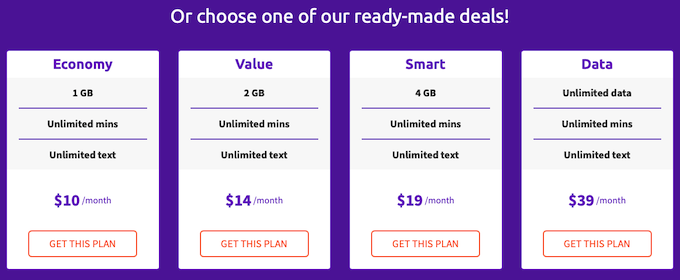 Tello has few among the cheapest everything phone plans with unlimited calls and texts. is a plan that lets you choose what aspects interest you a lot. You can choose the amount of data that you like as well as the total number of minutes which includes free texts. The prices for these plans range between $5 and $39.
The unlimited everything plan costs #39 a month. But even for the cheapest plan, you get 1GB data along with unlimited calls and texts for just $10. Users can choose Tello as it latches on to T-Mobile's data network and runs on 4G, LTE, and 5G if you like unlimited internet and Talk time minutes. Plus, if you have friends who live abroad, you can make international calls for free to 60+ countries.
Pros:
No contracts and fees
Free WiFi tethering
Wi-Fi calling
Cons:
2G speeds after consuming 25 GB
Automatic Renewal
Get Plans: Tello
Related: How to Stop an App from Using Cellular Data on Android
Ultra Mobile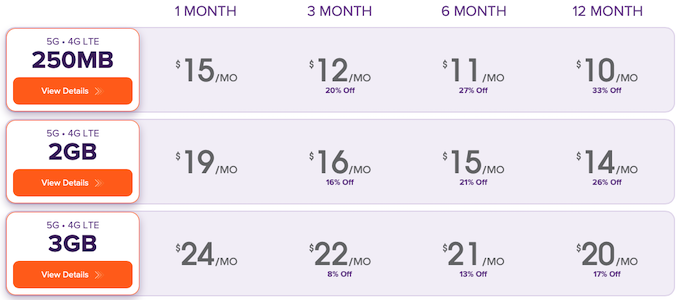 Ultra Mobile is another T-Mobile MVNO (virtual network operator) like Tello. This means you'll be getting good network coverage as well as internet speeds on Ultra Mobile as well. If you are looking for a cheap plan, the 2GB plan at $19 is a good deal. You get unlimited talk and text along with 4G, LTE, and 5G. You can also make international calls to 80+ countries
If you use WiFi for most of your day, you can opt for the $15 plan that gives you the same benefits as the $19 plan but with a data limit of 250 MB and no international calls. You can still use the internet beyond 250 MB but it'll just be slow. If you don't make international calls or make use of roaming services, the $15 plan is good enough.
Pros:
Monthly $1.50 international credit
One time $5 International roaming
Free 3-in-1 sim
No Contracts and fees
Cons:
Limited data for Mobile hotspot
Get Plans: Ultra Mobile
US Mobile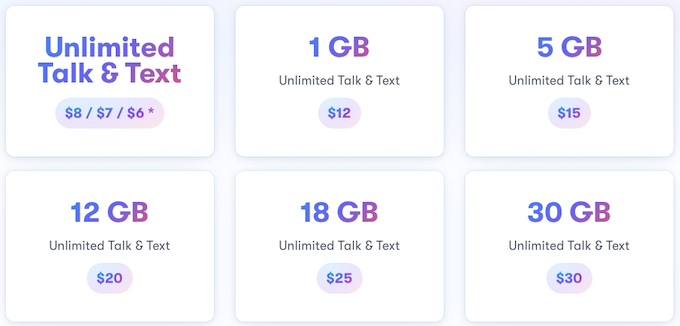 Want a mobile plan that has sufficient data as well as unlimited talk and text? This cheap cell plan from US Mobile will cost you $20. You can expect to get good coverage nationwide and reliable internet speeds. This is a good plan for those who don't want an unlimited data plan and 12GB of data is enough for a month.
When you get this plan, you get a 10-day free trial to unlimited data, text, and talk bundled with premium 5G data speeds on 5G devices. If you are a family of four or more, you can get the Unlimited Basic plan that will cost you $20 per line. All the family members get high-speed internet, unlimited text and talk minus any hotspot, and international benefits.
Pros:
Good plans for limited data users
Cons:
$2 service fee
Additional charges
Get Plans: US Mobile
Related: How to Save Cellular Data in Signal App on Android Phones
Unreal Mobile

With Unreal Mobile, you will not have to worry about high data costs or run out of text and talk limits. The most value-for-money plan at Unreal Mobile costs $10 a month. In this plan, you get unlimited text and talk as well as 5G internet speeds up to 2GB of data usage.
The $10 rate is for the first month and the renewal costs $15, which is still reasonable if you are already paying more for unlimited everything plan. Unreal Mobile operates on T-Mobile and AT&T networks thus you get good coverage across the nation with highspeed 5G.
Pros:
Free international calls to 60+ countries
Free sim delivery
Easy number porting
Cons:
2GB cap reduces speed to 2G

Hotspot only for Premium SIM
Get Plans: Unreal Mobile
FreedomPop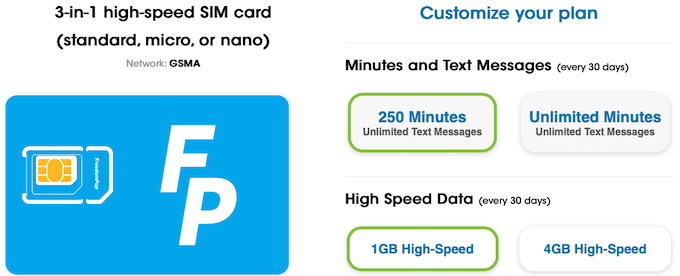 FreedomPop lets you customize your cell plans just like Tello. You get to choose between 250 minutes or unlimited minutes along with data from 1GB to unlimited. Apart from the FreedomPop's cheaper plans, they run on AT&T network so, you always get good network coverage.
The cheapest customized unlimited mobile plan on FreedomPop starts at $4.99 per month for unlimited minutes and 1GB data. Monthly renewal for the plan will cost $17, which is among the cheapest.
Pros:
Unlimited WiFi Calling
No service charges
No contracts
Cons:
International calls not available
Slow internet speeds during peak hours
Get Plans: FreedomPop
Related: How to Update iPhone without WiFi Using Cellular Data
Lyca Mobile

Lyca Mobile's plans are great for a single person, your kid, or an elderly person. Lyca has unlimited everything plans, but the data limit is capped to a certain amount, and crossing it would return you with slow speeds. 
The basic unlimited everything plan offers you unlimited text, talk, and 2GB of data. as well as add-on credits for international calling. This plan will set you back $19 a month. If you wanted 3GB of cellular data along with the other benefits from the $19 plan including the $1.50 credit towards international calls, you can purchase it for $23 a month.
Pros:
Hotspot tethering
Free international calling
No activation fees
No Contracts
Cons:
Network slowdowns during peak hours
Get Plans: Lyca Mobile
Mint Mobile

Mint Mobile has a good number of plans that are ideal for seniors and kids. You can choose between the $15 or $20 plan. Both plans have unlimited talk, text, and data. The $15 plan comes with 4 GB of data usage and the $20 plan comes with 10 GB of data. Once you cross the bandwidth, the internet speed reduces. Once your initial three months plan expires, the plans will cost you $25 and $35 respectively.
Since Mint mobile runs as an MVNO on T-Mobile, you can expect incredible nationwide coverage. This is a 3-month plan that will have a one-time cost of $45 and $60 respectively. If you have your own 4G VoLTE or 5G device, you can easily bring that device and get your Mint Mobile SIM card right away.
Pros:
Supports WiFi Calling
Free Mobile Hotspot/Tethering
Cons:
International Calls limited to Canada and Mexico
Expensive post-trial plans
Get Plans: Mint Mobile
Related: How to Watch iPhone Data Usage & Limit Data on iPhone
H2O Wireless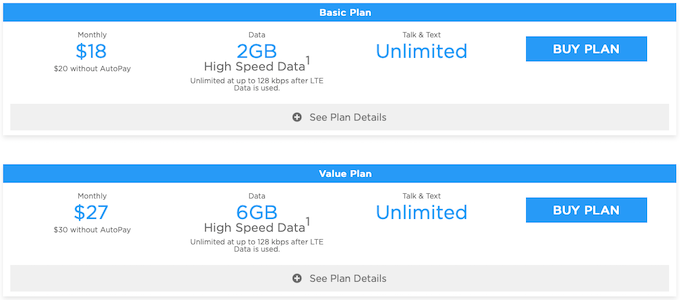 Got kids or elderly folks at home and they need a good cheap cell phone plan? H2O Wireless has got your back. The cheap plan we are talking about costs you just $20 a month. So, with the plan, you get access to unlimited everything including text and talk, followed by high-speed 2 GB data which will turn into slow-speed internet access upon consuming the 2 GB data limit.
You do not have to worry as it is running off the AT&T network. This plan will also get you unlimited international texts along with $1.50 of credit for international talk. You can also pick up the same plan with 6 GB of data, but it's expensive at $27 when you compare it to other cheap plans from other networks.
Pros:
Unlimited International calls to 70 countries
$2 off plan when auto pay is enabled
Cons:
Data speed reduce to 128 kbps after 2 GB
Calls to Pakistan only on $60 plan
Get Plans: H2O Wireless
RedPocket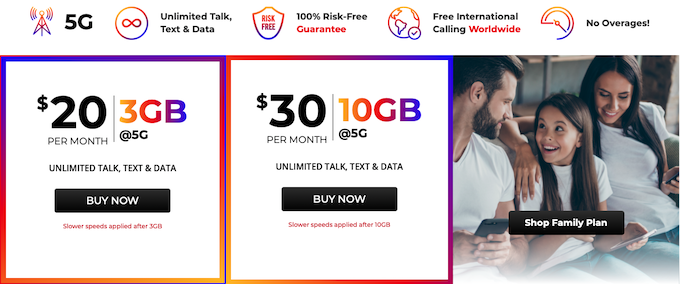 The cheapest plan on RedPocket costs $20 that gives you unlimited text and talk along with 3 GB of data at 5G speeds. If you wanted more data, you would have to shell out $30 which isn't worth it. Rather, you could simply go for any other network's plan that is cheaper and better.
RedPocket is an MVNO of the AT&T network, giving you a wide coverage. Making calls to your friends internationally is now free on RedPocket. You can choose between GSMA, CDMA, or GSMT networks while picking up a new sim on RedPocket.
Pros:
Free Hotspot Tethering
Unlimited International Texts
No service charges or contract fees
Cons:
No WiFi Calling
Drop in internet speeds during peak hours
Get Plans: RedPocket
Related: Your College Email ID Is a Discount Card: Don't Pay Full Price for Gadgets and Apps Anymore
SpeedTalk Mobile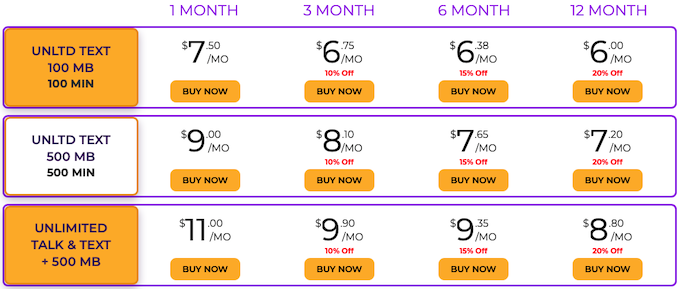 SpeedTalk Mobile has a good number of cheap plans based on what you use the most. Want only unlimited text? SpeedTalk has three such plans that will cost you between $7.50 and $11. The $15 plan is perfect if you want at least 3 GB of data.
SpeedTalk Mobile has plans that are perfect for kids and the elderly provided that there is WiFi access at home. You get access to 4G or 5G networks depending on your location. Given that it's an MVNO on T-Mobile's network, you can expect good coverage across the nation.
Pros:
No charges to port in or get a new number
No contracts and hidden costs
Bring your own device
Cons:
Data stops after 3GB consumption
No roaming benefits
No international calls or texting
Get Plans: SpeedTalk Mobile
Related: What Is eSIM and How to Use it on iPhone: Everything You Need to Know About eSIM
These are the best and cheapest plans that you can purchase for yourself, your kids, or even for families and the elderly. Since these plans are cheap and light on the pocket, you shouldn't have to worry about anything except for the network in your region. The best part about most of these plans is that you get to port in your existing number to any of the above-mentioned networks. Before doing that, check around and see if there's good network coverage so that you don't have issues later on.