TikTok is all the rage these days with teens, celebs, and regular joes/janes making all sorts of the videos on the platform. It is very addicting, thanks to the recommendation engine that is doing the heavy lifting behind the scenes. But there is more to TikTok than watching videos or even making a few. These TikTok tips and tricks will help you experience TikTok in new and improved ways.
The below tips are for both who use to app to browse videos and those who make them. Without further ado, let's begin.
1. Download TikTok Videos
You can download TikTok videos on both Android and iOS smartphones. That will help you enjoy the video offline, use the background track to create your own videos, and so on.
2. Advanced Search
Tapping on the Discover button will show you all the trending TikTok videos or videos tagged with trending hashtags. But you can also use the search bar to find people, users, videos, topics, hashtags, and more.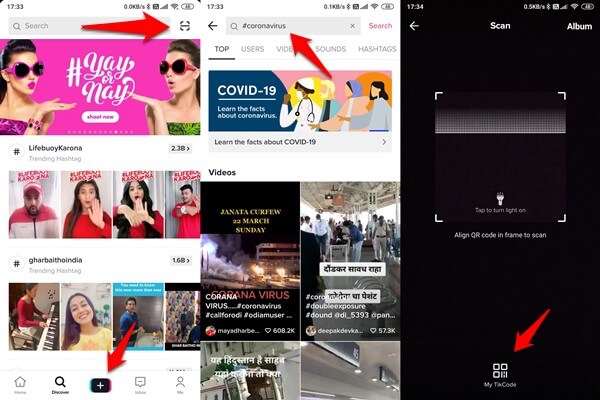 Noticed the Scan button next to the search bar? That can be used to scan other users' TikCode which is nothing but a QR code to add him/her. Yours can be found at the bottom of the screen.
3. Create and Save as GIFs
You can not only download TikTok videos but also turn them into GIFs and save and share them in other apps. Simply open your favorite TikTok video, tap on the Share button and then select Share as GIF option. It's there.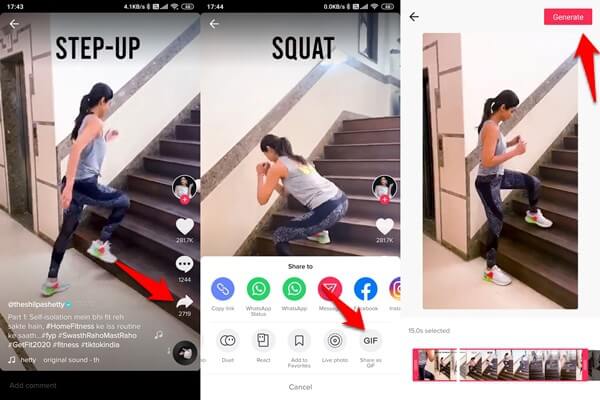 You can now share it with friends on WhatsApp or Twitter, for example. Noticed how you can also edit the GIF before generating it on the last screen? Also, the Live Photo option before the GIF button will create a live wallpaper image for your smartphone's home screen.
4. Prevent Video Downloads
We saw how you can download videos created by other users. What about your videos? If you don't want others to download your video for privacy, security or copyright content reasons, there is a way.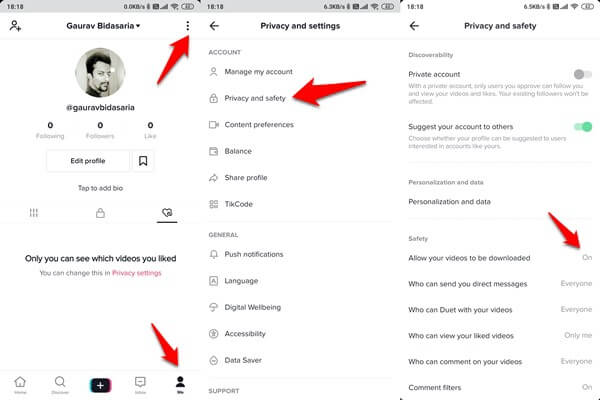 Tap on the Me tab and select the three-dot menu. Under the Privacy and safety setting, you will find allow your videos to be downloaded setting. Tap on it to turn it off.
5. Hide Annoying Dialogue/Song Video
Things often go viral on TikTok like challenges. You may like some of them but not others. If you don't like a particular song or dialogue in a video challenge that keeps popping up, you can hide it. A neat TikTok tip or trick that involves long-tapping on the video.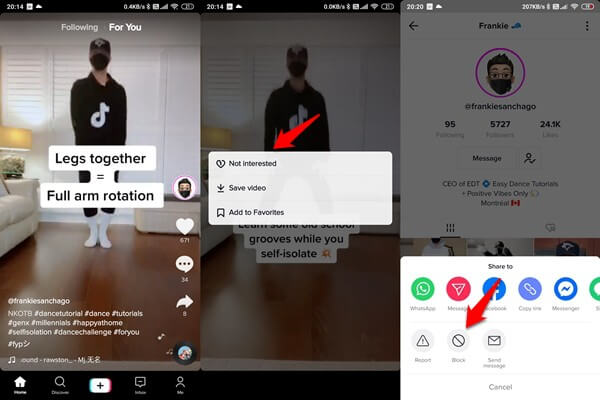 Long-press on the video that you hate to see in your timeline, select Not Interested. Some of you will see another option called More. Tap on that to select Hide videos from this user or Hide videos with this sound. You can also hide videos from a user by visiting his profile and blocking him/her.
6. Favorite Songs, Hashtags, Videos
Here is a neat TikTok tip. Tapping on the heart icon will add the video to your favorite list. Pretty much everyone knows that. But did you know that you can also favorite hashtags, songs, and even effects that you can later choose to use to create your own videos.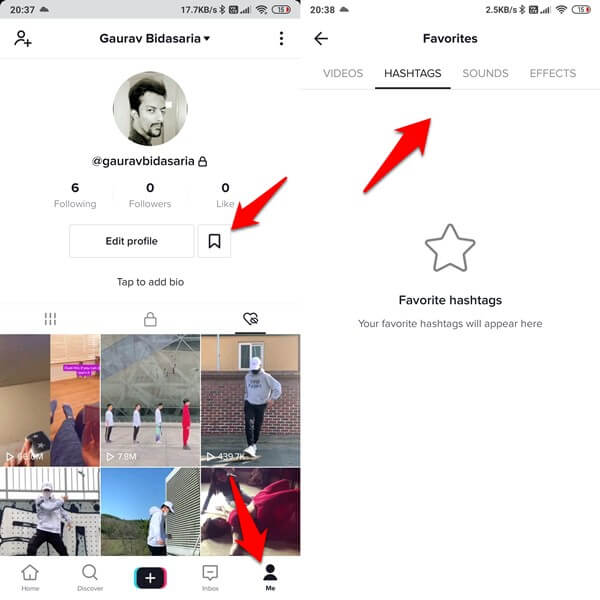 Open the Me tab inside the TikTok app and you should see all your favorite videos here. Tap on the Bookmark icon next to the Edit Profile button at the top to open a hidden menu where you can see more favorites.
7. Save Mobile Data
TikTok is very addictive and also pretty heavy on the bandwidth. Using Wi-Fi is okay because then you don't have to worry about either bandwidth consumption or speed. In case of mobile data, you need to worry about both. Open the app and under the Me tab, tap on Data saver under Privacy and security.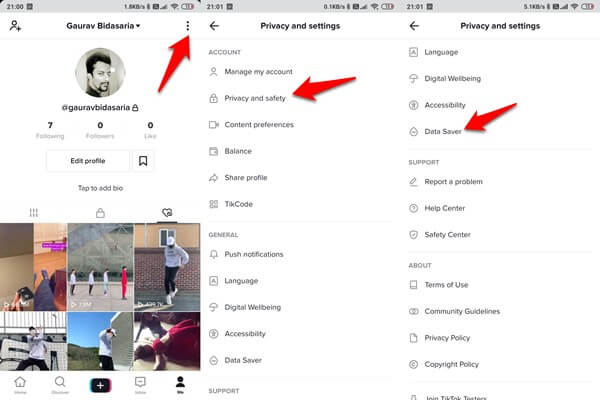 Enabling the data saver mode will reduce video quality but not by much. Considering the kind of videos that usually are uploaded to the platform, I am sure most users can live with the lower resolution.
8. Join the Beta Program
Consider yourself to be a power user? Here is a pro TikTok trick for you. Go to Play Store and open the TikTok app page. Scroll to the bottom of the page and tap on the Join button under the Join the beta heading.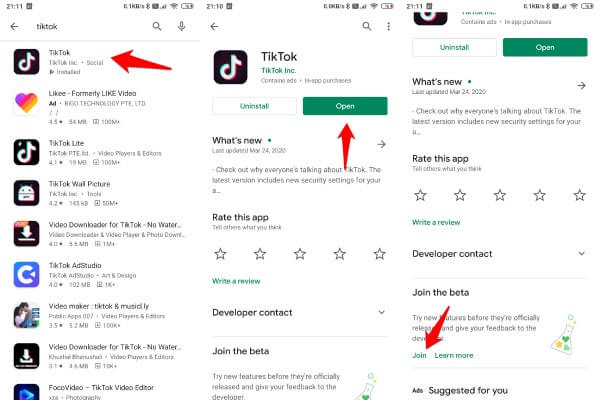 Doing so will help you receive or trial the latest features that are not available to the rest of the world. Your feedback and input will be considered during the testing phase to make the feature even more options.
9. Identify Songs
TikTok users are really good at choosing songs for their videos. Like a song and want to use it in your own video. Here is an amazing TikTok trick. Open and play the video and then tap on the rotating vinyl icon to know the name. You will also see an option to use the same track for your own video right at the bottom.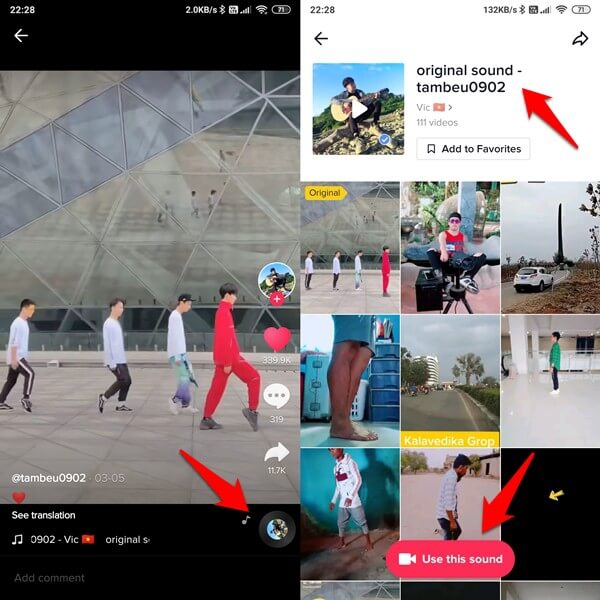 There is no need for a music recognition app like Shazam or SoundCloud. However, if the vinyl icon is unavailable or doesn't work, then using these two music recognition apps is your best bet.
10. Increase Your Following
We all want to increase our fan following on TikTok, don't we? One of the best TikTok tips or tricks is how to to that. Well, making cool, interesting, duet, challenge, and dance videos is not enough.
Always use the correct hashtags and use more than one hashtags to define your video. Stay on top of TikTok challenges. Leave comments on other TikTik users' videos, especially influencers and celebs. Follow a random number of users and then unfollow them a few days later. Share your TikTok videos on other social media platforms like Twitter, YouTube, and Instagram among others. Doing these activities will give you exposure to a wider audience and keep you relevant in the face of changing trends. TikTok is a fast-moving social media platform where challenges and trends change faster than fashion.
Stay at the top of your game and keep entertaining your audience. Always post positive videos. Better yet, find a niche like comedy, health, bodybuilding, dance or even self-defense and stick to it. That will help you build brand value and attract the right kind of sponsors in the future.
TikTok Tips and Tricks
These are some of the best TikTok tricks and tips and we have for you. I am sure there is a lot of stuff that you know and we don't, so do share them with us in the comments section below. That would help us help others too. TikTok is just getting started and there is a lot of room for new players. So if you feel that you sort of missed the bandwagon, you are in for a surprise.