Owned by Epic Games, Houseparty is all the rage these days and for good reasons. There are apps for video conferencing and then there are apps for playing games with friends. Houseparty brings both of these together and is probably the only app to do so. You can start a video conference with your friends and then play games with them in real-time.
Here are some of the best Houseparty tips and tricks for you to get started quickly. Get the most out of this app during the on-going lockdown.
1. How to Use Houseparty
The app is easy enough to use but I will explain everything that you see on the screen when you launch the app. The UI is pretty intuitive.
They share interesting and thought-provoking facts on the home screen. You can turn off the camera, change the camera, lock the room so no one else can join the party, disable the microphone, and end the party (room) from the bottom bar.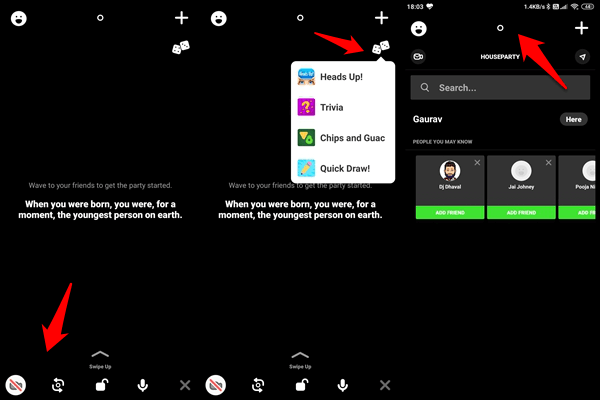 Tap the emoji icon to add friends to the room or invite friends from social media sites or phone books, tap '+' icon to quickly add new friends to the app, and the circular dot in the middle to launch a house party. Finally, tap on the dices icon to choose the game you want to play with friends.
Did you know that swiping up from the bottom of the screen will reveal a quick menu for beginning a house party?
Also Read: 7 Best Chromecast Multiplayer Game (with Android)
2. How to Add Friends in Houseparty
Open the app and either swipe up from the bottom of the screen or tap on the emoji icon. You will see a list of all the friends in your contact that are already using the app. Noticed the 'Add' button next to them?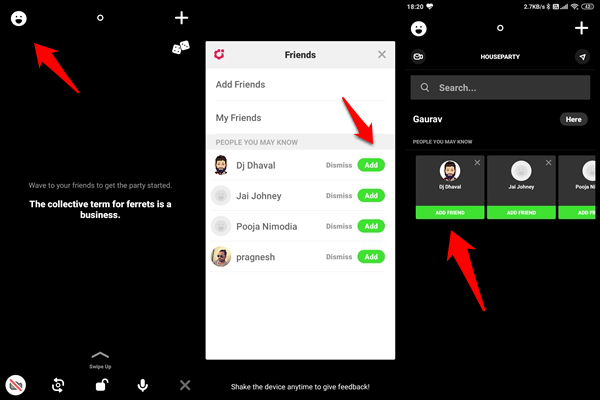 Tap on it to add them to your list or tap on Dismiss to remove that suggestion.
Also Read: 12 Best Offline Games for Android to Play without WiFi
3. How to Invite Friends or Add Contacts to Houseparty
What about friends who are not already on the app? Tap on the emoji icon and then choose the Add Friends option.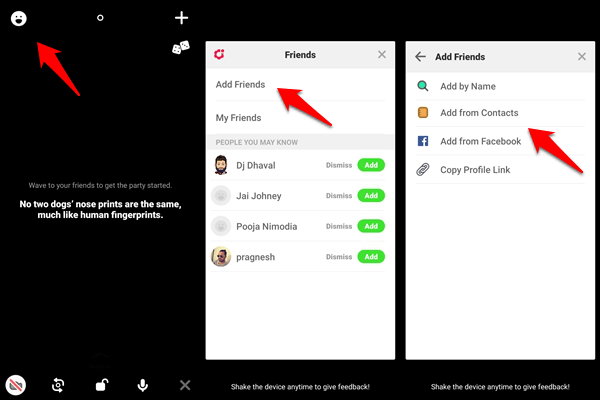 You can invite friends from your Facebook account, add numbers or names from your phone's contacts app, and finally share your profile link via messenger apps.
4. How to Change Name in Houseparty
You can change your name in the app even after you have signed in. Tap on the emoji icon and then select Settings. Tap on Edit Profile. A useful Houseparty tip or trick when you are playing with random contacts on the web. Some users do that.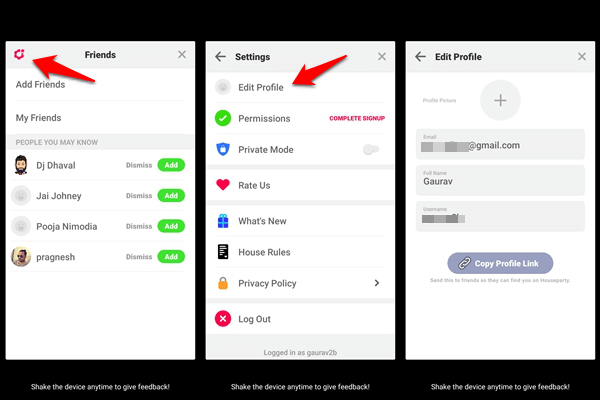 You can change your username and email ID here. There is also an option to copy your profile link to share via messenger apps. I wish the settings option was more readily accessible.
5. How to Start Games in Houseparty
When you open Houseparty for the first time, you will see a dice icon on the right. Tap on it to reveal a shortlist of available games that you can play with your friends. Depending on the game you have selected, you will see more options when it launches.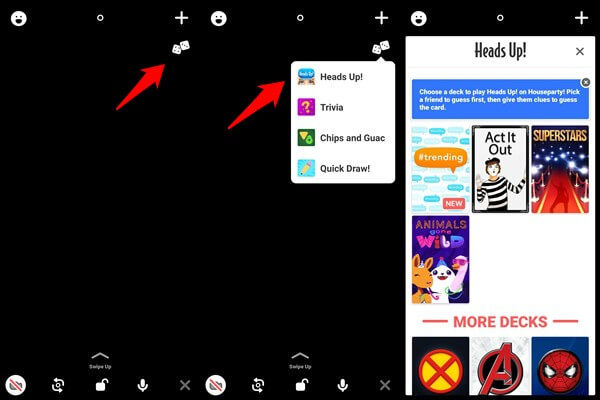 There are only four games available right now. Note that you will have to start a video conference with all your friends in advance. Once you have added your friends and started a video call, you can play any game you like. Remember that no more than 8 people can play a game because that's the upper limit of any room.
Also Read: 12 Best Offline Games for Windows 10 to Play Offline
6. How to Play Games in Houseparty
As discussed earlier, there are only four games in the app. Going by the popularity of the app, I think they will add some more soon. Most of us grew up playing these games but here is a useful link to learn more about gameplay and basic rules.
7. How to Sneak into a Houseparty
One of the best Houseparty tips and tricks is hidden in plain sight. You can sneak into a Houseparty room without anyone in the room knowing. Usually, when you enter a room, all your friends receive a notification but not anymore.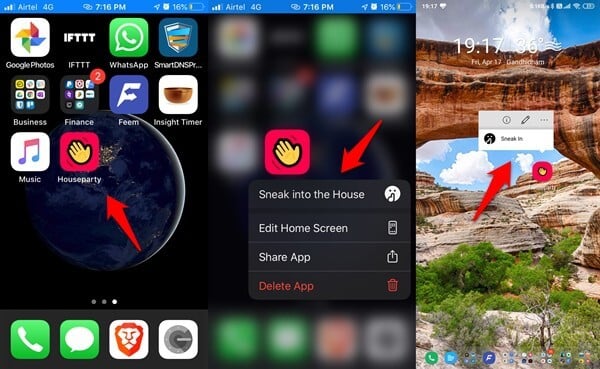 The option itself is not available inside the app. Rather, you need to long-press the Houseparty app icon to reveal a hidden menu where you will find the option at the top.
Also Read: 8 Best Android Multiplayer Offline Games
8. How to Play Houseparty Games on Computer
Houseparty is not just available on Android and iOS. While there is no desktop app for Android and iOS, you can download the Chrome extension to play with your friends using your browser instead. That will allow you to play games on a larger screen, keeping your phone free for other purposes like calling and whatnot. For everyone else, you can sign in using the web version as well. Note that they recently released a macOS app but showed no love for Windows which is the most used desktop operating system in the world.
Related: 10 New TikTok Tips and Tricks to Improve Your User Experience
Houseparty Tips and Tricks
Got everything? Cool. This is pretty much everything you need to know in order to use Houseparty with your friends and family members. The games are super fun and the process is very easy. Houseparty is gaining traction and the dev team is working hard to keep things interesting. Did you find another app that is just as fun as Houseparty? Do share it with us in the comments section below.