Chromecast is not just a movie streaming device, with several entertainment apps like Chromecast multiplayer games, the possibility of this streaming device extended to the next level. The high-streaming accessory casts the games from the Android device to your TV. Everybody with a smartphone can join the team and play on the same TV screen with one streaming device. Games are present in distinct categories starting from family-friendly to much more. However, playing is more fun when done with others.
Here are some of the Best Chromecast multiplayer games for your entire family and friends.
Risk: Global Domination
RISK: Global Domination is a friends board that is now available as a Chromecast multiplayer game. From the Chromecast treatment, the game can be played with ten people for a great experience. If you are alone then with the Global Domination mode, you can play online and battle with others.
Hasbro has adapted the board game very well offering the people two diverse boards to play. Players can choose between French Revolution and Classic to play. The game is available free, and you should try it for fun on your device.
It is cross-platform so if your opponent or friend is on a different platform, they can still play. The game follows a set of authentic rules and has 5 difficulty AI settings which is what makes it adaptable and easy to play for veterans and rookies alike.
Key Features: Authentic Rules | 5 difficulty AI levels | Upto 6 players | 40+ maps | 10+ scenarios for single player
Download it from Play Store: Risk: Global Domination
Related: We already mentioned the Single Player Games that can play with your Android Phone on Big Screen TV. You can see the complete list of Free Chromecast Games to Play on Big Screen TV with Android.
Big Web Quiz
Coming from Google, the Chromecast multiplayer game is available to be played by more than one person. Five players can play at the same time, and each person is easily identifiable through their customized avatars. This group game is a clever and enjoyable trivia game available for all smartphone users.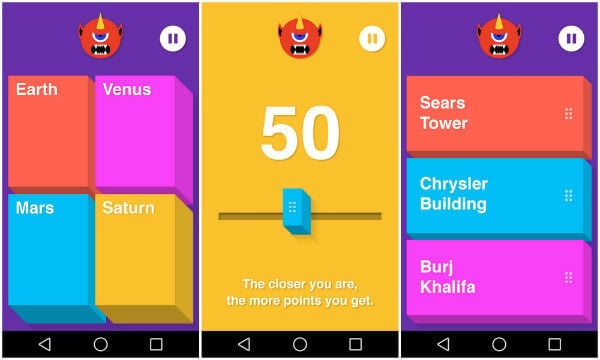 The questions come up on screen whereas the answers are on the TV. Inheriting vibrant colors, simple graphics and mechanics made up of random and amusing topics. What more is needed when you want the old people to find something entertaining in the young party with Big Web Quiz.
The game is all about answering the questions that the app will ask via Google Knowledge Graph. Some have a countdown while some questions have multiple-choice options to select and answer.
Key Features: Multiplayer up to 6 members | Uses Google Knowledge Graph
Download it from Play Store: Big Web Quiz
Related: 8 Best Chromecast Free Movie Apps for Good Quality Movies
AirConsole
Convert your TV into an instant entertainment system with the help of AirConsole. This Chromecast multiplayer game gives a full console experience without any other requirement. It is free and swift to start. The system comes with 40+ games to have an uninterrupted gaming experience on the big screen.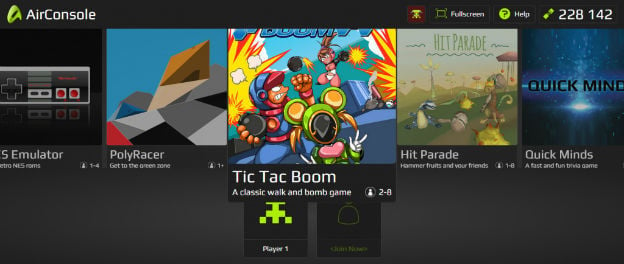 Play some unique games without the need of joysticks and consoles with AirConsole. Your phone will become the touchpad on which you can manage the controls while playing the game on a large screen. There is absolutely no trouble encountered in setting it up when it is there on the device.
You'll get 11 free games with the Starter Pack with up to 2 players and ads. On the other hand, monthly subscriptions will unlock 140+ games & unlimited players.
Key Features: Starter pack with 11 games | 140+ multiplayer games | Unlimited players |
Download it from Google Play Store: AirConsole
Related: How to Download and Install Fortnite on Any Android Phone?
Alien Invaders
Almost every person is a fan of the classic Space Invaders having some detailed graphics at that time. Alien Invaders is a spin-off of the classic game, which just has a modern outlook. There is no change in the core gameplay of the Chromecast multiplayer game to make the players nostalgic. The player has to defeat the waves of enemies with their spaceship.
Like the classic game, the player has to clean the alien wave before they close up and reach more near the player's spaceship. The enemy ships will try to eliminate your ship with fire, try to avoid it to stay alive.
Use the controls on your phone to steer your spaceship and tap to shoot at the invaders in space. It is a complete light-weight entertainment package for sure.
Key Features: Multiplayer up to 6 members | Cross-platform | Family-friendly
Download it from Google Play Store: Alien Invaders
Jeopardy
Many people love the popular American quiz game show, Jeopardy and this Chromecast multiplayer game is an excellent rendition of the show. Test your intelligence with hundreds of clues collected by the writers of the show. The game offers a full-fledged introduction of Johnny Gilbert.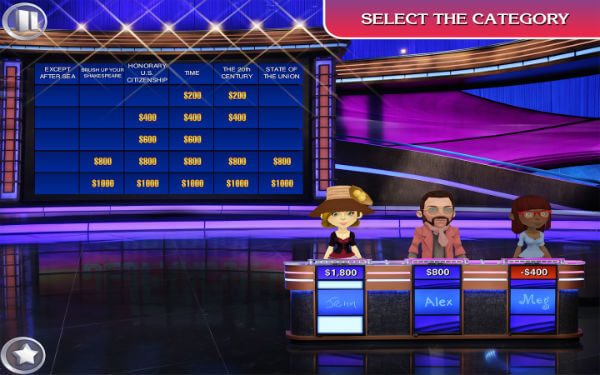 Customize your avatar for the game and with interactive touch write your name on the podium. The game allows the users to celebrate about 30 seasons of the show. The game is true to the show and players of competitive nature will enjoy the game.
The game lets you test your trivia knowledge and that too in offline mode. Win big by unlocking power-ups and by answering trivia at every stage. Take part in tournaments and events across the globe and increase your trivia intelligent quotient.
Key Features: Family-friendly | New challenges & trivia | Offline Mode
Download it from Google Play Store: Jeopardy
Emoji Party
Love emoji a lot; then Emoji Party is just for you. It is a great party Chromecast multiplayer game for your big screen. Use your phone against your friends and family competing against them to create a fun atmosphere. With the game, make your gathering much more happening, by transforming your television into a center of enjoyment.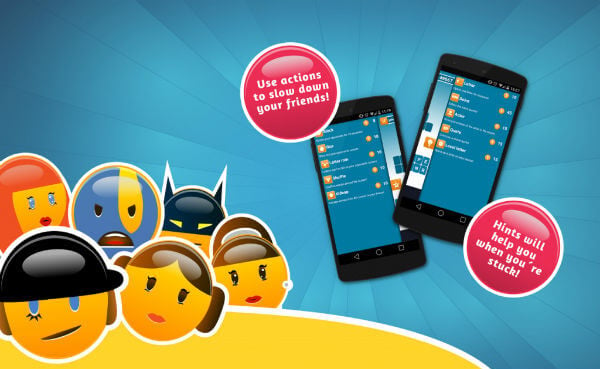 Each emoji represents a lot and almost anything. Guess the movie titles with the help of emoji and defeat your friends by having more guesses than any other. Collect as many coins as possible by answering right and beat your opponents. With coins, you get action cards and hints. You can use it to get a hint about any puzzle or hijack your opponent's screen with action cards.
Key Features: Chromecast with family or friends (Multiplayer | Action Cards & Hints
Download it from Play Store: Emoji Party
Tricky Titans
Tricky Titans is a game that runs only on Chromecast and is based turn-by-turn format. In the game, you along with your friends are fighting each other. The players must select whether to attack, defend or power-up in each round for their Titan. Each choice is tricky that might make or break their chance of winning the game.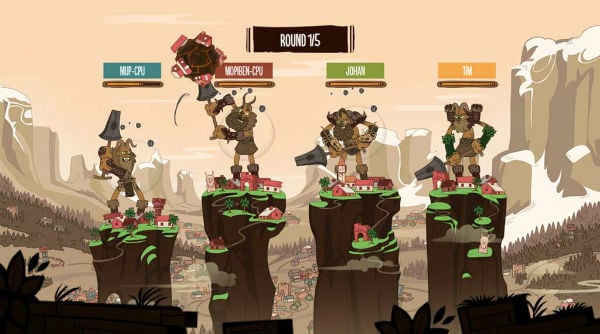 Every player's Titan is standing on a rock pillar, and with each pit, the length of the pillar decreases. To win, you must stand high against all other players. You can customize your Titans with a diverse range option like outfits, beards, and horns. With each round, you need to choose whether you want to attack or defend or power-up.
You can choose the number of rounds you want to play each time. It is a fun and graphically intriguing game to play. You can connect it to the TV via Chromecast from your phone or tablet as well.
Key Features: Customise the Titan | Adjust rounds to play | Multiplayer
Download it from Play Store: Tricky Titans
Related: Android Apps to Stream Media Files from Phone to Chromecast
Wheel of Fortune
The Wheel of Fortune, an iconic Emmy winning TV game show is now available as an interactive game show that you beam to your TV. Play the famous game solving word puzzles created by the show's producers. Spin the wheel to get the puzzles, hints, and more. The game already has thousands of word puzzles to solve and more are added almost every day.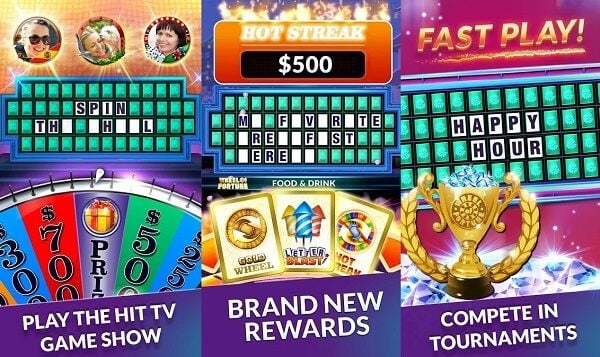 It is a pastime for those who loved the iconic game show starring Pat Sajak as your host. You can customize the outlet all you want. Boost the adrenaline in your body and tease your brain to find the answer to the puzzle with the Wheel of Fortune.
You can play tournaments or play solo or ask two of your friends or family to join you on a three-way battle to win the jackpot. It is free to use but contains ads. The game offers a tonne of in-app purchases such as buying for a vowel or hint and so on. So, don't miss your chance to play the Wheel of Fortune.
Key Features: Multiplayer up to 3 players | Unlimited puzzles to solve | Guided tour of the game
Download it from Play Store: Wheel of Fortune
CastNES
Are you an NES fan? If you can't get your hands on a physical NES device, why don't you use a virtual one? This is a great app that you can install on your phone and connect with the TV via Chromecast. This isn't a game but an emulator that will enable you to run all the NES ROMs you could find on the internet. Simply download the ROM for any of your favorite games from the web, install it, and play.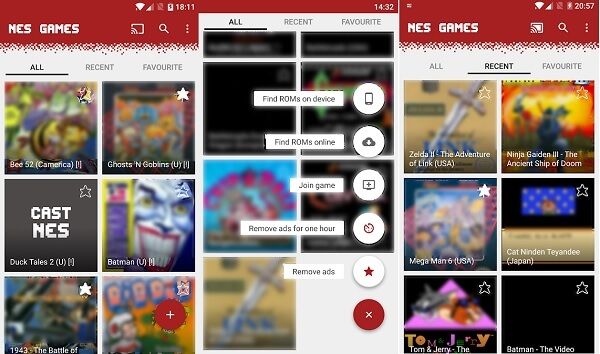 The emulator offers a great and intuitive gamepad which is surprisingly fast and offers haptic feedback. This will surely enhance your gaming experience as if you are holding an NES player. The emulator can save game progress and loading offering a much-needed continuance if the case if you want to continue later. It has a built-in ROM downloader so that you can get your favorite NES games right away.
Key Features: Saves Game Progress | Fast & intuitive gamepad | Haptic feedback | In-app purchases
Download it from Google Play Store: CastNES
Math Arcade
Train your brain or if you have children, tease their power to calculate sums with Math Arcade. The game gives you an easy way to learn addition, subtraction, division, and multiplication. Simply Chromecast it to your TV and play along feeding the right answers for the queries that appear on-screen. Improve your math capabilities with simple, easy to follow levels and stay active and fresh.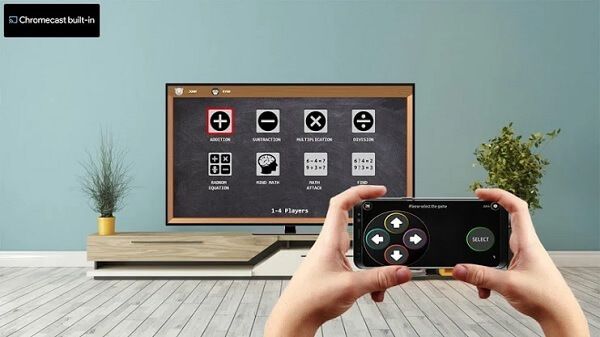 Select the category i.e. either Addition, Subtraction, or from the other 6 categories. Use your phone to answer the questions asked. Use its multiplayer option by adding up to 3 more players and play along to score the highest.
Key Features: Multiplayer up to 4 | Improves memory, math calculations and ability to analyze | Multiple modes
Download it from Google Play Store: Math Arcade
Puzzle Cast
Are you good at solving jigsaw puzzles? Yes or no, it's time to check out Puzzle Cast, the multiplayer game that lets you solve jigsaw puzzles on your TV. Up to 6 players can play at a time and compare their scores by solving the puzzle. The game already has a huge catalog of puzzles and more are being added daily. There's no way you will feel bored playing it.
The game already has 150+ puzzles around 12+ categories. The puzzles are arranged across 20 difficult levels and up to 400 pieces that you can join together to form an image. You can use Chromecast or any casting device to stream it live on your TV and play it on a big screen. The puzzles are in 1080p resolution. The game is easy to use and the UI looks pretty decent. Every puzzle brings a different challenge so do play it right away.
Key Features: 150+ Puzzles | 20 difficulty levels | Multiplayer at up to 6 players | HD puzzles
Download it from Google Play Store: Puzzle Cast
Just Dance Now
If dancing is something you like, try Just Dance Now brought to you by Ubisoft. It is one of the few games on Android that support Chromecast so that you can party hard with your friends and family. The game has over 500 songs to choose from including bigwigs like 24K Magic from Bruno Mars, Bad Liar by Selena Gomez, Shape of You by Ed Sheeran, and so on.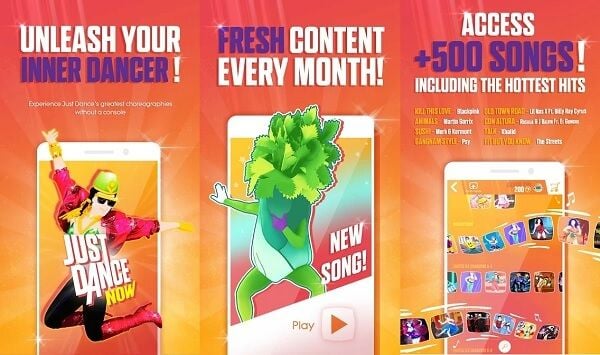 Connect with the TV via Chromecast, select the song you want and ask your friends to join along. Mimic the dance as shown on the screen and become the danced master. Dance along with 10, 100, or 1000 players with Just Dance Now via its Social feature. Create your playlists and groove to the one you like. A HealthKit feature lets you track the number of calories you have burned that you access on its dashboard.
Key Features: HealthKit | 500+ Songs | Socialize with tens of players | Easy to use
Download it from Google Play Store: Just Dance Now
Best Chromecast Multiplayer Games
Chromecast, one of the top-selling media-streaming devices from Google is present for giving the best media experience on your Big TV. There are many Chromecast multiplayer games available for all ages in the Chromecast App store.
Just with a Chromecast streaming device and Android or iPhone, you can stream almost everything into big-screen TV. It can be your favorite TV shows, films, music, sports or even your family photo album. Chromecast works smoothly with iPhone, iPad, Android phones, tablets, Mac, Windows Laptops, and Chromebooks.
Just casting your media is not the only purpose of Chromecast. With the above Chromecast multiplayer games, you can enjoy the party with your friends. These games can increase the liveliness of the party and avoid the boredom of the people coming. Amuse your guests as well as the whole family with ease from the help of these multiplayer games.