Watching movies through the use of Chromecast has become easy, thanks to the speed-efficient applications which allow the use of the same. Chromecast is a media streaming device, savvy with any Android, iPhone device which will cast your favorite movie or other videos on the big screen. The Movie applications differ in quality, sizes and moreover, with a poor internet connection, it can take ages for you to see them on your TV screens. With Chromecast, the connectivity is much easy, and you will be able to watch all your films efficiently on the big screen with the Chromecast Movie Apps.
Now let's have a look at the best Chromecast free movie apps to stream from your smartphone to Chromecast connected big screen TV.
YouTube
Since Chromecast and Youtube are from Google, the Youtube app is tightly integrated with a Chromecast device. Youtube offers faster streaming videos, many choices of languages, cultures, genres and amazing buffering speed makes youtube a smart choice for watching movies for all Android and iOS users.

All you need to do to stream Youtube video is just tap cast icon on YouTube app from your Android or iPhone. Ideally, you can stream any videos from YouTube to your big screen TV over Wi-Fi just with a simple tap on your mobile screen. YouTube is offering an option to Download and Watch YouTube Offline without any Apps.
Key Features: Offers 40 live broadcast and cable channels | Huge number of sports channels for sports lovers | Easy to access cloud DVR
Download: Site | Android | iOS
Daily Motion
Daily Motion is the second best free movie app after youtube. Daily Motion even offers a chance to see the videos of your choice in the translated language which you understand. There is the option of 4KHD videos, with an easy interface and quick SEO capacity.

You can share the videos you like with friends quickly. One is in complete control with Daily motion as you can personalize, manage and even control your channel. The movies you love can be stored in your playlist.
Key features:  Favorite people, brands, and Channels | Personalized recommendations | Offline viewing | Own Library option | Live streams | Sports, News, Music, Movies
Download: Site | Android | iOS
Related: 8 Big Screen TV Games You Can Play with Chromecast and iPad/iPhone
Crackle
Crackle app works at the crackle of a minute to make you see the movies you like. Any movie can be seamlessly watched without any hassles on crackle. You can be a new subscriber and still watch a movie of your liking on this popular app without signing up. By adding an amazing list of movies every year, they bring such a great collection of films for movie buffs.

You can also make your wish list of movies to avail of them on crackle. Crackle also provides an option of watching offline, not just movies but also TV shows and other visual stories.
Key Features: Fantastic User Experience, 150 full-length movies, and Almost 40-50 TV series, Streaming Consistency across diverse platforms
Download: Site | Android | iOS
Related: How to Stream Local Videos to Chromecast from PC & Mac
PBS Videos
With PBS videos you can expect live streaming of videos and shows. One of such apps which allow the same is PBS videos for watching free movies online. The best advantage remains that you can watch them whenever you want as you retrieve them after having saved it.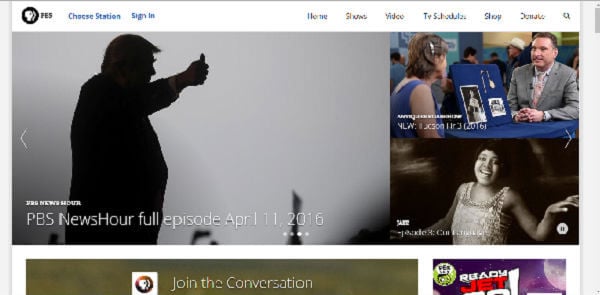 Related: 5 Best Chrome Extensions to Cast Videos & Photos from PC to TV
PBS videos not only offers the option to watch free movies but also excellent TCV shows like Downtown Abbey. Do not miss the chance.
Key Features: Masterpiece shows | Antiques Roadshow | History Detectives | Nature | PBS NewsHour segments | Original online series
Download: Site | iOS | Android
Crunchyroll
Quite a new name indeed but yes the app is fantastic for watching free movies. One will be able to watch more than 25,000 episodes including 15,000 hours of latest shows of Anime with Crunchyroll.  Crunchyroll allows you to stream online videos at a much faster speed than other apps. One can also download and save your favorites to watch them later.
If you are watching videos in 3D on Crunchy roll, you can expect them to be break free.  Thus, with one of the fantastic movie apps, enjoy an extensive collection of subscription varieties and packs. Crunchyroll has applications including Crunchyroll for iPhone, iPad, Android, Kindle, Windows Phone, Playstation®3, Playstation®4, Playstation®Vita, Xbox LIVE® on Xbox 360 and Xbox One, AppleTV, Roku, Nintendo Wii U, Internet-enabled TVs, set-top boxes, and more.
Key Features: Over 25,000 episodes | Support tvOS, Xbox, PS4, Roku, Chromecast |
Download: Site | iOS | Android
Related: 9 Free Chromecast Games to Play on Big Screen TV with Android
Yup TV
It is the time to say yup to all new plans, devices, and technologies. With more than 100 languages to support and efficient video quality, Yup TV is India's popular video hub for fans.

With amazing channels and regional channels of viewers' choice, there is no other channel to beat Yup TV's range of shows and films. One can prefer this if you want a variety of genres as well. The good news for residents of India is that their mobile application is only available in India as of now.
Key Features: Mobile TV | High-quality live streaming | Live TV Channels
Download: Site | Android | iOS
Snag Films
Snag Films is the latest entry in showing movies effortlessly. With the use of Chromecast, you will be able to get an enhanced TV experience. From Academy winning films to extremely eccentric yet classic art films, snag films have it all. It has a collection of over 5000 films and more than a hundred critically acclaimed documentary films.
All one has to do is do a quick search of movies by typing either the length, genre or type of the movies. Even hard-to-find independent work of movies could be put up and showcased at Snag films for viewers.
Key Features: Over 5,000 independent movies | TV Shows | international foreign films | Support Apple TV and AirPlay | In-app sharing
Download: Site | Android | iOS
Tubi TV
Out of all of the above mentioned free movie apps which can be seen on the big screen via Chromecast, this is perhaps a little different. It contains a list of more than 40,000 titles of movie series to its credit. Various genres including humor, horror or others could be tapped on Tubi TV. The browsing experience is smoother and is one of the best in the list of other free movie apps.  It is a free TV through apps and is considered to be a kind of movie revolution in terms of watching videos through Chromecast.
Key Features: Easy to use interface for novice users, Diverse video categories and Contains a catalog of 50,000 titles | Download: Site | Android | iOS
Chromecast Free Movie Apps
With Chromecast free movie apps, people will be able to watch all their favorite movies of different genres on a big screen instead of depending on the small smartphone screens, especially on Android phones which are used by almost everyone.
Roku users can check here for the list of 7 Best Roku Free Movie Channels for Good Quality Movies. With the above apps, you have the provision to share the movies you like with others, with some of the listed applications, availing of such services would not be a problem. For free movies, these Chromecast movies apps sound perfect. For viewers who adore watching the genre and type of movie they want to see on a big screen, these apps are a big help. They are the next step when it comes to experiencing films online.