Chromecast is a device that brings your daily media experience using simple Chromecast apps from your iPhone, laptop, tablet, or any other smart device to your home big screen. Everyone loves to enjoy media on a big screen, whether it is a movie, a presentation, or even a game, the bigger the better, and to serve this very purpose, Chromecast is here. There are a few gaming apps that provide you with the big-screen gaming experience with your Chromecast Device and iPhone. When you want to share your experience with everyone around you on your big TV screen, Chromecast Games and Video Streaming can be your best bet.
Here we present to you the best free iOS Chromecast Game Apps that you can enjoy on your Big Screen TV with handy iPhone or iPad.
Angry Birds Friends
Who hasn't heard of the epic game, Angry Birds! This is a game that took the whole world by a storm soon after its launch. The fun and simple interface of this game, that often grabs the attention of players for hours, is now available to be played on the big screen.
No need to rely on your small 4-inch display smartphone to play Angry Birds, time to switch to your big screen TV with Chromecast device. This game provides new features and animations along with a brand new level each week to always keep you entertained.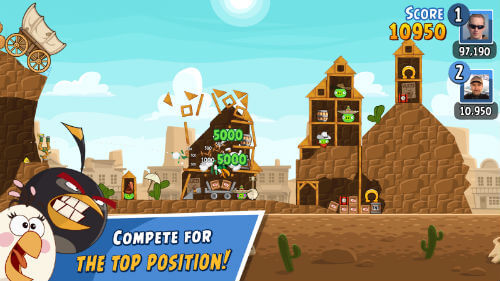 Angry Birds Chgromecast game offers 20 new Angry Birds levels every week that players can play. Head towards the game's head-to-head against opponents. Win free power-ups to excel in levels and win big rewards likewise. You can avail the special slingshots and level effects among other rewards with each level you clear and proceed.
Key Features: In-app purchases | 20 levels each week | Powerups, special slingshots & other rewards | Easy to play | Impressive graphics
Download from App Store: Angry Birds Friends
Related: 5 Free iOS Apps to Stream Videos and Photos to Chromecast TV from iOS
Wheel of Fortune (Official)
America's No. 1 TV show dating back to over three decades is now available as an interactive game on the iTunes platform with its Chromecast compatibility. This game not only indulges the players in several interactive levels but also helps them engage their memories and spin the gears of their brains.
With the ability to choose your own in-game avatar and dress him/her up as you want, this application is a must-have for you and your family whenever you have a get-together.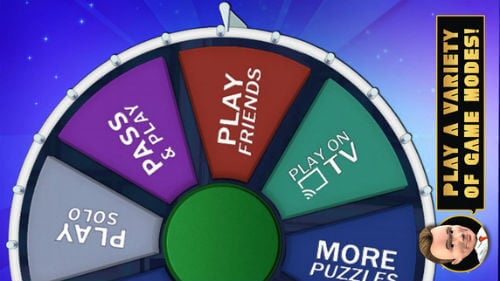 With Wheel of Fortune, you are tasked to solve word puzzles and there are thousands of puzzles available. Users can create their personalized word puzzles to keep friends and family in the loop scratching their heads. There's a free and a premium version available at $9.99/mo that gives VIP access to everything the game offers.
Key Features: TV-style gameplay | Unlimited Puzzles | Multiplayer | Chat, and exchange virtual gifts
Download from App Store: Wheel of Fortune (Official)
Big Web Quiz for Chromecast
This is a fun application that can be enjoyed by 5 members at a time. Gather your friends or family in the living room, plug in your Chromecast, and start playing this wonderful game! This is a trivia-based game that the users can play on the big screen with their own in-game avatars, the creation of these avatars is totally up to the players.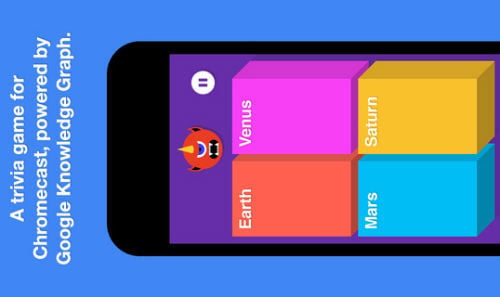 This is a simple game that can be played using your iPad or iPhone connected to the Chromecast at your home. It is available for free on the iTunes store! Here, each player will get its own outfit and attire i.e. avatar. The game basically asks questions like "How many Rottweilers are Shia LaBeouf?" and you need to answer it. The trivia game often arrives with multiple choice questions or those with timers.
Key Features: It uses Google's Knowledge Graph | Multiplayer up to 5 members | Subtle graphics & animations
Download from App Store: Big Web Quiz for Chromecast
Pirate Dice – A Chromecast Game for Pirates
This is a simple multiplayer dice game for all the people who ever dreamt of being pirates! Well we know that at least once in your lifetimes, you have put a black patch on one eye and walked with a limp to resemble the pirates, haven't you?
This is a simple dice game that can be played by 2-8 players at a time to give you the feel of a pirate with its animations and sounds. This is a simple dice game that can get you indulged and interested for hours and is available for free download from iTunes.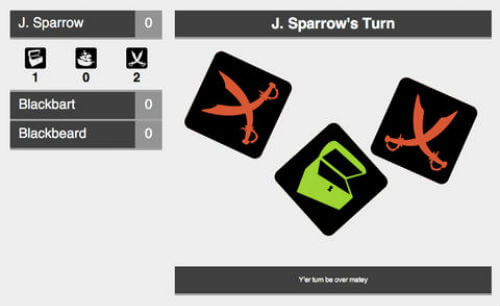 It might take some time to gauge the lexicon that this app uses such as buccaneers for players and so on. Your task is to be the first one to get 13 treasure chests and you'll win.
Key Features: Free to use | Pirate-theme background | Easy to use and play | Compatible with iOS 6.0 and later | Multiplayer up to 8 players
Download from App Store: Pirate Dice
SCRABBLE Blitz 2: Big Screen Edition
The most epic of games ever built is now digitalized and can be played on the big screen using the Chromecast! The scrabble! Just connect your device to the Chromecast while playing the scrabble on your device and experience it on the big screen! You can either play the game in a single-player mode or with your family and friends on the big screen!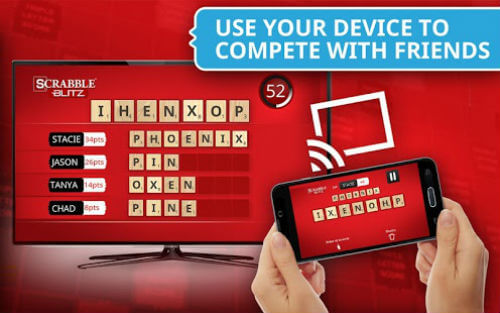 With the Blitz gameplay mode, you can also play with a time limit and not an opponent hence surpassing the conventional method of scoring and playing the game. The best part about this game is it enhances your vocabulary.
The game gives you access to a host of word puzzles that you are required to solve. Get double and triple points on hitting a jackpot with unique words or as specified. Scrabble is a total pastime if you are looking for a game to play on your big screen just casually for fun.
Key Features: Free to use | Single Player & Blitz mode | Subtle graphics
Download from App Store: SCRABBLE Blitz 2
Memory Cast for Chromecast
The classic game which we used to play as kids on our computers and onboard using a stack of cards is now available for you on the iTunes store as a Chromecast App. This game has the most basic of rules and scoring system, similar to what we used to play when we were kids.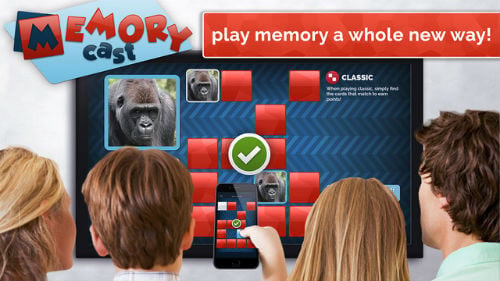 Just flip the cards and remember the location when you flip them back. Reveal matching pairs and score! This simple and one of the most fun games is available to play on the big screen using the Chromecast device.
You can tweak the number of cards you need to play from 6 to 56 cards. It has cards spanning across categories like sports, space, food, animals, and others. Your task is to find matching pairs across the cards and win big then your competitors.
Key Features: Solo & multiplayer | Friendly for all ages | Different Modes | Select Number of cards
Download from App Store: Memory Cast for Chromecast
Alien Invaders game for Chromecast
Don't just play the conventional puzzle and brain games, try something new! Save the earth from an alien invasion and be the earth's mightiest hero! Not only does the game support a single-player version but also supports a multiplayer one! Play with up to 4 of your friends and family and enjoy the game on the big screen.
With your Chromecast Device and free Chromecast Games from iTunes, you can enjoy the experience of these games on your living room big screen. Whether it is a family get-together or casual friends' meet up, these games will always entertain you and keep you indulged for hours.
Get your hands on your phone and shoot bullets towards your opponents and obstacles in-between. Use the buttons on your phone to steer left or right to escape being struck. It is basically a light-weight adrenaline-pumping Chromecast game available on Google App Store free of charge.
Key Features: Multiplayer at up to 6 players | Family-friendly | Cross-platform
Download from App Store: Alien Invaders game for Chromecast
Related: Top 7 Virtual Reality Games for iPhone that is Completely Free
Deer Hunter
With Deer Hunter, start the spree of becoming one of the best virtual hunters. Visit various real-like locations from Alaska to Zimbabwe and hunt down animals. Hide and shoot the animals from a distance and earn rewards. With this game, you will have to learn the patience and persistence of aiming the shot and mastering the skill of taking a perfect shot that will bring down the animal at one go.
The game offers huge customization options ranging from magazines, barrels, scopes, and more that you can tweak based on the location and animal to hunt. The app has a premium subscription that unlocks plenty of rewards and trophies based on which plan you choose i.e. either Silver or Gold. Connect your iPhone to the TV via Chromecast and get set go with Deer Hunter on a huge screen.
Key Features: Single Player | In-app purchases | Customize weapons | Various real-like locations & trophies
Download it from App Store: Deer Hunter
Just Dance Now
If you love dancing, check out Just Dance Now, the Chromecast ready game available at your disposal. Just Dance Now has a humongous catalog of more than 500 songs including hits such as Another One Bits The Dust by Queen, Swish Swish by Katy Perry ft. Nicki Minaj, Despacito by Luis Fonsi & Daddy Yankee among others.
Connect the iPhone with Wi-Fi or 4G, plug it to Chromecast strapped on your TV and there you go. Select the song you like from the hundreds of available onboard including 40 songs from the game's 2018 iteration. Boogie-woogie to the latest songs, dance to the grooves and invite your friends to join. The Social Mode on Just Dance Now allows an unlimited number of players so you can have 10 to 1000 players at once. The HealthKit feature tracks the calories burned and showcases it on your iPhone in case you are a fitness lover.
Key Features: 500+ songs | 40+ songs from 2018 Dance Now | HealthKit | Social Mode | New songs every month
Download it from App Store: Just Dance Now 
Tower Construction 3D
With realistic graphics, the Tower Construction 3D is a casual fun-loving game. Your task is to build a skyscraper with blocks that a crane picks up. Tap on the screen and the crane will let go of the block on top of the skyscraper you are tasked with building. A wrong move and an imbalance can cause the entire structure to go down. It is a strategy game that takes realistic physics and graphics with AR and VR support on-board.
Beware of the changing weather that can kick off the blocks. The game is available in both single and multiplayer modes with different camera angles to toggle and get a clear sight. It is compatible for users of all ages so download the game right now and start the construction.
Key Features: Multiplayer up to 5 members | 3D graphics | Realistic physics | VR and AR support | Multiple camera angles
Download it from App Store: Tower Construction 3D
QuizUp
Have you played Big Web Quiz? If yes then this game is similar although it packs in a lot more than usual. It is a brain teaser quiz game that will improve your trivial knowledge in a fun way. Challenge the opponents or friends all you want and beat them to the dirt by answering correct answers to all the questions. You'll find a tonne of trivia on categories like general knowledge, action movies, internet, logos, sports, and counting. Check out the category you want and you are good to go.
It is certainly one of the best Chromecast games under the trivia category. QuizUp is a perfectly competitive game with a global leaderboard where you can compare your records. It is available free to play with a tonne of in-app purchases.
Key Features: Free to play but with ads | In-app purchases | Multiplayer | Global Leaderboard
Download the app from App Store: QuizUp
Fire Team
Do you love the old-age pixelated arcade games? If yes then Fire Team is all yours. The game takes you to a journey where you are tasked with going through different levels. You need to put down ghostly enemies and tackle powerful bombs that will hunt your down. Play it solo or get 5 of your friends to play on a 6-member multiplayer setup on the go.
The game offers a tonne of in-app purchases targeted to import new maps to play and also to remove unwanted ads. So, what are you still thinking about? Download it asap.
Key Features: Four Survival Modes | Multiplayer up to 6 members | In-App purchases
Download it from App Store: Fire Team
Using Chromecast games with iOS devices, playing on the big screen has become easier than ever. Install any one of these Chromecast game on your iPhone or iPad from iTunes store, connect your Chromecast device to the TV, and the games will stream into big screen TV from your iDevice. You can always switch back to the iPhone or iPad if you don't like to play on the TV screen.
We recommend installing these Chromecast apps to have fun where you get to learn new stuff too, and we recommend them for your kids to play together and enhance their memory and actual skills.