Did you ever try to stream local videos to Chromecast from Windows or MAC? Or ever tried to Mac Airplay to Chromecast? Google is offering Chrome plugin to cast a PC browser or desktop screen to big screen TV with Chromecast. This will work perfectly when you want to see your browser content on a big screen TV.
You can stream web videos and audio directly from Chrome browser to TV with a simple click on the Google Cast plugin. For Mac users, this is almost like Mac Airplay.
However, when I tried to cast a local video from a PC, this Google Cast plugin was not enough to successfully stream my video. I tried to cast a couple of videos from Mac to Chromecast, and the video and audio streaming experience were not much encouraging.
I start to see the background of my PC screen while streaming the videos to TV. Sometimes, I lost my audio and saw the only video on my TV Screen. Since I don't have an Apple TV, I was trying to Airplay Mac to Google Chromecast.
Even though Google is offering Google Cast plugin to stream your desktop and local videos, the solution is still not reliable. Google did a good job of integrating Android OS with Chromecast, and you can see Android Apps to Stream Media Files from Phone to Chromecast.
Step1: Install VideoStream Chrome Extension
The best solution to stream local videos from PC and Mac through Chromecast is to use a Chrome VideoStream app. We selected one free solution from Chrome Web Store, called Videostream for Google Chromecast.
This is a free app that can install on your Chromecast browser. Before you start streaming your video, open your Chrome browser, and install this extension by clicking on the link provided above. Once you install the app, you can see the app icon on the Windows or Mac app folder.
Step2: Setup Chromecast device
Please make sure your Chromecast device is already connected to the TV. Please see this Google site for Chromecast if you are relatively new to the Google Chromecast device. It is very important to keep connected your Chromecast device in the same Wi-Fi network where your Windows / Mac Computer connected.
Step3: Select the Local Video to Stream
Now click on the Videostream icon from your PC, and the app will open in the Chrome browser. Select the video you want to stream on TV from your local disk. Now the video will start to play on both your browser and TV.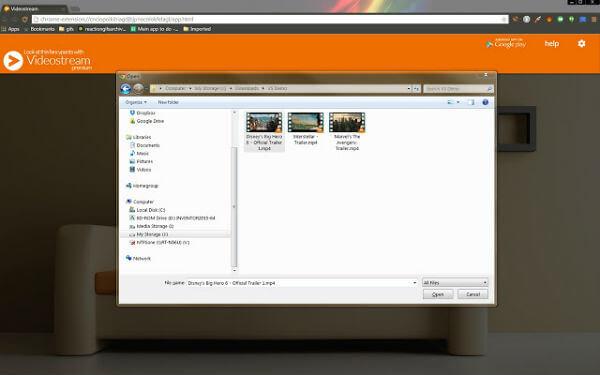 Step4: Stream the Video to Chromecast from Mac/PC
The sound will already start to stream on TV. That's all. Now you can minimize your PC Chrome browser (if you need) and enjoy the video on the big TV Screen. You have to keep the PC turned on and the browser open to watch the video on TV.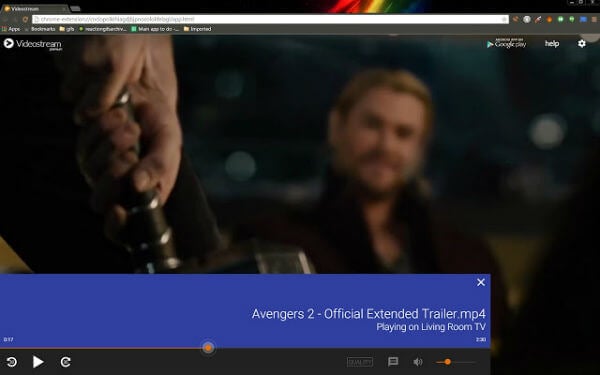 This Videostream app can Play local videos on your Chromecast and Android TV directly from your computer (PC, Mac, Linux) with subtitles. There is no need for any media server in between, and you can wirelessly stream your videos on TV.
This Chromecast app supports AndroidTV (Sony, Sharp, Nexus Player, Nvidia Shield) and capable of streaming videos in full 1080p and also offers full support for AVI and MKV files, 3D videos, etc. In addition to this, Videostream also supports MP3 and other music file streaming. This is almost a perfect solution for those who are looking for Mac Airplay to Chromecast.