Whenever you want to backup Android Phone or transfer any file to Android device, the solution is Android OTG (On The Go) drive, called USB OTG. They are convenient and standard as well as more functional than the traditional USB devices.
Typically USBs can only be connected to a PCs like Mac, Windows or Linux OS. OTG drives are built for Android devices and these drives can do more things than the regular USBs. A person can do a lot of stuff with OTG drives and Android device, like connecting your Xbox, or PS4 controller attaches your keyboard to it. They have replaced many connectors and nearly killed the existence of USB extension cables. There are workarounds to Expand your Samsung Galaxy Tab Storage.
The typical use of USB OTG is with the peripheral devices connected to get more control and enable more operations through them. Android OTG can play music direct from memory card,  can connect their MIDI keyboard as well as other music audio input instruments for making music on the go.
Related: Easy to Share Large Files between iPhone and Android without Wi-Fi or Data Connection.
An Android USB on the go adapter has multiple uses. Here are some of the best Android OTG devices allowing you to get the features that you need at the time of file transfer
SanDisk Ultra Dual USB Drive
SanDisk Ultra is the perfect USB OTG drive is easy and fast in use allowing the person to make quick and easy for transferring or sharing the files. Whenever you want to move files, just switch the SanDisk Ultra Dual USB Drive to micro-USB connector for transferring the files.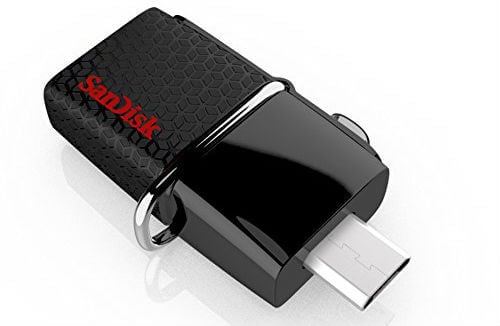 Transfer the files with ease and make the Android smartphone the device that is always accessible on the go and gets the audio, movies whenever you want to. It is a plug and play USB on the go and is automatically detected when the drive is connected. Coming in 16GB, 32GB, 64GB and 128GB storage sizes it is a cheap and cool device.
Buy from Amazon
Related: 6 Easy Methods to transfer files between Android and Windows
Samsung MUF-64CB/AM
Samsung 64GB USB 3.0 Flash Drive is the flawless match of form and function having the build of the metal casing with quality along the streamlined, durable design. Known for their performance, you can rely on them for being data safe and accessible whenever.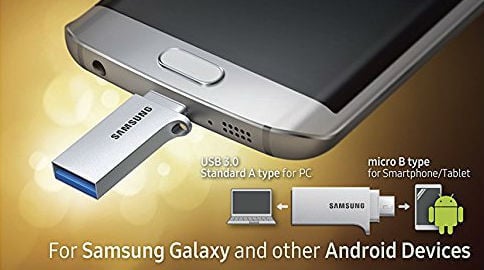 It is an all-purpose drive that is Waterproof, Shockproof, magnet proof, temp proof, and X-ray proof. Coming with NAND Flash Technology also inherits High-speed USB 3.0 flash drive for fast transfer. The flash drive comes with an integrated cap protecting the micro USB connector from damage when not in use.
Buy from Amazon
Kingston Digital DTDUO3/32GB
Kingston Digital 32GB Data Traveler is an additional storage USB OTG adapter allowing Android mobile devices.  This device gives you DTDUO functionality to the Android tablets and smartphones without the need for micro SD card. The USB OTG is easy to take anywhere and ideal for storing large files. This On The Go USB device lets to connect directly to Android devices. With the ultra-small design of DTDUO is compact and allows you to cut off your load of carrying the external hard disks. Attach it to your key ring and get the extra storage whenever needed.
Buy from Amazon
EAGET V90 2nd Gen.
EAGET V90 2nd Gen USB 3.0 / Micro USB OTG is a high-speed USB OTG adapter that allows easy data transmission on the Android devices. This flash drive provides additional storage for Android devices as well as for the personal computers.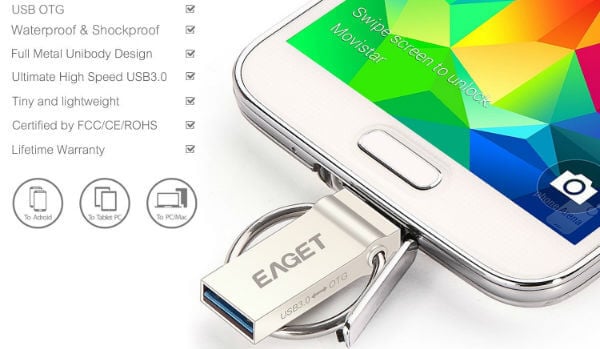 Cloud storage might be great but how a person can forget the use of humble and persistent USB flash drive.
Buy from Amazon
These adapters are easy to use and quite simple to manage whenever needed. You can use them from phone to phone that is less common in the available USBs nowadays. Keep a backup of your Android device with one of this USB OTG (On The Go) adapter.