Usually, when we all want to transfer files from android to pc, or iPhone to PC or even Android to iPhone, the first thing we do is to enable Bluetooth for initiating the process. After this, you have to pair with the device when transferring the files for the first time and if the device is on your paired device list, then just select the files to transfer.
Bluetooth is useful for transferring small files less than 40MB, but not so for sharing data of considerable size. The sharing speed of Bluetooth is slow, and no person has the patience to wait for an hour or more for receiving or sending such large files.
However, there is USB OTG (On-the-Go) also present to transfer the files from a pen drive and by connecting to the device. It is an excellent way of transferring files, but the main shortcoming is that not every individual carries the OTG cable or pen drive on the move.
Related: Top 6 Cross-platform Messaging apps for Windows, Mac, iOS, Android and more.
Many consider other ways such as emailing or uploading the file, but the email services have only a limited amount of attachment holding capacity. Luckily, there are Android file sharing apps to do just that.
SHAREit – Transfer & Share
To resolve the trouble that all face, you can use SHAREit app. It is a free file transfer Android app that allows you to share files and folders between smartphones, tablets and personal computers. The application doesn't require a cellular or WiFi connection to do the transfer of the files. SHAREit works on Wi-Fi Direct that allows the devices means to easily connect with each other without the need for a wireless access point.
Unlike other apps that access the Wi-Fi or internet connection, it avoids the loss of data. The Wi-Fi direct feature is much faster than Bluetooth and allows you to send as well as receive the large files without any trouble.
Install SHAREit File Sharing App
Download the SHAREit app from PlayStore and iTunes, and install on both phones to transfer files. After the installation is complete, launch the app. In the beginning, it will ask you to create an account; the account is created offline not online and is used for the purpose of identifying the device while connecting to another.
Configure File Sharing on Android or iPhone
Once the application is configured according to use, you will be able to use it for sharing. On the home screen of the app, there are two options: Send to start the sharing of files and Receive to get the files that you want from other devices. Other than videos, photos, music, contacts, and documents, you can also share the applications installed on your device without any trouble.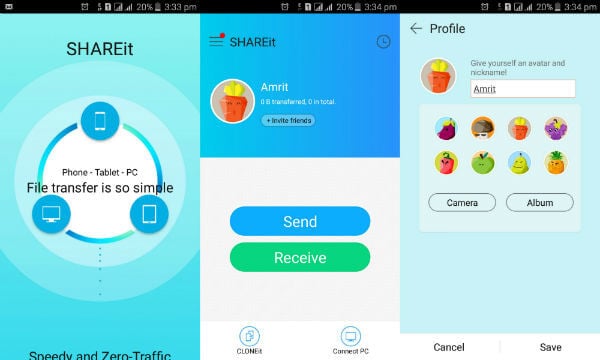 To send the files, you just need to select the Send option and select the files which are divided into groups according to their types. Choose all the files that you wish for sharing and after the selection is done, tap on the OK button. SHAREit uses a Wi-Fi technology called SoftAP which makes a personal network, allowing other devices to attach and send or receive files.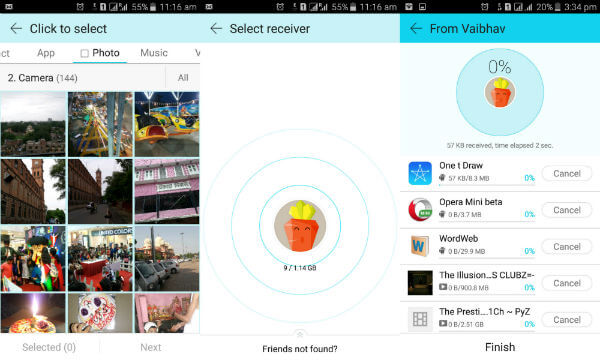 The device on the receiving end should make sure it is connected to the network created by the sending device. First, tap on the Receive in order to connect with the created personal network. The sender needs to tap on the icon of the receiver to transfer the large files easily. With SHAREit, the transfer of large devices is more like a cakewalk.
Benefits of File Sharing App
With the help of SHAREit, you can send the file at a speed that is approx. 200 times faster than Bluetooth 4.0. There is no limit on the sharing but with very large files the time taken in the process increases. You can easily share files from one operating system to another, as it is available for Android, iOS and Windows devices. In addition to this, most of these apps will work online and offline, that will not use your data plan to transfer files and absolutely no cost to transfer files.
Related: How to Transfer Photos Without Losing Quality-A Complete Guide
Alternative Android File Sharing Apps
There are other alternative apps to perform the same data transfer between devices each other and most of them are available free on both Android and iTunes. These apps offer the same feature and speed to transfer the files between Android and iPhone.
Xender: File Transfer, Sharing
This large file sharing app offers 200 times Bluetooth transfer speed and supports Android, IOS, Tizen, Windows, PC/ Mac cross-platform transferring. Xender can use to transfer files with flash speed, and the highest speed can reach 10M/S. Xender supports almost any format of the files to share between the iPhone and Android. This file-sharing app can be used to share files like documents, music, pictures, videos, and apps without restrictions in size or any cables. Like other large file transfer apps, Zender won't use any data to transfer files between mobile phone. The built-in file manager feature enables us to view, move or delete files and make a backup copy whenever need.
Download Zender: PlayStore | iTunes
Zapya – File Sharing, Transfer
Using Zaypa will allow you to transfer files from Androids, iPhones, iPads, Windows Phones, Tizen, PCs, and Mac computers in an instant. It's not only about the speed, but it is also that there is no cost to the user and will not use the data connection to transfer large files between phones. Zapya is easy to use and supports multiple languages with high speed and without any cost to the user.
Working on SoftAP technology to share the files between the devices. If you have an old phone and want to back up the files from old phones to a new one, Zapya going to be an assistant for you to transfer large files. These apps also allow the person to send as well as receive large files without any trouble easily in a matter of seconds. The group sharing feature allows to share the large files instantly to a group of members and you can connect up to four devices simultaneously for group file transfer. The QR Share feature lets you instantly connect another phone by scanning the QR Code and start the file sharing with your buddy.
Download Zapya: PlayStore | iTunes
Send Anywhere (File Transfer)
Simplicity and the cross-platform capabilities are the main selling points for this great Android and iOS file transfer app. Send Anywhere constitutes a straightforward yet compelling design that helps you to transfer files between Android and iOS and pretty much any other platform. Furthermore, the app works in Online and as well as Offline modes for transferring files. The offline mode works with the traditional WiFi direct method via a six-digit key or QR code. This file-sharing app is one of the best ways to transfer files between your smartphone devices.
Download Send Anywhere: PlayStore | iTunes
Related: Low Memory Hard Disk! Expand Windows Memory with this Low-Cost Solution
When you want to transfer files between Android and iPhone, install one of these apps to easily share and transfer large files. These apps work without Wi-Fi both in offline mode and online and no need to worry about data usage.  These apps support transferring files between smartphones and also can be used for PCs with cross-platform support for Windows, Mac, Linux, etc. Whether you want to transfer data from android to pc, transfer data from iPhone to pc or to transfer data between Android and iPhone these large file transfer apps are the ideal choice.