Wireless chargers, more specifically charging stations, are awfully designed and even bulkier to carry or move around. Well, here is a gadget that makes you think the opposite. Quezqa just broke down those gigantic wireless charging stations into detachable modules. The one we have here is the Quezqa X-Trines 4 in 1 wireless charging station with magnetic detachable modules.
What this is, an excellent piece of gadget that will be the best suit for an Apple user. Still, there's more to it and let's take a look at what the Quezqa X-Trines 4 in 1 Wireless Charging Station has up its sleeves.
Overview: Quezqa X-Trines 4-in-1 Wireless Charging Station
The Quezqa X-Trines 4 in 1 Wireless Charging Station is an all-in-one gadget charger for you. This is not your regular charging station with 3 devices' support. Quezqa 4 in 1 charging station enables you to plug in two iPhones, your Apple Watch, AirPods, all at the same time.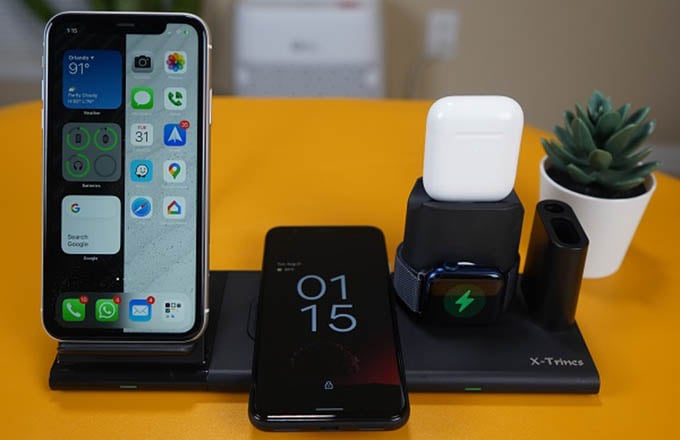 The whole charging station is powered by a 27W QC 3.0 charging adapter. It offers quick charging to almost all iPhones and smartphones but depends on the phone docked. You can dock and charge any iPhone, from the iPhone 8 and any other Qi-enabled Android smartphones in this charging station.
What makes it stand out from the crowd is its design. It flaunts a magnetic detachable design that lets you choose your own combination of charging blocks. Think of it as LEGO blocks; you can detach any modules and attach them back in any order you want. It makes the Quezqa charging station extremely user-friendly.
You can switch to the wireless charging pad or the Apple Watch charger combo or vise versa anytime and that too without much of a fuss. We'll be talking more about its design, power delivery, and other key features as we go on.
What's In The Box
The Quezqa X-Trines 4 in 1 Charging Station is a great all-in-one gadget that can reduce the inconvenience caused by those hectic charging cables. The detachable design and the great build quality make it a pretty neat charging station for your Apple devices. Let us take a look at what's in the box upon full delivery.
With the full delivery, you will be getting;
1x Wireless charging stand
1x charging dock
1x Wireless charging pad
2x USB Type C cables
1x 27W QC 3.0 adapter
Magnetic Modular Design
The Quezqa X-Trines wireless charging station, at first sight, is a bulky wireless charging station for Apple devices. This is in fact an attachment of three lego-like modules, each consisting of a wireless charger for different devices.
The wireless charging docks come in two pieces; a vertical charging dock and a horizontal wireless charging pad. Then there is the Apple Watch charging block as with the dock for your AirPods and AirPods Pro cases. If you have not noticed, there's an Apple Pencil storage space too. All these modules are attached to one another by magnetic connectors.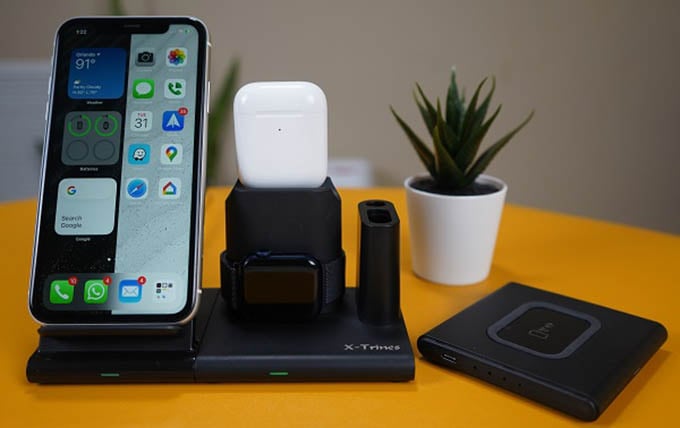 You can detach and use these charging blocks individually. Plus, you get the liberty to combine these charging blocks that you need specifically. You can easily detach the blocks with a slight push, like the old MacBook MagSafe chargers. The design in a way saves space and time. Its also far more convenient to take out for your road trip and is travel friendly.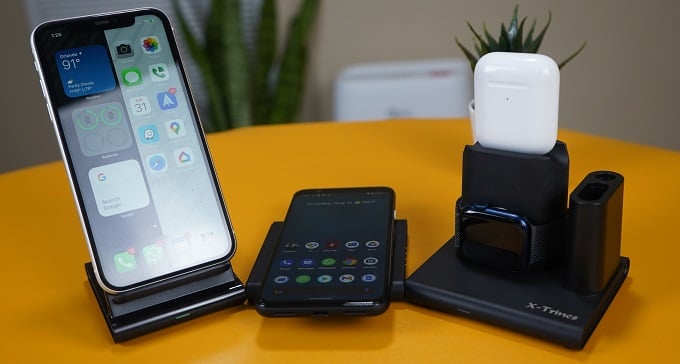 The whole charging station draws its power from the 27W QC charger adapter that comes with the whole package. The AirPods case charging connector is pre-installed and secured inside the charging station. But you will have to put your own magnetic charging cable for Apple Watch which you already own.
Each of the charging blocks comes with a small Green LED. This LED shows the charging status. Apart from that, you will find a small storage space to keep your Apple Pencil. There is no charging possible, it just acts as a storage mount alone.
Related: How to Get Alert on Apple Watch When You Leave Your iPhone Behind
One Charger for All
When it comes to charging abilities, the wireless charging pad from Quezqa can offer a max power output of 10W. This lets you recharge your phone battery to 100% in around 3 hours. The vertical charging pad offers a max charging output of 15W and can fully charge your phones in around 2 to 2.5 hours.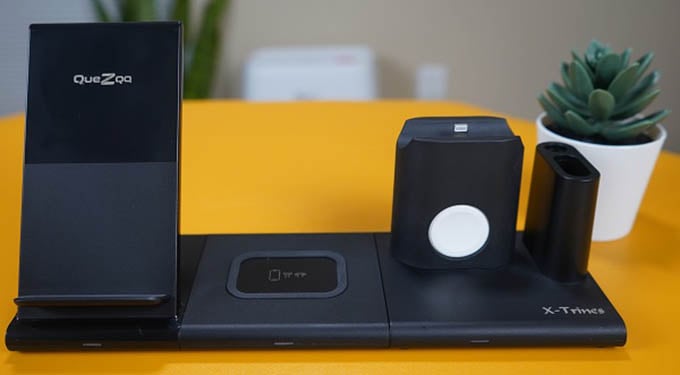 The AirPods charging dock features a 5V, 1A input that facilitates a max power output of 5W. That's the standard AirPods charging output and can fully charge the device in under 3 hours. This is a lightning connector on the charger module, enabling it to use with AirPods for all generations. Luckily, you can use the horizontal wireless charging pad if you have an AirPods with a wireless charging case.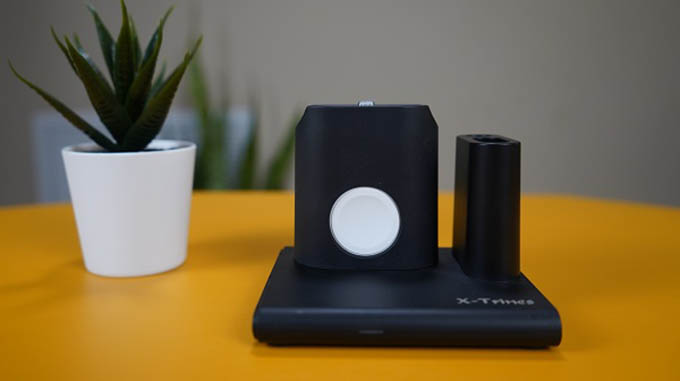 Right beneath the AirPods charging dock, you will find the slot to place your Apple Watch magnetic charger. You can slide open the slot under the charging pad and insert the Watch charger cable into it. As we said, there is no Apple Pencil charger in this, and do not get any wrong ideas by seeing representative images.
Related: 8 Best AirPods and AirPods Pro Charging Case If You Just Lost the Original One
Pros and Cons
Quezqa X-Trines 4-in-1 wireless charging station takes modular design into chargers, which makes it our favorite. There are certain things we do not like about it after all. Let us find out the reasons to buy and not to buy one for you.
What We Liked:
Sturdy and great build quality
Detachable design
Quick and easy setup
Fast charging
Magnetically connectible charging blocks
What We Don't like:
A bit bulky
fast charging depends on the device model
Key Features: 4 in 1 Charging | Vertical 15W charging stand | Wireless 10W Charging pad | Smartwatch charging dock | AirPods and Airpods Pro Charging dock | Magnetically connectible charging blocks | Detachable design | Durable and stylish | 27W QC 3.0 Adapter
Pricing and Availability
The Quezqa Charging station is a to equip if you're having quite a lot of smart gadgets. The device bridges the gap between individual chargers and makes charging a piece of cake. With its great detachable design, you can seemingly take it out for your road trips anytime.
If you think the Quezqa Changing Station is a great gadget that offers more versatility than the native chargers, then head on to Amazon to get yourself one. You can get this smart wireless charging station from Amazon at a great price.
Our Take
The Quezqa Wireless Charging Station is a great deal that shouldn't be missed. It combines versatility into a compact detachable design. The magnetic charging pads are great when it comes to performance and utility. They in fact save your space and time. The detachable design lets you assemble the needy charging blocks or lets you unfold and store them safely while you're on the go. A great and innovative wireless charger at a great price was something that we had all been waiting for.