Are you using earbuds with a charging case like Apple AirPods? How about we give you a way to ditch that charging case of yours that has no other use other than charging? We've happened to see a mix of innovation and utility within a combination of two of our favorite gadgets. Yes, what we're about to describe is about the newest addition into our array of smart gadgets, the Aipower Wearbuds. Wearbuds is a combination of true wireless earphones and fitness wear.
Here, we'll be covering everything you need to know about this combo gadget, everything from its design, to its smart features and many more.
Wearbuds-The Unique Design
The Wearbuds is the worlds first wristband- Earpod combo. It is the first-ever device to have an on wrist charging technology and that too within your health-band module. It is made keeping innovation in mind and has multiple aspects that make it a game changer in this field.
With a cracking design that can house two EarBuds inside, you get more portability and safety. The main advantage is that you never need a charging case with you anymore. The idea is simple but extremely innovative and useful. An EarBuds-Wristband combo is worth taking the risk after all. As you know, wireless earbuds are not offering long battery life like other overhead headphones. You have to carry the charging case with you everywhere you go if you want to use the EarBuds for more than six hours. Yet, without it, you won't be able to go for long as the batteries would run out soon.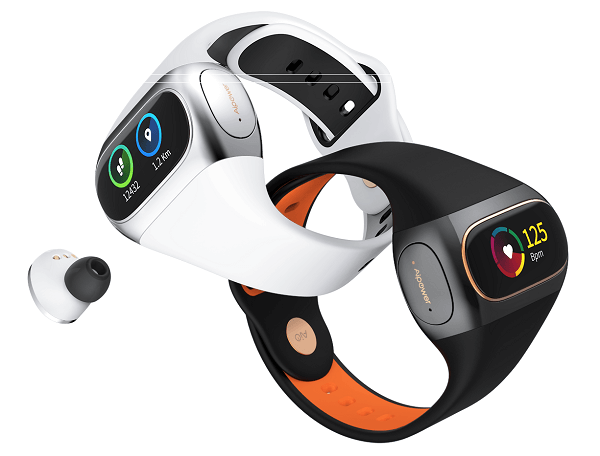 That's where the engineers at Aipower gave their brains to work. They made the Wearbuds to be stored and charged inside a fitness band. This brings both the richness of sound as well as fitness in a single box. The Aipower Wearbuds are the first ones that can be stored inside a fitness band for charging. The slots in both sides of the fitness band dedicated to keep the dual Earpods for charging. As it's a dual smart device incorporated into a single unit, we need to specify design aspects individually.
Related: TimeKettle WT2 Plus Earbuds: Innovative Realtime Language Translator
EarBuds Design & Sound Quality
The EarBuds are made to suit everyone and have a rather different look from that of the Apple Airpods. The Wearbuds enclosure design is ergonomic, durable and rigid. The Earbuds look like Samsung Galaxy buds, fit perfect in your ears. The Earbuds also got IPX6 water resistance. It provides all that is needed for your outdoor sessions. This earbuds are sweatproof and have a nano-coating that repels fingerprints. Hence, be it your morning walk or jogging or a peaceful music session, the earpods got you squared.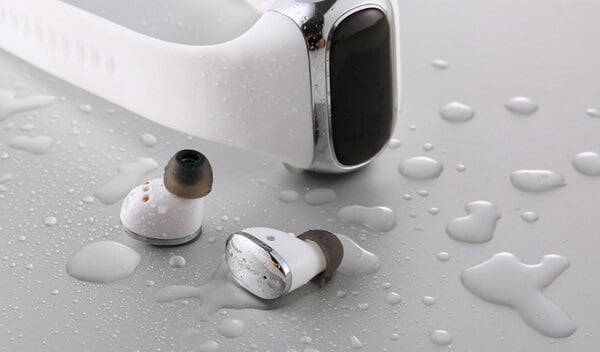 The sound quality is worth mentioning as it featured graphene augmented drivers that give out smooth and flawless music anytime. With high the advanced Qualcomm smart audio chip, there's no stopping it from becoming your personal concert station. It also features noise canceling and other premium headphone features you expect. When you consider the earbuds' volume, it is better than the other earbuds we have tested before. The volume is loud enough to use even in noisy streets.
WristBand Design
The fitness band module you see here comes with an elongated display screen. You can see a bulgy display panel on this side as this is the region where you are supposed to keep your earbuds for charging. The watch is made of good quality material and has a smooth finish that adds up a bit of luster. Like all smartwatches, you receive wireless connectivity and Bluetooth incorporated so that you could work things with your smartphone (app) also.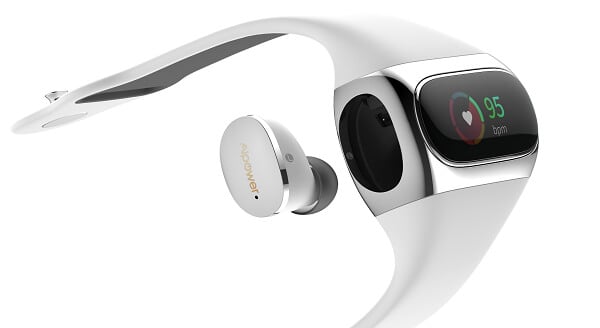 The screen is a touch screen and that you can swipe or tap for the display. The backlight is enough to read the display on a sunny day. The watch can monitor hour fitness goals, starting from your daily steps to heart rates and much more. The presence of the nano-coating reduces fingerprint and dust issues to a great extent. It's also sweatproof and waterproof and can withstand minimal to harsh weather conditions.
Also read: TaoTronics SoundLiberty 79 Wireless Earbuds
Smartphone Connectivity
The earbuds and the smart band can be connected with your smartphone through Bluetooth. Aipower has incorporated the new Bluetooth 5.0 technology and this promises you with minimal or null connectivity issues. You can wirelessly connect and set up music on your phone without much of an issue.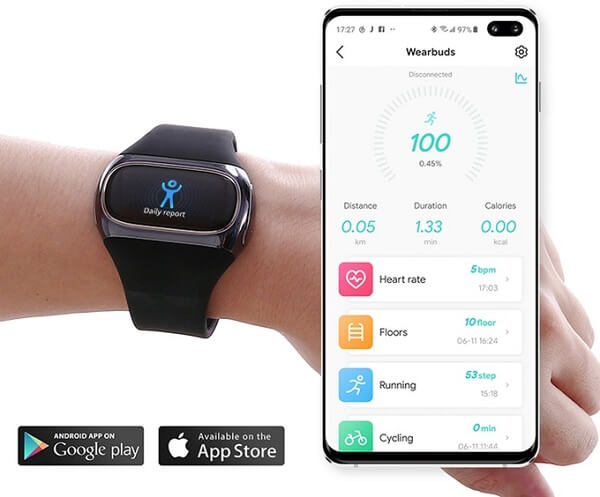 The Wearbuds also supports mono mode, a feature that comes from the latest 5.0 version. It supports hands-free calling with one or both earbuds There is also an added feature yo get your fitness data synced to your smartphone via the Aipower app. The app is available for both Android and iPhone users. We tested the device with both Android and iOS platform and we found that the iOS version needs more tweaking for the stability.
EarBuds Specifications
The entire unit is a combo unit with a wristband and EarBuds. We'll be listing the specs and details of it individually. The EarBuds is offering Bluetooth 5 connectivity for a stable fast synchronization with your Android or iPhone. The EarBuds has IPX6 waterproof rating.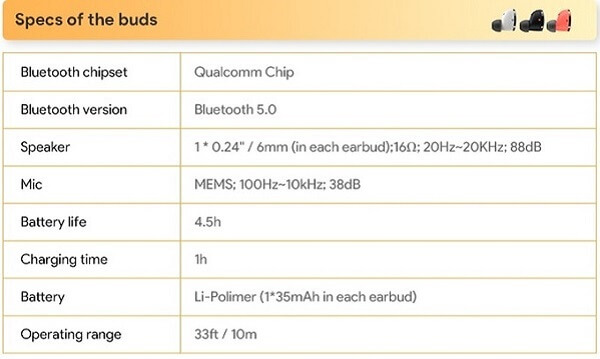 Fitness Tracker Specifications
The fitness tracker device has the touch screen, and 160mAH battery to support the display and charge the EarBuds. The earbuds can operate up to 12 hours with the fitness band. The fitness band battery life is up to 7 days with one full charge.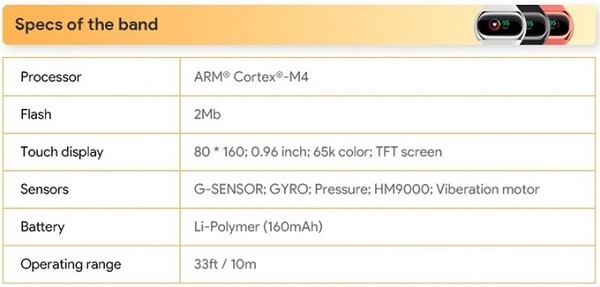 EarBuds Features
The earbuds are rich in sound quality as well as in design. It packs all those necessary features you need. It features noise-canceling technology as well as auto volume controls. The noise cancelation features make sure you get the most soothing music effects all day long. The volume control adjusts the volume by some fractions to give a decent music quality when you're on a busy street.

The incorporation of the Bluetooth 5.0 has open the doors to hands-free calling within the earbuds. Most wireless headphones don't feature this aspect. Also, it comes with a mono mod support that lets you either use a single earbud for both earbuds for calling.
The earbuds are touch-sensitive and you can control your calls with just a tap. Apart from taking calls, you can adjust the volume, change the track, control playback and even voice command to Amazon Alexa. The interesting feature that we notice that the Aipower managed to introduce a new touch combination to control the volume of earbuds. You don't need to use the iPhone or Android volume controls, you can adjust the volume directly from the earbuds.
The new Bluetooth 5.0 lets you access the mono mode. It lets you use either one or both the EarBuds while you call that help you to preserve the battery life of one earbud when you plan for a long trip. The earbud draws power from the smart band. you need to keep it intact inside the smartwatch during charging sessions. Each earbud comes with a 35 mAh internal battery that offers up to 5.5 hours of playtime.
Fitness Band Features
The smart band can not only store the earbuds but also helps you connected with your fitness goals through inbuilt sensors. It comes with advanced motion sensors and heart rate monitor that keeps track of your physical health state. The smart band has a g sensor, gyro sensor, pressure, and vibration motor. These sensors play a key role in tracking all your drills and exercise sessions.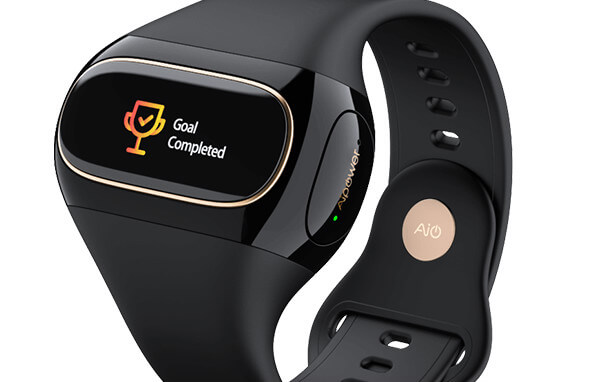 The touchscreen display module shows you all your fitness data and displays message notifications. It shows date and time, phone call details, phone notifications, and fitness reports.
The smart band can send daily health reports and other data into your smartphone via the Aipower app. It will be rolling onto all major mobile platforms soon. It syncs the smart band data and shows all your fitness data starting from heart rates to no of steps and many more.
Even though the earbuds scavenges on the available power on the smart band, it can stand up to a maximum of 4 hours, thanks to its 160 mAh internal battery. The watch also has a dedicated magnetic charging connector that can charge the band from empty to full in 90 minutes.
Verdict
The Wearbuds by far, portable and has a great utility aspect that's gonna be unmatched for years. When you compare it with yourself buying each unit separately, you would be at least spending a sum of $250 or above. But when it comes to the Wearbuds, it's far more reasonably priced. It comes at a mindblowing price tag of just $99.00. We believe its utility factor, as well as its reasonable price tag, will definitely attract a lot of potential customers in the coming days. The product is in an early stage and you can have more details from Aipower website.