Truly Wireless earbuds are getting more ubiquitous among smartphone users. From Samsung's Galaxy Buds to Apple AirPods, there is a wide range of premium wireless earbuds available in the market. Most of them are way too expensive and do not have many advanced features like noise cancellation. Taoronics SoundLiberty 79 is an excellent truly wireless earbuds with intelligent noise-canceling technology.
If you are looking for wireless earbuds, take a look at our review on TaoTronics SoundLiberty 79 truly wireless earbuds review.
Content
What's in the Box
Taotronics ships the SoundLiberty 79 wireless earbuds in a decent packing, which consists of the wireless earbuds pair with a charging case and related accessories. The secured charging case has a magnetic lid and you can place the earbuds safely in it.
Apart from the medium-sized installed silicon ear tips, two extra pairs of tips are also provided with the retail box. Plus, you can get two sized ear hooks. The charging case can be juiced up using the provided USB Type-C cable.
Related: TimeKettle WT2 Plus Earbuds: Innovative Realtime Language Translator
TaoTronics SoundLiberty 79 Specifications
| Specification | TaoTronics SoundLiberty 79 |
| --- | --- |
| Brand | TaoTronics |
| Model | SoundLiberty 79 |
| Playtime | 8 hrs (40 hrs total) |
| Connectivity | Bluetooth 5.0, USB TypeC (Case) |
| Weight | 4.5g |
| Waterproof Rating | IPX7 |
| Color | Black |
TaoTronics SoundLiberty 79 Music Controls
| | |
| --- | --- |
| Tap on left | Lower the volume |
| Tap on right | Raise the volume |
| Double-tap left/right | Start/Pause music |
| Triple-tap left | Previous track |
| Triple-tap right | Next track |
TaoTronics SoundLiberty 79 Call Controls
| | |
| --- | --- |
| Tap left/right | Answer incoming call |
| Long-press (2S) left/right | Reject incoming call |
| Long-press (2S) left/right | End call |
| Long-press (4S) left/right | Redial |
Design
The overall design of the wireless earbuds with the charging case of TaoTronics SoundLiberty 79 is quite familiar. We have seen similar designs in many rivals of the brand, but, the design seems closer to the Samsung Galaxy Buds. The charging case is a pebble-sized, oval-shaped one with the magnetic lid. The minimal size design of the case makes it more convenient to carry around by putting in your jeans pockets, without any doubt.
Opening the charging/storage case of the wireless earbuds, we will find the well-carved slots to fit in both the earbuds units. The L-R icons are labeled to avoid confusion while putting the earbuds back to the case. The 4-LED battery charge indicator is placed at the front, showing how much battery left in the charging case.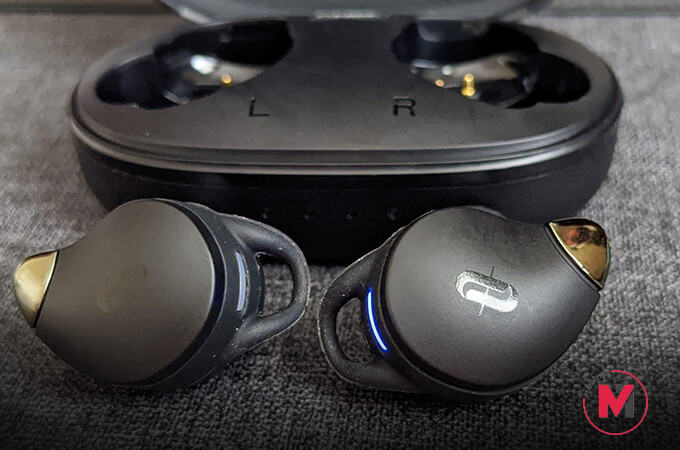 TaoTronics this time, different from their previous models, is following an ergonomic design style for this truly wireless headphone. The body of the earbuds is a little elongated to a corner with chromium finish.
This look makes it even premium among other truly wireless earbuds. Also, a pair of brilliantly designed ear hooks are installed to the earbuds. If it does not fit in your ears, you can also replace it with the spare hooks in the retail box. The earbuds are a perfect fit for most of the ear sizes and sticks on to ear even while jogging. The elongated portion doubles as the room for a microphone as well as the lock to fit in your ear notch.
Media playback controlling with touch gesture on the earbuds are not that bad. However, a little more sensitivity could have made it even better, compared to Apple AirPods and other premium-looking wireless earbuds.
Also read: Aipower Wearbuds: The Perfect Combo of Fitness Band & EarBuds
Features
Aside from being an affordable premium truly wireless earbuds, the TaoTronics SoundLiberty 79 packs plenty of features on its own. Although the device is going to be as amazing as Apple AirPods or other peers, it has everything a passionate audiophile would crave for. You can get one of the fastest pairing, less-latency, easy-to-carry experience with the SoundLiberty 79 wireless earbuds. One of its notable features on the paper is the "excellent noise-cancellation."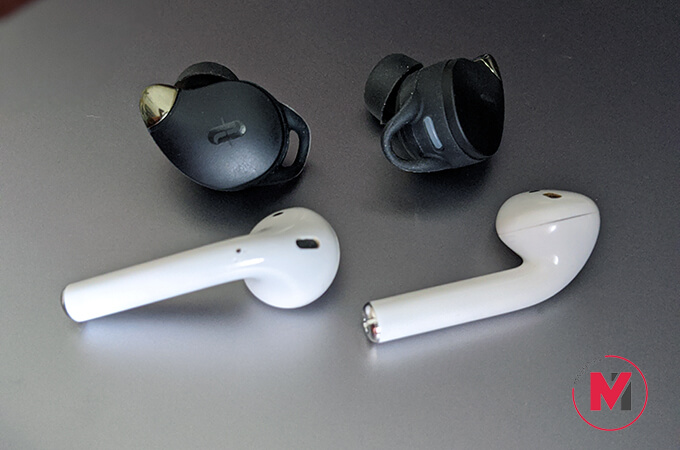 The company claims that the headphone can filter out around 96% of your surround noises while using it. However, it can retain 95% of your voice during a voice call or recording, which apparently expects to create almost perfect audio output. We have tried with music listening and voice calling under various noise ambients over the period. Trust me, this has one of the best noise cancellation feature in truly wireless earbuds I have used so far.
The wireless earbuds showcase premium-level noise cancellation and filtering, which are quite similar to costly over-the-ear headphones. In spite of the fact, some users may find it a bit harder to use in everyday situations as it is difficult to listen to others while putting the earbuds on.
To make the wireless earbuds more viable to use in almost every situation including workouts and outdoor activities, the TaoTronics SoundLiberty 79 is made waterproof. However, the IPX7 waterproof rating only ensures protection from accidental submersion in water and not suitable for swimming. The headphones can survive up to 30 minutes under low pressure in water without damaging the diaphragm and driver board.
Audio Quality
Despite all the other features and design aspects, sound quality is what we are looking for primarily. Well, we have tested the audio quality of the TaoTronics SoundLiberty 79 wireless earbuds and here is what we feel about this pair of headphones.
At our first impression, the Hi-Fi audio drivers are well-performing under normal conditions. The low-bass, vocal parts of the music are clear as crystal and provide the best music experience undoubtedly. The deep bass is not that bad as well, but still leaves some room for improvement.
The overall listening experience of the headphone is as good as any other premium headphones in the market. The noise-cancellation technology indeed helps not to get distracted too much in the crowd. However, the noise cancellation does work well in indoor conditions rather than the outdoor noises.
For calls and commands, both the earbuds are provided with microphones, which double as voice calls and noise reduction microphones. The noise-cancellation will come into its full action when you make a call using the headphones. Even while it reduces most of the background noises, 95% of the original sound will be retained with great sync between both.
Related: Funcl Launches Truly-Wireless Budget Headphones Starting at $19
Connectivity and Support
Taotronics SoundLiberty 79 packs Bluetooth 5.0 support, which is backed by premium PCB within the earbuds. The latest Bluetooth technology is a great advantage so that you can connect and switch between devices quickly without much latency in sound delivery. The faster synchronization between headphones and the smartphone audio output is much appreciable. When you tap pause a song, it takes no time to trigger the action.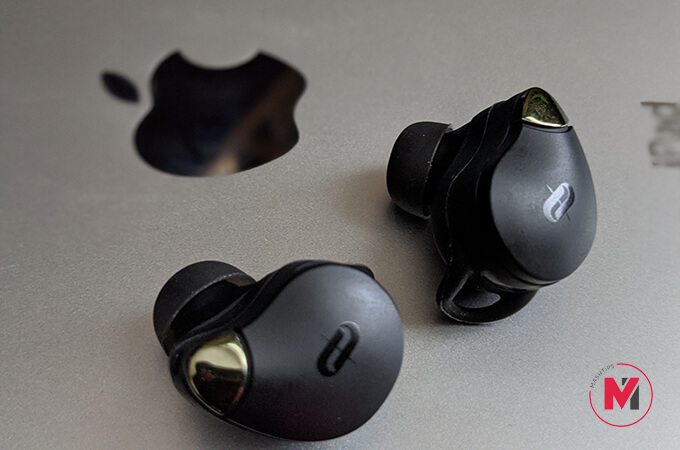 The provided LDS Antenna transmits the signal to a wide area to sync with the other pair. The LDS antenna is also helpful in switching paired devices immediately when the signals for currently connected devices are lost. This intelligent switching makes is a pretty good choice under $50. The headphones also let you pair single earbud to your smartphone while putting the other in the case.
Another big concern while considering to buy a Bluetooth headphone is its supported range. This pair of headphones can stick to your smartphone's Bluetooth connection up to 30 meters (98 feet), claims company. However, we started to experience some missing in audio sync even at 20-25 meters. Still, it maintains a good figure in it.
Battery Life
The battery backup is pretty amazing in this well-crafted, affordable truly wireless headphones, to be honest. The tiny battery packs in each earbud can last up to 8 hours in a single charge. Yes, 8 hours. Most of its rivals are struggling to reach 5 hours playback time. And, these tiny headphones are giving you 8 hours. The battery case can store the juice to boost up the earphones up to five times. This will give you a total battery backup of 40 hours.
Bonus Tip: If you use one earbud at a time and keep the other in charge, you could even double the playback time.
Pros and Cons
Have a look at the good and bad sides of buying TaoTronics SoundLiberty 79.
Pros:
Ergonomic design.
Good battery life.
Bluetooth 5.0.
Noise Cancellation.
Cons:
Touch sensitivity is average.
Slight latency in videos(negligible).
The connectivity range needs improvement.
Price and Availability
Considering most of the truly wireless earbuds in the market, the TaoTronics SoundLiberty 79 is way affordable. You only need to pay less than half of what you would be paying for its premium rivals. The company is promising an uncompromised listening experience at an affordable price tag. If you are looking to buy one pair of TaoTronics SoundLiberty 79, you can grab it from Amazon at just under $50.00.