When using an iPhone, the most used app on the device will have t be the keyboard app. You know, you need it to text and send emojis and GIFs. While the stock keyboard on the iPhone is pretty good and does everything perfectly, there will always be a subset of people who wish not to use the stock keyboard on the iPhone.
Today, we'll be taking a look at the best keyboard apps you can install and replace with the stock iPhone keyboard
Google Keyboard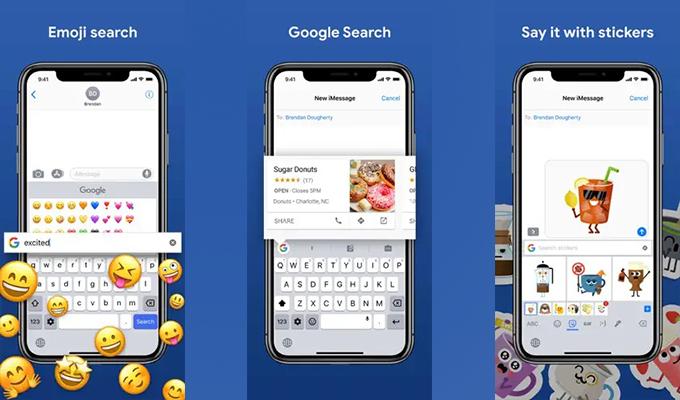 One of the most popular keyboards out there has to be the Google keyboard. There are so many reasons why this keyboard is the best. Apart from being free, you can customize the keyboard themes and even change the keyboard height. The Google Keyboard is feature rich. It allows you to send emojis, stickers, and even GIFs from the keyboard.
Conversing with people in different languages? No problem! Google Keyboard allows you to add multiple language keyboards and easily switch from one language to another. The autocorrection and prediction are also top-notch for the Google Keyboard. Then, there is the option to add your own words to the keyboard's dictionary. If you sign in with y our Google Account, you will also see email and name suggestions show up right away. You can also make use of the glide feature by swiping your thumb over the keyboard to type.
Cons:
Customization Options are less
Key Features: Free | Ad-Free | Send Emojis, GIfs Stickers | GLide Typing | Multiple Themes | Persoanl Dictionary
Download: Google Keyboard (Free)
Grammarly- Keyboard and Editor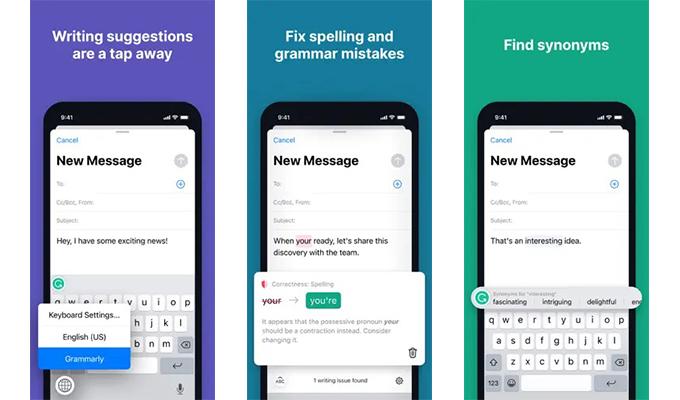 Grammarly is another keyboard popular with people who always want to ensure that their spelling and sentence formation are always correct. Grammarly is more of a grammar checker tool. Grammarly also helps you find synonyms of words and helps you improve your vocabulary in real time. You can also detect the tone of your text or writing with the Grammarly keyboard app.
While the keyboard app is free, you can always purchase the Grammaltry Premium monthly subscription that will show you more suggestions and even allow you to change whole-length sentences immediately. Of course, you can also use the dictionary, which allows you to add words that Grammarly might detect as wrong. You can choose between dark and light modes. The keyboard will also be able to correct text anywhere on your device. Whether you are using an app or a website, or even SMS, Grammarly will keep functioning.
Pros:
Ad- Free
Real-time Correction
Cons:
Lacks Customization Features
Key Features: Ad-Free | Real-Time Spell Check and Correction | Comaptibelwith All Apps and Websites |Tone Detection | Emoji Support
Download: Grammarly- keyboard and Editor (Freemium)
Flesky- GIF, Web, and Yelp Search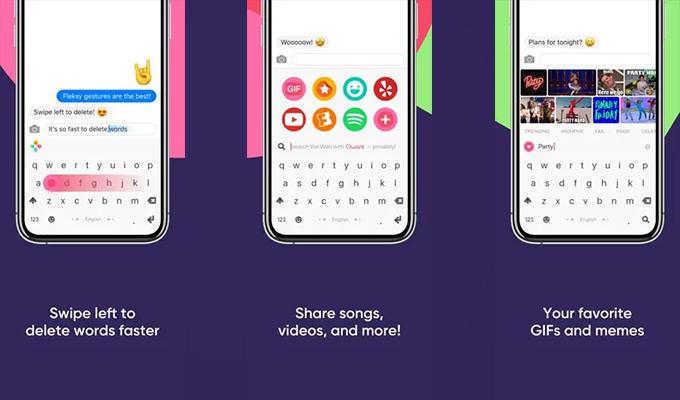 Looking for a keyboard that is not only feature-rich but also highly customizable? Install the Flesky Keyboard- a keyboard that lets you type quickly. Apart from the themes, you can customize Flesky with the numerous add-on options available for free. Flesky allows you to change the height of the keyboard, the keypress audio, vibration strength, and even the font of the letters on the keyboard.
Apart from all the keyboard features every keyboard has, Flesky also lets you search for songs, emojis, gifs, and anything on the web right within the keyboard app. You can choose to earn Flesky coins, which can be later used to purchase different themes from the Flesky Theme Store. You can use Gestures and even add words to the personal dictionary of the Flesky Keyboard app. There's also the option to use the one-handed typing mode for larger devices.
Pros:
Free to Use
Plenty of Free and Paid Themes
Cons:
Takes Time Getting Used To
Key Features: Fastest Typing Keybaord| Free to Use | Multiple themes | Add-Ons | Glide Typing | Personal Dictionary | One Hand Mode
Download: Flesky- GIF, Web, and Yelp Search (Freemium)
FastBoard- Fastest Keyboard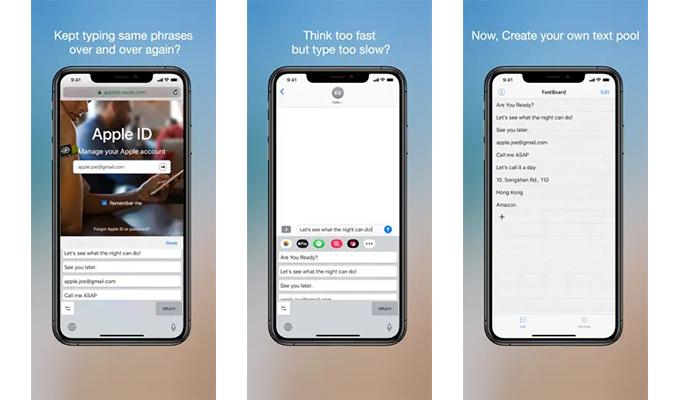 FastBoard is a simple and easy-to-use keyboard for your iPhone. For starters, it's got no ads- meaning that you will never have to face any interruptions whatsoever. The unique feature of this keyboard is that you can easily add your phrases and even edit any of the phrases you might have previously added to the keyboard. Apart from just using and sending phrases, you can switch between the regular keyboard when you want to type out something.
Because of the phrases, you end up having even more typing and can always respond faster than ever. FastBorad also claims that it doesn't track the user and doesn't log any sort of information, whether PINs, passwords or anything important. The keyboard layout is fairly simple and similar to the pre-installed keyboard on your iPhone.
Cons:
Little to None Customization Options
Key Features: Quick Phrases | Edit or Insert Own Phrases | Ease of Use | Free | No Ads
Download: Fastboard- Fastest Keyboard (Free)
How to Change Font on Android, Along with Font Size
Lazy Board- Phrase Keyboard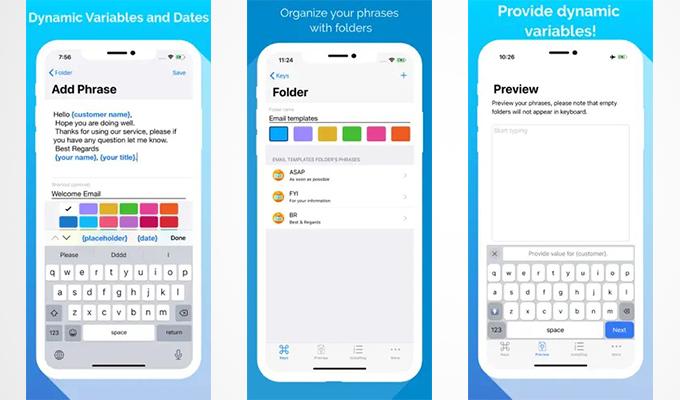 Similar to that of FastBoard, Lazy Board works around focusing on phrases. You no longer have to spend a few seconds typing and sending a text. All you need to do is select the phrase you want and tap on it. The text will be sent right away. Yes, this app is compatible with several popular apps. Lazy Board allows you to sync all the phrases via iCloud that can be restored to another iOS device.
Apart from phrases, the Lazy Board app functions as a regular keyboard. You get the full keyboard experience, the ability to send GIFs, as well as to adjust the position of the cursor right away and even search for different phrases. Have phrases that you no longer use? Add them to the trash can right away. You can choose to delete or restore them as and when you please.
Pros:
Add Custom Phrases
Create Folders
Cons:
Pro Subscription to Unlock Features and remove Ads
Key Features: Quick Phrases | Phrase Folders | Easily Switch between Phrases and Keyboard
Download: Lazy Board- Phrase keyboard (Freemium)
ReBoardKeyboard: Fonts and Themes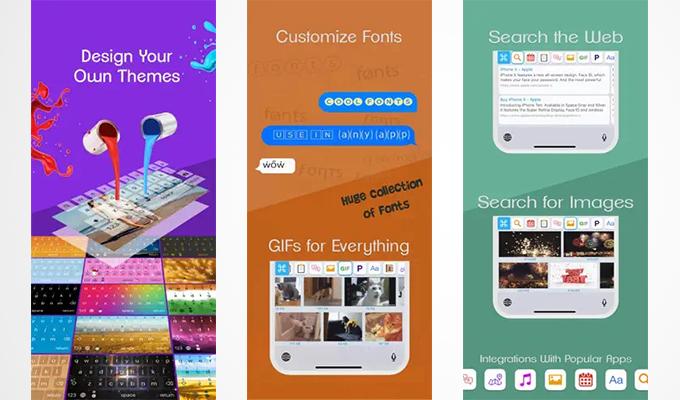 ReBoard is a great keyboard for those who want to customize and multitask and have access to a ton of features right at their fingertips. It does everything a regular keyboard app will do. But, when it comes o customization, you can choose from the numerous theme options and create and design your theme. The keyboard has three different size adjustments meaning you choose what works best for your thumbs.
Regarding features, the Reboard keyboard has a ton of them, In fact, the app has around 27 mini-apps that you can access from the keyboard itself. This includes apps such as Google Search, GIFs, Stickers, Google Drive, text Phrases, etc. You also have text prediction and auto-correct in real-time to ensure you have the right spelling. ReBoard can also help you search for music stored locally on your device.
Pros:
Free
Access 27 Different Features
Cons:
Has Ads
Autocorrect Issues
Key Features: Animated Stickers | Theme Builder | Customize Fonts | Glide Typing | Multi-Language Support
Download: RebBoardKeyboard- Fonts and Themes (Freemium)
How to Fix iPhone Keyboard Not Showing Lowercase
Kika Keyboard for iPhone and iPad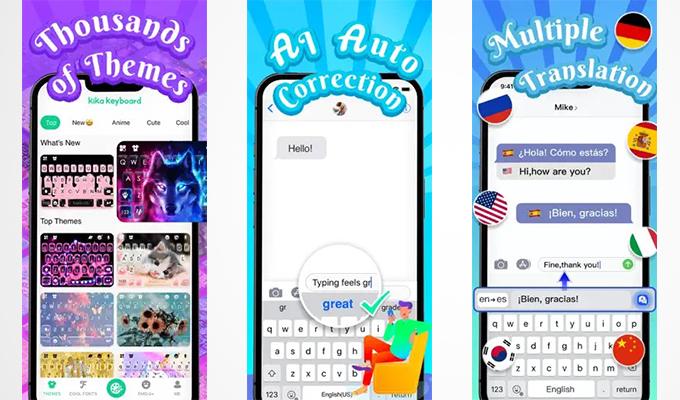 Kika Keyboard is perfect for those who love customizing their keyboards. You can customize it by choosing from the numerous theme options or simply decide to go out with a theme of your own design. There are a ton of stickers to choose from, multiple emoji shapes as well as 200+ fonts for you to make your texts stand out and unique. All of the themes, emojis, fonts, and stickers can be used for your stories on Instagram, WhatsApp, Snapchat, and Facebook.
Of curse, the Kika Keyboard app also has to autocorrect and text prediction so that you can type your text quickly. The keyboard also supports more than 150 languages, making it a reason for iPhone users worldwide to consider the app. Overall a great app for those who like to text and express themself in a creative manner. You can unlock more stickers, fonts, and emojis by purchasing the Pro subscription for Kika Keyboard.
Pros:
Feature Rich with Multiple Stickers, Emojis, and Fonts
Easy to use
Key Features: Supports 150+Languages | Stickers| Emojis | Stylized Fonts | AI Autocorrect Kaomojis Support
Download: Kika Keyboard for iPhone and iPad (Freemium)
Phrase Keyboard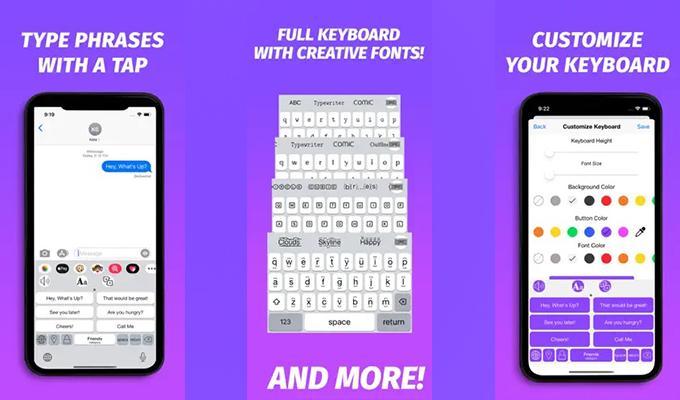 Want to send replies to texts with less effort? You might want to get Phrase Keyboard. The keyboard specializes in setting up custom phrases that you can be sued to respond to a text right away. You can translate and hear the phrases that you add to Phrase Keyboard. When you translate, you will be able to share its results to other platforms instantly. The phrases can be translated into around 50 or so languages.
Now, Phrase Keybaord also functions as a normal regular keyboard. You have opinions to change the type of dints and even custom design your own theme for the keyboard by adding your own images to it. There's the ability to share GIFs, emojis, and even your location with your friends. Phrase Keybaord also has the ability to auto-reply to a few texts right away. There's also the ability to save all your phrases to your iCloud storage, which can be synced with other Apple devices using the same Apple ID.
Pros:
Quickly Send Phrases with One Tap
Switch between Phrases Keybaord and Regular keyboard
Key Features: Edit and Create Phrases | Location Sharing | Quick Send Emojis and GIFs | Change Font Styles and Colors
Download: Phrase Keybaord (Freemium)
Typewise Custom Keyboard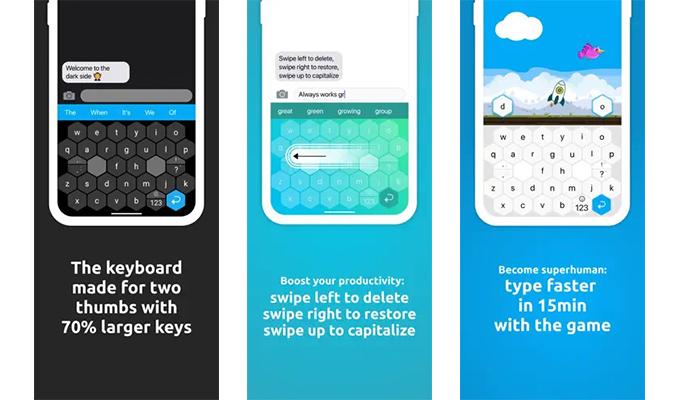 When you first install Typewise, you will notice that the keyboard and alphabet layout style is completely different. This makes the keyboard unique and makes users want to try it out. Typewise also makes use of a smart autocorrect tool that ensures you get the right suggestions and not the wrong or unwanted ones. Thanks to the glided typing feature, you can also use your thing to slide around the keyboard.
Of course, for a keyboard app like Typewise to be popular, it needs to support a  good number of languages from around the world.. Typewise does support 40+ languages and is very strict about privacy and security. The downside is that many basic features for Typewise are locked behind the Pro monthly and yearly subscription packs.
Pros:
Unique Keyboard Layout
Supports Multiple Languages
Cons:
Basic Adjustments and Settings Locked behind Paywall
Key Features: 40+ Language Support | Glide Typing | Smart Autocorrect | Privacy Focused
Download: Typewise Custom Keyboard (Freemium)
The Best iPhone Keyboard Tips and Tricks to Supercharge Your Typing Experience
Color Keyboard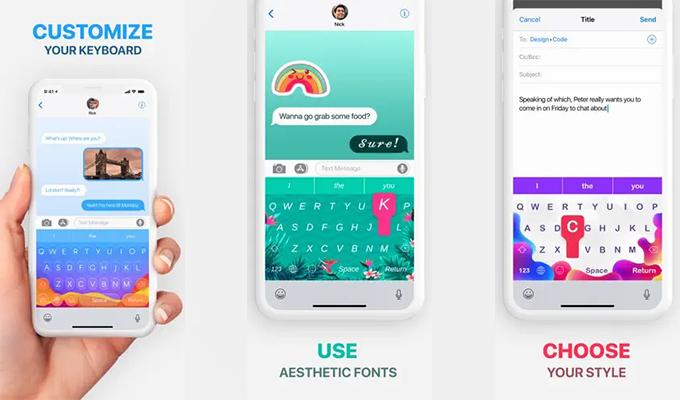 The Color Keyboard is similar to Kika Keyboard. Both keyboards allow you to choose your theme, change fonts, and choose your design styles. There is plenty of emojis available for you to choose from. This keyboard is designed for those who prefer to have an aesthetic design and mindset. Its got all the basic features you could ask for, Whether it's text prediction, auto-correct, or even a personal dictionary
Color Keyboard is aimed more at people who want to have tons of customization options at their fingertips. The app also has a yearly subscription system that unlocks a lot of themes, designs, and emojis. This is a good keyboard that you can install on a kid's iPhone as it has few tools to make adjustments to the keyboard.
Cons:
Not Much Redeeming Features
Key Features: Free | Multiple themes, Designs, and Fonts | Autocorrect and Prediction
Download: Color Keyboard (Freemium)
Fancy Keyboard- iSticker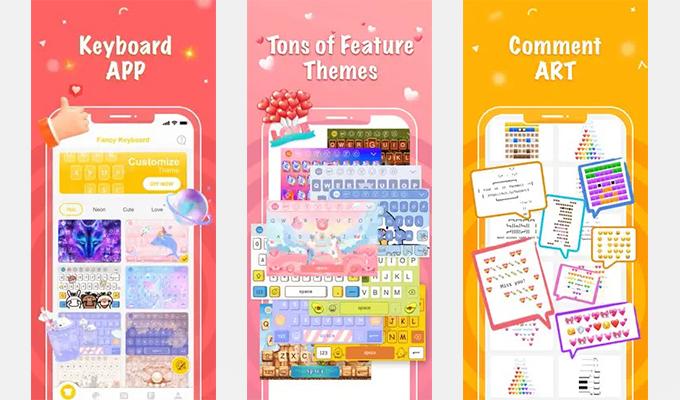 Here's another keyboard that is good for people who want to send and use stickers everywhere. Whether it's got something to do with texts, posts, or stories, this keyboard will be your handy tool. With regards to themes, you can choose from the numerous available themes or simply unleash your creativity with your custom-designed theme. It's also got auto-correct, text prediction, and a personal dictionary to store your own words and spelling styles.
With the Fancy Keybaord app, you will be able to send texts made up of emojis in different shapes, use Kaomoji and even get access to numerous stickers. There's even an option to create your stickers which you can send on any text messaging platform.
Pros:
Large Customization Options
Create Own Stickers
Cons:
Has some Ads
Less Features for Typing Experience
Key Features: Custom Themes | Emojis, Stickers, and Kaomoji | Create own Stickers | AUtocorrect | Text Prediction
Download: Fancy Keyboard- iSticker (Freemium)
Rainbow Keyboard- New Emoji and Fonts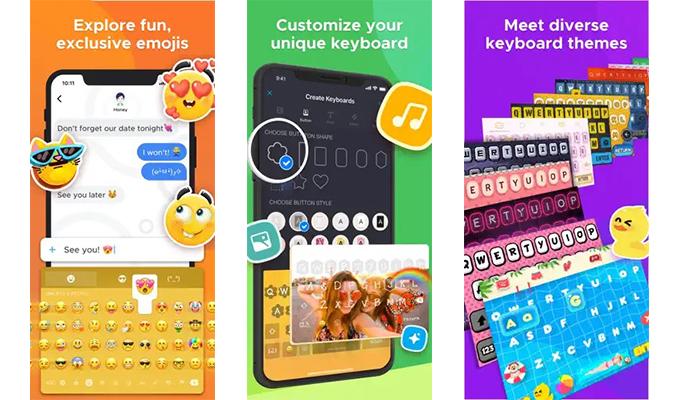 Rainbow Keyboard is the perfect choice for those who regularly love to use emojis in everything. Whether it's a text message, status, or anything else. With over 5000 emojis, fonts and stickers, you have endless options. Thanks to the smart prediction system, this keyboard will also display emoji suggestions based on the text you are typing. When it comes to fonts, you have numerous options to choose from.
Rainbow Keyboard also has plenty of themes to set for your keyboard. One unique feature of this keyboard is the ability to create your avatar. Regarding the keyboard, you have features such as autocorrect, one-hand typing mode, and glided mode. Rainbow Keyboard supports more than 10 languages along with text prediction.
Pros:
Plenty of Images to choose from
Keyboard Themes
Cons:
Misses out on Voice Typing
Key Features: 5000+ Fonts, Emojis, and Stickers | 40 Keyboard themes | Autocorrect and text Prediction |One Hand Mode
Download: Rainbow Keyboard- New Emoji and Fonts (Freemium)
These are the best keyboards you can install and use on your iPhone. Most of the keyboards have features similar to each other except for a handful. If you are confused about which would be good options for your iPhone, you can pick between the Google keyboard and the Grammarly keyboard. These two keyboards are great regarding productivity and have a respectable number of features.