Animated GIF images help you add a bit of humor while texting your friends. If you have seen your friends sending you GIFS over iMessage or WhatsApp, you must be wanting to do the same. Did you know that you can browse these GIFs while texting, just like you type using the iPhone keyboard? It is possible with GIF keyboards on iPhone apps.
Let us find out the many ways to get GIF keyboards on iPhone and send animated GIF images while texting.
Use GIF Keyboard in iMessage
Texting your friends using iMessage is the best thing about having an iPhone. If you were thinking about sending animated images or GIFs to your friends, there is an inbuilt GIF keyboard on iMessage to help you with that. Here is how to send GIFs on iMessage.
Open the Messages app on your iPhone and select the chat you want to send GIFs to.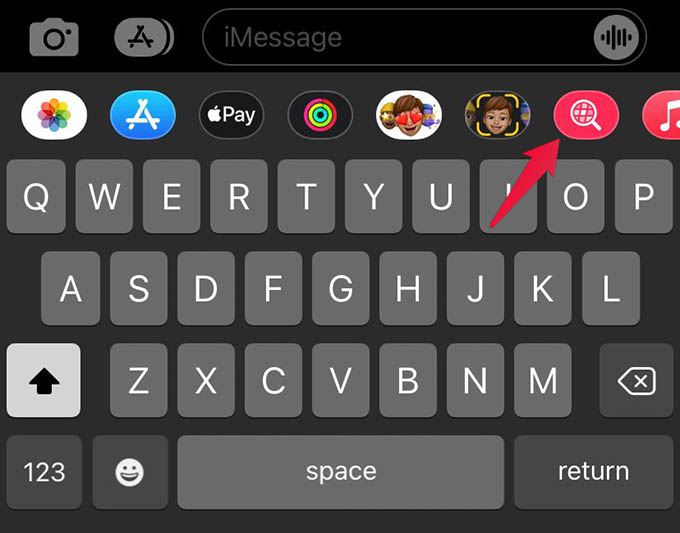 You will see a set of icons at the bottom of the screen (or right above the keyboard). Among them, tap the #images icon (pink icon with a lens).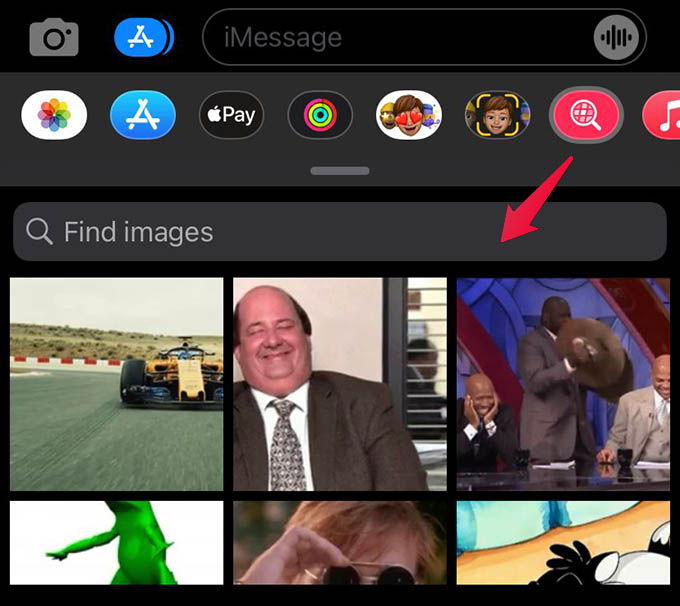 That is your GIF keyboard on iPhone within the iMessage.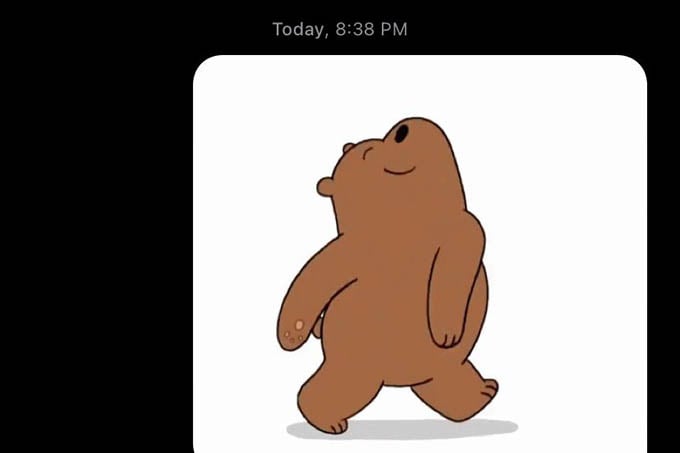 You can search and select any GIF image from the internet and send it to the iMessage chat instantly. The GIF images are supported only in iMessage chats (blue chat bubble) and do not work in SMS (green chat bubble).
Related: How to Make a Video into a GIF on iPhone Without Any App
Text a GIF from Apple Watch on iMessage
While you can send GIFs as a reply to the iMessage chats, you may be wondering if you can get the same on Apple Watch as well. Surprisingly, you can text anyone from your Apple Watch and send them a GIF without even pulling your iPhone out of your pocket. Here is how.
Open the Messages app on your Apple Watch and choose a chat.
Once you create a new message, scroll down to see the options to send text from Apple Watch. Among them, select the #images icon (pink icon with a lens).
You can then search and select a GIF image to text to your iMessage chat. Tap "Send."
Install GIF Keyboard on iPhone
Not all apps on your iPhone come with an inbuilt GIF keyboard. Though some have it, you would not find all the funny GIF memes you wanted. In that case, you can install GIF keyboards on your iPhone that are similar to the iPhone keyboard but let you text GIFs right away.
GIF Keyboard app is one of the popular options if you want to install a GIF keyboard on iPhone. This lets you switch to the GIF keyboard just like you switch between ABC and emoji keyboards.
Another powerful option is GIPHY, which is a GIF search engine for all your needs. With GIPHY, you can get GIFs with sound, and even create your own collection of animated GIF images. These can be later shared to any other app like WhatsApp and iMessage.
Related: 7 Best Apps to Create GIFs on iPhone
Send GIF From WhatsApp GIF Keyboard on iPhone
WhatsApp has an inbuilt GIF keyboard even if you do not have a dedicated keyboard for GIFs on your iPhone. Like you can search for stickers on WhatsApp, switching to the GIF keyboard in WhatsApp lets you find any animated image as well. Here is how.
On your iPhone, launch the WhatsApp app and go to the chat you want to share GIFs with. Then, tap the sticker icon on the right edge of the text field on WhatsApp chat.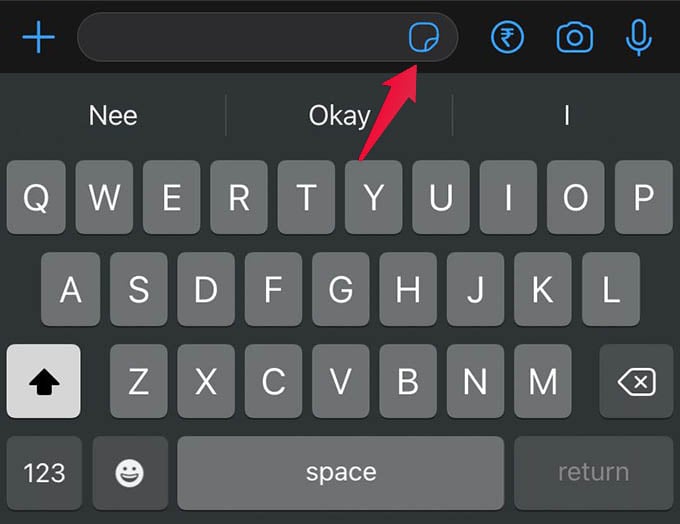 You will see your recently used stickers on the screen. Select the "GIF" icon from the bottom of the screen.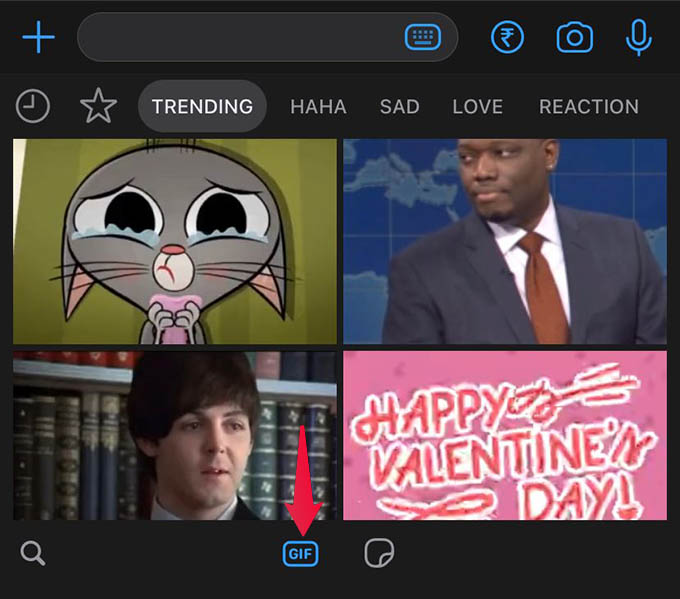 There you will see animated GIF images from the internet. You can also search for any GIFs from the same screen and select one to send.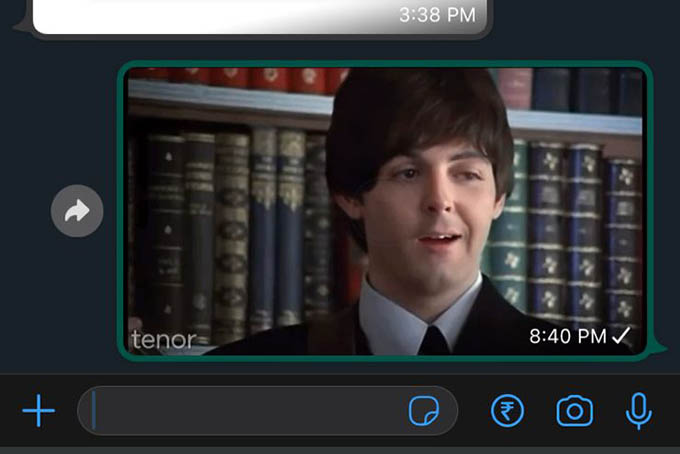 Apart from searching and sending GIFs from the WhatsApp GIF keyboard, you can also send saved GIF images or copied GIFs from the web.
FAQ: GIF Keyboard on iPhone
How do I get the GIF keyboard on my phone?
You can send GIFs to anyone while texting using the #images app on iMessage. Besides, you can use GIF keyboard apps to replace your ordinary iPhone keyboard with a GIF search engine.
Why is there no GIF on my iPhone keyboard?
Your iPhone keyboard, by default, has an inbuilt emoji keyboard and animoji keyboard other than the alphabet keyboard and multilingual keyboard. Though, there is no GIF option on the default keyboard. If you want to text someone GIFs, you can go to the iMessage and select the #images app for that.
You can send animated GIFs to anyone using the GIF keyboard on your iPhone. Even though you cannot find a GIF keyboard on iPhone, it is possible to browse and send GIFs from iMessage, WhatsApp, and many other apps like Snapchat.