Now you can make high-quality video calls with Android phone. There are a couple of free Android Video Call Apps in Google play store for Android Video Chat. Gradually, in the smartphone world, video calls are widely using in office conference, schools, and virtual office meetings.
Related: 5 Best iOS and Android Apps to Group Chat With Your Friends
These Android Video Call apps are available with the option to make video calls on WiFi and 3G.  These calls are not consuming your call plan minutes and these calls are absolutely free.
Google Allo
Google Allo, the latest iteration of Google's instant messaging app slowly replacing Google Hangout as primary messaging apps. Now Google Allo has come up with the web version for Mac and Windows Desktop users.
Related: Now You Can Use Google Allo On Windows and Mac Computer
This web app would make using Allo on Desktop both on Windows and Mac possible just like your Smartphone app.
Download from Play Store
Google Hangout
Google Hangout can turn any conversation into a free group video call with up to 10 friends and also Call any phone number in the world (and all calls to other Hangouts users are free!). This app can integrate with Google Voice number, and now you can turn on this dialer service and start calling using the app.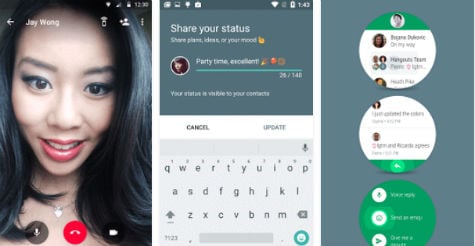 After installation, you can access all phone calling features directly from Hangouts or use Hangouts Dialer for a shortcut to the dialer screen in Hangouts. This app offers you free calls to US, Canada, and other Hangouts users.
Download from Play Store
Skype
Call, Video and Instant message on Skype for free with Skype app on your Android device. Your contacts should be in online to make free audio and video call with them.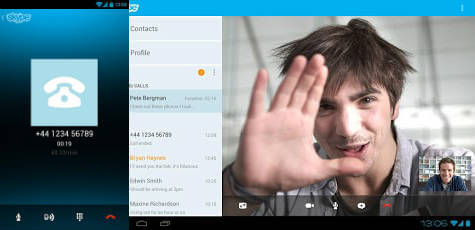 Skype for Android is free to download and works over 3G or Wi-Fi. You can share lovely moments over free video calls with front and rear-facing cameras of smart phones. You can connect your friends while they are on Android, iPhone, or iPad, compatible mobiles, PCs, Macs or Skype-enabled TVs.
Download from Play Store
Tango Video Calls
Tango app lets you make free video calls, phone calls, and send free video messages to a tango member. It is allowing the great feature of free Group Video Messaging. You can now record and share personal videos with anyone in your contacts list.
You can send and receive free video messages, Group video messaging and share with multiple people at once. You can send video messages to friends who don't have Tango, and you can view your sent messages and forward to others.
Download from Play Store
Nimbuzz Messenger
Combines the power of the internet and smart phone messenger into one, and lets you make free video calls, voice calls, send chat messages, share files, on any mobile device across popular messengers.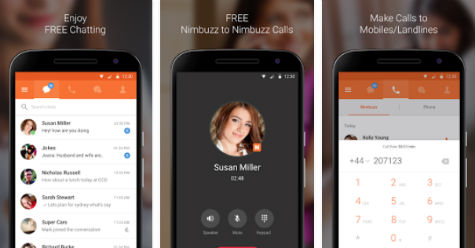 Connect your address book and share unlimited photos, make unlimited audio calls and video calls, files, music, and videos with other friends of yours on Facebook, Yahoo Messenger, Live Messenger (MSN) and Gtalk.
Download from Play Store
Vonage Mobile
You can now make free video calls over Wi-Fi and 3G/4G to other Vonage Mobile users worldwide. Vonage Mobile is a free app that lets you talk and text for free worldwide with anyone else who has the app.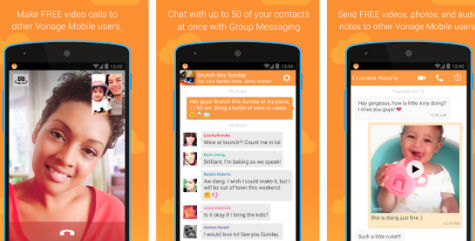 Vonage Mobile keeps your connected to your family and friends with great quality video calls. Video calling is supported on Android OS versions 4.1, 4.0, and 2.3.
Download from Play Store
ooVoo Video Call
ooVoo keeps you connected with your friends and family with the best HD quality video calls. With ooVoo you can make FREE Video Calls, FREE Voice Calls, and send FREE Instant Messages. You can invite up to 12 different people to join you on FREE group video calls and View four friends on one screen.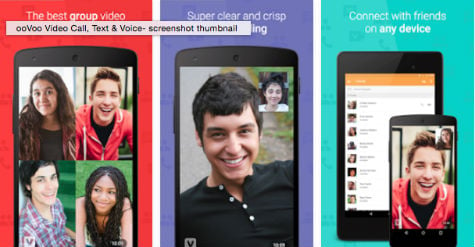 ooVoo is capable of connecting your Facebook friends, and also you can easily video call your Twitter followers. This app provides unlimited FREE monthly video calling to Android smartphones and tablets, iPhones, iPads, Desktop and Laptop PCs and Mac Computers with push notifications for incoming video calls and text chat messages.
Download from Play Store
Do you have friends those are using iPhone, and you want to chat with them? Please see Chat Between iPhone and Android-5 Apps to get a list of apps those are working with iPhone and Android that help you communicate with your friends.