Group Chat helps you to start a video conference with your coworkers using your iPad or smartphone within no matter of time. It helps you to start a quick meeting with all of your team members or you can catch up with your family members at weekends with group video chat. All these are possible with group chatting apps, those are freely available for your smartphones, tablets or PCs. Most of these apps support at least four users group voice chat and you can add more participants with paid versions of these apps.
Almost all these apps support Group text, audio, and video chats and on Android, iOS, PC, Linux, and MAC.
WhatsApp
WhatsApp is the fastest-growing messaging service in the world with active users near to one billion. Day by day the numbers of WhatsApp users are increasing and the most attractive thing to the users is that the developers are upgrading the app with nice additional features. If you like WhatsApp, read this article Best 3 WhatsApp Features that You Probably Missed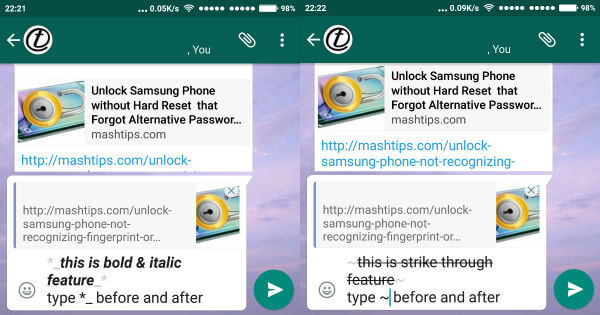 WhatsApp is used for sending texts, images, videos, etc. that can be sent via the data connection of the mobile phone without relying on the traditional SMS/text, MMS services along with the recently introduced voice call feature.
FriendCaller
FriendCaller-to-FriendCaller Calls, Video Calls, Group Calls including Group Video Calling and Group Chat with instant messaging are all free. FriendCaller for iPhone, iPod touch, iPad is FREE to download and works over 3G/4G and WiFi. FriendCaller can also be used at home on your PC or Mac browser. Browser access does not require any installation.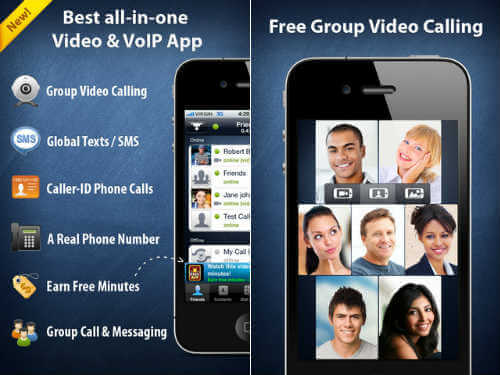 FriendCaller supports Group Video Calling on iOS with the ability to support Seven participants for a Group Video Call and empowering a voice communication of Twenty more to join in the conversation group, all at the same time.
Download link: iOS | Android
Related: How to Fix Telegram Not Connecting or Working on Android
iGotChat Messenger
iGotChat is a cross-platform instant messaging application for smartphones (iPhone, iPod Touch & Android) Integrated with built-in Group messaging. It features detailed message receipts (Sent, delivered, & read), group chat, multimedia support, distribution lists, user message blocking and an innovative poking feature that will have you hooked from the moment you use it.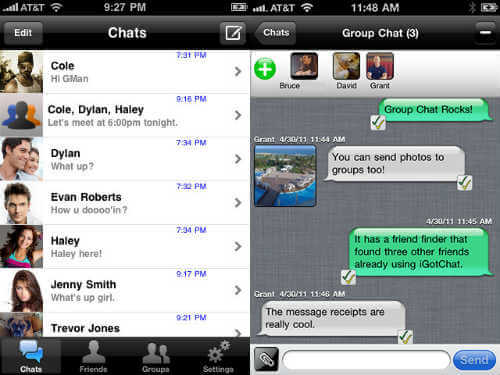 Avoid traditional SMS / MMS fees with iGotChat. iGotChat routes messages through your existing data plan and thus avoids text messaging fees. The application uses push notifications to instantly alert you of incoming messages.
Download Link: iOS | Android
GroupMe
GroupMe is the best way to chat with everyone you know. It's absolutely free, whether you're talking to a group of friends, or texting with one person. Best of all, it works on nearly every phone, via push or SMS. With GroupMe, it's easy to reach anyone, anytime, anywhere.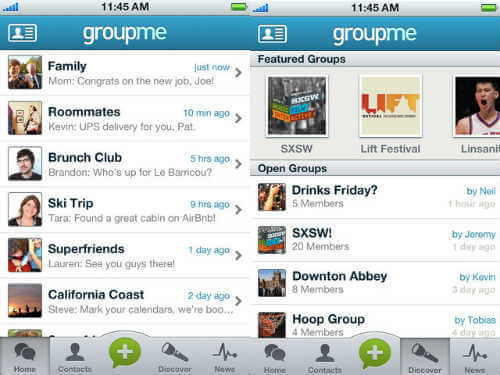 On GroupMe, you can catch up with your family, get a group together for a night out, coordinate with co-workers, or just gossip with a few of your closest friends. Think about it like your own private Twitter, just for the people you really know. Or like a faster, better reply-all email. GroupMe is coming from a Skype family.
Skype
Call, video call and instant message anyone else on Skype for free with Android, iOS, PC or MAC. Skype supports Group video calls between three or more people (up to a maximum of 10). For the best quality, Skype recommends calls with up to five people.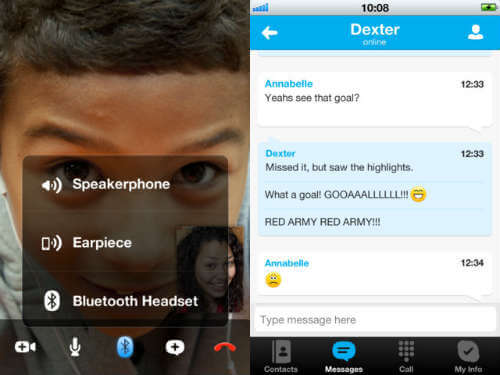 While chatting with Skype, people with Skype video-enabled mobiles are currently able to join group video calls via voice only.
Fring
Another free app for free Video Chat, Voice Calls & Texting with Fring members. Fring allows 4 friends to video chat at the same time.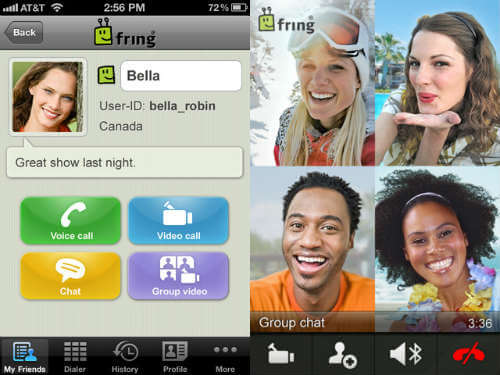 Like other apps above, Fring is also cross-platform, you can video chat to any Smartphone platform including iPhone, iPad,iPod touch, Android, Nokia.
Download Link: iOS | Website
Related: Top 6Cross-platform Messaging apps for Windows, Mac, iOS, Android and more.
You can consider a few more apps supporting group chat if you want, like Facebook, Nimbuzz, Gtalk, Yahoo Messenger, IM, etc.