Back in the days when internet access wasn't available like today, people used to send their important documents via fax machines, which would bring out a copy of the document on the other end. To help you get rid of all the hassles, various online fax services are out there that can help you send documents, but this time it's online.
There are many online fax services out there, and iFax is one of the most impressive ones among them. Let's take a look at what the iFax offers and how it will work for you.
What Is iFax?
iFax is a dependable and secure cloud faxing service that allows you to send and receive faxes online from any kind of device with internet access. It is like sending emails, but it's more secure. This user-friendly online fax service will help you send your faxes promptly all over the world.
You can use any of your devices to access your iFax account, and use either the iFax mobile app or the iFax website directly to enjoy the vigorous faxing experience it offers. You will be able to sync your fax numbers and fax records online from any of your devices. You can use iFax to fax from iPhone, Android, Windows PC, and Macs.
How to Start Using iFax
Starting to use iFax is really simple; you'll just have to provide your email address and then set a strong password for your account. You can also select a fax number if you want to go for the plans where you'll need one. You'll need to select your country while signing up or select a state if you are from the United States and pick an area code.
Next, they'll make you pick the remaining digits of the fax number from 3 different menus. iFax will let you choose a number for yourself instead of picking one for you. You can port the existing number you have by contacting iFax while signing up; also you can have a vanity number without spending any.
iFax Email Integration
iFax will be able to integrate with your email services, no matter whatever client you use. You'll have to send an email to @iFax.com and include the fax number with 11 digits of the recipient in the email's subject line, instead of directly addressing the email to fax numbers and appending the mail with an email address that is service-specific.
You can attach any kind of document to the emails you send. The document cover page will be the mail body content you typed. You need to know that here you'll have to use the email id you used to sign up for the services of iFax, you can't use any other email address for it.
Related: 10 Best CamScanner Alternative Apps for Android
Advantages of Using iFax
If you buy an iFax plan, you will be up for enjoying numerous benefits. You no longer will need a fax machine to send and receive fax messages or documents when you have an iFax plan. Let's have a look at the benefits of iFax.
Highly Convenient
With iFax, you will be able to conveniently send and receive faxes from anywhere in this world, and you won't need papers, ink toners, or a fax machine for this. As it supports both iOS and Android phones, you can just use your smartphone to send or receive important documents and that too within a very short time.
Secured Service
As iFax provides various measures to make your faxes secure, such as HIPAA & GLBA Compliant, 256-bit TLS Encryption, Affirmation Emails, etc, you can send your important and classified documents with iFax without any tension. Your faxes will be totally safe and secured. You will also get 24/7 support from iFax.
HIPAA Compliance
iFax is a HIPAA-compliant online fax service, so it can be used in the medical sector without any problem. iFax ensures that your documents and files are transmitted properly in compliance with the security rule. iFax also assesses security risks regularly in covered entities and makes sure to take reasonable measures to prevent any kind of breaches.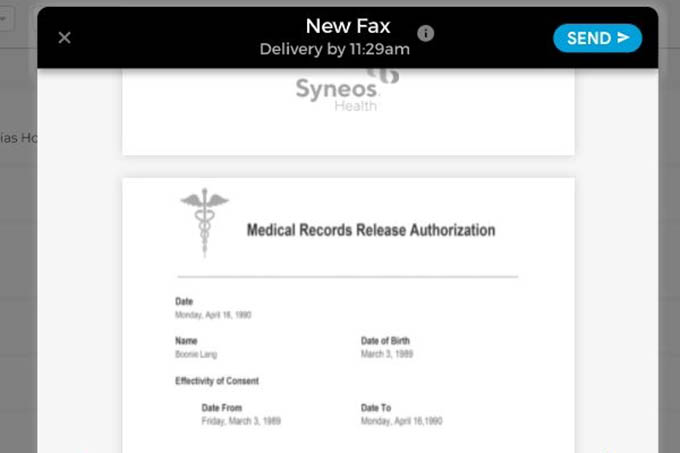 Among other things, iFax audits systems in order to ensure security for information, and document the methodology of record-keeping. So, you can use iFax to send any kind of sensitive and classified information regarding your business, healthcare, finance, or anything else, as iFax will encrypt the data and will create audit trails for following any kind of breaches.
Easy Set-Up
You can sign up for iFax very easily by providing your mail and choosing a plan based on your need and preference. You can access iFax via the website or get the mobile app on your phone. That's all. You won't need any complicated software or hardware, no second phone line, or any paper jams to use this service.
Advanced Technology
Using iFax instead of conventional fax machines will help you remain updated and work really fast by sending and receiving documents easily and quickly. So, you'll be able to keep up with the rest of the world and take your business to the next level.
Affordable
The prices of iFax plans are affordable, and using iFax is actually very cost-effective in comparison with traditional fax machines, as it takes a lot to buy one and then maintain it. With iFax, you don't require a machine or associated phone line to send a fax.
Easy to Use
Easing this online fax service is really easy and convenient, as it is quite similar to other email and online communication services. People that are familiar and comfortable with web services will find it really easy to understand and use. The apps and websites are nicely designed, and the interface is very user-friendly.
Easy Sync Options
You will be able to sync your multiple devices to access your iFax account very easily, so you'll be able to use any device anytime you want to send and receive faxes.
Cloud Platform
iFax will let you use a cloud platform to store your documents safely and then send them anywhere from there whenever you want.
Related: 6 Best Fax Apps to Send Fax from Mac on the Go
iFax Pricing and Plans
iFax will offer you pricing in three different packages, which are the iFax Basic, iFax Plus, and iFax Professional. Here is a comparison of all the plans.
The Basic tier is the lowest one, with which you will be able to send 200 taxes a month, but you won't receive any, as you won't get any fax number from iFax.
You can upgrade from that and get the Plus package, which will let you have a fax number of your own, and you will be able to both receive and send faxes, and the limit is 500 pages per month in both cases.
If you are a corporation, you can get the iFax Professional, which will let you send and receive 1000 faxes a month along with multiple benefits & a dedicated Account Manager.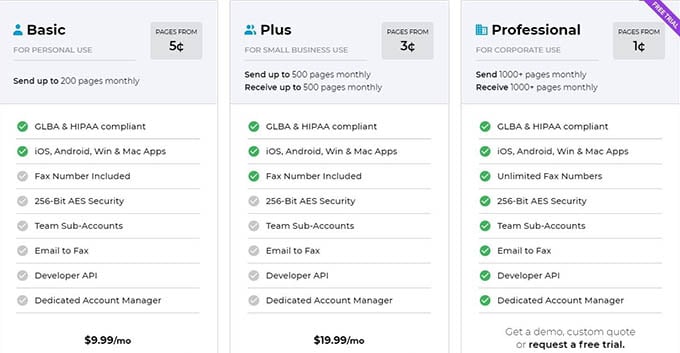 You can Download iFax use on any device you use including Android, iPhone, Windows, and Mac.
Final Words
There are many good online fax services out there with good pricing plans, services, and performance. iFax is clearly the most impressive one among them. It encrypts sensitive documents, is compliant with HIPAA & GLBA, and can be stored on a cloud platform with access from multiple devices, making it a convenient and secure online faxing service without any doubt.