Those who are traveling from business, the software to send Fax from Mac is an easy and quick solution. With Mac fax sending software, you can directly send the fax right from your Mac without any phone or fax line. What do you need to send fax from mac?
There is no need for paper, printer or a fax line, just need your Mac, Fax sending software and the internet to send and receive the fax while you are on the road. Now the time to get rid of all your traditional fax machines and switch to a Fax app for Mac.
Seeing the emergence and growth of Mac fax services, many business owners are opting to send fax from Mac for convenience and saving money. Through the help of these Mac fax apps, one can easily save the space, time and cost with ease.
Here is the list of some best Mac fax apps to cater your business needs. See this list and select the one that is good for your operations.
1. iFax
iFax is offering a great Mac software apps to directly send fax from Mac. You can use this Max Fax app for sending and receiving faxes with the support of several other features. With iFax Mac Fax app, one can send faxes to another person even without a fax number.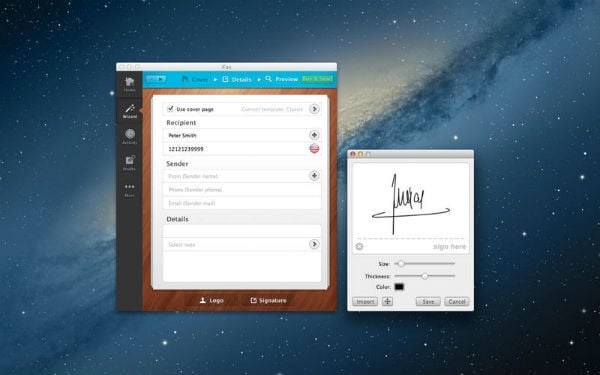 On iFax Mac fax Software, the pages are professional, customizable and one can insert their company logo on the cover page. In addition to this, with Mac Software, you can import from Mail, upload and download from the internet to iFax.
Monthly Cost: Starts from $0.99 to $12.99/month | Setup Fee: None | International Faxing: It comes with an international faxing feature. Send fax to United States (Local or Toll-Free), Canada, UK (Local or Toll-Free), Australia, Germany, Italy, Spain, Israel & Turkey | Download from: Mac Store
2. FaxDocument
FaxDocument comes with a simple drag and drops document feature with which you can fax from Mac. Every fax comes with a free cover page and shows you detailed fax logs of all faxes sent from Mac.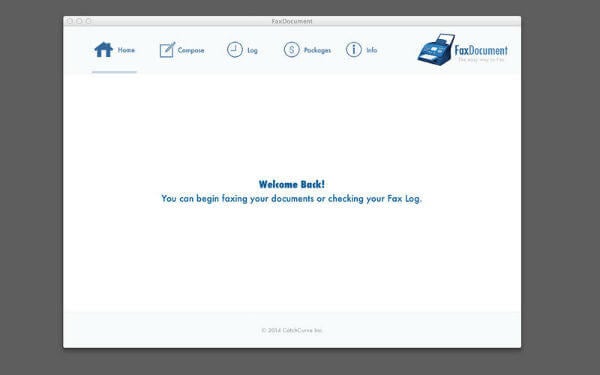 With this FaxDocumnet Mac fax software, you can get an email confirmation with each fax. In each fax, you can include your cover page made with proper customization easily.
Monthly Cost: 50 Faxes for $29.99 and 25 Faxes for $19.99 | Setup Fee: None | International Faxing: Over 30+ countries at no additional cost with no expiration on faxes | Download from: Mac Store
3. FaxFresh
The Mac Fax app allows you to send the fax of any size from a Mac system having an internet connection with ease. It enables the users to fax PDF from Mac through the help of FaxFresh software with a click.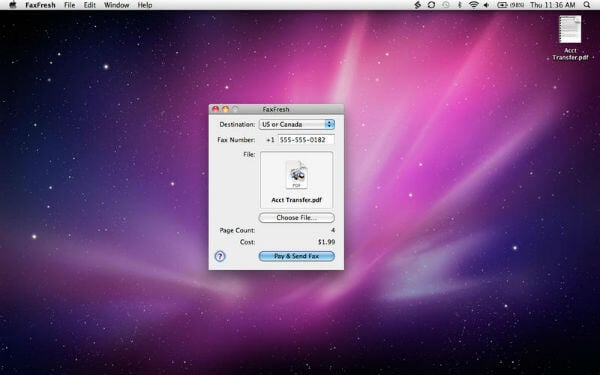 FaxFresh comes with a simple and inbuilt interface, allowing any user to manage it efficiently. This Mac Fax App is useful for sending a fax to people and business associates. With your mac, send fax anywhere at a cost that is affordable and best. Try this Fax app for its uniqueness from other Mac fax software.
Monthly Cost: 25 cents per page, $1.99 minimum | Setup Fee: None | International Faxing: Send faxes to over 100 regions | Download from: Mac Store
4. Sipgate Faxprinter
Sipgate Faxprinter is the best alternative to a fax machine. This Fax app for Mac gives you the functionality of many physical fax machines at one place. As a personal service, it ensures that your faxes are private and remain confidential. You can avoid the viewing of a fax from the prying eyes without any trouble.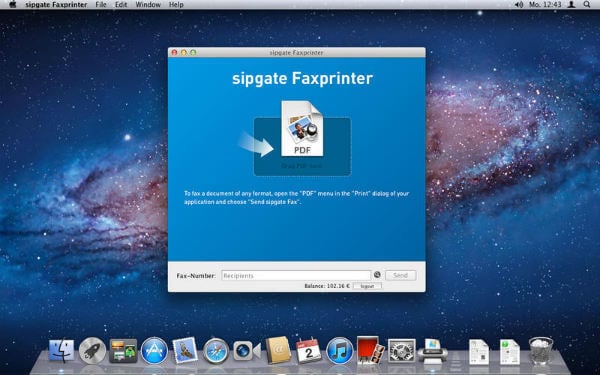 Sipgate Faxprinter let you schedule the time and date at which you want the fax to be sent. Deliver your fax at the right time with ease and decide how it to be sent. Sign documents and contracts in a second whenever sending a fax in a second.
Monthly Cost: A 30-day free trial for beginners | Setup Fee: None | International Faxing: Not available | Download from: Mac Store
5. Fax Pro
Localized in 14 languages, Fax Pro is easy to use and comes with a free cover page inheriting elegant designs. You can transfer PDF files from the mail attachment as well as from any other application.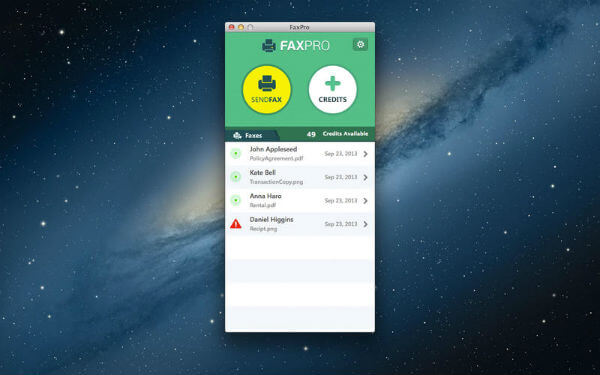 There is no need to register and log in to use this Fax app on Mac, you can quickly import the documents and fax them. This Mac fax gives you a list of your fax status and supports large files to fax. Files are stored in the app itself and guarantee the fax delivery to the sender and a worthy contender in this list of Mac fax apps.
Monthly Cost: None, $150.00 for 25-years license or $65.00 for a 1-year license | Setup Fee: None | International Faxing: No, Faxes are there for only on US & Canada only | Download from: Mac Store
6. FAX.de FreeFax
FreeFax easily converts your Mac system into a fax machine after the first use. The intelligent FAX.de software allows you to send faxes directly from your Mc app. You can choose whether to send an individual or perform mass transit. The application also gives you the feature to fax, aMail, and SMS directly from your mail client.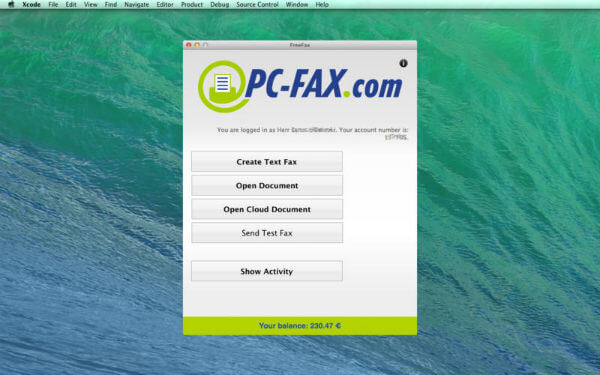 Receive your fax in every place in the world with your fax number. Send PDF/ Word/ Excel or TXT format directly from the drive or from the iCloud. If there is any trouble then you can easily contact the online customer center.
Monthly Cost: Starts from 2,50 € and goes to 12 € | Setup Fee: None | International Faxing: Send Faxes to more than 50 countries worldwide | Download from: Mac Store
Also read: Best Apps to Chat between MAC and PC
7. Snapfax
Snapfax is the last Mac fax app on this list from Mac App Store. This Mac Software comes with loads of features to replace traditional Fax machine. Snapfax is the only app here that gives you the estimated time of fax completion. After the completion of the fax job, the user gets a push notification from the tool.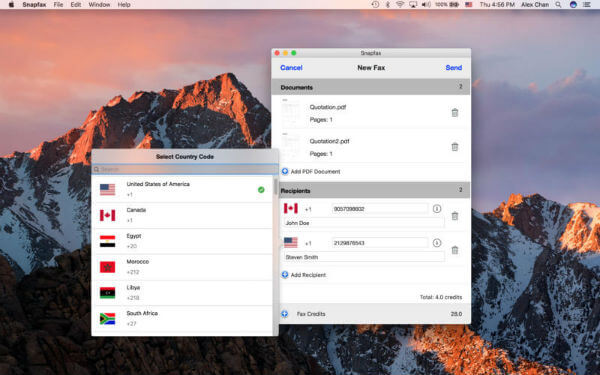 Drag or choose your PDF/Word/Excel file on the fax while sending. You can fax your document from diverse sources. Hide sensitive information on the fax through the app.
Monthly Cost: 4-200 Fax Credits: $1.99-$49.99 ($0.50-0.25/credit)| Setup Fee: None | International Faxing: For some countries, 1 credit is needed and some require more than 1. It supports 57 countries | Download from: Mac Store
Start saving by the use of these Mac fax apps instantly. Send your fax from Mac with the list of these Mac Fax software and totally eliminate the cost of using as well as installing a fax machine in your premises. These Fax app for Mac can deliver more than your expectations when used efficiently.