There are dedicated fax apps for Android that can replace dedicated Fax Machine. With these Android apps, you can fax images and documents directly from Android. With these Android Fax apps, you can send fax online from Android or tablet while you are on the road with a few taps from Android device.
With these fax apps for Android, you can send pdf file, photo or screenshot from your Android phone to a valid fax number. These apps can convert your Android phone into a portable fax machine that fit into your pocket. The best thing about these Android Fax App is, you can use these fax apps from anywhere in the world to send a fax to any traditional fax machine or fax number with an internet connection. These Android apps are very convenient and easy while you are on your business trip.
For Android users, here are the best Android Fax Apps that can replace your traditional Fax machines.
eFax
You can use eFax apps to use files from email, cloud storage, device storage. eFax Android app supports take photos of documents and fax them out just like a mobile fax machine. eFax provides a free dedicated Fax Number and you can start to receive or send faxes from Android.
 Android eFax app can forward documents as faxes or emails to anyone, from anywhere.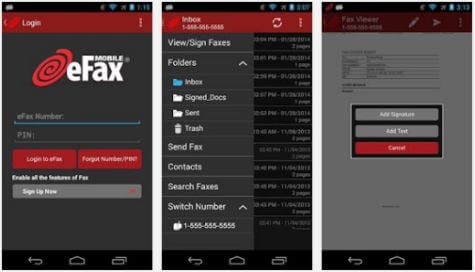 While sending fax using eFax app, you can use an electronic signature, sign on the screen using your finger. eFax provides cover sheets to personalize Fax and also directly print Fax from your phone or tablet. You can use Google Cloud Print or export faxes as PDF files to cloud storage service.
Key features: Send files from Email, Cloud | Fax photos | Free dedicated Fax number | Support Electronic Signature | Personalized cover sheet | Download: eFax – Mobile Phone Fax App from Play Store | Free Trial Link: Get Two Free Months with our Annual Plan with eFax
FaxFile – Send Fax from Phone
Android FaxFile app sends fax files or documents, including PDF files, stored on Android phone or tablet to any fax number in the USA/Canada and many international locations. You can send a fax from Android phone by simply selecting a file and entering a fax number.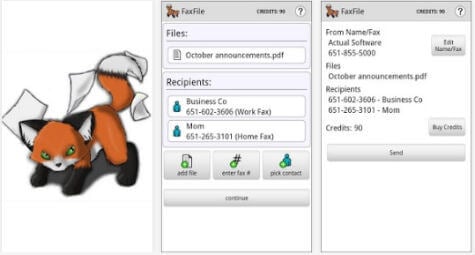 FaxFile supports sending via fax PDF and Microsoft Office Word documents. This Android fax app can also send Fax images in PNG and JPG formats, enabling you to fax images saved by phone's or tablet's camera. While you are using FaxFile, Faxes transfer in the background from Android phone to FaxFile servers and fax status is returned to the application at each step.
Key features: Supports PDF, Android& Cloud Stored Files | Send image files and camera photos | Fax status display | Download: FaxFile – Send Fax from phone from PlayStore
iFax
iFax provides a fax number for incoming faxes. This Fax app for Android is fully integrated with Dropbox to transfer documents to and fro. iFax allows you to send Fax private and secure using HIPAA-compliant, enterprise-grade fax technology. iFax supports to send fax documents with images, emails, PDF documents, etc. You can receive fax with your iFax number in the United States (Local or Toll-Free), Canada, UK (Local or Toll-Free), Australia, Germany, Italy, Spain, Israel & Turkey.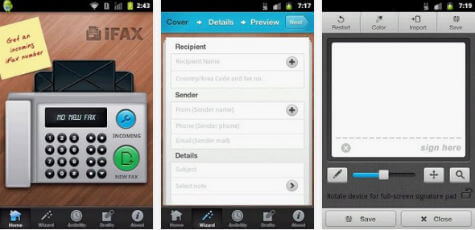 This iFax app provides notifications and fax confirmations in real-time. You can attach images from photo library or directly from the camera, crop and adjust brightness, sharpness to optimize images for faxing. With the use of cover page template, you can insert your company logo, add a note and sign your signature on the cover page.
Key features: Incoming fax& local toll-free number | Dropbox integration | Private Fax | Support images, emails | Fax status and notification | Download: iFax from PlayStore
PC-Fax
FreeFax by PC-FAX.com turns Android mobile device into a portable fax machine on Android. You can send a document to 50 countries worldwide for free and without registration.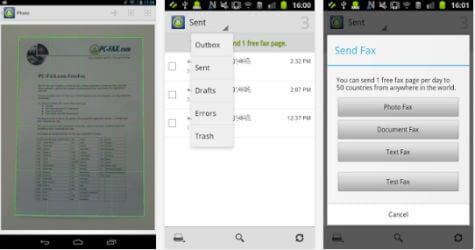 FreeFax is free for one page per day, you can send one page per day for free to 50 countries worldwide, for example in USA/Canada, Australia, China, Hong Kong, Russia, Japan and most European countries. You can send pictures, text, document etc.
Key features: Support fax to 50 countries | one page free/day | Support text, images, PDFs | Download: PC-Fax from PlayStore
If you have right Android Fax Apps and device, no need to depend on conventional fax machines to send faxes anymore. You can use any of these fax apps on Android phone, while you are away from the office or conventional fax machine. Even though most of these Android fax apps are free to download, you may have to pay the service fee when you send fax online from Android using these apps. These fax apps for Android can convert Android phone to a portable Fax machine.