Several individuals are switching to online fax services for convenience and time-saving. These virtual fax services are better than the traditional means and giving more features to send fax online. Online Fax services are better than conventional FAX machines. There is no need for any paper or printouts.
Here are some of the virtual fax options, giving you the basic fax service packed with a lot of attracting features.
eFax
eFax is another competitor present in the same market with a highly intuitive platform accessible both on mobile and desktop. It delivers rich features that are ideal for small to medium-sized businesses.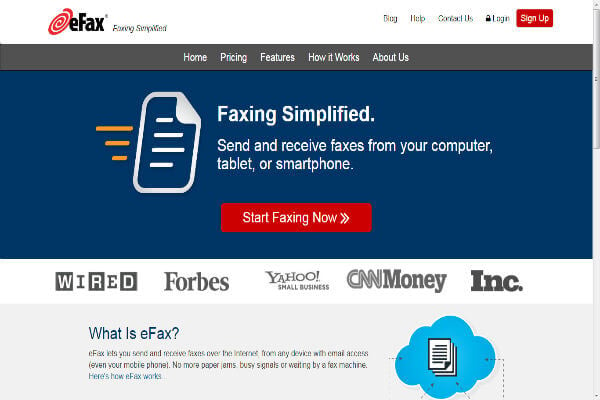 There is no need to download the faxes to view them, as you can see fax previews instead. A digital signature feature is also present on the site allowing you to sign faxes online.
Monthly Cost: Two plans of $16.95 (eFax Plus) and $19.95 (eFax Pro) | Setup Cost: $10.00 (eFax Plus) and $19.95 (eFax Pro) | International Faxing: Supports International faxing and fax numbers. | Free Trial Link: Get free trial for EFax
Fax.Plus
The FAX.PLUS service is mostly known for its reliability, security. This online fax service offers worldwide coverage, rich-featured interface, and ease of use. It is a HIPAA-compliant online fax service that supports international faxing, and you can get a dedicated fax number from over 40 countries worldwide.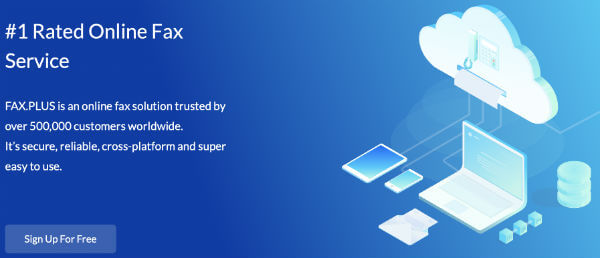 FAX.PLUS integrates with G Suite, Microsoft, and Slack, and it enables you to send and receive faxes from multiple devices and platforms, including Web, Mobile, Google Docs, Microsoft Word, and Email.
Monthly Cost: Starts from $4.99 to $59.99 | Setup Cost: None | International Faxing: Send Fax to over 180 countries, Can buy a Fax number from 47 countries | Free Trial Link:  Get 10 Pages Free Trial from Fax.Plus
RingCentral
RingCentral supports traditional faxing while providing a bridge to a more convenient way for documents. It gives you the flexibility to manage both your incoming and outgoing faxes, which are stored in your online account.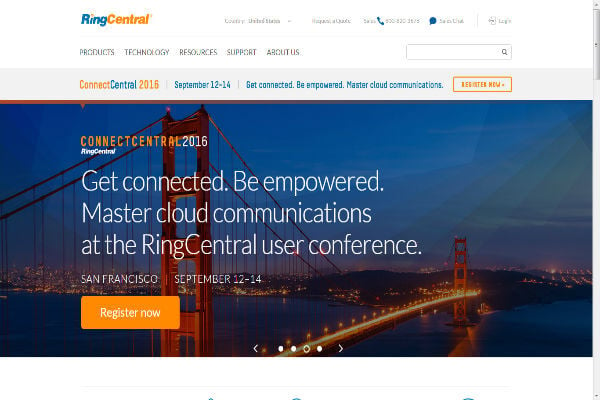 Coming with cloud storage integrations with Box, Dropbox, and Google Drive to make the faxing of your documents easily with your desktop or mobile device.
Monthly Cost: Starts from $7.99 to $39.99 | Setup Fee: None | International Faxing: You can send and receive faxes from the international fax numbers | Link to RingCentral
Related: Android Apps to Send and Receive Fax
MyFax
My Fax is listed as one of the most accessed and popular online fax services presents for people today. It allows the user to send about 50 recipients at once. Offering several account management characteristics like password protection, local and toll-free fax numbers, etc.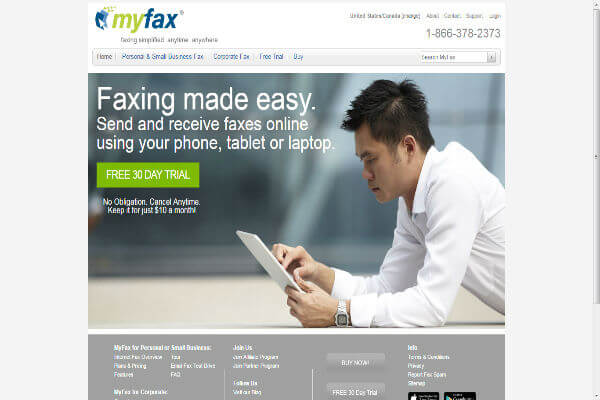 Send 100 and receive 200 pages for $10 per month and use the service 30 days on a trial basis. You can cancel anytime, as there is no contract for the services.
Monthly Cost: Starts from $9.17 to $40 | Setup Fee: None | International Faxing: You can fax to 48 countries around the world for free. | Link to MyFax
Nextiva Fax
The Nextiva Fax service is more than a basic online fax service giving its features in a fast, easy, and cheap way. It is an ideal choice for any user who needs a low-cost online fax service.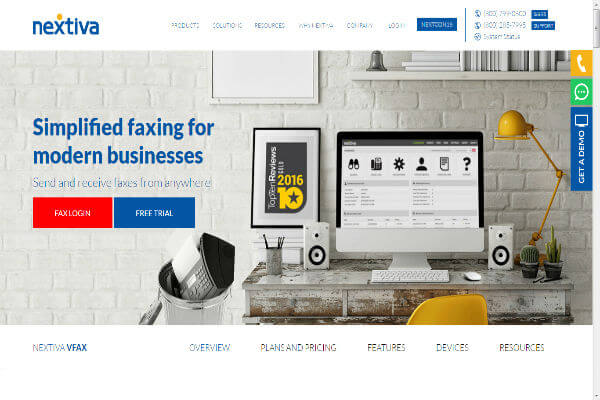 The site offers an automated answering service, call forwarding, music on hold, and several other professional phone features. No contracts are involved, and there is 30 days free trial available for people.
Monthly Cost: Starts from $12.95 and $29.95 | Setup Cost: None | International Faxing: No international faxing service is offered | Link to Nextiva Fax
Metrofax
MetroFax is a flexible faxing service that is quite flexible for small as well as large businesses. It comes with a good set of essential features that is present in each set of their plans.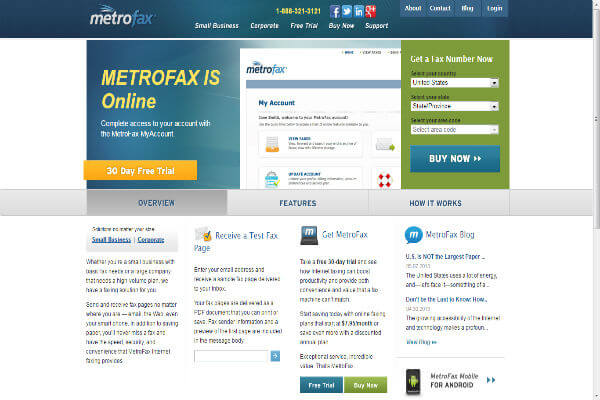 There are standard security features in their packages; many fax tools are there for better control over the service, which is easy to install and use.
Monthly Cost: Starts from $7.95 (Essential), $12.95 (Value) and $35.95 (Professional) | Service Cost: None | International Faxing: An additional fee is to be paid for sending and receiving fax from international numbers | Link to Metrofax
Fax.com
Fax.com has the basic characteristics needed to receive and send the faxes quickly. It gives you 300 pages per month to share between outbound and inbound faxes.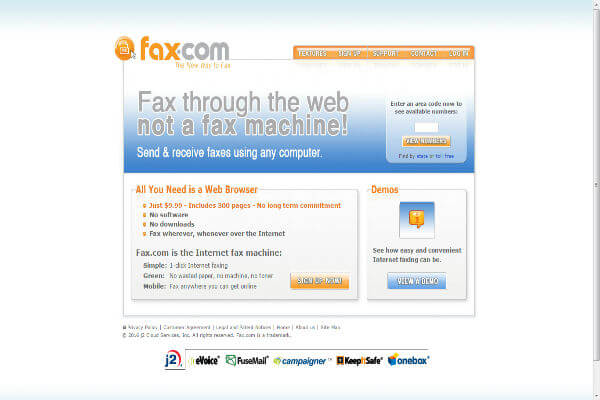 There are several helpful demonstration videos present on the site to get to know more about the website. It has local numbers in all 50 states plus toll-free numbers for no extra fee. You can fax up to five recipients at the same time.
Monthly Cost: $9.99 | Service Cost: $9.99 | International Faxing: Charges international numbers on a per-minute basis | Link to Fax.com
MaxEmail
MaxEmail has a decent set of features that are needed for fulfilling basic business needs. It also comes with a spam guard that alerts the user regarding the fax that is received from an unknown person having no listed fax number.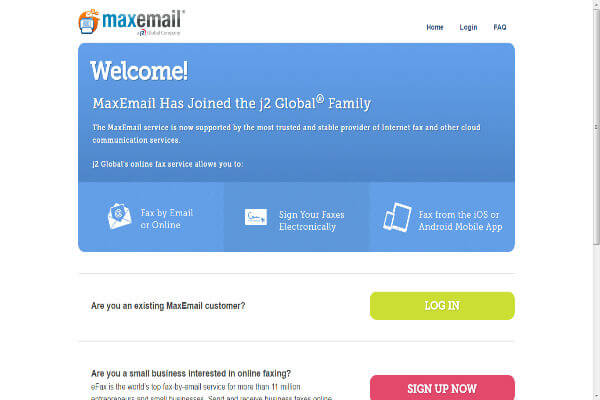 MaxEmail delivers a fully descriptive invoice, dividing down the bill, according to the fax numbers. The mobile app of the service integrates with cloud-based programs like Dropbox, Google Drive, etc.
Monthly Charges: $9.99-$104.50 | Setup Cost: $10 | International Faxing: Charges international faxing at international-per-minute rate | Link to MaxEmail
Scrypt
Need a user-friendly online fax service with strong security, and then you can choose Scrypt for the best experience. It is an ideal online virtual fax service for businesses that deal with sensitive or confidential information.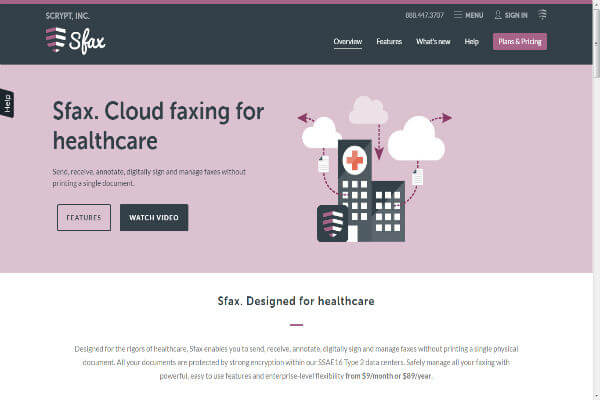 Scrypt supports a lot of formats, such as .DOCX, .XLXS, .PPT,.PDF .TXT etc. The site stores your faxes for a year and allows you to integrate with to manage them properly.
Monthly Cost: Starts from $9 to $159 | Setup Cost: None | International Faxing: No international faxing feature | Link to Scrypt
This Virtual FAX can send direct from PC, and you will get recipient notification online. The online FAX log will be accessible online, and a user can check wherever they need. Most of these online fax services are coming with the basic tutorial telling the user how to Fax and process the documents.
The faxing process needed in a field that requires a constant exchange of documents, like the real estate and insurance sectors, for example. Many times there is an immediate necessity of a document, and it is to be sent, but the fax machine just got broke, with the help of these online fax services one can instantly send the document to the recipient's fax machine.
Faxing from a computer is never easy, but these Online Fax Service sites are here to make the process simple and easy. This Virtual Fax allows the businesses to communicate with another and transfer the signed vital and legal documents. You can use these online tools to send the fax, if in a hurry, and get the results for each buck spent for the work.