Fax is still widely used in major sectors and organizations across the United States and all around the world, including healthcare and financial services, and no wonder many online fax services have surfaced to make the whole process of fax transmission and reception more convenient and secure.
FAX.PLUS is a HIPAA compliant fax service that strives to bring joy into faxing by delivering a seamless faxing experience with respect to security, reliability, and ease of use. This online fax service not only covers the requirements of big corporates and large enterprises but it also makes sure to save time and money for small to medium businesses as well as individuals who have to deal with faxing on a regular basis.
FAX.PLUS – A Secured & Trusted Cloud-based Faxing Solution for Large Enterprises
When it comes to considering the migration to FAX.PLUS, as a more reliable and secure solution, the extent of security and privacy measures along with the wide range of available integrations, such as Zapier, G Suite, Slack, and Microsoft, availability on multiple platforms, and constant updates, are the main features that stand out. Below you can find some other features of FAX.PLUS for corporates:
Fax files at rest are encrypted using 256-bit Advanced Encryption Standard
Two-factor authentication and biometric authentication as an extra layer of security
Comprehensive user management and administrative panel
Get one or multiple dedicated fax numbers from more than 40 countries
Transfer your own fax number free of charge with no downtime
Integration with high-tech tools such as G Suite, Slack, and Microsoft
Integration with your enterprise software via API or Zapier
Send and receive faxes securely via email
Extremely reliable and very high fax transmission success rate
Custom solutions for enterprises with high-volume faxing requirements
Priority support with constant updates and maintenance
For more details on the features of FAX.PLUS for corporates and enterprises, you can visit the FAX.PLUS Features page.
Also read: Easy to Find out your LPG Cylinder Booking Status Online
FAX.PLUS – A Time & Money Saving Faxing Solution for Individual and Small Businesses
Other than big companies and large enterprises who deal with a huge amount of fax transmission and reception on a daily basis, there are small to medium size companies as well as individuals who might need a dedicated fax number to send and receive faxes from time to time. FAX.PLUS offers a range of different plans with affordable prices to target these types of fax users as well.
Availability on different platforms, including Web, iOS, and Android, advanced confirmation reports to print out for future references, the option to sign documents on the go via the mobile app, secure archiving, and affordable prices are the main features of FAX.PLUS individual plans for small businesses. Below you can find some other features of FAX.PLUS for individual and small businesses:
Cross-platform (Available on the Web, Android, and iOS)
Send fax from Google Docs and Microsoft Word
Sign documents via the mobile app
Advanced built-in scanner
Schedule faxing
Phonebook
Two-factor authentication
Biometric authentication
Free plan
How to Send and Receive Fax Online Using FAX.PLUS
Ease of use and availability on multiple platforms ensure that you can easily send and receive faxes from your favorite platforms and the software you use every day without having to go through a complex procedure.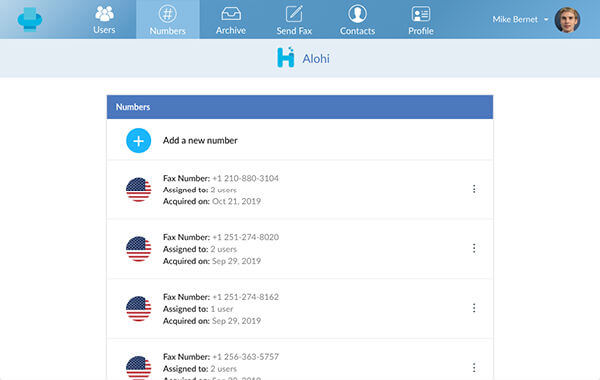 Send Fax from Email:
To send a fax from any mail server, including Gmail and Yahoo!, you just need to enter the fax number in the "to filed" with the following format: [email protected] (for example [email protected]). Your fax will transmit as soon as you send the email and you will receive the delivery status in your mailbox.
Send Fax from Phone:
The FAX.PLUS mobile application is available for both iOS (Apple Store Link) and Android (Google Play Store Link) devices enabling you to have access to a pocket-size yet fully functional fax machine whenever you want and wherever you are.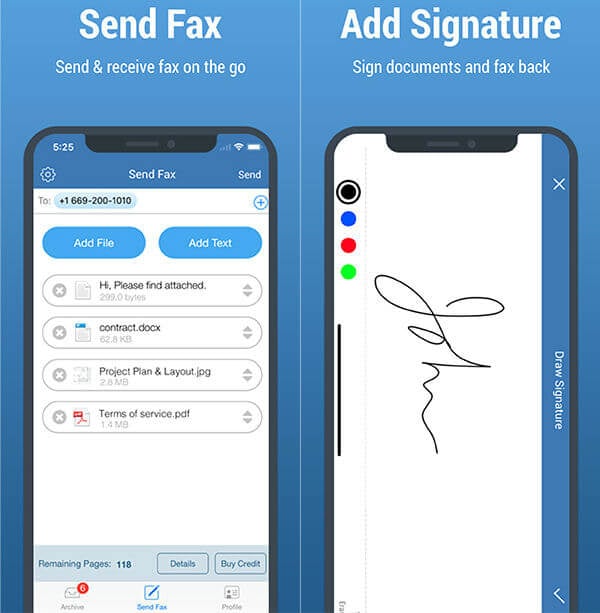 Send Fax from Google Docs:
The Google integration feature makes it possible to fax your documents right from Google Docs hassle-free. Get the FAX.PLUS add-on for Google Docs, finalize your document and send your fax right away. You can also utilize the add-on for Google Sheets in case you have some important spreadsheets to fax.
Send Fax from Microsoft Word:
There is also another free add-in that makes sending documents from MS Word as easy as pie. Get the FAX.PLUS app from Microsoft store, sign in with your credentials and send your fax.
What else? You can benefit from the programmable fax API as well as the Zapier integration feature to integrate your faxing into virtually any software or program you use.
FAX.PLUS:- Plans and Pricing
FAX.PLUS paid plans start from $4.99 per month and goes up to $49.99. With the Basic plan, which costs $4.99, you will be given a dedicated fax number along with 100 free pages per month to send and receive faxes. With the Enterprise plan, which costs $49.99, you will be given 2 dedicated fax numbers with the option to add extra numbers at the cost of $4.99 per fax, as well as users' management feature, advanced security controls and much more.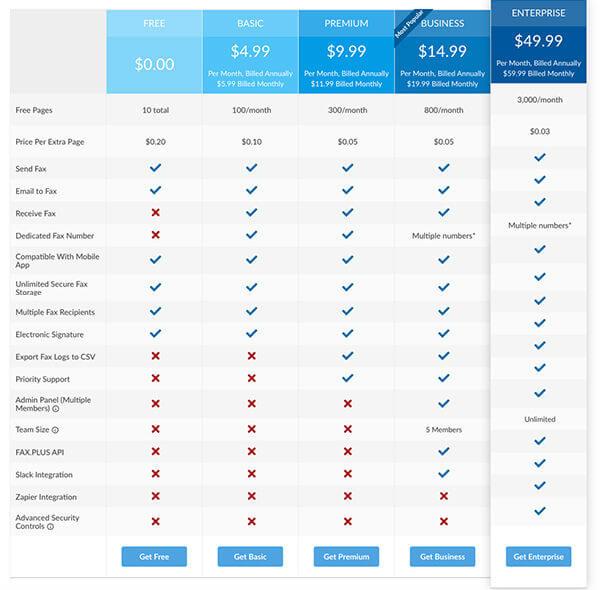 It's worth mentioning that you can port your current fax number to FAX.PLUS free of charge and there is also separate discounted pricing for mass-faxing based on your requirements.
Verdict – FAX.PLUS is the best online fax service for multiple purposes
Overall, no matter if you are a large enterprise that is looking to migrate to a more secure and reliable online fax service, a big company that is looking for a fax service with high-volume faxing solution, an individual or small to medium-sized business that needs to have access to an always-ready fax number, FAX.PLUS is your #1 choice.
Visit FAX.PLUS Pricing page for more details on the available plans and pricing, or directly contact FAX.PLUS sales representatives if you are looking for a custom solution tailored to your needs.
---
This article has been sponsored by FAX.PLUS