Apple Mail is arguably the best email client for Mac users. This Mac email client is well designed for the Apple ecosystem and works well with OS X and iOS devices. This built-in best Mac email client works well with most of the email providers. This includes Gmail, iCloud, Outlook, Yahoo Mail, and more. However, there are many other email apps for Mac too. They perform well in terms of speed and come with great additional features. Some offer simpler UI and improved features than those offered by Apple Mail.
Here is a list to help you choose the best email client for Mac that meets your expectations. Most of these Mac email clients support file attachment via the cloud, a helpful feature to send extremely large files.
Spark
Spark email client is the best Mac email client that lets you quickly see what is inside of an email (Quick Preview) and you can neglect or delete. It is a real time saver when you are dealing with a lot of spam and junk emails mixed with official emails.
The main feature of Spark for Mac that makes this email app so unique from other email clients is Smart Inbox that arranges all the emails into cards. Spark classifies the email into diverse groups, including Personal, Newsletters, and Notification. The user can tell Spark app which email is important to make it learn about the important emails.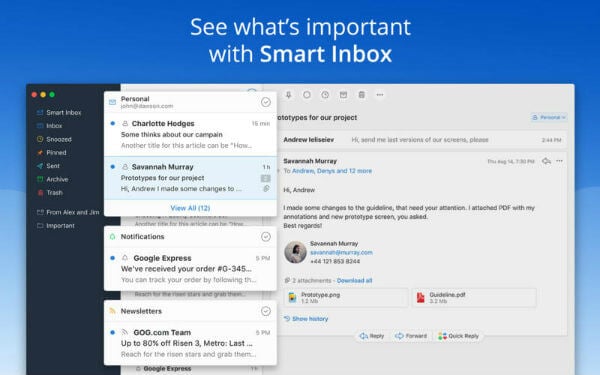 Spark always keeps updating features with new Mac hardware and the latest update comes with Touch Bar and Snooze capabilities. The email client has quick action gestures that can be customizable whenever needed. Spark is a lightweight and powerful email client that allows
scheduling emails
on Mac. These unique features make Spark one of the best Mac email apps on the Apple Store.
Key Features:
Free to use with limited features
Premium plan available starting at $6.39 per month
Best email client for Mac with Quick Preview
Organized interface with Smart Inbox
Touch Bar and Snooze functions
Check out Spark
Airmail
Airmail is probably the best email app for Mac on the Apple Store. This excellent Mac email client offers similar performance with a single or numerous email accounts. This app selected as one of the best email clients for Mac that is ideal for those who have multiple email accounts.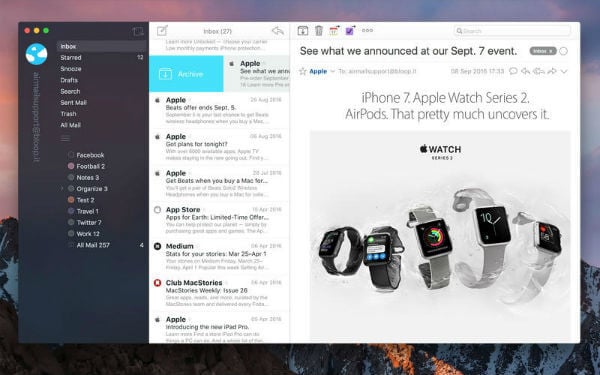 Airmail supports iCloud, MS Exchange, Gmail, Google Apps, IMAP, POP3, Yahoo Mail, AOL, Outlook.com, and Live.com. The Mac email client is clean and offers a smooth delivery of emails without any interruption. The built-in features like Quick Reply and move messages to different mailboxes are going to save a lot of time for Mac users.
You can quickly preview attachments right from the main Airmail screen without opening the email thread and quickly label them. In addition to this, Airmail brings you a cool feature that lets you schedule an email to send later. You will love this feature to schedule a birthday or anniversary wishes in advance.
Key Features:
Free to use with in-app upgrade options
Airmail Pro subscription starts at $2.99 per month
Send Later option for all account types
Intuitive Quick Reply templates
Ideal to manage Gmail for Mac or other email services
Check out Airmail
Newton
Newton comes with many powerful features that change your email experience. You can use the best email app for Mac for managing Gmail, Exchange, Yahoo Mail, Outlook, and iCloud accounts. It also supports Google Apps, Office 365, and all IMAP accounts.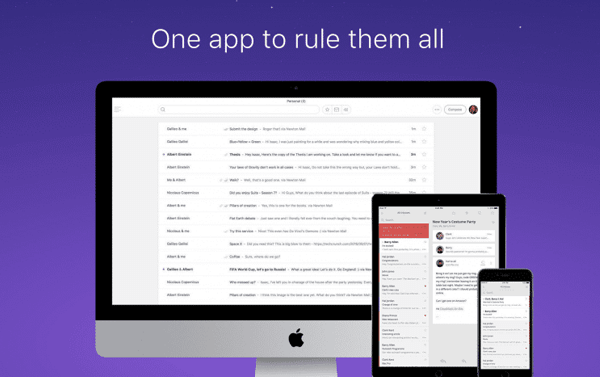 The most prominent features in Newton include Read Receipts, Send Later, Undo Send, and Snooze. It has a minimal and clean interface that makes managing accounts on multiple platforms a breeze. Besides, the cross-device syncing of the app will keep you updated always. You can also set up push notifications for all your email accounts.
Newton allows you to create different folders to organize your emails in a better way. You can easily filter newsletters and social media emails to a different folder to keep your inbox uncluttered. Newton also works with many third-party productivity apps to make life easier for you. This makes it simple to send important emails to apps like Zendesk, Evernote, Asana, and more.
Key Features:
Pricing starts at $49.99 per year
14-day free trial available
Powerful features to supercharge your email accounts
Simple tools to organize and filter emails
Syncs across devices to keep you updated
Check out Newton
Microsoft Outlook
Microsoft Outlook is the best email client for Mac with Office 365 integration. You need a qualifying Microsoft 365 subscription to use the app though. With that, you get access to OneDrive cloud storage, advanced security, and more. This makes it easy to access your emails, files, calendar events, and contacts on Mac.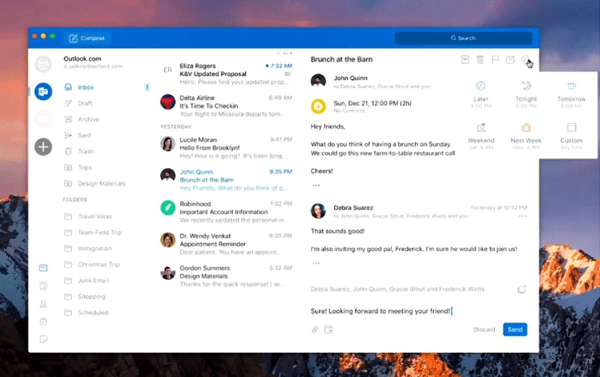 You can also set up a personalized inbox and calendar in Microsoft Outlook. This helps you to stay updated with important tasks. The Mac email client comes with smart filters too to sort the most important messages. There is an option to view multiple calendars on the app as well. Microsoft Outlook also adds bill payments and reservations automatically to the calendar. That way, you can manage your commitments more efficiently.
It is very easy to flag spam emails or set reminders for important ones in Microsoft Outlook. You can also secure your emails with message encryption. Besides, Outlook for Mac works with all major email providers. This includes Gmail, Yahoo Mail, iCloud, and more.
Key Features:
Requires Microsoft 365 subscription
Can be used to manage Gmail for Mac or other email services
Robust calendar integration
Personalized inbox with smart filters
Allows encrypting email messages
Check out Microsoft Outlook
Canary Mail
Canary Mail is a universal email client for Mac. It supports all kinds of email accounts including Gmail, iCloud, Office365, Yahoo, IMAP, and Exchange. You can easily access all the emails and files from a specific contact on the app. it even allows you to view social media profiles of your contacts.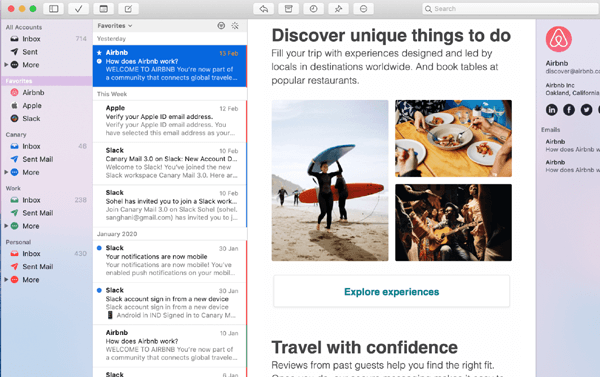 The end-to-end encryption in Canary Mail makes it the best email app for Mac in terms of security. Apart from that, it also comes with many reliable productivity features. That includes Read Receipts, Templates, Dark Compose themes, and more. You can also set up favorites in the app for quick access to important emails. All of that is packed in a simple and beautiful interface.
Canary Mail allows you to set up smart notifications for your emails too. There are options to pin important emails, snooze messages, and create custom thread actions. The best Mac email client allows viewing attachments in a conversation as well. That makes it an impressive solution for professional-level use.
Key Features:
Free to use with in-app option to upgrade
Works with all popular email services
End-to-end encryption
Pre-built email templates and themes
Tons of productivity features
Check out Canary Mail
Boxy
Boxy claims to be the best Gmail for Mac clients. The Mac mail app comes with similar features to Google's Inbox. It offers a modern and clean UI on your Mac screen for the emails. You can use this email client in full-screen as well as the split-screen mode to get a better user experience.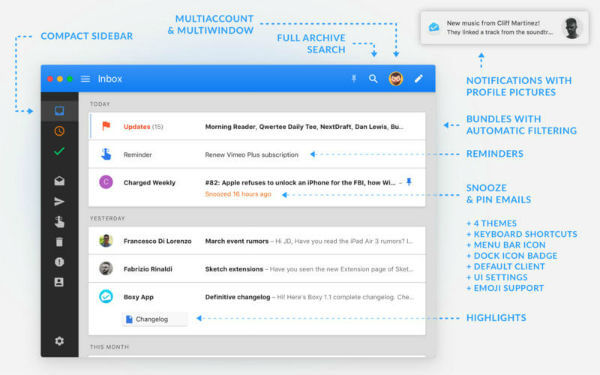 The email program comes with an innovative feature. Boxy email application allows the user to start writing an email and continue it afterward on an iOS device. A fascinating Reader mode is also present for a distraction-free reading experience. Boxy has a Quick Launcher feature as well. It allows you to switch to any of the added accounts instantly.
Boxy also allows you to send emails to your preferred task manager apps. You can also search through your emails using the built-in search and advanced filters. The Google Calendar integration further makes it a productive app for Mac users. There is a custom dark theme in Boxy as well that syncs with Mac OS perfectly.
Key Features:
Best Mac email client for Gmail and Google Calendar
A yearly license costs $49.99
Cross-device sync for a better experience
Impressive Reader mode
Refined and improved user interface
Check out Boxy
Edison Mail
Edison Mail is the best email client for Mac for unparalleled speed and superior search functionalities. It is very easy to use and comes with numerous features that make managing email accounts simpler. Edison Mail for Mac supports IMAP, iCloud, Gmail, Yahoo Mail, Outlook.com, and many other mail accounts.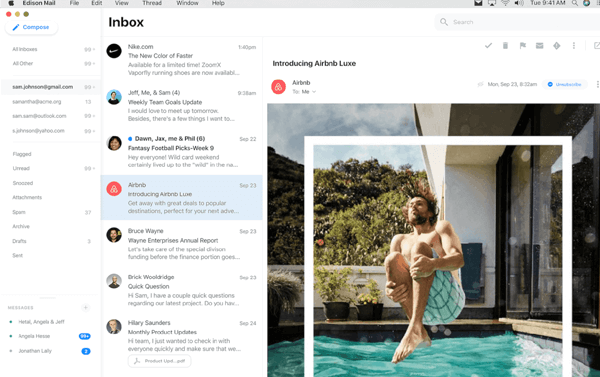 One of the most impressive features of Edison Mail is its swipe gestures support. You can easily organize your inbox with customizable swipes. It also features a unified inbox, which lets you manage unlimited email accounts simultaneously. The overall design and user-interface are very friendly. There is a dark mode as well to ease the strain on your eyes. You can also customize the fonts, text color, hyperlinks, and more as per your preferences.
Edison Mail also comes with a one-click unsubscribe option. This makes it much easier to keep junk mails away from your inbox. You can also block an unwanted sender on the app. Edison Mail comes with customizable email templates too. This avoids the hassle of rewriting the same email repeatedly.
Key Features:
Stunning interface and powerful features
Best email app for Mac for customization
Advanced search functionalities
Pre-designed email templates
One-click unsubscribe function
Check out Edison Mail
Mail Inbox
Mail Inbox is an unofficial client for Google Inbox. This Mac mail app offers the users a sleek and responsive interface and one for the best email app for Mac for Gmail users. Like other Mac email clients, Mail Inbox supports multiple email accounts. This Mac email app lets you hide email attachments preview to clean your Inbox and offer a neat preview of the inbox.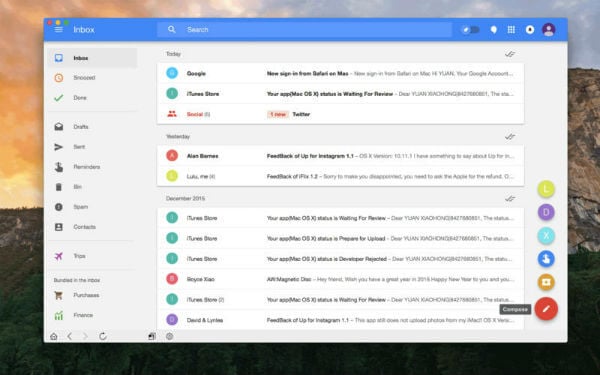 With the Mail Inbox, you can start writing the mail and continue it later on mobile like the feature offered in the Boxy email client. The email app works with any Gmail account and offers a cool experience with amazing features. With Mail Inbox Mac client, you can set snooze to take care of the emails later and reminders for the emails to be notified later.
Mail Inbox can be ideal to manage Gmail for Mac users. It is handy especially for those who have different email accounts for personal and work-related uses. There is a Reader Mode in the app as well. This gives you an enhanced reading experience when working on your Mac.
Key Features:
Best email client for Mac in terms of design
Supports multiple email accounts
Option to hide email attachments
Snooze and reminders functions
Draft sync for better cross-device experience
Check out Mail Inbox
MailTab Pro
MailTab Pro is a sleek and attractive email program for Mac that stays on the menu bar. This mail menu icon is to give you quick access to your Gmail account just with a click. The audio alerts are customizable and alert you about a new email as soon as it comes into the inbox.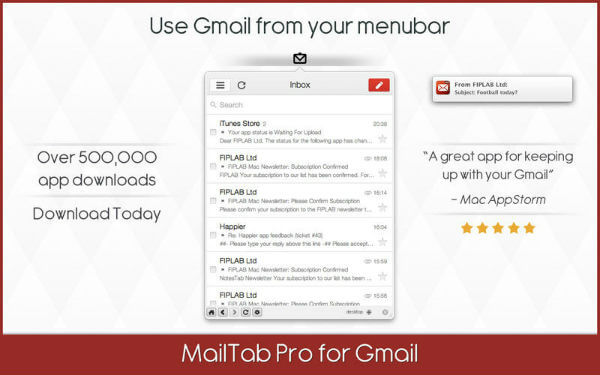 The UI customization lets you keep the email app UI window transparent, with a unique slider. You can resize the email app window or tab to get more working space on your Mac screen for multi-tasking. MailTab Pro is possibly the best email client for Mac with a minimal design. It is a lightweight app and does not consume much system resources.
MailTab Pro comes with a Stealth mode as well. It allows you to check your Gmail inbox, chat, and menus, without letting others know. You also get Google Hangouts support with the app. It feels just like using the Gmail web version. MailTab Pro also supports native Gmail themes to deliver a unique experience.
Key Features:
Pricing starts at $2.99
Slick interface with native Gmail themes
Customizable audio alerts
Notable Stealth mode and transparency options
Google Hangouts support
Check out MailTab Pro
Unibox
Unibox is one of the best email apps for Mac, but expensive compared to other apps. The Mac email program organizes the mails by the originating thread. The first thing that the tool states is neatness. Therefore, it does not have a crowded mailbox. The mails are sorted based on weekdays and the sender along with their profile photos.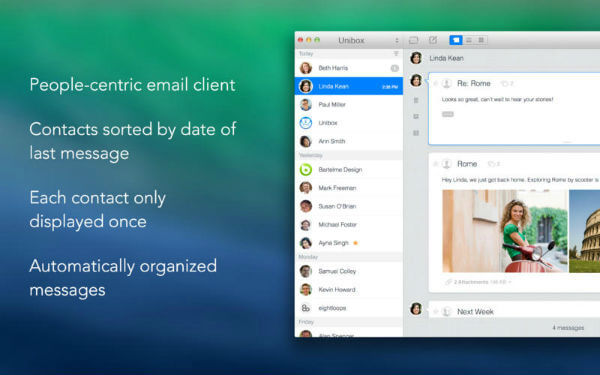 All incoming emails are compiled and organized under the same thread based on the name of the sender. You can use multiple identities with one account and use the services offered. With Unibox, you can visually browse through the present attachment and preview them easily with Quick Look.
Unibox also supports filtering the emails according to type for better viewing. You can instantly compose a new message in the same window as you read through the emails. The app can be used to manage email accounts on Gmail, iCloud, Yahoo Mail, Outlook.com, and more. You can also use Unibox for Microsoft Exchange if IMAP is enabled or with self-hosted IMAP servers.
Key Features:
Pricing starts at $13.99
15-day free trial available
Powerful mail sorting functions
Allows using multiple identities in a single account
Quick Look feature to preview attachments
Check out Unibox
Kiwi for Gmail
Kiwi for Gmail is the best email app for Mac with G Suite integration. It gives you a unique take on the notable features of Gmail along with some added functionalities. You can easily manage multiple Gmail accounts with the app. It supports Google Docs, Sheets, and Slides integration as well.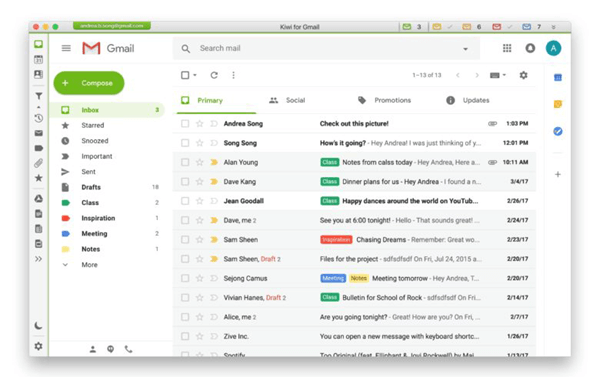 You get a simple and intuitive interface in the Kiwi for Gmail app. The desktop integration and multiple windows support make it more interesting to use the Mac email client. You can easily access any preferred file on your Google Drive in a click. It lets you to open new documents and return to the recent ones instantly as well.
Kiwi for Gmail supports managing up to six Gmail accounts simultaneously. It allows opening documents in different windows for facilitating multi-tasking. This can be done across different G Suite applications and Gmail accounts. The Mac email client also supports sending large attachments using Google Drive.
Key Features:
Pricing starts at $29.99
30-day free trial available
Allows using Gmail for Mac as a desktop app
Integrates with Google Docs, Sheets, and Slides
Quick access to Google Drive files
Check out Kiwi for Gmail
Direct Mail
Try Direct Mail app and end your search for an easy to use and feature-rich email program. It is the best Mac email client for powerful and efficient email marketing campaigns. You can import contacts from other email programs already present on the Mac. The user can automate all your email campaigns by auto-responders, going to be a huge timesaving feature.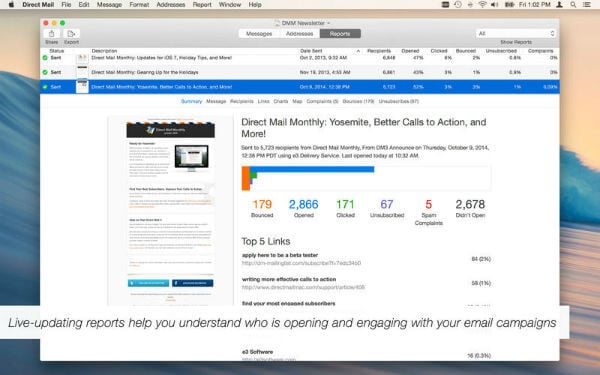 Direct Mail allows 150 emails a month to send free. In order to send more, the user has to use the in-app purchases to unlock it. With this marketing email client, you can create customizable forms with the tool whenever needed. With Direct Mail, you can make your email campaigns more interesting and great.
You also get real-time open and click tracking reports with the app for improved email marketing. Direct Mail also allows you to sync your campaigns across compatible devices and share them via the cloud. The cloud sync feature works in the background and keeps everything updated in real-time.
Key Features:
Free to use with in-app purchases
Ideal for email marketing campaigns
Built-in template gallery for personalized emails
Allows creating customizable forms
Easy to import contacts from other email clients
Check out Direct Mail
Get the Best Email Client For Mac
Most of these third-party Mac email clients work well with email providers like the native Mac Mail app. However, the third-party email client apps like Airmail and Spark are drawing users' attention with their amazing features and simple interface.
The above listed are the best email client for Mac. These Mac email apps do more than just reading your emails. These email clients offer some good extended functionality to make your life smooth and fast. You can select one of these best Mac email client apps that can handle your official emails and personal emails right from a single place.