When you search for the best email apps for Android on play store, check the apps with the uni-box inbox. As you know, the top email apps should support multiple clients such as Gmail, Microsoft Live Mail, Microsoft Exchange, Outlook, Hotmail, Yahoo mail, etc. These email applications should be adept at dealing with messages and should be able to store, process and manipulate various types of emails like spam email, marketing emails, personal emails, etc.
After quite a bit of analysis, here we present the best android email apps. These apps are guaranteed showstoppers when it comes to email.
Gmail
For most of us, it is literally impossible to think of email without the Google mail. Gmail revolutionized the way we deal with the electronic mails. With over 1 billion active accounts, Gmail is one of those big shots when it comes to the emails. The easy to use setup saves time, and the security features like email encryption, email money sending, and regular updates from Google make this one of the best email apps for Android.
Gmail supports receiving and sending from multiple accounts with a single unified inbox. The organized inbox of this email app Android sorts majority of the social and promotional messages within seconds to save time.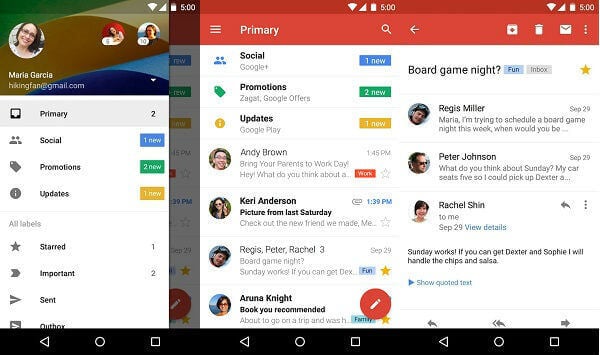 Gmail app comes with 15GB free space which is shared across the Gmail, Google Drive and Google Plus photos. This Google email application comes with a dedicated
spam filter
 which blocks unwanted messages before reaching the inbox. Furthermore, the Gmail App supports multiple email providers ranging from Microsoft Outlook to Yahoo mail. The simple user interface is the prime reason for making this email client one of the best email apps for Android.
Download from PlayStore: Gmail
Microsoft Outlook
The Microsoft outlook is an instant email android application, helping connect millions of user's Email Accounts, Calendars, and files in a simple unified platform. The robust design and the elegant user interface give the user a significant amount of efficiency. This Android email app is capable of sorting messages according to our priority.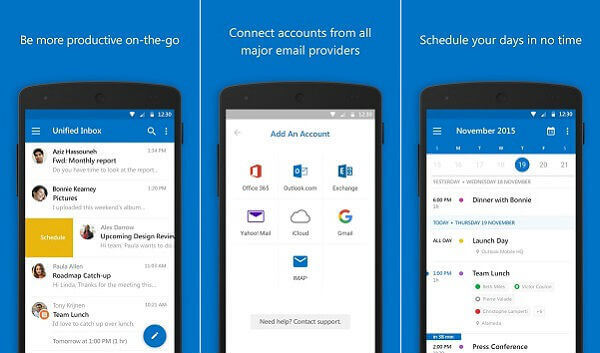 Microsoft Outlook app works exceptionally well with the Microsoft Mail, Microsoft live mail, Microsoft exchange, office 365, outlook.com, Gmail and Yahoo mails. The seamless inbox management sorts messages accordingly, and the presence of the in-app message filter keeps the inbox safe from spam.
The Microsoft outlook app supports swipe gestures, making it extremely user-friendly. This email app also incorporates Microsoft word, excel, and powerpoint and makes emailing less straining. The Android Email App also comes with a calendar. With around 200 million users, the Microsoft Outlook is one of those email applications that should be given a try.
Download link:  Microsoft Outlook
Inbox by Gmail
Inbox by Google is another bigwig in the field of email messaging, developed by the Gmail team. The alternate Google Email app aims to produce a step more from what the original Gmail app could give out.
This email application's prime feature is the presence of a simple inbox which organizes messages and keeps everything up-to-date. This Email Client also notifies instantly about important emails according to the user's priority. The presence of the in-app email filter help in keeping the inbox safe from spam and other unwanted messages.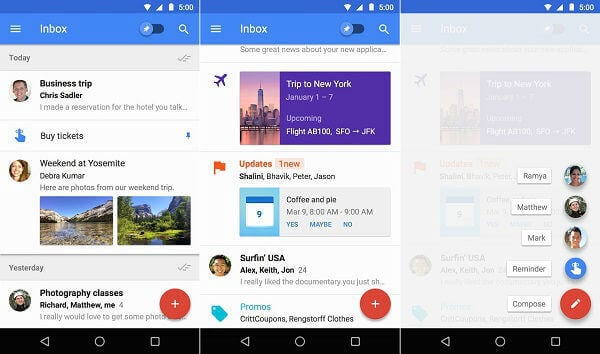 The inbox email app has the feature of bundling similar messages which help in dealing with all those at the same time. This email app for Android also supports swipe gestures and hence, make it extremely easy and fitting for most of the users.  This email app is most suited for those users who get a lot of junk mails.
The search feature makes it easy for searching specific messages instantly.  More than just a mailing application, the inbox works as a reminder, notifying important messages consistently. The inbox app is a good substitute for those who aren't a good admirer of the old stock email application.
Download from PlayStore: Inbox by Google
Mymail
Mymail Android Email App enables the user to surf through multiple accounts instantly. This Android app supports all major email services ranging from the standard Google mail to AOL mail services. This email application automatically sets up IMAP, POP and SMTP settings for most host domains and supports corporate email servers too. The real-time push notifications help keep the user up to date with incoming messages.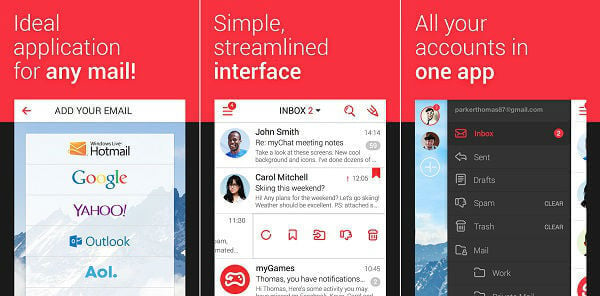 The presence of a customizable inbox with has integrated spam filters make this android email application an extremely convenient app to keep up with the sprinting world. The custom filter setting enables the user to block, delete or hide emails from specific senders or websites.
The Mymail app uses OAuth authentication to sign in to Hotmail, Gmail and outlook accounts. The access to the users' data should be granted by Microsoft and Google website, making it highly secure web experience. A small flaw that affects the app experience is that it isn't Ad free.
Download from PlayStore: mymail
Asus Email
Asus email application is primarily intended for the zen user interface. The app, integrated with the other zen UI applications provide extreme efficiency. This Android Email App is a simple and elegant email tool that helps manage multiple inboxes all at once. The presence of email filters helps in sorting as well as keeping away spam out from the area.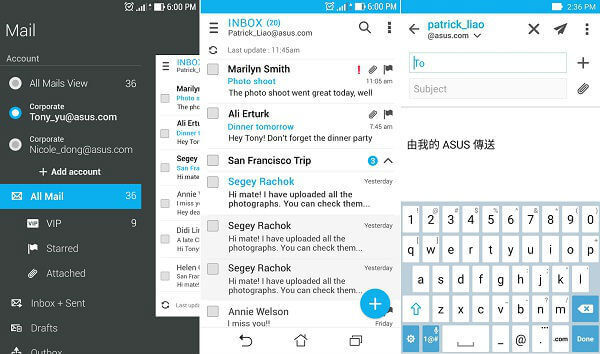 The key features of this email application include the combined view, which helps to view multiple accounts to be integrated within a unified inbox, reminder set up, which allows in notifying as well as reminding important messages.
The simple navigation panel is incorporated into all necessary settings and options help maintain a good mailing experience. With around 10 million downloads, the app managed to put its mark on the list of best email apps for android
Download from PlayStore: ASUS Email
BlueMail
The Bluemail is one of those email apps that can replace the stock email application. This email app is a beautifully crafted, universal email client, capable of dealing with multiple email accounts literally from all providers. The prime feature of this email app is the presence of a personalized user interface. It also is capable of clubbing various inboxes and also supports both IMAP and POP3. The notification features include the all-new snooze alert, reminder and custom notif sounds.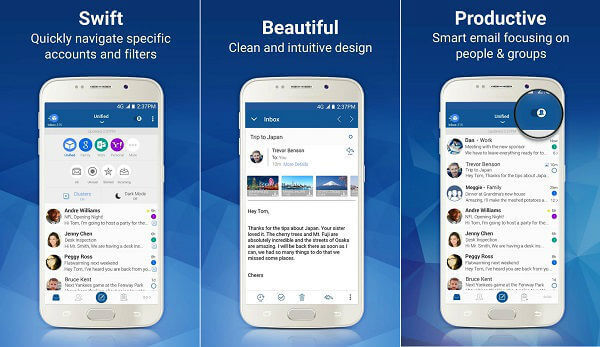 The app's user interface is worth mentioning. Bluemail is robust and straightforward, making it suitable for all types of users. The presence of dark theme, night mode, and the rich text signature add a unique charm to the application. To get rid of spam emails out from the inbox, the blue mail is incorporated with in-app filters and also customized for offline. With over 1 million downloads, it is one of the best email apps that crawled on to the app store with data encryption.
Download from PlayStore: BlueMail
Newton Mail
Newton is a one-stop platform for all email needs, supporting all major email clients and providers. The Newton Email App is a subscription-based service. This Email app comes with a short-term free trial of 14 days (well that's limited) and has to pay to use after that. The app is available as an in-app subscription for $49.99 per year (It is highly recommended to initiate the subscription to get 100% efficiency from this application).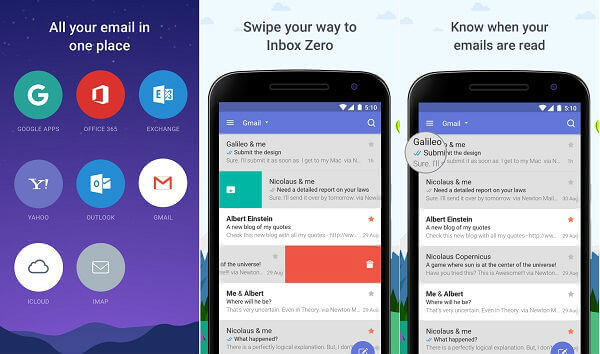 This email application provides a scheduled sending option that helps in scheduling and sending emails at the right moment. The tidy and straightforward user interface comes with filters that shun out newsletters and other promotional messages. The presence of connected apps features help in providing complete workflow without leaving the email.
Furthermore, the Newton email app gives access to productivity apps such as to-do list, Evernote, etc. This Android email application is one of those apps which provide a safe and secure mailing atmosphere. This Android email app offers the best and reliable mailing experience with all encrypted data and the initial 2 step verification. Before paying the subscription fee, please use the trial version of Newton email app from the PlayStore.
Download from PlayStore: Newton Email
K-9 Mail
The K-9 mail is one of the power email App for Android which is capable of supporting multiple accounts. K-9 is a 100% free and open source email client with integrated search, push mail, multi-folder sync, etc. This email application supports IMAP, POP3 protocols and exchange 2007. This Android mail app contains a simple user interface and deals exceptionally well with all sorts of users.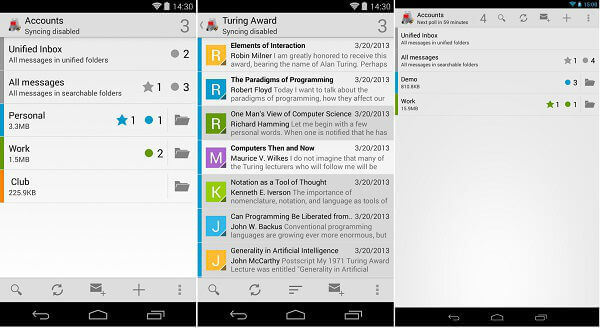 The presence of a unified inbox helps surf through numerous email accounts instantly. The critical feature of this email app is its robust nature of dealing with emails. The app provides pro level security for the user which includes data encryption and 2-factor authentication. The app is not as bulky as those other email apps, being around just 3MB in size proves to be a low strainer for those limited RAM and Storage devices. The download stats(about 5 million) proves the uniqueness and popularity of this simple android email app.
Download from PlayStore: K-9 Mail
AquaMail
Aqua mail, developed by mobisystem considered as the best platform for users dealing with multiple email accounts. The prime feature that makes this app unique is stress-free setup process. With its flexibility and vast customization, the app strives to provide a platform where the users get to tweak according to their needs.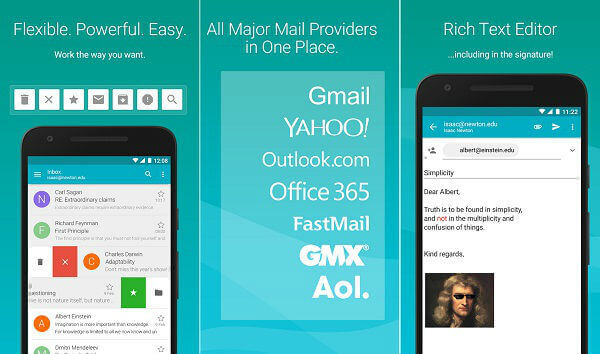 The Aquamail's seamless yet powerful user interface provides some key features that give out a good email experience. This email app comes with 2-factor authentication as well as data encryption making it highly secure for the user.
The AquaMail app supports backup and restores feature with almost all cloud services. Besides, the integration of third-party apps provides maximum control and user satisfaction. The Aqua Mail Android app offers push mail services for most of the mail services except Yahoo. The app also comes with a premium version with improved and advanced features.
Download from PlayStore: AquaMail
Email Exchange+
The email exchange+ is one of the best email apps that sustained the Gmail tsunami, developed by Mail Wise. This unique app serves as a platform for providing the best multi-account experience and supports almost all the email clients, ranging from Gmail to AOL efficiently.
The clear-cut user interface makes an organized way of combining conversations and emails effectively, making it easy for the user. The Mail wise email connects to IMAP and active sync protocols (yes, doesn't support POP3).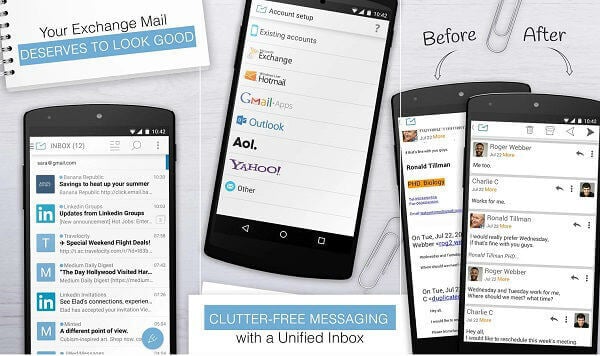 This Android email application supports swipe gestures and has quick setup processes. The presence of the data encryption sees that the user's data is always secure. Other features such as reminder, search bar, etc. make this email application an excellent replacement for the stock email app. The Email Exchange+ comes with an in-app purchase option that provides an update to the pro version. The pro version offers some more feature like the notification filters etc.
Download from PlayStore: email exchange+
Nine-Email and Calendar
The Nine is another email android app functioning well with multiple accounts, developed by 9folders Inc. This Android Email and Calendar app intends to synchronize with the Microsoft Exchange server using active sync. This application, based on direct push technology is a full-fledged Android email app. Nine Android Email App syncs with the Microsoft Exchange server using the Microsoft ActiveSync. The key features include an optimizable user interface with a rich text editor.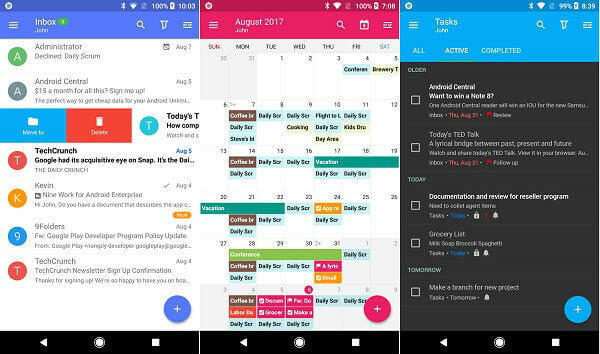 The app has an excellent sorting filter which filters messages according to user priority. The conversation mode makes messaging extremely pleasing. The presence of the widgets and third-party app integration makes the Nine email app a unique one on the list.
This app is not free coming as a trial version with some of the integral features such as the multiple account support, spam filtering, etc. The app is available from Google PlayStore, and the licensed version comes at a price of $14.99.
Download from PlayStore: Nine-Email and Calendar
Best Email Apps for Android
With the advancement of time and technology, emails slowly jumped out from the PC monitors to the tablets and mobile screens. These email apps soon emerged as cross-platform applications and hence gave more capabilities to the users worldwide. The email was with us for decades and yes, thanks to its popularity it won't be going anywhere anytime soon. Most of the users want the email app to be highly reliable, fast and feature rich.
The introduction of email indeed was a revolutionizing change, and it put an end to those traditional methods of communication. Well, there we have it, the list of best email apps Android that is overwhelmingly superior to those sluggish email apps. These Android email apps are capable of doing exceptionally well with all sorts of users. Feel free to let us know what you think in the comment section below.