Thunderbird can be used to sync your calendars in a common place irrespective of Google, iOS, Yahoo, Windows etc. It can be used as a standalone application to complete sync with your calendars instead of the integrated calendar's.

The normal installation of Thunderbird alone will not allow you to add your calendars. To utilize the calendar facility, an extension to be installed named as "Lightning" with Thunderbird. We will see how to install Lightning in Thunderbird and configure the calendar's.
Open Thunderbird in your Windows/Ubuntu Laptop or PC. Click on Tools—>Add-ons. You will get the Add-on Manager window. From here you can confirm that Lightning is installed or not. If it is installed then it will show up in this window.

If you want to install Lightning, then Click on Get Add-on tab. It will show the available add-ons with the Thunderbird. "Lightning" will be there in the available add-ons list. If it is not showing up, click on the arrow to show the next set of add-ons.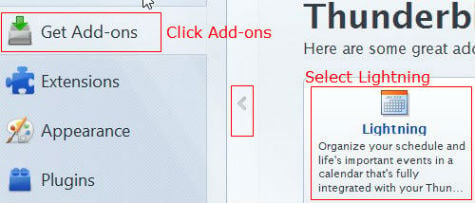 Click on the "Lightning" Add-on option will start the installation. You can check the details and functions of Lightning from here. After you read the descriptions, Click on "Add to Thunderbird" Button.

Now the confirmation window will prompt to you. It will show a caution notice against the malicious software installations too. Since Lightning is a trusted one, you can Click on Install button here.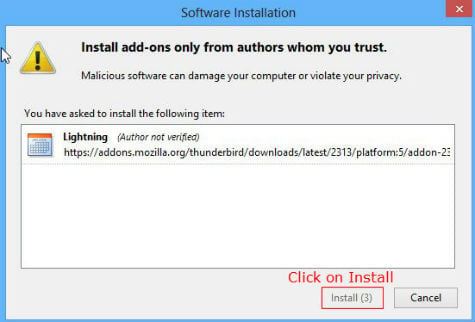 The installation will take place here onwards. After completion of installation, Lightning will show up under the Extensions tab.

You can disable the add-ons in the Add-on Manager Extensions tab if you want. If you are not interested to use it further, you can also remove that particular extension from here.

That's all you have to do. Now the main window will come up with a side bar for the event lists normally. Also the calendar option will appear in the menu's. There is no need to separately add your calendar's with Thunderbird. As soon as you are adding your account with it, the calendar will also sync simultaneously. Now you can add events in the Thunderbird calendar and it will sync to your corresponding calendar normally.

You can add up your Google, Yahoo, Windows & iOS calendar's to Thunderbird along with the email accounts and have a combined email & calendar application.