Watching your favorite TV Show on home television is fun. But, it may not be suitable to play the audio through your soundbar when someone is working from home, or allergic to loud noise. Televisions usually do not support headphones, unlike your smartphones or tablets. What about getting a dedicated headphone for your television without compromising on the audio quality yo ar getting through your soundbar? The Avantree HT5009 is so far one of the best wireless headphones for TV, and we are reviewing it today.
Here is the complete review of Avantree HT5009 wireless headphones to watch TV.
Content
Avantree HT5009 Review: What's In the Box?
The Avantree HT5009 headphones are shipped in a decently packed retail box with a 2-year warranty. In case you want to check out what you would get out of the box, check the list below.
Headphone unit.
Transmitter unit.
Micro USB power cable.
Optical audio cable.
3.5mm AUX cable.
3.5mm to RCA connector.
User manual.
Avantree HT5009 Specifications
| Brand | Avantree |
| --- | --- |
| Model | HT5009 |
| Audio Codec Support | FastStream, SBC |
| Operating range | Class 2, 30ft/10m |
| Battery Range |  Up to 40 hours playtime and 20 days standby |
| Driver Size | 40mm |
| Transmitter Audio Codec Support | aptX-Low latency, FastStream, aptX, SBC |
| Transmitter Operating Range | Class 1, up to 164ft/50M |
Today's Deal: $10.00 Off
Design
The Avantree HT5009 wireless headphones for TV comes with a conventional yet, stylish design. The headphone comes with an all-black design that is stylish and classy with enough amount of leather padding with good looking running stitches all over the headband cushion.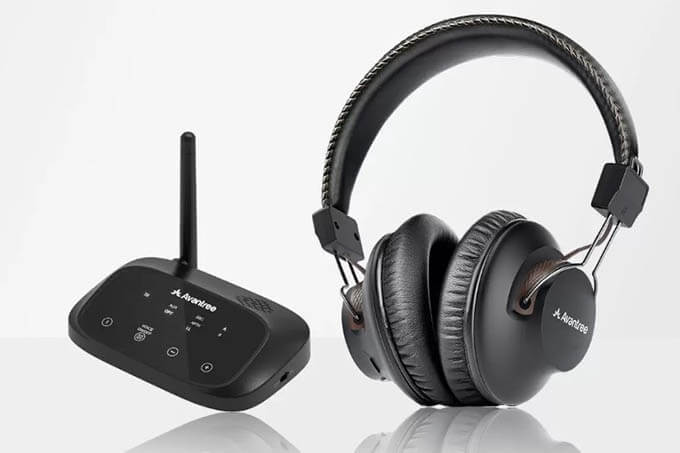 The squishy earpads are covered with softer leather, that won't hurt your ear much. Although, you would feel pretty robust with the reliability of the earpad cushions. The cushion radius is not too large so that it can fit well on most types of heads. Also, the plastic materials used in the earpad housing is pretty decent.
There are totally three-button provided on the left earcup of the headphones. It includes a volume rocker and a  power/call attend button. The material used here is too well decent. However, the switch clicks are not up to mark considering this is a headphone that costs over $100. The wireless headphones for TV do have a vertically adjustable headband, but cannot be moved horizontally.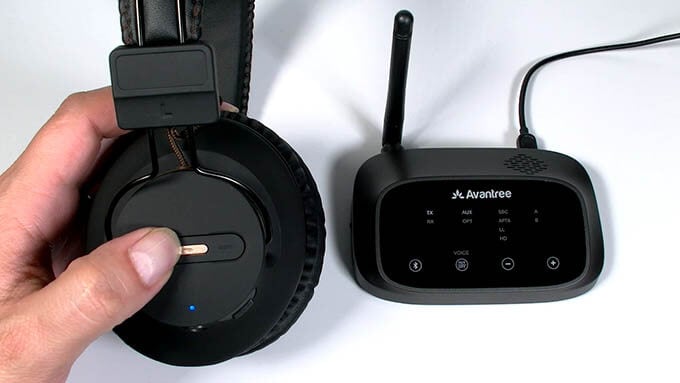 The transmitter unit for the Avantree HT5009 headphones is pretty basic, with a matte-glossy combo design. All the buttons are provided on top, and a couple of toggle switches to shift between modes on the side. The input and output ports are provided at the rear, along with a small antenna, reminds you of the home router.
Key Features
First and foremost, one of the best things that makes this headphone stands out in the crowd is its plug and play experience. Since the headphone and the transmitter can connect together in a blink of an eye when turned on, you do not have to worry about the pairing hassles. Once it is connected, all you have to do is start watching. That too, you can move up to 50 meters farther away from the transmitter without getting disconnected.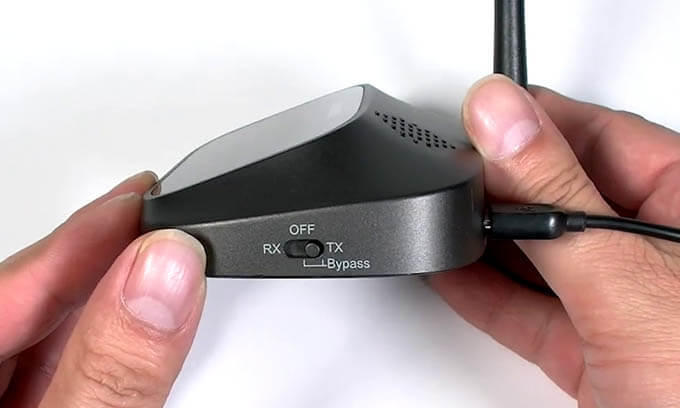 The transmitter for the wireless TV headphones needs to be connected to the RCA or optical output port of your TV. However, it would be difficult if you connect your soundbar to the only RCA port on your Television. The bypass functionality on the Avantree HT5009 can solve the issue by using the transmitter to connect both the Bluetooth headphones as well as your soundbar. it essentially acts as a bridge between your TV and soundbar.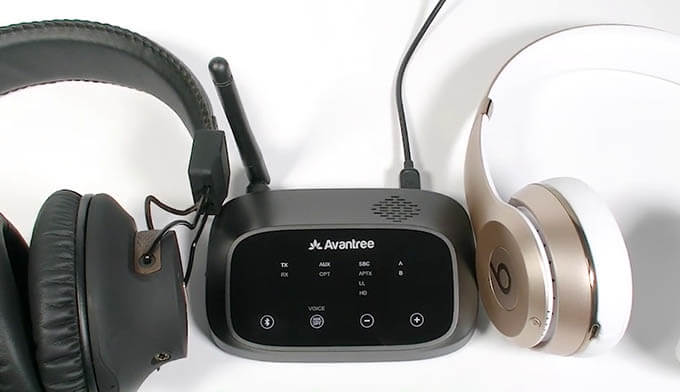 You can use the headphone as standalone with any of your smartphones or Bluetooth supported devices. Whereas, the Avantree transmitter can also pair with any other Bluetooth headphone along with the built-in one. Essentially, with a single device, you can use two wireless headphones for watching TV.
Audio Quality & Sound Experience
We have tested the Avantree headphones against the audio quality we have been getting from the Dolby soundbar's surround experience. Frankly, the Avantree HT5009 wireless headphones to watch TV is not a bass boosted, surround sound enabled headphone. You can get a surround sound experience, with a decent deep sound. However, you cannot expect a Dolby Atmos level of experience from this pair of wireless headphones to watch TV.
In case your TV audio output is Dolby DTS, you should set it to PCM from the TV Sound settings before connecting the Avantree transmitter to the audio port. From our overall experience, this headphone does not takes away your regular TV watching experience. Instead, you can get more immersive, private experience while playing anything on your living room television.
In case you want a better audio experience while watching TV with headphones, you can use any wireless headphones that you use on a daily basis along with the Avantree headphones. You can either use one of the headphones or use both of them if you have a binge-watching partner.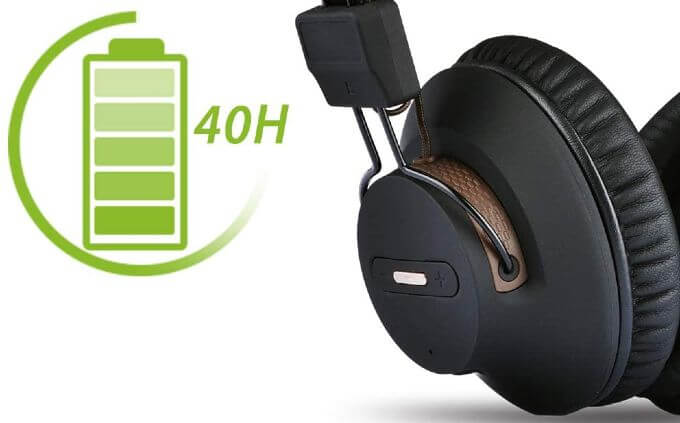 The inbuilt battery on the headphone allows a playback up to 40 hours in a row, and up to 20 days in standby. There is no separate charger adapter provider to charge up the headphones battery. You can, however, use any USB power source to charge the inbuilt battery on the Avantree wireless headphones for TV.
Connectivity
Once you get one of this home, you the setup is pretty easy. You can directly power the transmitter with any of the USB cable and an adapter and connect the audio cable with your television. Fortunately, the Avantree HT5009 supports almost all types of audio connectivity including standard RCA, Optical RCA as well as the 3.5mm AUX audio cable. But make sure the audio output ports on your TV are functioning well before trying to connect the transmitter to your television. Additionally, the receiver unit has out ports for audio in case you want to use the soundbar and headphones simultaneously.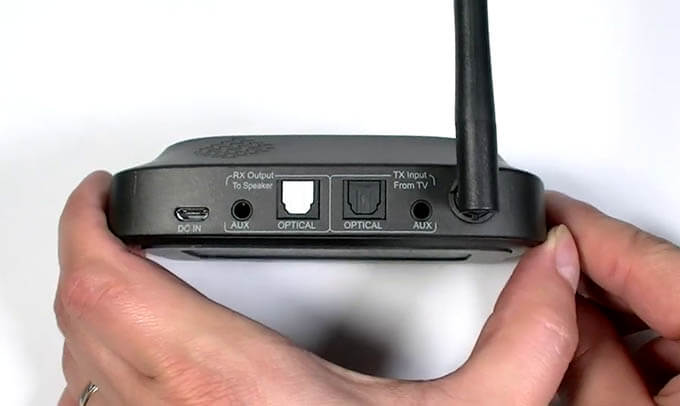 The Bluetooth connectivity between the headphones and transmitter is quick and on the go. Both pairs automatically once they are turned on. There is almost zero latency while playing audio. Therefore, no need to worry about the lipsync issue which is usual with wireless headphones in general.
You can even go out of the living room without even getting the connection broken since it has a range of up to 50 meters. The dual-channel feature allows users to connect any other Bluetooth wireless headphones with your TV. On the other hand, you can use the Avantree headphones with any other smartphones or laptops like any other wireless headphones.
Also Read: 8 Best Wireless Headphones for TV – RF & Bluetooth (2019)
Pros and Cons
Arguably, this could be one of the best wireless headphones to watch TV with the most features. However, there are several things you should consider before buying an Avantree HT5009 wireless headphones for TV. Here are the pros and cons of buying Avantree HT5009 for your living room television.
Pros:
Plug and Play connectivity.
Can add additional headphones.
Can play on Soundbar and Headphones simultaneously.
Decent battery backup.
Cons:
Does not support Dolby-DTS
Sound quality can be improved.
Today's Deal: $10.00 Off
Final Verdict
If you are a person who wants to watch movies and TV shows on your living room television, but without disturbing anyone with the loud sound from the home theatre or soundbar, the Avantree HT5009 is for you. You can have a fully immersive movie experience with this awesome pair of headphones right from your TV. Getting a pair for your living room is worthy, even though there is still room for improvement like the sound quality and surround effects.