Dashcams can be quite useful to have in your car for various obvious reasons. You can find a lot of dashcam options. But all these Dashcams differ from each other in terms of the features and options that they offer. Vantrue S1 dashcam can be a great option if you are looking for a feature-rich option.
The Vantrue S1 offers a lot of things for its given price tag which makes it a great option for a lot of users. And you can learn everything related to this dashcam by going this review. We have covered all of the major aspects of this camera in this Vantrue S1 review.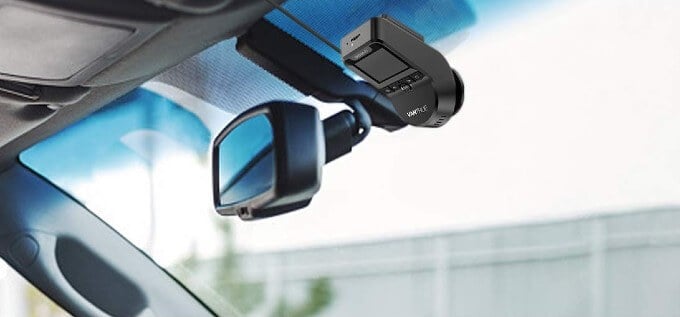 What's in the Box
Accessories can be quite handy to have with almost any product that you use. And if you are talking about dashcams, there are accessories available. These can improve the whole experience quite a lot. Thankfully, the Vantrue S1 comes with various things in its box. Due to this, you do not have to buy third party items for using this dashcam. You can find the following item in the Vantrue S1 dashcam;
Front camera unit
Rear camera unit
Car charger
Charging cable
Rear camera connector
User manual
Warranty info
Organizer clips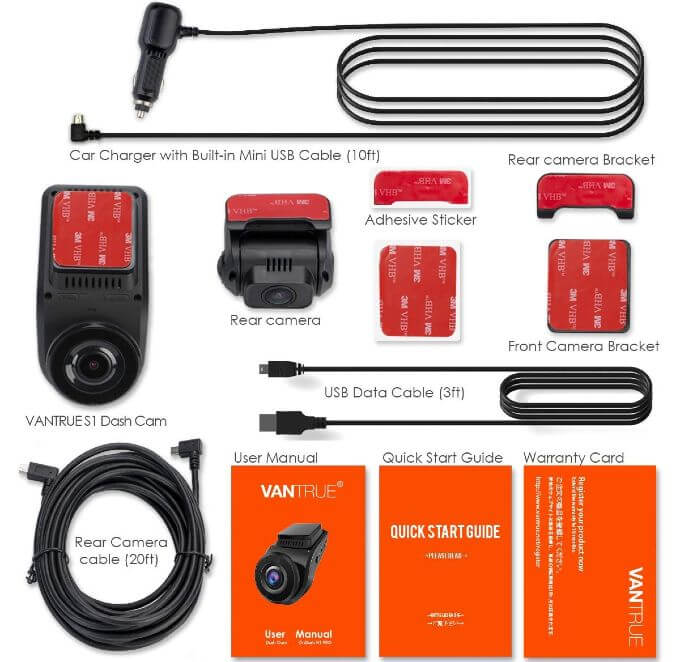 The rear camera cable is long enough (20ft) to wire the rear camera all the way back to the rear number plate. The camera can fix on the windshield with the attached sticker mount instead of suction cups.
Vantrue S1 Dashcam Specification
Before buying any dashcam for your car, you should know about all of its technical specifications. This can help you in getting an overview of the camera. It has the following specifications as per the Vantrue website;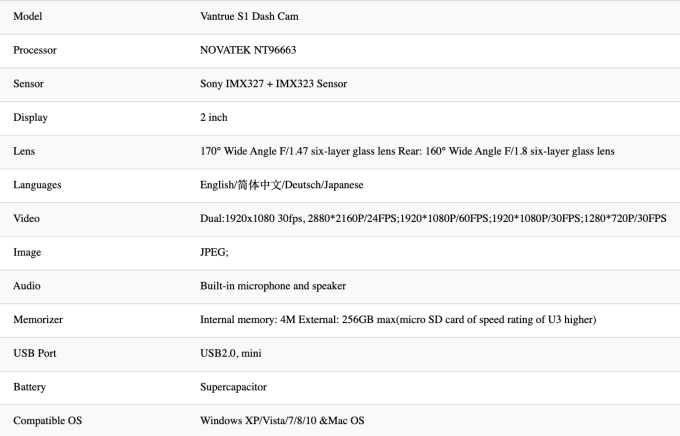 This dashcam uses the Sony IMX327 sensor for the front camera unit. And on the rear unit, you get a Sony IMX323 sensor. As a result, it offers great image quality as you will see later on. You also get a 2-inch display on the front camera unit. It can be used for controlling the camera and watching footage if needed.
You can record videos in up to 2880 x 2160 @24 fps resolution. And with the built-in microphone, it can record decent quality videos. As for storage, this dashcam supports a micro SD card of up to 256 GB capacity. This should be enough for storing hours of footage recorded in your car.
Design and Build Quality
The Vantrue S1 dashcam offers a very decent build quality. Both the front as well as rear camera units are built pretty well. And these sturdy camera units are quite compact in size. You can fix them on your windshield without obstructing the view. And all of the control buttons on the front unit are also quite compact.
You get the display on the backside of the front camera unit as well. This 2-inch display makes this dashcam quite easy to see details on the built-in screen. It also has various buttons on the side of the front unit for controlling the camera. You can also find a charging port which is needed for powering the dashcam.
Dashcam Installation
You can use most dashcam on the market quite easily. This is possible due to the simple user interface that they offer. But the installation part can be quite difficult for a lot of users. And that is also the case with the Vantrue S1 as the installation is not time-consuming at all.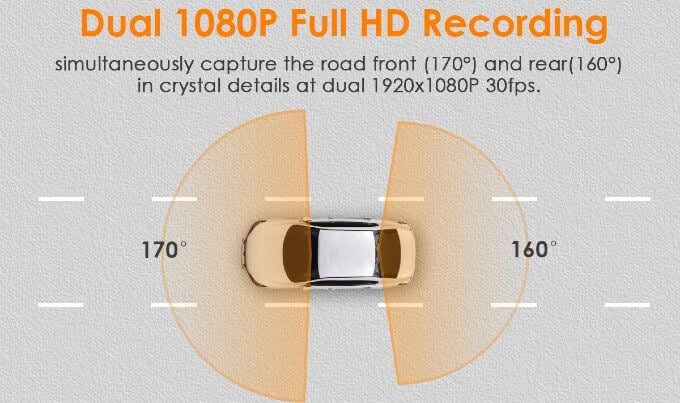 The S1 uses a suction mount to attach to your car's windshield which does not require any tools. As for power, you can simply plug in the included power adapter. You can insert it in the 12V socket of your car which powers both the cameras. And the rear camera unit connects to the front one with a cable. This can cable can be routed along your car's roof using included clips.
Camera Quality
One of the most important things to check while buying a dashcam is its camera quality. Since the Vantrue S1 dashcam comes with Sony sensors, you can expect great camera performance. And the best part about this dashcam is that offers very similar camera quality in the front and rear camera units.

The front camera offers 170-degree FOV and the rear one offers 160-degree FOV. And the cameras have an aperture of f1.47 which results in great low light performance. While the image is a bit noisy, it is bright and sharp even in low light.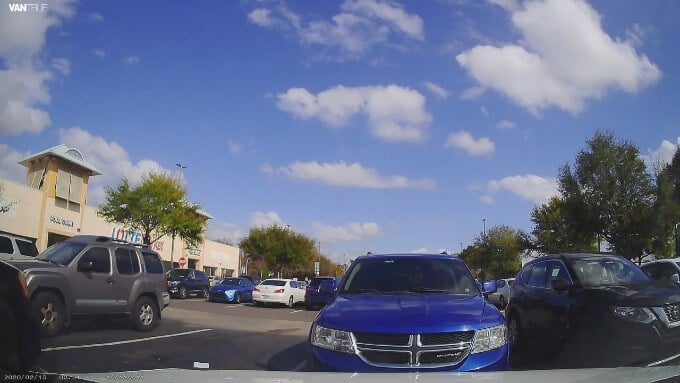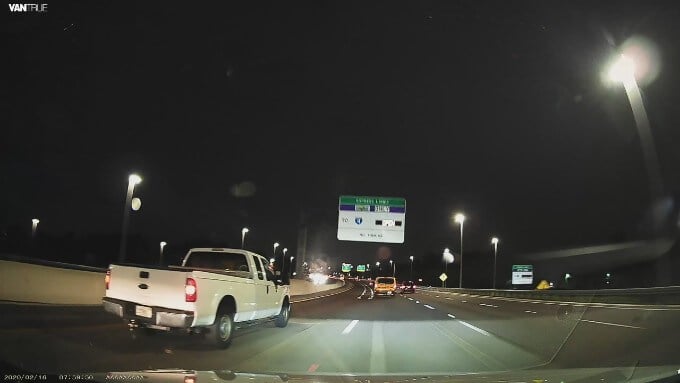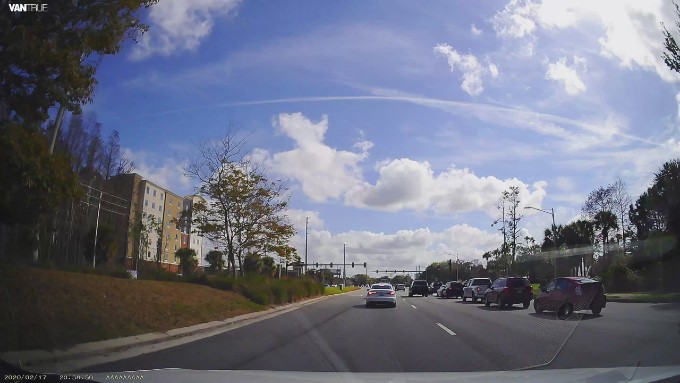 S1 uses a Novatek NT96633 chipset for recording video in your car. This allows you to record videos in up to 2880 x 2160 24 fps resolutions that offer great quality videos.
Vantrue S1 Camera Features
Apart from featuring great hardware, you also get a great software experience with the Vantrue S1 dashcam. You can find a lot of video features in this camera which can be useful to have in a dashcam. Vantrue offers the following features to its users;
Built-in GPS
This dashcam comes with a built-in GPS unit that records your car's location at all times. And it saves all of this data in a log file which you can find on the SD card. And this GPS location can be quite useful for a lot of users.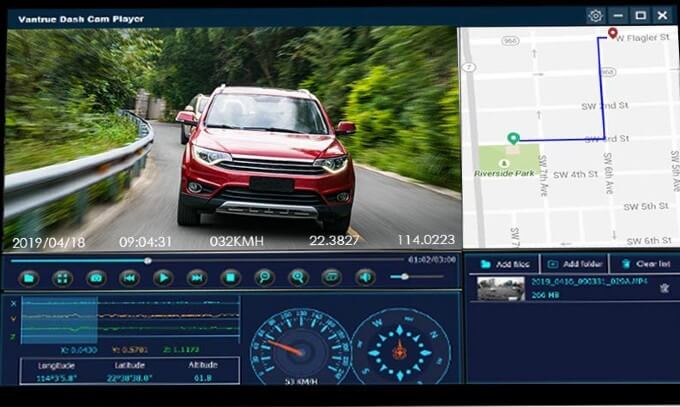 It adds the current speed of your car to your video. As a result, you can check the speed at which your car was going while recording a video. You can also check your past locations when the dashcam was recording a video in your car.
Loop Video Recording
Even though this dashcam offers up to 256GB SD card size limit, the cam supports loop video recording. This feature needs no introduction if you are familiar with dashcams as it can be found in almost all dashcams out there. It keeps recording video continuously when your carn is turned on. And even if the storage gets filled, the recording does not get interrupted. It simply starts rewriting the initial part of the footage. As a result, you will not miss any important moment in your footage due to filling up storage.
Parking Mode
Since this dashcam comes with a total of two camera units, you can also record the rear of your car. And this option can be quite useful when the car is parked. Since this camera offers a motion sensor, it can detect any movement. It will then record whatever is in front of your car or behind it. This can be useful for the security of your car while it is parked.

G-Sensor
Apart from the motion sensor, you also get a G-Sensor. This sensor detects any accidental by using an accelerometer. If it detects an accident, it will lock the footage of that time period. This ensures, that the footage does not get overwritten. It can be quite useful in the case of an accident. The G-Sensor feature ensures that you do not lose this important footage.
Today's Deal: $50.00 Off
The Vantrue S1 dashcam is a great value for money dashcam which offers various smart features. The GPS and G-sensor option can be useful for a lot of users. And since you get a front and a rear camera unit, you get full coverage of your vehicle. The camera quality is also quite good when compared with other dashcams. This is a great dashcam if you want the best features for your car's dashcam.