How do you attach a PDF file or an MS Office document with your iOS email? Most of the time we need to attach files in our email. It is easy to do this in Desktop and Android phone. But if you are an iOS user, this is not an easy job. iOS is supporting to send multiple photos or videos from your iPad or iPhone with inbuilt email app.You can directly go to your iOS photos, select the photos you want and send from email. First, you can directly go to your iOS photos, select the photos you want and send from email. The second choice is to copy the required photo and paste into the email body by using iOS copy paste feature. But if you want to send a PDF file or MS Office file from your iPad or iPhone it is not easy. It is more complicated if you want to attach files from any cloud service like Dropbox or Box.net.
The easiest solution is to attach multiple files or attach files from a cloud service is use some iOS apps. These apps are capable to support multiple files and attach files from cloud services.
Multi-Attach Mail
Multi-Attach Mail can help the user to send multiple attachments in any format to multiple recipients with multiple emails very easily. You can import songs from iPod music library, import photos from albums, record songs and import files with iTunes, share all of them with email and WiFi.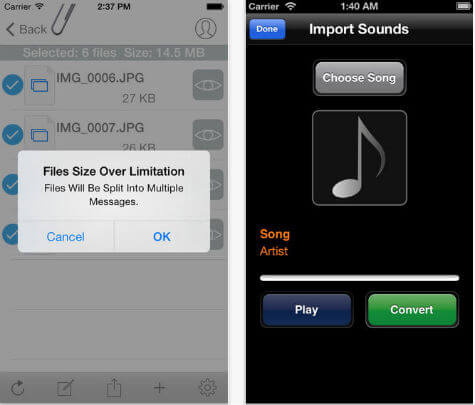 This app can split files into multiple mails then send all mail to multiple people or split big file to pieces to send and combine pieces of the file to original file. This app is supporting cloud storage services like Dropbox, SkyDrive, GoogleDrive, Box, GoogleDocs, MyDisk, FTP, WebDAV, SugarSync etc.
iTunes Link: Multi-Attach Mail
Attachment Sender
You can send Email with attachments on your iPhone or iPod touch. Provide the best simple compose experience, support multiple attachment, multiple format, multiple to recipients, attachment preview and attachment file size total.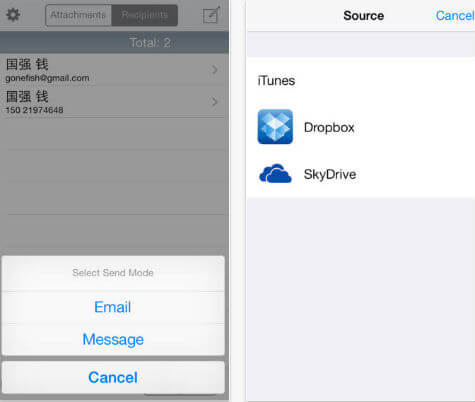 In addition to this, you can send Message to multiple recipients on your iPhone.
iTunes Link: Attachment Sender
Mailpod
This is a simple, fast and easy to use the app for Gmail, Yahoo Mail, and Hotmail. Attach photos and files from Dropbox, Google Drive, SkyDrive, and Box. You can set a passcode for Mailpod and access multiple email accounts same time.
This app is capable to attach copies of native Google Drive documents, instead of just web links. Also, this app supports to send files from cloud services like Google Drive, Box, SkyDrive, Dropbox etc.
iTunes Link: Mailpod
SMART Email
SMART Email is an email sending app with cloud services for the iPhone, iPod Touch and iPad.
(GoogleDrive, DropBox, Box.net, Sky Drive, SugarSync). You can send emails with attachments to a single contact or to groups of your choice.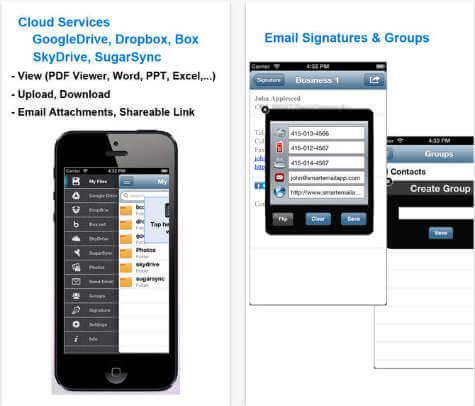 The SMART Email app allows you to store email signatures that can be used when composing emails.
SMART Email enables you to download and upload files from the cloud attachments provided. (GoogleDrive, Dropbox, Box.net, Sky Drive, SugarSync).
iTunes Link: SMART Email
If you are an android user, please see How to send Email Attachments from Android. These features are a must if you are using your iPad for our business or school where you need to send emails with attachments.