The purpose of a GPS app is to triangulate your current position and help to find your way around the neighborhood. This is why accuracy is so important when it comes to GPS and location-based Android apps. Then why would you want to spoof or fake GPS location on Android? There can be many reasons behind it. You are playing a game like Pokemon Go and want to catch them without moving around much. You want to prank your friends into believing that you are somewhere while sitting entirely elsewhere. Note that some game developers have a built-in system to detect fake GPS system and may ban you for cheating.
Whatever the reason be, you can use one of the below apps for fake your location via GPS. Let's begin.
Fake GPS GO Location Spoofer Free
Fake GPS Go Location Spoofer will allow you to mock your current position using a few simple steps. The first thing you have to do is to Enable Mock Locations under Developer options. Once you have done that, you can begin by either entering the GPS coordinates of the location you want to spoof or dropping the pin on the map. Both works. Just drag and drop the pin or double tap on the location to drop it.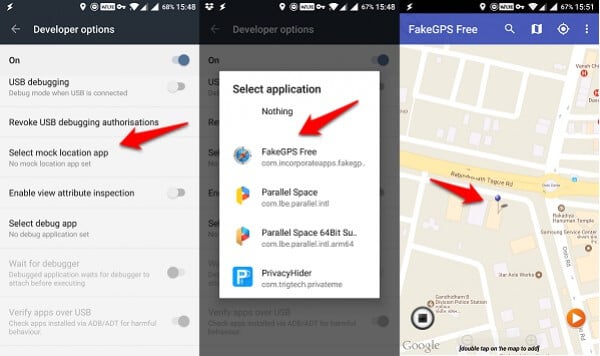 When you are done, simply click the orange play button on the lower right of your screen and you are done. Now, when you will open Google Maps, you will see your location has been spoofed! The pro version, priced at $2.99, will let you save favorites, maintain history, and hide the icon from the status bar.
Download Fake GPS GO Location Spoofer Free for Android
Also Read: 4 Best Android Location Alert Apps to Alert when you Reach Destination
Fake GPS – Fake Location
Fake GPS works pretty much the same way. Simply launch the app and search for your desired location. I have never visited the Statue of Liberty, so I will search for that. Once the map zooms in, you will see a red dot. That is you. The dot is stationary which means you will have to move the map around to adjust the location. It's easy, really. Once you have set the location, click on the Start button at the bottom of the screen.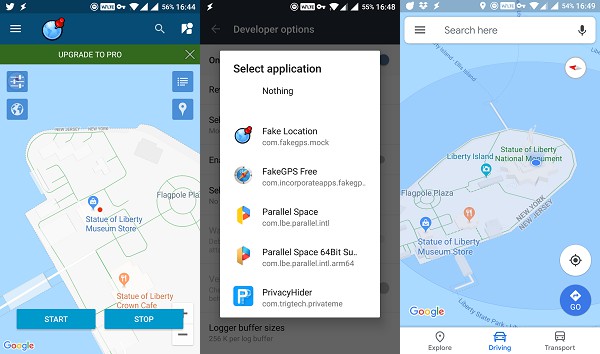 Note that when you hit the Start button, you will be asked to change the mock location app to Fake GPS instead of the previous app that we tested. To see if it is working correctly, I opened Google Maps and voila! There is also an option to enable Street View. Upgrade to remove ads and change location in real time without having to pause and start back again.
Download Fake GPS – Fake Location for Android
Fake GPS Location
Fake GPS Location app is free of ads and in-app purchases. It is completely free to use and comes with no bells and whistles. It will get the job done which is what you want really. You just want to fake your location, isn't it? The process remains the same. Search and choose your location, click on the start button and select Fake GPS Location as the chosen app as mock location app of choice under developer options.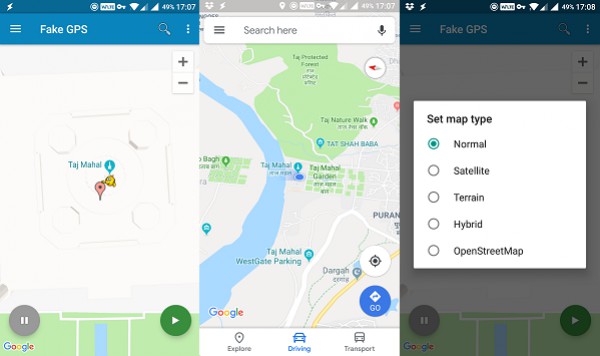 You can disable the status bar notification without having to pay for an upgrade. Save your favorite locations or maintain a history log.
Download Fake GPS Location for Android
Also Read: 6 Best Offline Maps for Android to Convert Android Tablet to GPS
Fake GPS
Fake GPS is another app that will allow you to fake your location using fake coordinates. You can easily spoof your location with this app. Enter the address in longitudes/latitudes or the name of the landmark. Once you have chosen your location, click the Start button. As usual, you will be asked to select the right app in mocked location settings under developer settings. Once you have done that, you can use Maps or WhatsApp to spoof your location.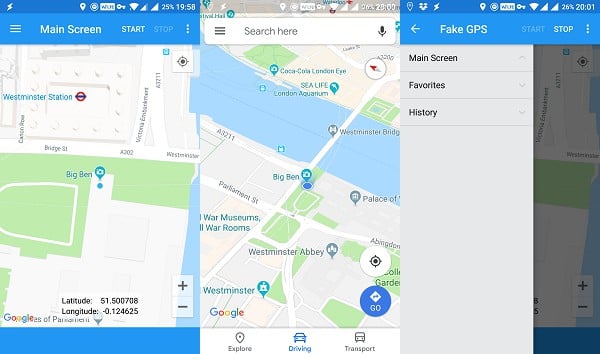 Fake GPS is free to use but comes with ads and in-app purchases. You can save history and favorites in the free version but if you upgrade for $0.99, you can change position without having to stop, remove ads, remove status bar notification, and add a widget. Not a bad deal.
Download Fake GPS for Android
Fake GPS Location
Fake GPS Location is an advanced app that will not only allow you to spoof your GPS location but also set points on the map so you could create a route. This is the kind of feature that we normally use on Google Maps.
You can use this app as a normal GPS map to walk or drive from point A to point B. This feature is not available on any other fake GPS app so far. The steps remain the same though. You choose a location by entering address or coordinates and give the app necessary permission in mock locations settings.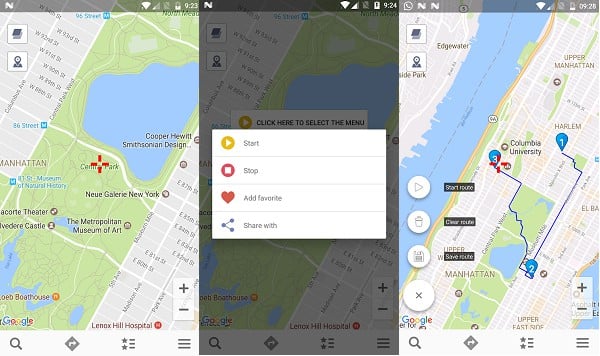 If you own a rooted Android device, you won't have to 'allow mock locations' either which is a plus from a developers point of view. You can save routes and points for future references. The app is free to use but comes with ads. You can upgrade and remove them for $2.99.
Download Fake GPS Location for Android
Also Read: 8 Best GPS App for Android to Test Internal GPS
Fake GPS Location on Android
As you can see, there are many ways to fake your GPS location on an Android smartphone. Note that quite a few game developers have gotten wise to this practice so you might have to try a few of them to see which ones are still working. Let us know in the comments below how you are using these fake GPS apps to test your apps or prank your friends and what was your experience. We don't want you to use these apps to harm other people.