Did you know that you can install and use mini-apps from within the Messages app on your iPhone? Well, with these mini-apps you can share a song, create custom stickers, and more without leaving the iMessage. There are tons of them and you can use these apps to share content and even money easily in your iMessage chat.
In this post, let's look at how to download and use some of the best iMessage Mini apps on your iPhone.
How to Download iMessage Apps on iPhone
Apple integrated App Store to the Messages app and you can install many iMessages apps including games from within the Messages app. Let's see how to do that.
Open the Messages app and tap on any of one of the chats.
At the bottom of the screen, tap the App Store icon in grey color.
Then, the blue color App Store will appear along with a bunch of a few other icons. Those are nothing but the default iMessage apps like Music, Memoji, Fitness, etc.

Now, let's say that you need to share your current location frequently with someone. To do that easily, you can just download the Google Maps iMessage app.
Tap App Store icon in Blue color.
From the next screen, tap the search icon located on the top right. Next, search for any app you want to install to the iMessage. Then, tap the Get or Download icon to install the app. Like with any iOS app, you need to authenticate the download with your Face ID or passcode to complete the installation.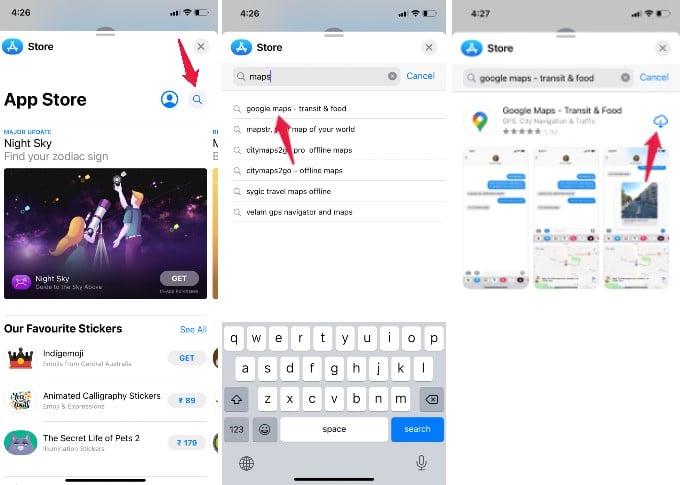 Now, you can see the app icon on the Messages window. In this case, the Google Map icon is situated above the keyboard on the Messages app.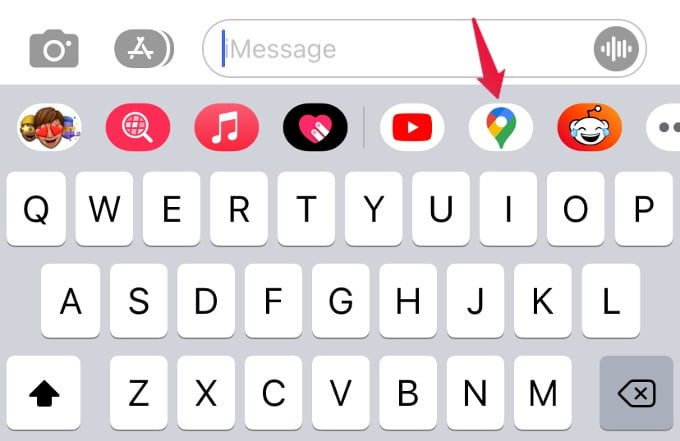 And, if you tap that Google Map icon, you can easily share your current location with anyone without leaving the iMessage app.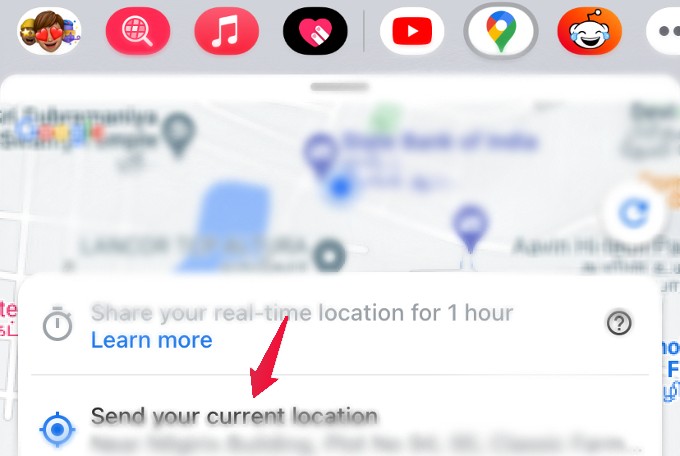 Related: How to Change iMessage Number on iPhone
Best iMessage Mini Apps You Can Try Out
Besides the default iMessage apps, you can install and make use of apps in categories like games, productivity, stickers, and more. Here is the list of some of the best iMessage Mini apps you can try out.
Dropbox
Do you use a Dropbox account to store your photos, videos, documents, etc? Then, you can download and install the Dropbox iMessage app to instantly share your trip photos, family albums, or videos with your friends/family via iMessage. You can also save the files shared with you to your Dropbox account.
Download: Dropbox (Free)
8 Ball Pool
Would you like to play some games while you are texting someone? You can try out the 8 Ball Pool game as it is a simple game that doesn't require any skills. Plus, you can also invite your friends as it is a multiplayer game. Of course, you don't need to leave the conversation as you can chat and play from within iMessage.
Download: 8 Ball Pool (Free)
iTranslate
If you need to communicate with someone regularly in languages other than English, then iTranslate will come in handy for you. For example, you can write the message in English or in your native language and use iTranslate to translate that to the recipient's language without leaving the iMessage app.
Download: iTranslate (Free)
IMDb
Are you a movie lover and like to discuss movies with your friends/family? Then, you can install the IMDb iMessage app on your iPhone to quickly search and share anything about movies from reviews to buying tickets for upcoming films.
Download: IMDb (Free)
GIPHY
If you are someone who loves or is crazy about GIFs, then you should get the GIPHY iMessage app on your iPhone. It is one of the best and free search engines for GIFs and stickers. Even you can create your own stickers or GIF using GIPHY and share that with your loved ones via iMessage.
Download: GIPHY (Free)
OpenTable
Do you hang out with your friends regularly at restaurants? You can try out the OpenTable app that allows you to book from over 50,000+ restaurants worldwide. You can book a table and invite your friends with just a few taps.
Download: OpenTable (Free)
Well, the above is only just a glimpse of what kind of iMessage apps you can use on your iPhone. You can also try out apps related to weather, stickers, travel, finance, or anything you need.
Related: How to Use iMessage/FaceTime Using Email on iPad& iPhone?
How to Delete iMessage Apps on iPhone
Do you feel that a particular iMessage app is not needed anymore? Well, you can easily get rid of the same whenever you need. Let's see how to do that.
Open the Messages app and tap on any existing chat or tap Compose button to start a new message.
Swipe left over the app drawer located on the bottom of the screen and tap the More button (three dots).

Here, you will see the list of all iMessage apps installed on your device. Navigate to the app you want to remove and swipe left over that. Then, tap Delete.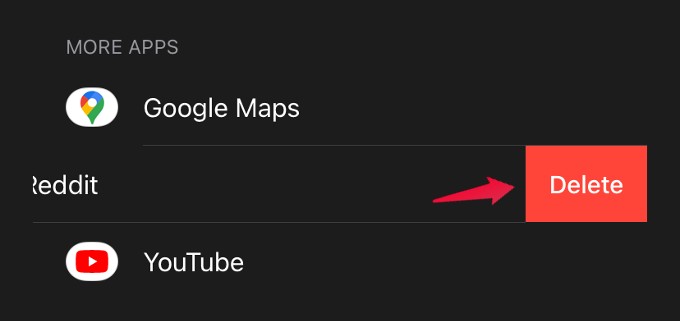 Tap Done to finish deleting and return to the chat screen.

We hope that these iMessage apps will definitely help you do a lot of things while texting thereby improving your overall iMessage experience.