Adobe Photoshop is the final word when it comes to photo editing. But the Photoshop is too costly for those who are just getting started in photography. In addition, Photoshop offers a wide variety of tools you may not find in others. If you want to get all Photoshop features without spending a penny, you can look for some free Photoshop alternatives.
Here we list some of the best free Adobe Photoshop alternatives for Windows and Mac users.
Paint.NET
Paint.NET was developed to become an improved version of Microsoft Paint with some features adapted from the latter. Paint.NET provides many features that could make it an excellent choice for people, just starting with image editing.
This free alternative to Photoshop also includes a history tool, in addition to blending modes, layers, and other editing options. The developers of Paint.NET offers the application to run on any computer, from a potato PC to a performance-boosted gaming PC.
Pros:
Blending and layering support
History tool
Supports different file formats
Useful, all-around application
Cons:
Guide and rulers absent
No RAW option
No slicing, patching, or spot-healing tool
Key Features: Performance-oriented | Layer edits | Special effects | Magic wand | Selection tools | Drawing tools | Unlimited history
Download: Paint.NET (Free)
Related: 15 Best Photo Editing Tips for Beginning Photoshop Users
GIMP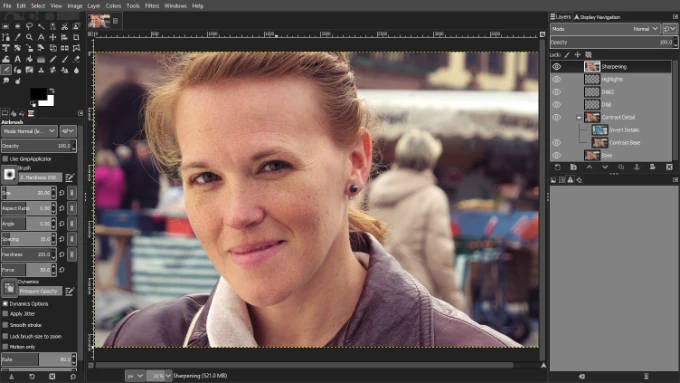 GIMP is one of the most popular free alternatives for those who don't have Photoshop. GIMP, which stands for GNU Image Manipulation Program, offers nearly the same range of capabilities. You must already be familiar with the GIMP if you use Linux distros like Ubuntu.
Despite its features and image editing capabilities, there are several problems with the GIMP software. For example, most pre-set brushes share the same configurations and parameters. It's worth noting that GIMP doesn't have any drawing features either.
Pros:
Image snipping feature
History toolbar
Blending and layering Modes
Cons:
Difficult-to-use interface
No RAW support
Key Features: Custom interface | Distortion correction | Retouching tools | Graphics card support | Opens PSD files
Download: GIMP (Free)
Krita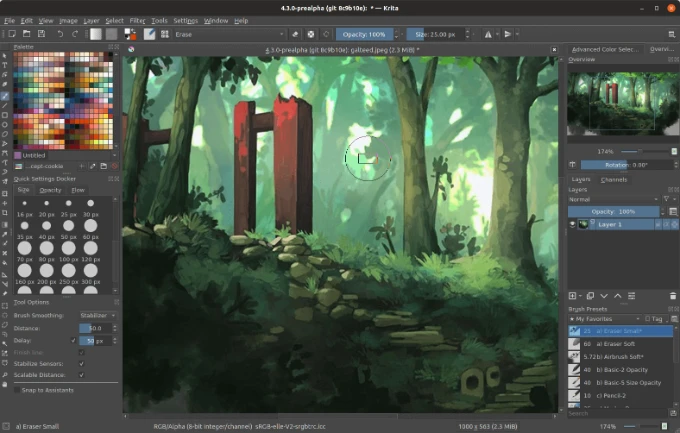 Krita is another widely used and freely available option that competes with Photoshop. It is one of the most frequently recommended editing and creative image design tools in photography communities.
The most impressive aspect of Krita is how much it resembles Photoshop in appearance and operation. The toolbars are practically identical, and the overall dark aesthetic brings to mind the experience of using Adobe products. The free photoshop alternative suffers from occasional sluggishness and does not come equipped with a RAW filter, which is unfortunate.
Pros:
Compatible with pens and drawing tablets
Templates come pre-installed
Numerous effects available
Cons:
No history toolbar
Sluggish at times
Restricted Text functionality
Key Features: Clean interface | Dockers | Dark and light modes | Brush support | brush stabilizers | Vector tools | Animation creator | HDR painting | Python scripting | PSD support
Download: Krita (Free)
Related: 20 Best Free Adobe Alternatives to Replace Photoshop, Premiere Pro, and More for PC and Mac
Pixlr Photo Editor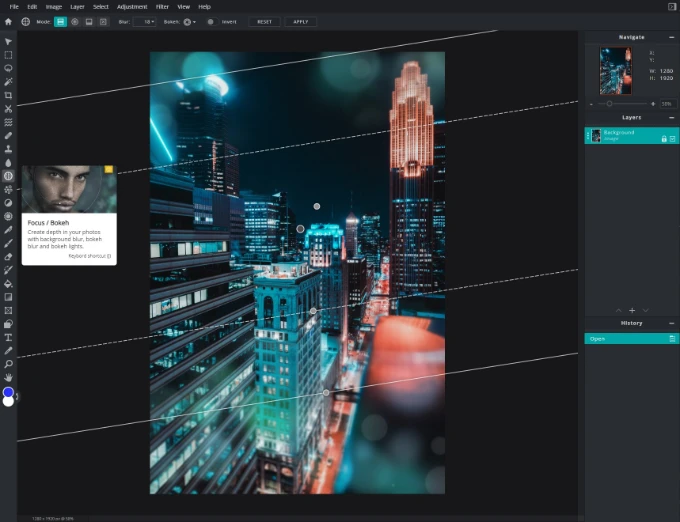 The Pixlr Editor is extremely strong, although it is a browser-based tool. It is on par with the capabilities of many desktop tools like Photoshop. Pixlr editor, in contrast to other free alternatives to Photoshop, was developed by Autodesk, a well-known name in computer-aided design.
Different versions of the Pixlr Editor are available, depending on your usage. The Editor provides a comprehensive set of editing tools, some of which are a blur, sharpen, curves, noise, and levels. There is also a toolbox that functions similarly to the one found in GIMP. This toolbox contains various tools, such as stamps, healing, brushes, fills, and more.
Pixlr is an excellent option for you to consider if you seek a quick and simple technique to improve your photographs and do not want to bother using complicated software.
Pros:
Availability on any system
Support layers and blending
User-friendly
Healing and history tools
Cons:
No pen tool support
Limited file types support
Key Features: Stock images | Background removal | Overlays | Sticker and icon packs | PSD support
Download: Pixlr Desktop (Freemium)
Photo Pos Pro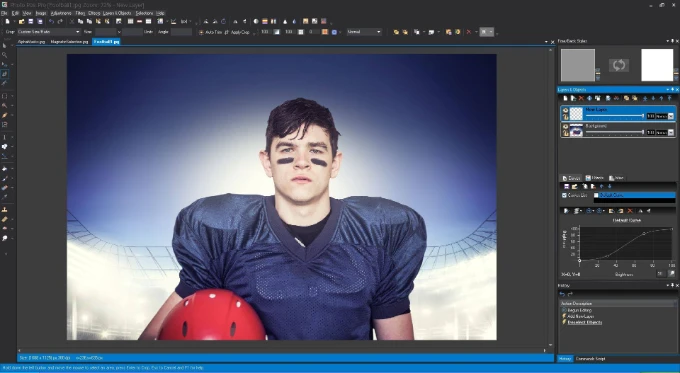 Photo Pos Pro is widely considered one of the most capable and feature-rich free alternatives to Adobe Photoshop. Photo Pos Pro is a cutting-edge piece of editing software aimed at people who can't buy Photoshop.
Layers and layer masks, clone and healing brushes, and other editing tools are available, just like in Photoshop. There are additional choices for scripts and match editing to assist you in reducing the amount of time spent on the editing process.
To further enhance your photo editing process, Photo Pos Pro includes a number of plug-ins. You also have the option to make and save your own custom filters for use at a later time.
Pros:
Supports layers and masking tools
Feature selection based on functionality
Similar to Adobe Photoshop
Cons:
Hard to learn
Behaves erratically at times
Size restriction on exports
Key Features: Background erasing | Object removal | Fix image quality | Collage | Photo effects | RAW support
Download: Photo Pos Pro (Freemium)
Related: 12 Best Free Online Photo Editor Websites
PhotoPea Photo Editor
PhotoPea Online Photo Editor is an excellent web-based alternative to Photoshop that aims to eliminate the issue of having to download another software onto your computer. You may edit photos using PhotoPea Online Photo Editor without having to leave your browser.
As a result, simple operations like resizing a photo will no longer require the time-consuming loading of Photoshop.
Since this photo editor is web-based, it is compatible with all systems and has built-in support for the PSD, XCF, Sketch, XD, and CDR formats. In addition, you have the option of exporting your work as a PSD, JPG, PNG, or SVG file.
Pros:
Supports PSD files
Free plan for basic use
No plugins needed
Key Features: Support for PSD, AI, XD, Sketch, PDF, XCF, RAW files | Layer edits | Layer masking | Blending modes | Brush support | Photo enhancement
Visit: Photopea Photo Editor (Free)
Colorcinch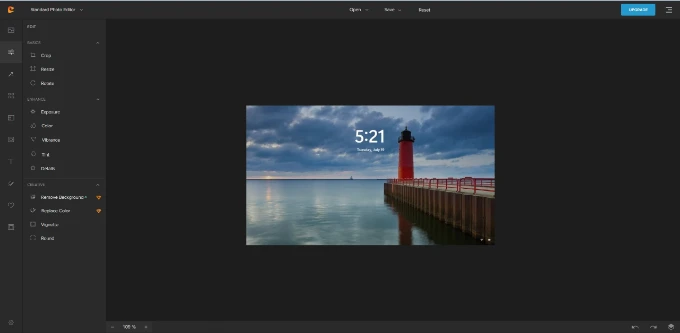 Colorcinch has several AI-powered special effects that make it one of the best photo editors on the market. One of them is called the Cartoonizer, which can convert photos into cartoons, sketches, or paintings extremely organized manner.
As it is a web platform, this picture editor does not require any downloading or installation on your computer before you can use it. As long as you have a stable internet connection, you can use it on any operating system, including Linux, Mac, and Windows PCs.
You can export your work in PNG, JPG, or PDF format while using Colorcinch. The highest quality that can be selected is 400DPI.
Pros:
User friendly
Completely free
AI-powered filters available
Cons:
No Offline Editing supported
Needs stable and fast internet
Key Features: Smart edits | Online and offline edits | Cartoonize photos | Remove background | Stock photos and icons | Freehand drawing | Image compression
Visit: Colorcinch (Free)
Related: 10 Best Video & Photo Editing Software for Mac Professionals
Sumo Paint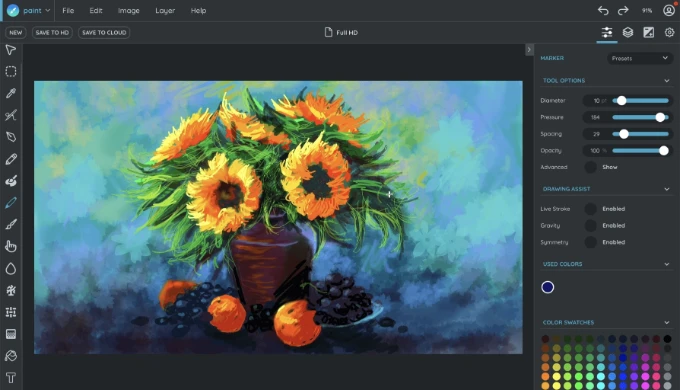 Sumo Paint is one of the finest free Photoshop alternatives in terms of style and functionality. This is a good alternative if you're seeking mid-level editing features at no cost.
This photo editing application is compatible with most browsers based on Flash; however, a Chrome Web App for Chromebooks is also available. Since it is hosted in the cloud, there is nothing that needs to be downloaded or installed on your computer or device at any time.
In addition to the native SUMO format, you may open and save files with extensions like GIF, JPEG, and PNG.
Pros:
Gradient editor
Layers and blending modes
SUMO format for offline saving
Cons:
No PSD file support

No RAW support
Key Features: Drawing tools | Brushes | Layers | Effects | Presets
Download: Sumo Paint (Freemium)
Darktable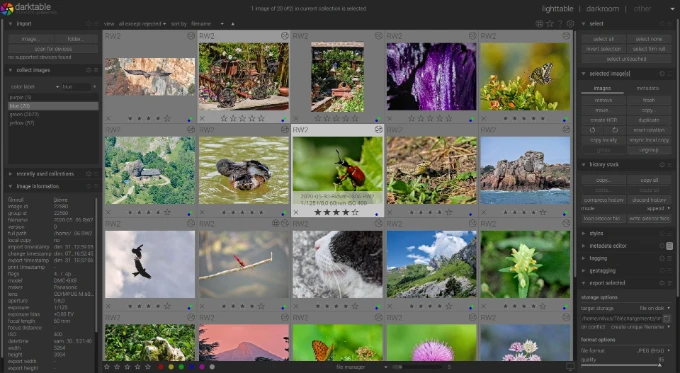 Darktable is an open-source picture editor that supports RAW file processing, non-destructive retouching, tethered shooting, and color management.
Exporting your photographs from Darktable is also possible in many file formats, ranging from low-resolution JPG and PNG to 16-bit TIFF and high-dynamic-range EXR files. Darktable is compatible with Mac, Windows, and Linux.
Up-close detail editing tools, such as spot removal and retouching, are not included in the software's feature set. This is one area where the product falls short. Users have also voiced their dissatisfaction with the program's tendency to be sluggish, to have bugs, and to frequently crash while working with huge files.
Pros:
Simple interface
Multiple platform support
More Exporting options
Cons:
Random freezes
Lack of Healing tools
Key Features: RAW photo development | GPU accelerated processing | sRG, Adobe RGB Color space | Zero-latency
Download: Darktable (Free)
Related: 15 Best Free Stock Photo Sites to Download Royalty-Free Images
PhotoDirector 365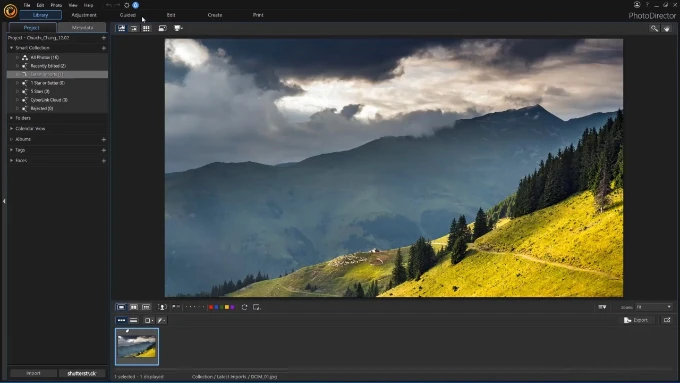 With PhotoDirector's simple-to-master features, you can produce photographs that are of a professional standard in a matter of seconds. The intuitive user interface of PhotoDirector makes editing layers a pleasure, enabling even inexperienced users to add photos, text, shapes, and other digital items while maintaining seamless consistency.
With 27 different layer-blending modes, express layer designs, frame template packs, and a variety of straightforward selection options, PhotoDirector makes it very simple to educate yourself on how to make effective use of layers to achieve the effects that you want.
Pros:
User friendly
Video-to-phot integration
Cons:
Stock photos are available only with a Paid plan
Key Features: Layer edits | Light effects | Glitch effects | Sky replacement | Deblurring | Defogging | Chromatic aberration removal | Lens correction | Masking | Stock photos | RAW support
Download: PhotoDirector 365 (Freemium)
Adobe Photoshop comes preloaded with tons of tools and Creative Cloud storage. Most free alternatives mimic those features, but you will still lack some. If you are a novice trying to learn photo editing, the above tools are best suited instead of buying an expensive Photoshop license.