Mac Video and Photo editing apps are excellent in quality and adopted by a lot of professionals worldwide. Many Video and Photography professionals choose Mac and heavily depends on Apple products for work. These Mac Video editing applications are more reliable, stable and work together best with Mac hardware. Professionals
For example, Final Cut is one of the best video editing software from Apple. Many professional video editors depend heavily on these professional video editing software Final Cut; which in turn relies heavily on the MAC's computing power and retina display.
In this article, we are covering the best professional video editing, photo editing and design software for Mac professional. These apps are built best to work with Apple echo system and heavily relied on Mac Hardware.
Final Cut Pro
Final Cut Pro is the most powerful and the best video editing software among the MAC Video Editing community. Final Cut Pro supports a broad range of formats including RED, AVCHD, H.264 and more. This Mac Video editing software supports multi-camera projects that support up to 64 camera angles. Final Cut Pro Video Editing App is the best choice for your professional video editing needs to help you assemble clips in the Magnetic Timeline. You can also use Clip Connections to attach B-roll, sound effects, and edit music to the timeline.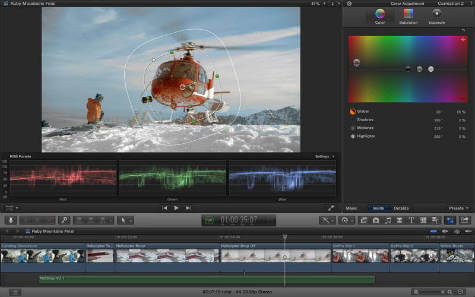 The 64-bit architecture effectively uses all RAM in your system for larger projects and richer effects. Other processes can run in the background allowing you to work without any interruptions. Final Cut Pro costs $299.99 from the Apple Store, and it's a good investment if you are a video professional or want to be.
By Apple | Video Editing | Price $299.99 | App Store Link
Related: 10 Best Screen Recording Software for Mac (Free & Paid)
Motion
Motion is another Video Edit Supporting software from Apple that works with Final Cut Pro to customize titles, transitions, and effects. You can create amazing animations in 2D or 3D space with real-time feedback. The 64-bit architecture supports deeper, multilayered effects for use with Final Cut Pro. Motion Video Editing Software is optimized with a Dual-GPU for superior, real-time playback performance and faster rendering on the new Mac Pro
.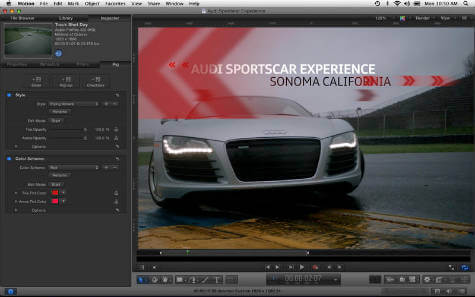 You can customize Final Cut Pro titles, effects, and transitions by opening them in Motion; design dramatic text effects with complete control over position, opacity, rotation, and more.
By Apple | Video Editing | Price $49.99 | App Store Link
iMovie
iMovie is low-cost video editing software from Apple Inc. This video editing application can handle your video collection if you want to edit and format each video before you archive it from your camera to your computer. iMovie editing software helps you to browse your video library, share favorite moments and create beautiful HD movies. This app enables you, with iCloud, to stream the videos in iMovie Theater on all your devices.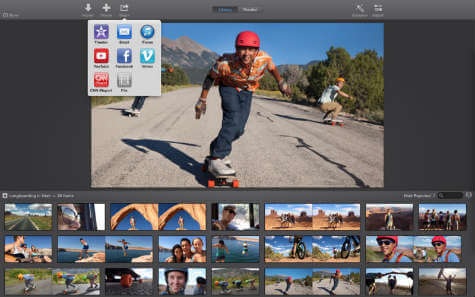 Features include the ability to play videos from your library in Video browsing mode, capable of sharing a clip or a portion of a clip, background importing, native AVCHD support and more. You can choose from 29 trailer templates with stunning graphics, 15 unique themes, with matching titles and transitions, let you Customize movie studio logos, cast names, and credits in the outline.
By Apple | Video Editing | Price $14.99 | App Store Link
Also read: Best Disc Image Software for Windows to Clone Hard Drives
Intensify
Intensify is beautifully designed and extremely powerful Photo editing application for Mac. This excellent photo editing software can create stunning images with unprecedented drama, clarity, and detail. Select from scores of professionally created presets or use powerful controls, layers and selective masking. Intensify gives you Flawless Detail Enhancement without any haloes on edges and no extra noise. Unique Pro Contrast adjustments make your photos pop and powerful structure adjustments provide impressive dramatic results.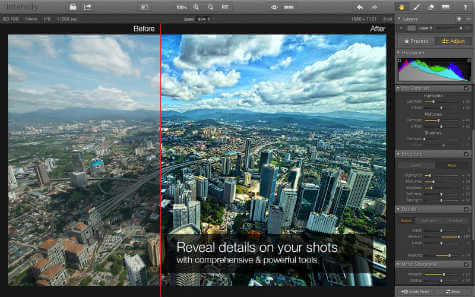 This app can help get clear and sharp images without noise
. Intensify offers powerful layers & masking
, 16-bit image processing with RAW files support
 and a wide variety of image tuning features that allow you to finish your masterpieces with perfection. You can export your work to Apple® iPhoto®, Apple® Aperture®, Adobe® Lightroom® or Adobe®, Photoshop®.
By MacPhun LLC | Photography | Price $24.99 | App Store Link
FX Photo Studio Pro
FX Photo Studio Pro, powerful photo editing app for Mac; features over 170 high-quality filters and effects plus powerful editing tools and stylish photo frames to enhance your pictures. FX Photo Studio PRO supports image resolution up to 40 megapixels and a variety of photo formats, including raw 

intuitive navigation for effortless image processing.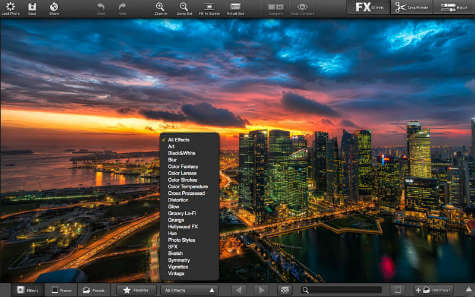 This app provides a completely customizable interface that allows you to preview each effect, compare original and resulting images, label favorites and even save combinations of effects as presets. The new masking and color splash tools allow you to apply effects and colors to a part of the image only and the editing tools also allow customized exposure, brightness, saturation, contrast, temperature, and hues.
By MacPhun LLC | Photography | Price $19.99 | App Store Link
Pixelmator
Pixelmator is a full-featured and powerful image editing app for the Mac. 

This app takes full advantage of the latest Mac technologies, giving you speedy, powerful tools that let you touch up and enhance images, draw or paint, apply dazzling effects, or create advanced compositions.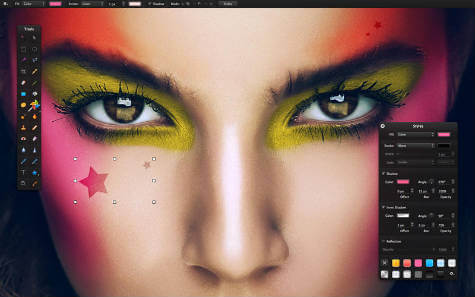 You can access your processed images from anywhere with iCloud, send them to iPhoto or Aperture, email, print, share, or save them to popular image formats. Pixelmator 3.0 comes with full OS X Mavericks support, non-destructive Layer Styles, a complete set of Liquify Tools, and the new state-of-the-art image editing engine.
Pixelmator uses a number of OS X features and technologies like Cocoa, OpenGL, OpenCL, Core Image, Grand Central Dispatch, 64-bit, FaceTime camera, Automator, Full-Screen, built-in Sharing and much more.
By Pixelmator Team | Graphics & Design | Price $29.99 | App Store Link
iDraw
iDraw is a powerful feature-packed vector drawing and illustration application for Mac OS X.

 

This Mac image editor creates intricate designs quickly and easily and easily continue working on the go with iDraw for the iPad.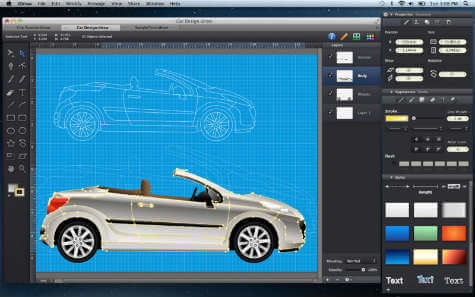 iDraw images and illustrations can be pasted into Pages documents, included in Keynote presentations, or used together with iBooks. The app supports SVG, PDF and EPS formats to import and exports into SVG, PDF, PNG, JPEG, GIF, TIFF. iDraw features with Shape libraries
- Styles library
- Boolean path combinations
- Canvas scale, Rulers, and Units.
By Indeeo, Inc. | Graphics & Design | Price $24.99 | App Store Link
iStudio Publisher
iStudio is a Desktop Publisher for Mac. It is powerful, easy-to-use page layout application, perfect to layout and print. 

iStudio Publisher makes it easy to create stunning, professional quality documents, including newsletters, brochures, ads, flyers, invitations, menus, reports, posters, greetings cards, and yearbooks.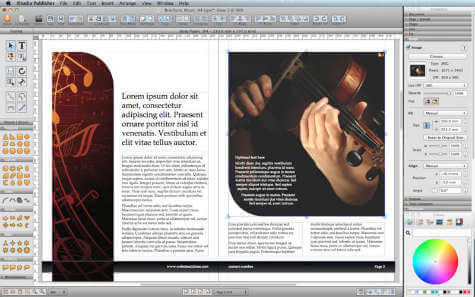 You can take any shape and add text, image, line stroke, solid or gradient color fill, drop shadow and text wrapping, with independent control over the style and opacity of each element.
By iStudio Software | Graphics & Design | Price $17.99 | App Store Link
Video Editor Pro
Video Editor Pro is a professional video editing software. It can help you edit, merge and retouch videos. If you like shooting videos and want to edit videos shot with your camcorder, this app is made for you.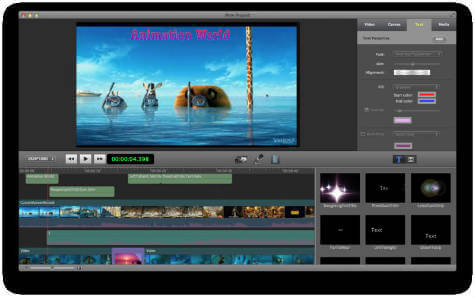 The editing functions contain trimming, cropping, splitting, rotating, adding stylish subtitles, applying filter effects, inserting transitions and much more. You can voiceover for the video too. 

Furthermore, this professional video editor can export videos to various popular video formats and portable devices for sharing with family and friends. You can even save to your local storage device or work seamlessly with iDVD to burn your video to DVD.
By Zhang Xiaolei |Video Editing | Price $29.99 | App Store Link
Aperture
Aperture, one of the best Photo editing software for Mac professionals. This Photo editing application combines the control and speeds pros demand. The short learning curve allows iPhoto users to easily step up to this advanced photo tool for demanding photo tasks. It has been fully optimized for the Retina display on the new MacBook Pro, letting you browse and edit high-resolution images with remarkable clarity and resolution.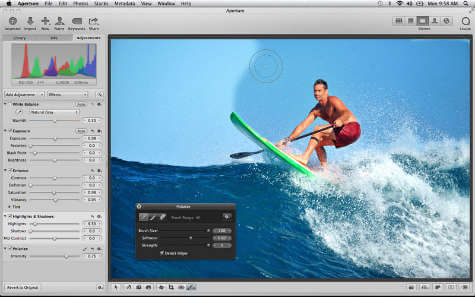 Aperture is packed with innovative adjustment tools to refine your images, including a revolutionary Auto White Balance that uses skin tones to correct color casts and a professional Auto Enhance that applies Exposure, Vibrancy, Curves, and more with a single click. It also includes powerful Brushes for painting image adjustments onto parts of your photo, and dozens of ready-to-use professional photo Effects.
By Apple | Photography |  Discontinued | App Store Link
Video, Photo and Graphics editing is a challenge for any computer system that demands a lot of system resources and heavy use of the system for long periods of time. Once you have these best video editing software on your Mac, you can improve the productivity.
Related: 5 Best MAC Apps to Unarchive/Archive Files with Password Protection.
For professional photographers, this list of applications will be the time saver and help to post-process videos and photos with less effort. All this demands the power of continuous computing and patience. We hope that these apps give you more comfort, less headache and high productivity in your profession.