Android users can literally perform any activity on a smartphone just by speaking up a few words to Google assistant. Usually, the Google assistant is characterized by a human voice. By default, we get to hear a female voice. However, a user can change the voice of the Assistant on his Android devices. There are a total of two types of voices that one can assign to the Google Assistant. Earlier versions of the Assistant used to have up to 8 types of voices.
In this guide, we will explain to you some cool methods to change the Voice of Google Assistant on any Android device. This means you can change the voice of the virtual assistant not only on smartphones but also on your integrated smart home devices. Now, let's dive into the guide.
How to Change the Voice of Google Assistant
With Android 10, there are two voices in Google Assistant, a male, and a female voice. So, a user can select either of these two voices on his smart device. Normally, there is a manual way to access the Settings of the Google Assistant. There, a user can choose from the available voices. Then he can change the current voice of the Assistant to the new one.
Using Voice Command
However, first, let us try an easier method. It involves a simple voice command through the Google Assistant itself. This is how it's done.
Launch the Google Assistant [use the dedicated app]
Speak out the command "Change the Voice"
The virtual assistant will change the voice into a new voice
Then it will ask you whether you want to use the new voice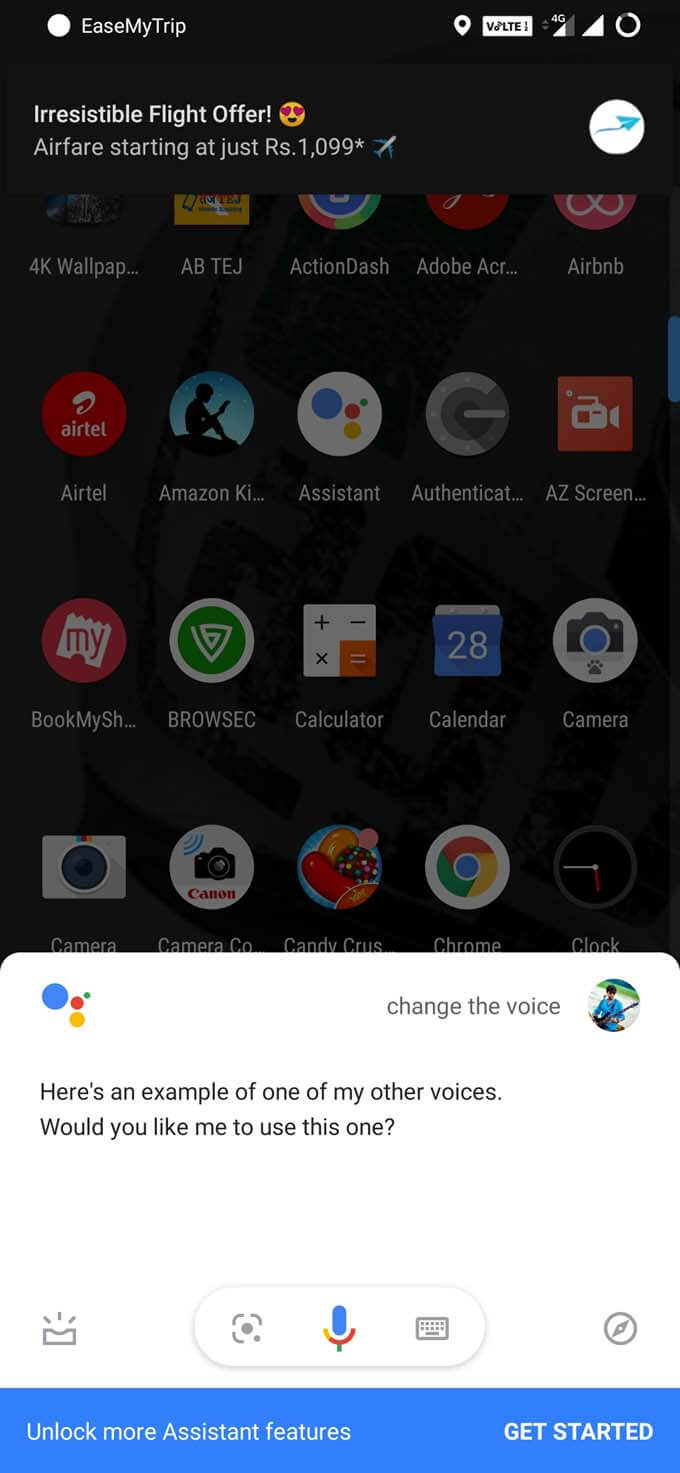 In case you do not confirm the new voice, the Google Assistant will guide you to access the Assistant in the Settings and change it. That method we have discussed in the next section.
Related: How to Add Lock Screen Profile Picture to Android 10
Accessing Assistant Settings
Go to Google App > tap on it to launch it
Tap on More in the bottom right corner > tap on Settings
Under Settings,> tap on Google Assistant

Here navigate to the Assistant tab
Now tap on Assistant Voice
You will see the "Choose the voice your assistant will use to respond to you"

Now, you can manually select from the available options to choose any voice.
A preview voiceover for each type of voice will play.
Any voice you select will be marked with a tick mark on it.
Note: Google Assistant feature is available only on Android smartphones that run Android 6.0 Marshmallow or higher version of the OS.
When we speak of hands-free functions on Android, the first thing we think of is Google Assistant. Android has improved its Artificial intelligence game to a great extent in recent years if we look at its popular virtual assistant. It was initially a part of the Google Allo messaging app. Also, it was an exclusive feature on the first-generation Pixel devices. However, later it made its way into other smartphones, Android wearables, etc.
Related: Android 11 Features, Release Date & Compatible Devices
Now, with these detailed instructions, you can change the Voice of Google Assistant on any Android smartphone as well as on any Android smart device.