You can leave your home for work with peace of mind if you have smart automatic pet feeders. They let you schedule and monitor feeding hours, portion sizes, and the supply of food for your pets. While you're out, your pet won't go hungry. Most smart pet feeders come loaded with a camera, allowing you to monitor your pet at any time.
Here we list some of the best smart pet feeders for your dearest cats and dogs.
Best Automatic Pet Feeders
Col Title
Best Affordable Pet Feeder
Best Pets Feeder with Two Bowls
PETLIBRO Automatic Cat Feeder, 5G WiFi Automatic Dog Feeder with Freshness Preservation,…
PetSafe Smart Feed – Electronic Pet Feeder for Cats & Dogs – 6L/24 Cup Capacity -…
JAMOTOLLY Automatic Cat Feeder,Automatic Dog Feeder with HD Camera,5L Double Stainless…
Camera
Video Monitoring, Voice Recorder, Program Memory
Features
Video Monitoring, Motion & Sound Detection, 2-way Audio
Alexa, Schedule, Meal Calls, Alerts
Col Title
Best Affordable Pet Feeder
PETLIBRO Automatic Cat Feeder, 5G WiFi Automatic Dog Feeder with Freshness Preservation,…
Features
Video Monitoring, Motion & Sound Detection, 2-way Audio
PetSafe Smart Feed – Electronic Pet Feeder for Cats & Dogs – 6L/24 Cup Capacity -…
Features
Alexa, Schedule, Meal Calls, Alerts
Col Title
Best Pets Feeder with Two Bowls
JAMOTOLLY Automatic Cat Feeder,Automatic Dog Feeder with HD Camera,5L Double Stainless…
Camera
Video Monitoring, Voice Recorder, Program Memory
PetSafe Smart Feeder Automatic Cat and Dog Feeder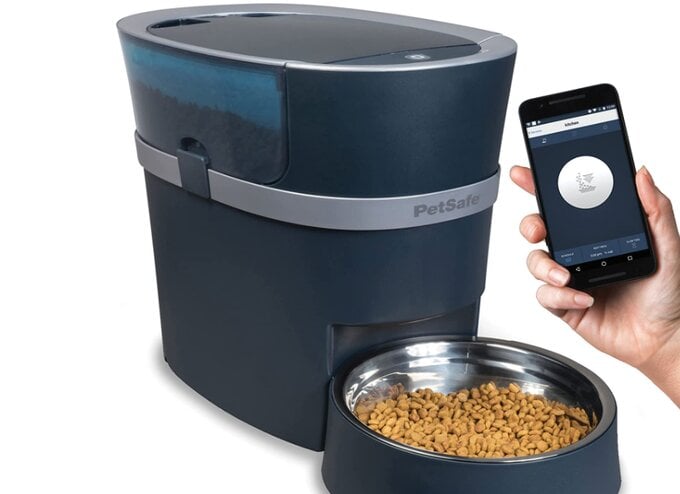 Using PetSafe Pet Feeder, food may be given in portions ranging from 1/8 cup to 4 cups. The slow feed setting can spread out the delivery of food over 15 minutes to ease digestion. The smart feed mobile app allows you to remotely supply food to your pet at any time.
You can customize the meals that your pet eats by scheduling up to 12 servings for your dog or cat. The Feed Now option lets you feed your pet at any time (only dry food). Because of the pet-proof construction of the dispenser, there is no chance that the feeder will be opened by paws trying to grab more food between meals. The bowl, lid, hopper, and bowl holder are all dishwasher-safe for your cleaning convenience.
Also, your pet will still get fed at the next planned time even if the power and Wi-Fi go out with its four D-cell batteries. Connecting the feeder to your 2.4GHz home WiFi makes it possible to feed and check in on your pet from anywhere using your hone. As many as 24 cups or 6 Litres of pet food can be served with a single refill.
Pros:
Made from BPA-free plastic
Optional Battery Backup
24 cups capacity
Manual Feeding option
Cons:
Difficulty during initial setup

WiFi disconnection issues
Key Features: BPA Free Plastic Design | Optional Battery-powered option | Slow feed for easy digestion | 24 cups capacity | Pet-Friendly design
WOPET Automatic Pet Feeder with Pet Camera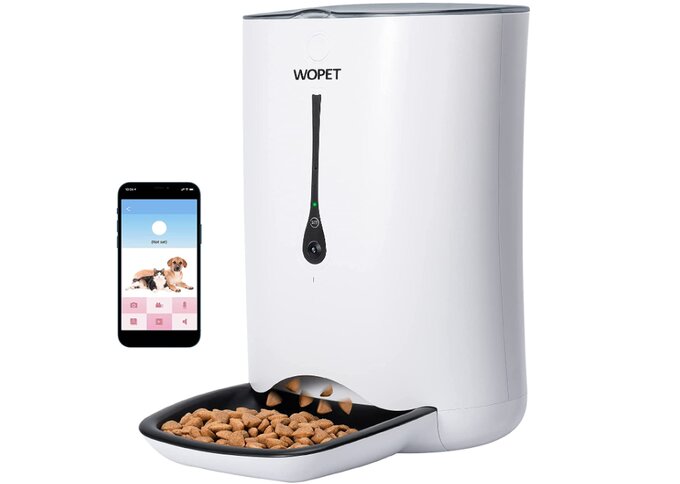 This WOPET Pet Feeder has a capacity of 7 liters and can hold 29 cups of food. It will feed your pets without delay for up to two days, giving you peace of mind that they will not go hungry when you are away for a longer time. Using a companion app, you can use it as a pet camera and interact with your pet friend.
Feeding can be controlled from anywhere via smartphone; you can schedule from one to six meals per day, with a maximum of 20 dry food servings per meal, to be delivered at set intervals.
Using the included voice chat and recording, you can keep in touch with your pet even while you are far away. The Wide angle 1080p camera also helps to observe your pet's actions. Also, make a 10-second recording of your voice messages and play them for your pets while feeding. You can power up the automatic pet feeder with the wall adapter or with D-cell batteries.
Pros:
Realtime video monitoring
29 cups storage capacity
Voice recording function
Battery backup
Cons:
Inadequate app UI
Connection issues
Key Features: 1080p video streaming | Voice recording enabled | 29 cups maximum capacity | Battery-powered failsafe | Companion app to schedule feeding time | Sturdy build quality
Today's Deal: $40.00 Off
Related: 7 Best Dog Training Apps for iPhone to Train Your Dogs at Home
PetSafe Smart Feed Automatic Pet Feeder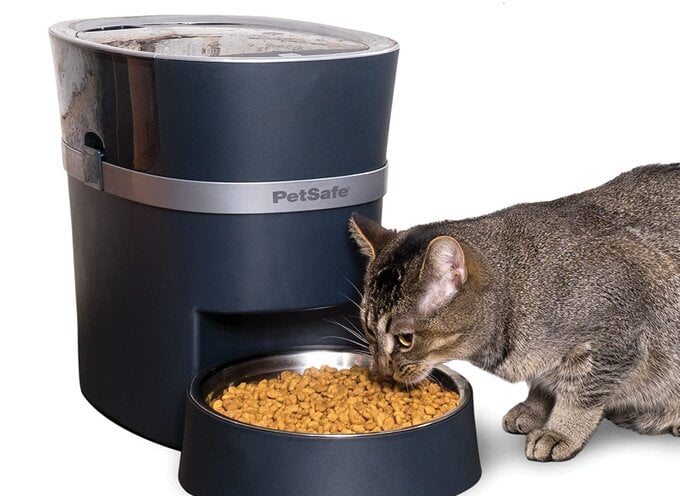 The PetSafe Smart Feed allows you to configure up to 12 meals a day for your pet, and each one can range in size from 1/8 cup to 4 cups, depending on what your pet requires. You can also stop the feeder from providing food by turning off the schedule. You can ask your Amazon Alexa speaker to provide a snack for your pet, and it will do it wherever you are in the house.
If a power outage, low food supply, or other malfunction occurs, the PetSafe pet feeder will send a message to your phone. Access your pet's feeding schedule from anywhere with the My PetSafe app on your phone.
Meals bigger than 1/8 cup can be served gradually over 15 minutes using the Slow Feed setting. All parts—including the lid, hopper, bowl, and bowl holder—can be cleaned in the dishwasher on the top rack. The maximum supported capacity is 24 cups or six liters of food.
Pros:
Scheduling function for automatic dispensing
Amazon Echo Compatible
Emergency message option
Cons:
Short WiFi range
Bad customer service
Buggy firmware
Key Features: 6L/24 cups max capacity | Amazon Echo compatible | Slow feeding function | 12 meals a day supported | Emergency Message feature | Feeding Scheduler
Today's Deal: $25.04 Off
Related: 10 Best Robot Vacuum Cleaners for Pet Hair
PetLibro Automatic Pet Feeder with Camera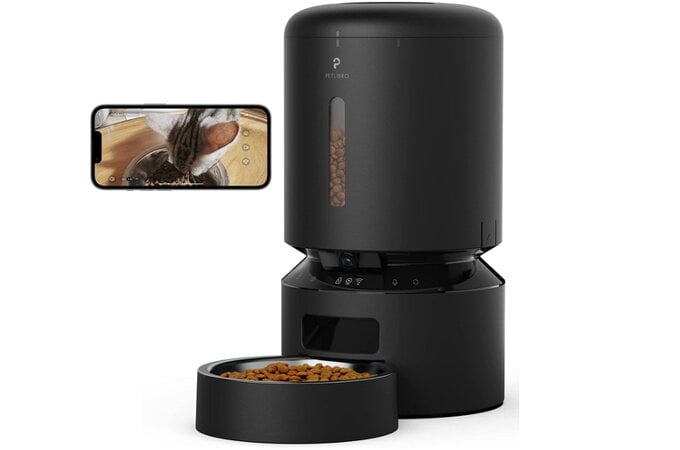 With the PetLibro Automatic Pet Feeder, you can feed your pet a maximum of ten meals with up to 50 servings each per day. The twist-lock lid and rotor in the tank base prevents the feeder from opening. The desiccant bag and sealing strip help maintain the freshness and crunchiness of stored food. The stainless-steel feeding dish, top, and tank are all detachable for thorough cleaning.
It has a 1080p camera with a 145-degree field of vision and IR night vision so that you can check in on your pet's mealtime activities. The videos can be recorded on a TF card, and you can view them. If the IR detects the food outlet obstructs, it will immediately stop dispensing food.
The high-tech microphone and speaker are always on hand, so you may talk to your pet whenever you choose. You can schedule the meal call to play and send reminders between 0 to 5, and you can record a voice message (up to 10 seconds) that will play during mealtime. The PetLibro Pet feeder works with both 5GHz and 2.4GHz WiFi.
Pros:
Twist lock lid for protection
1080p ultrawide camera
Detachable dish and tank
Schedule meals
Cons:
Connectivity issues
Battery backup is unstable
The app is buggy at times
Key Features: Max 10 meals per day Supported | 1080p camera recording | Voice message alerts for pets | Detachable easy to clean tank and dispenser | Schedule meal on Petibro app | Twist lock lid for protection
Jamotolly 5L Automatic Pet Feeder with Camera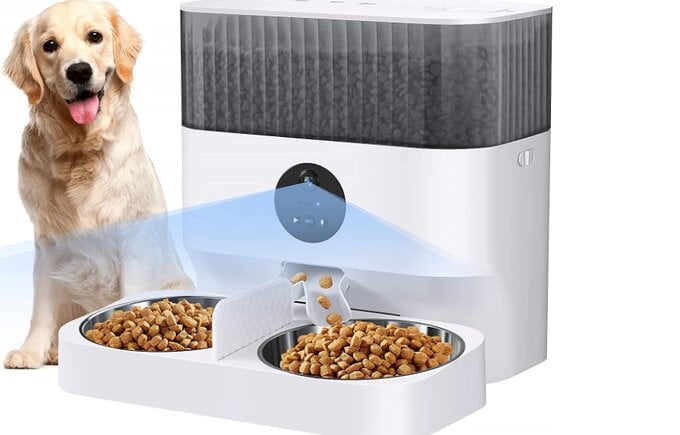 The Jamotolly Smart Pet feeder has a 5L capacity. It can schedule anywhere from 1-8 meals per day, with a maximum of 20 servings (10 g each) per meal. A manual feeding button is included so that you can effortlessly reward your pet. For the sake of your pet's health and hygiene, as well as to prevent chin acne, you might consider using this double stainless steel bowl feeder. Enhanced foot pads on the food dispenser allow it to be adjusted to suit pets of varying heights.
The Jamotolly Feeder has a security camera with a 110-degree field of view and 1080p full HD video, and high-quality speakers. If the power goes out, your pet will still get fed with its battery backup. When you stop feeding your pet, the automatic food dispenser's rotor will shut the food tank to keep any leftovers from spilling.
The pet video feeder will alert you via the app that there is "Insufficient excess or abnormal equipment" if it detects any abnormalities, such as trapped food. A "Feed" safety button is installed on the automatic pet feeder to keep the pet from accidentally releasing food.
Pros:
5L large tank capacity for feed storage
1080p camera for recording the pet
Auto shut-off once dispenser is full
Manual feeding support
Cons:
Auto shut-off sometimes does not work
Buggy mobile app
Key Features: 1080p camera for recording | 5-liter feed storage tank | Manual Feeding option available | Emergency Battery Backup | 20 servings per day | Auto shut-off feature | Smartphone companion app
WOPET Automatic Pet Feeder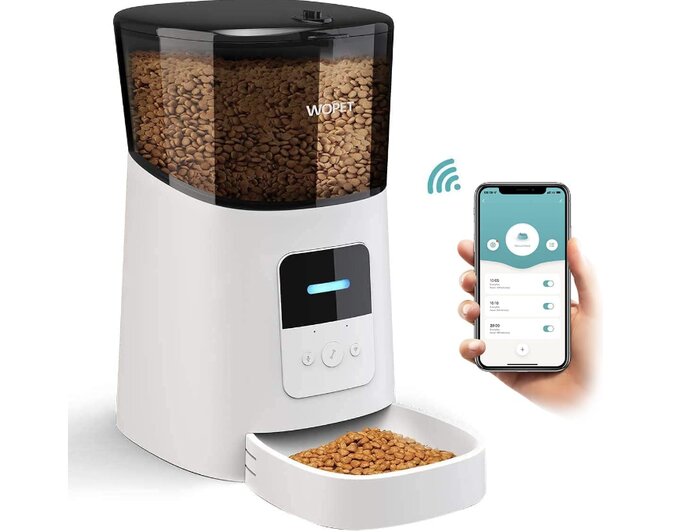 WOPET Pet Feeder can schedule up to 15 feedings for your pet, with anywhere from 1 to 50 servings per meal. Your pet can be fed at any time, not just during set mealtimes using the pet feeder. It can hold up to 15 dry meals daily with a maximum pellet size of 5-15mm.
You can either plug this pet feeding into an outlet or use batteries. To ensure your pet is continuously fed, even if there is a power outage, the feeder can run on three D-size batteries. Dry food can be stored in the main compartment, which is detachable for easy cleaning and restocking and has a capacity of up to 6 liters.
The WOPET Pet Feeders allow you to record a message for your pet. The recorded message plays whenever the pet's food is dispensed. The WOPET Smart feeder integrates with your Wi-Fi, allowing you to control it from anywhere with your smartphone and the Pet Zero app.
Pros:
Voice recording function for owners
Battery powered operation
6 liter capacity for feed tank
Cons:
Schedules sometimes fail to execute

Inconsistent feed servings
Key Features: 6 liters storage capacity | Pet Zero App for controlling | Battery Backup available | 15 dry meals per day | Voice Recording and Playback
Today's Deal: $20.00 Off
Related: 10 Best HomeKit Secure Video Camera for Indoor and Outdoor Security
Arf Pets Smart Pet Feeder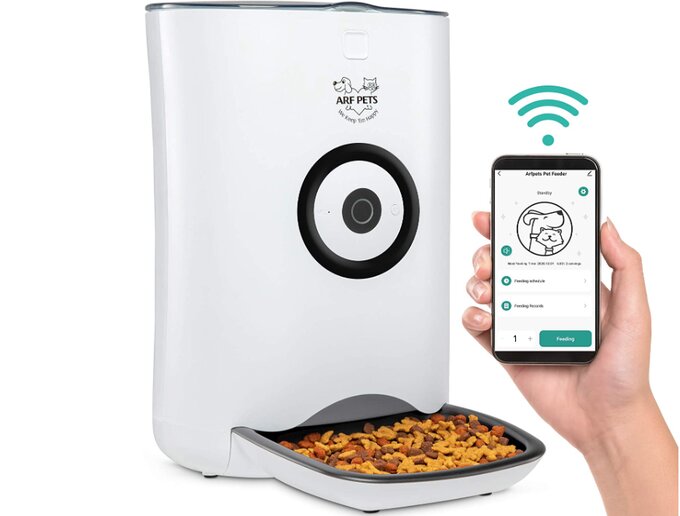 The Arf Smart Pet feed dispenser has a 29-cup dry food capacity that can last days or weeks. The feeding tray and food storage compartment are removable, making routine cleaning quick and simple — and the lid locked into place to prevent unwanted spills.
You can set specific dispensing times, handle portion sizes, review your feeding log history, manually dispense food, and schedule feeding with the smart app on your phone.
The backup battery can still keep the feeder running during power outages. The lockable bowl serves as the delivery system for the food. A helpful portion chart, user manual, control panel with a Setting button for immediate feeding, and LED indicators for the alarm and Wi-Fi connection are all included in the Arf Pet Feeder system.
Pros:
29 cup capacity for feed storage
Easy cleaning possible
App available to schedule feed times
Battery backup feature enabled
Key Features: 29 cup capacity | Arf Pets App for feeding logs and Schedule | Easy to clean | LED status indicators | Locking mechanism for safety | Serving Chart for reference | Backup Battery power supported
ABRCT Automatic Pet Feeder with Camera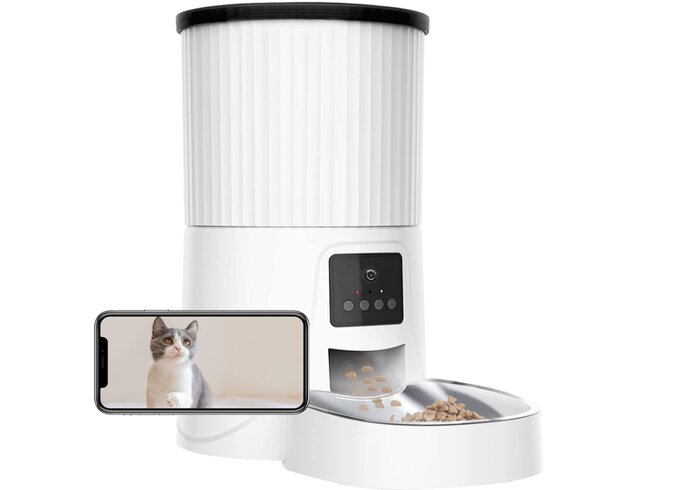 ABRCT Automatic Pet Feeder has a 4-liter serving capacity, two feeding modes (scheduled and manual), and can pre-set feeding times for up to 12 meals (about 10g each serving). This cat feeder has a dual anti-jamming design to prevent food from getting stuck. It has two-way induction and a 45-degree slope design to guarantee unhindered food distribution. Any dry pet food between 2 and 12 mm size will fit nicely.
You can interact with your pets using the camera in real-time or talk with them via the microphone. The pet feeder's double bayonet design makes it impossible for the tray to fall out of the feeder while making it simple to clean.
There's also a high-quality dust-proof lid to keep out air and stop cat feed from going bad. The desiccant bag in the feeder's top keeps food dry, maintains freshness, and shields pets from harmful mold and bacteria. The unique shape of the outlet prevents air from leaking in and pests from getting to the food.
Pros:
Large 4-liter serving tank capacity
Anti-jamming technology for protection
1080p camera and audio recording features available
12 meals per day servings
Cons:
Automatic Feeding is buggy
Only 2.4Ghz WiFi support
Key Features: 12 meals per day feeding | 4-liter feeder tank | 1080p Video and Audio Recording and Playback | 45-degree sloping design for easy dispensing | Anti-jamming protection | Dust-proof lid to prevent air
Related: 7 Top Smart Gadgets Built to Protect Your Home
Related: 12 Best Self-Emptying Robot Vacuums in 2022
MYPIN Automatic Pet Feeder with Camera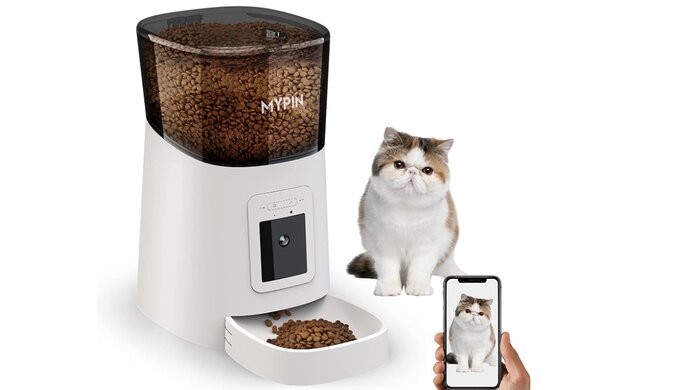 The MYPIN automatic pet feeder allows you to easily schedule 1-8 meals per day and up to 1-20 servings per meal with roughly 5g per portion, to tailor a nutritious diet for your pets. The wide, sloping form of the feeding bowl increases the food's sliding speed and strength without obstructing the outflow.
The feeder will play an audio clip you recorded whenever it is time for feeding. Use your phone to set your pets' feeding schedule, mealtimes, and meal sizes. The bigger 6-liter capacity ensures regular food availability for pets (a cat for roughly half a month and a dog for about a week), and the desiccant bag will keep things dry and fresh.
With its 1080p full HD camera, 4x zoom, IR Night-vision, and 130-degree wide-angle lens, you can capture priceless memories, and document your pet's activity.
Pros:
20 servings per meal
A sloping feed bowl allows for faster dispensing
1080p camera and microphone for monitoring
6-liter high-capacity food tank
Cons:
Buggy operation
The recording does not work at times
Key Features: 1080p camera | 6-liter feed storage | Night vision sensor | Schedule meals using mobile app | 8 meals per day and 20 servings maximum | Easily washable tank
These gadgets may appear pricey in comparison to a disposable plastic plate, but the value they provide more than justifies the cost. These high-tech automatic feeders for your pets can cost anything from $80 to $180 or more.
You can improve your pet's quality of life by investing in an automatic pet feeder, even a cheap one, to make sure your pet is fed when you can't. Wi-Fi is essential for most smart pet feeders. Always verify the specifications of a model you're interested in buying to see what kinds of connections it supports.