Technology is making the betterment of our lives by introducing new gadgets to make our lives easy and secure. The safety of one's home should not be underestimated and now the time for smart gadgets to replace the traditional security system. These gadgets are easy to integrate with your smartphone. Apart from being able to attend calls from anywhere in the world, the Smartphone has become a necessity as nowadays many gadgets can be controlled via this device. In addition to smartphone compatibility, these devices are built to connect with smart home controllers like Amazon Alexa or Google home that can help you to command these devices more efficiently.
The security of one's home is perhaps the most important matter for anyone. You install Door locks, alarms, CCTVs, and hire security and dogs, but still, burglaries and accidents take place. Make this a tension of the past, as here is a list of the top gadgets that are truly smart and will take care of your family.
1. Nest Protect Smoke & Carbon Monoxide Alarm
The New Nest Protect is packed with a new industrial-grade smoke sensor that checks itself automatically and has a lifespan of a decade. The alarm uses a split-spectrum sensor with an enhanced second blue LED to monitor the air that enters the alarm. This alarm can be stopped right from your smartphone.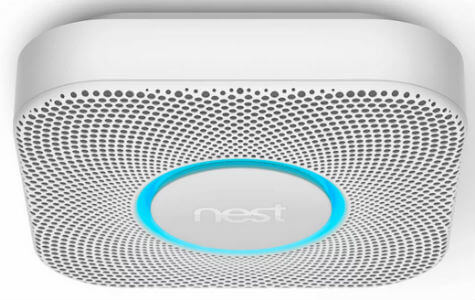 Like the original Nest protect you will get alerts on your Smartphone and know when anything is wrong like a fire or a carbon monoxide leak at your home. The alarm lets you know exactly where the fire or leak is. Nest Smoke Sensor is coming in both Wired and Wi-Fi versions. The wired one is operating in 120V, where the Wi-Fi version built to work on battery. With a 10 Year life-cycle, it requires a Wi-Fi connection and runs on any iOS8 or Android 4 version.
2. Nest Indoor Camera
Nest Cam will keep an eye out for you no matter who or what comes day or night. It has live streaming that arrives in 1080p HD clarity 130° view, 24/7 with a highly powered cloud algorithm. You get personalized alerts or email with a photograph when Nest Cam detects any activity. The Nest Cam records every single moment and saves all the recordings in the cloud so you never miss anything and can look anytime you wish.
3. Nest Outdoor Camera
The Nest Outdoor Cam keeps watch 24/7 no matter rain or shines it can endure all weather. The camera can plug into power, no need to worry about dead batteries. The built-in speaker and mic let you make a two-way audio conversation with the visitor. This camera offers a 130° wide-angle view with 1080P HD clarity.
With Nest camera, on any activity, you will get alerts on your phone live view. You can also see snapshots of the past three hours of activity of your door. The Nest Aware comes at a very nominal rate of $10 with 24/7 recording direct to the cloud of up to 30 days.
Related: Best Smart Home Devices for Alexa, Compatible with Amazon Echo
4. Amcrest Home Security System
The Amcrest video security system comes with 4 high-resolution Heavy-Duty Metal Weatherproof Cameras. They can see up to 20 meters (about 65 feet) away and 24 IR LEDs that automatically activate when they detect low lighting conditions.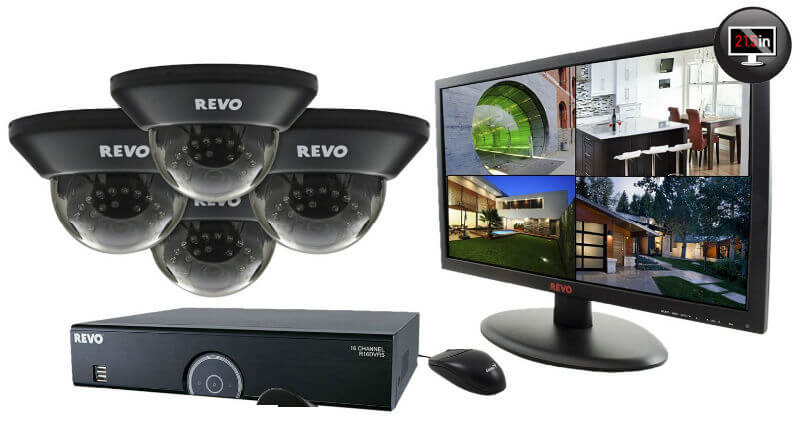 Motion Detection and Scheduled recordings are the built-in features of this device. This security system lets you record in Widescreen with Remote Viewing on iPhone and Android devices with dedicated apps. The Amcrest comes with a 500GB hard drive for storage that can expand up to 3TB. The backup is also available via USB.
Related: 6 Things to Consider before Buying an IP Security Camera
5. Ring Door Bell Camera
The doorbell camera is the latest security gadget that not only works as a bell, but you can also see who is at your door in a crystal clear image. The doorbell gives you 1080p HD video viewing with advanced motion detection. The Ring video doorbell Pro works with your iOS, Android, and Windows ten device and can be connected via Wi-Fi as well.  A Wi-Fi connection allows it to link to your home network. With the ring App, you can get alerts on your phone. Night infrared vision with two-way speakers lets you see who is at the door in the night and speak as well.
6. Samsung Smart Door Lock
Replace your traditional lock with Smart Locks those can operate with Bluetooth enabled smartphones like Android phone or iPhone. With the Samsung Ezon SHS-3321 digital door lock coming with touch-screen, easy to use, and typing the code instead of a physical key.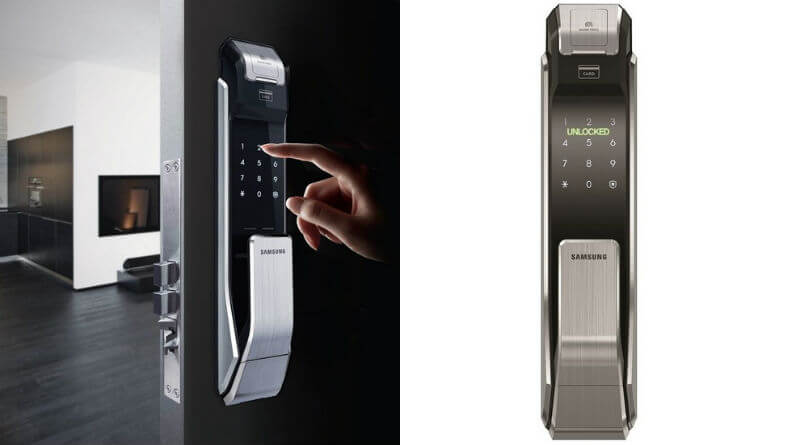 These Smart locks can lock and unlock with your fingerprint, operate remotely from your smartphones.
No need to worry about losing your key and stuck outside your home. The touchpad lets you use number codes to unlock doors, and you can configure new number locks whenever you need it. The lock also gives an alert if it is being tampered with. The Ezon SHS-3321 can connect to the Samsung Smart Home Security system as well.
Related: 6 Things you Should Consider Before Buying a Home Security System
7. Tile – Phone Finder, Key Finder
This smart device may not fell under the home security category, but this is an essential smart device for those who are losing the car keys, wallets, luggage, purses, backpacks, cameras, remote controls, kids' toys, etc. Tile is a small Bluetooth tracker that finds your phone or keys with the help of a smartphone app. Just attach a Tile device to an item, and you can locate it by sound, by seeing its last known location on a map, or by marking it as "lost" and getting an alert when it's found.
Make these smart gadgets as a part of your house. These Smart gadgets can protect your home and property and truly smart and will take care of your family. These gadgets with advanced technology can alert you through your smartphone apps or phone calls in case any worst things happen.