Screen Recording Software for Mac is designed to capture all screen activities while you work on the Mac display. The best screen recording software should be able to capture videos in HD quality that is critical for coding tutorial and game demonstration videos. There are several paid and free Mac screen recording software available in the market, and the basic features can be found on free screen recorder apps.
Here we listed some basic Mac screen recorder software for free and a couple of paid recorder apps that has some extended features best for professional use.
Free Screen Recorders Apps for Mac
When you go for Mac free screen recorder, please keep in mind, many of them will come with time-limited recording, or some features will be missing. But these apps will be a good choice for those who don't want to spend money.
QuickTime Player
Mac users know that Quick Time Player is the default video player on Mac. QuickTime can also be used for playing different media files present on the system and support a wide range of video formats. Despite being a video player it can also perform screen recording software easily and you can choose the entire desktop or the selected area for recording. There is an optional feature to show the mouse and add microphone audio in the recording video.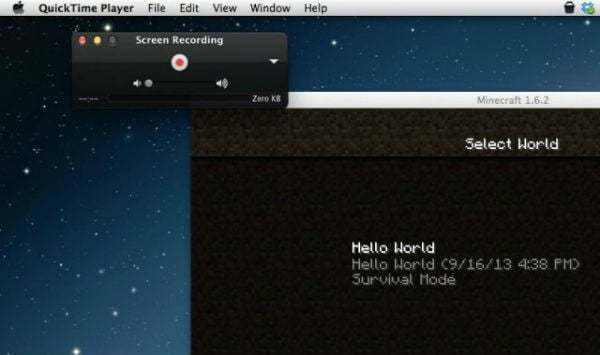 The built-in software also has some basic editing chops that you can use to get things done. launch QuickTime Player, go to the File >> New Screen Recording. A dialog box with all the tools you need to record the screen will be available on-screen.
Key Features: Built-in video player with screen recorder | Internal & external sound | Variable Video Resolution
Download from Apple
Related: 10 Best Video & Photo Editing Software for Mac Professionals
Monosnap
Monosnap is a free Mac screen recording software coming with the option of turning on your webcam, mic, and system's audio all before the recording. You can your Mac's inbuilt camera or an external camera for the recordings on the software.
MonoSnap records the screen in 60fps to ensure an ultra-smooth playback to meet the need in demanding situations. For screenshots, Monosnap can capture full or part of the screen delayed screen capture and hotkey set up to trigger the screenshot.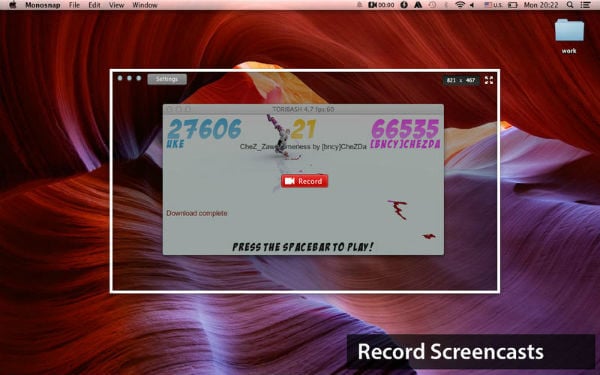 The video recording support to capture screencasts, blur private information from the screen, and also let you highlight the important information with text, marker, or arrows. This Mac Screen Recorder is ideal for students and professionals with its integration with the cloud.
You can connect the cloud drives such as Dropbox, CloudApp, Yandex.Disk, Box.com, Google Drive, or FTPs to upload screen recorded videos and screenshots to share with other PCs and smartphones. Monosnap is mainly good for one-off recordings that are short and can be shared quickly.
Key Features: Easy to use | 8x Magnifier | Customizable Hotkeys | Basic editing tools | Direct upload to the cloud | Screenshot tool
Download from Apple Store
Icecream Screen Recorder
You can easily use Icecream Screen Recorder to capture any area of the screen. Capture as well as save the area in the form of a screenshot or video file over your system. Record your games, webinars and Skype video calls in HD quality in a quick and simple manner.
Record the screen in a window as well as in full-screen mode to display the content in the best possible manner. You can easily add your own watermark while capturing the screen of your desktop or laptop. Set your video quality output and record the entire screen in that manner.
The app brings a few basic editing chops on-board such as adding shapes and text on-screen. It is available in both free and premium versions with the former being limited in features. The software lets users upload the recorded video to cloud services like Dropbox. It is equipped with the ability to change formats post-recording, trim unwanted parts, add mouse effects, and whatnot. It is an all-in-one screen recorder app for Mac you must try.
Key Features: Scheduled Screen Recording | Annotation Tools | Mouse Effects | Easy upload to the cloud
Download from Website
OBS Studio
OBS Studio is open-source and free software for video recording and live streaming for Windows, MAC & Linux. You can get high-performance real-time video/audio capturing and mixing, with unlimited scenes. The additional filters are available for video sources such as image masking, color correction, chroma/color keying, and more. The built-in audio mixer is coming with filter functions such as noise gate, noise suppression, and gain.
OBS Studio is a professional-grade screen recording tool equipped with a bucket-load of features as mentioned above. It is prominently known for its noise reduction, transitions, and similar advanced features. Note that the app isn't that easy to use. But the built-in tutorials and material will enable you to catch up with it pretty soon.
Key Features: Live streaming | Handles multiple audio and video files | Audio Mixer | Basic editing options | Price-effective
Download from Website
Jing
Jing is an interesting free screen capture application from TechSmith, different from all other screen-capture software. The captured video can be saved in SWF format or stored in the screencast. Coming with a five-minute video recording with the option of using the mic while recording, it is a good option for narrating the steps to solve a problem.
It is a basic screen recording tool but it still has the unique characteristics that make it a must-have. The tool lets you record regions or full screen as you want. There's an annotation tool along with it that gives you options like arrows, shapes, highlighters, and others.
You can record both internal and external audio which is a great feature if you are streaming something and want your webcam as an overlay. There's a built-in screenshot capturing tool embedded within so you have everything covered right here.
Key Features: Screenshot capture tool | Share it to the cloud | Basic annotation tools | Free and easy to use
Download from Website
Screen Recorder Robot Lite
This is one of the simplest tool presents for screencasting and edits the recorded video to perfection. Unlike many free recording tools it doesn't include any watermark on the video and every mouse click can be detected easily with the tool. The videos recorded through the tool can be a minimum of 200 seconds and a maximum of 600 seconds. You can record over and over then edit the video to make a big video.
It is equipped with a lot of features such as you can select region or full-screen or let it auto-identify the window to record. It does have shortcut keys to start, stop, and cancel recordings. You can select frame rates from 1 to 30 when recording in various screen resolutions as you deem fit.
There's a screenshot tool that grabs pictures allowing users to save it in various formats. There are a bunch of annotation tools for editing such as opacity, blue, graph color, and others. It is a lightweight tool infused with a bunch of features that you can use to get favorable results.
Key Features: Screenshot capture tool | Annotation tools | Record region, full-screen or auto-detect window | Basic editing chops
Download from Apple Store
Recordit: Instant Screencasts
Recordit allows you to make a quick video of yourself doing something interesting on your Mac. You can easily turn the recorded video into a GIF and share them instantly without any trouble encountered. From the software, you can record the screen for 5 minutes and create a GIF from the recorded video.
The screencast is uploaded to the software's servers from where it can be shared with other platforms. It is a preliminary tool to capture screen and doesn't record any internal and external audio.
Key Features: Easy to use | Records screen & converts it into GIFs
Download from Apple Store
Apowersoft Screen Recorder
Apowersoft Screen Recorder is a great professional tool for screen recording. The program is quite rich in features and gives more control to the user during the screen recording process. Create a vivid tutorial that includes your feelings along with the recording.
Record in the best possible manner with the three recording modes as well as use different audio inputs for recording. Configure the mouse style for recording the screen in the manner that you find suitable for yourself.
It is a browser-based screen recording tool that lets you record and stream screens with real-time editing tools that you can use on the go. It is an easy to use tool that has all the features you would need to make screen recordings. May it be for training or teaching or gaming purposes, Apowersoft Screen Recorder has you back no matter what.
Key Features: Upload HD videos to YouTube | Real-time editing | Converts videos into various formats | Customizable shortcuts | Picture-in-picture mode
Download from Mac App Store
Record it
Record it is a good and professional tool that allows you to record your screen for displaying the software as well as giving video tutorials. You can capture the screen for iOS devices with the tool through Airplay / Wi-Fi. Access the custom recorder feature of the tool to capture the videos at full screen or any size.
You can easily export the screen video to other online sharing platforms and also export it as a GIF. The one-click feature of the tool makes the screen recording process quite simple for the beginners. The interface is smooth allowing the people to have more control over the screen recording process.
Record It can record audio from mic and system simultaneously along with webcam feed. It records videos at up to 4K resolution available with its Pro version. It doesn't have any watermark and no time limit on its Pro version as well. You can do exceptional things with Record It, a premium Mac screen recorder software embedded with a host of features that you'll love.
Key Features: Mirror iOS devices | Record videos up to 4K resolution | Supports system and audio sounds | No watermarks | No time limit
Download from Mac App Store
Paid Mac Screen Recorder Apps
As you know, the paid Mac screen recorder apps are good for customer support and packed with a lot of features as well as no restriction for maximum recording time.
Snagit
Another great Mac screen recording software from TechSmith, Snagit is premium screen recorder software that can download at a one-time cost of $49.95. Combining some of the best editing features; it is easy to use software to record the desktop.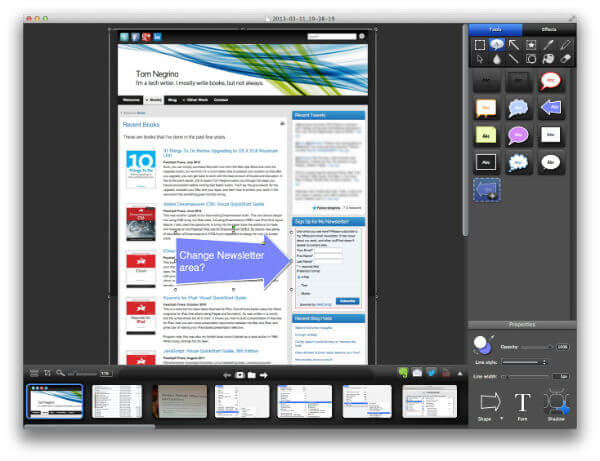 The recorded video is saved in MP4 format and comes with a large 1 GB file limit. After doing the recording, you can send the video to any suitable application service offering a great level of reliability.
The TechSmith-built app can capture stills. It has a lineup of annotation tools available for both stills and videos. It lets users use its picture-in-picture mode to record webcam feed as well. It isn't that powerful as Camtasia but hey, remember that it is a screen recorder tool for Mac OS and not a video editing software.
There's scrolling screenshot capture mode which I haven't seen in any of the tools listed here. Finally, it supports multiple file-formats including GIFs if needed. There's a 15-days free trial available for Mac OS users but proceeding further, you would need to subscribe to its premium plan.
Key Features: All-in-One Capture | Scrolling Screen Capture |Trim Video Clips | Animated GIFs | Annotation
Download from Website: Snagit
Camtasia
Camtasia 2 is one of the most famous and professional screen recording software for Mac OS and is offered for a price of $99. With the extensive layout, the user can make smooth editing and mix on the recorded video.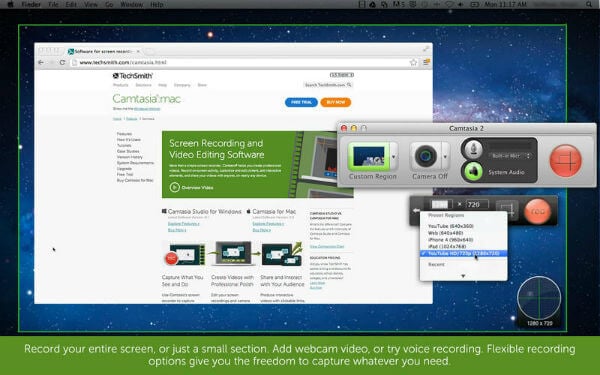 Add titles, annotations, transitions, and panning animations on the recorded movie to increase the effect of the video. The tools of the software are huge time savers for the people who record screen regularly.
It is one of the most powerful video editing tools available on Mac with screen recording capabilities. You can add special effects, annotate in real-time, and more. It lets you record screens with picture-in-picture so you can use the webcam feed with the screen recording.
All-in-all, the app is a bit expensive. No need to pay upfront, you can always use its 30-days guarantee that makes it a much-wanted tool you can use. Other features include animated GIFs, step tools, smart move, combine images, and others.
Key Features: Easy to use | Powerful video editing tools | Supports large video files | Picture-in-picture mode | Annotation tools
Download from Website: Camtasia
Screen Record Studio HD
It is a professional screen recording software that can be purchased for $4.99. Screen Record Studio supplies some good text and image logos along with a screen recording feature. The people can mix two audio sources and add mouse click animation along with the click count. You can record for a particular time by setting a timer for recording. The software can only record for only 120 seconds.
You can either select the whole screen, a custom area, or a single window and the app will take care of the rest. It hides desktop icons if you are shooting something on a desktop. It is equipped with professional-grade features like recording online audio, computer audio, system sound, or audio input device.
Launch the app, select the video format, frame rate, audio source, area to capture and you are good to go. You can trim unwanted parts from the recording videos and compress it to take less space than before.
Key Features: Mouse click animation | Timer for recording | System & mic audio recording
Download from Apple Store
AV Recorder & Screen Capture
AV Recorder & Screen Capture allows you to capture everything and anything on your screen. It offers a max resolution of 2800 by 1800 for recording video. Make gameplay tutorial with its perfect FPS option and auto-stop recording at a fixed time. If you want to shorten the recording then you can trim the video easily from the software. The recording software is offered to people at a cost of $9.99. The sharing of videos can be done online with ease.
The software offers a plethora of features on-board such as you can select areas to capture and source of sound whether it is a system or microphone or sound or both. There's a customized text logo or image available with the video that you can use as a watermark. The app doesn't withhold or limits on the length of the recording so that's a relief. You can expect the recorded video in various formats i.e. MP4, MOV, and others.
Key Features: 2K video recording | Mix system & mic sound | Trim recorded videos | Perfect FPS
Download from Apple Store
Capto Screen Capture
Bring out the creativity present in you by capturing informative and compelling videos with Capto Screen Capture. Record your entire screen or selected portions in Full HD at 60 FPS with clear audio. You can also record your emotions during the screen recording process with the system's camera or through an external recording device.
The powerful video editing suite of the tool gives you all the features to make the recorded video better. The file manager of the tool offers easy storage as well as retrieval of the projects. Just sort the recorded videos with inefficiently labeled folders that are customizable in every manner.
Capto gives you an upper hand when it comes to screen recording with features like image editing with annotations, smart collection folder. There is a tonne of tools under video editing which include trim, crop, join, cut, and other features. You can record both system and mic audio promising to be of crystal clear quality.
It has an excellent track control feature to adjust the sounds from both the channels for a professional-grade video recording. There are a bunch of other features including screenshot capture, server sharing for direct uploads to cloud services, and FTP/SFTP channels.
Key Features: Regional & fullscreen recording | Instant sharing to popular platforms | Annotation tools | Audio recording & editing | Timed recording
Download from Mac App Store
Screen Recorder Movavi
Get the unique possibility for capturing the screen in high quality with Movavi Screen Recorder. You can easily capture the gameplay, video as well as audio streams through the tool available for the purpose. Capture the movement of the mouse along with the keyboard actions for recording a tutorial or how to do video in a better way.
Coming with an automatic monitor area, the recorder can be adjusted into any specific manner preferred by you. You can add system alerts, keyboard types, cursors types as well as custom sounds on clicks. The tool also comes with a timer allowing you to add a timer and relax on your chair, while recording is going on its own.
Other features include custom click sounds, multimedia effects like cursor highlights, system alerts. There are endless possibilities with Screen Recorder Movavi so do check it out asap.
Key Features: Automatic monitor frame | Supports various video formats | Multimedia effects
Download from Mac App Store
Screen Recorder Pro
Record the screen of your Mac at 30 frames to 60 frames per second with optimum performance result through Screen Recorder Pro. Choose to record the computer audio or record it from the internet, app, or any game. With custom scaling, you can easily scale down the recorded video to get the necessary result in the video.
Compress the video after the recording process to make it small for uploading on social networking sites. Record the screen with no time limit and save the file in MOV or MP4 format. With the tool, you can add mouse click animation with your logo as well as your signature to the recorded video.
You can add mouse click animations in the videos if you want. It is available at just $5.99 that lets you do a number of tasks with this all-in-one handy and a lightweight screen recorder for Mac.
Key Features: Custom scaling | Screenshot capture | Picture-in-picture mode for webcam | No limit on recordings
Download from Mac App Store
Related: Best Wireless Headphones for iPhone 7 to Replace Apple Airpods
Perhaps the most prominent use of Mac Screen Recording Software is for showing off the solution to a system problem and upload on Youtube. When you use the screen recorder software for Mac, rather than just recording the screen, you may have a bunch of features that will improve productivity.
These features include audio recording, selected window recording, etc. The screen recorder software available in different names 'screen capturing' or 'screen recording' or 'desktop recording,' they all are doing the same job with some additional features like point zooming, area highlighting, video subtitle, etc.
With these top pick Mac Screen Recorder software, you can easily make screencast videos, make tutorials more explanative and clear. You can choose the best screen recorder from the paid or free ones in order to have the features as well as the characteristics needed to make a great tutorial video.