Linux-based operating systems are mostly used by developers, thus they don't usually come with media players or music players. While some Linux distros like Ubuntu and Linux Mint have their media players, others don't. You need to install a Linux media player on your Linux/Ubuntu computer to play movies and music, but you may not find the best one suited for your needs.
Here we listed out some of the best media players for Linux computers.
VLC Media Player for Linux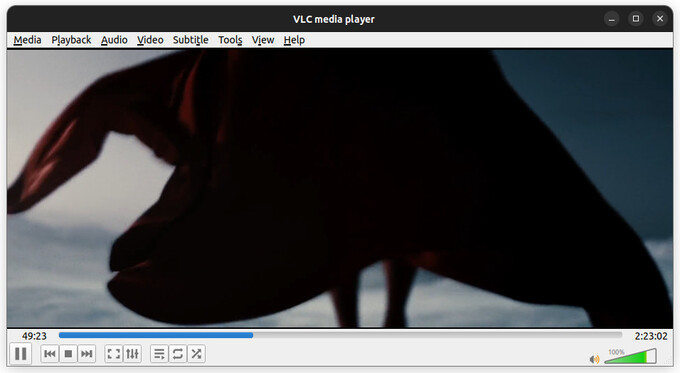 VLC Media Player needs no introduction. On the desktop, it doesn't matter if you're using Linux, Windows, or Mac, VLC Media Player has been the undisputed king. VLC is easily the best Linux video player, but it also plays audio files. It even supports playlists, although it's not really the best music player app.
The best feature that really propelled the VLC media player in the early days was its ability to apparently play every single media format that exists. Even paid media player apps that advertise how many video formats they support sometimes can't beat VLC. And this extensive playback support is also extended to the audio side of things.
VLC Media Player is as easy to use as it can be. It still hides many advanced features in the menus such as audio/video filters, the ability to set a video as the wallpaper, etc. Like everyone's favorite music player of yore, Winamp, VLC also supports custom skins. Despite all the features, VLC Media Player is free and open source.
On Ubuntu and its derivatives, you can also simply install VLC from the Software Center (or its equivalent). Alternatively, you can also use the following command in a terminal:
sudo apt install vlc
Pros
Free and open source

Built-in codecs
Customizable UI
Wide formats support
Download: VLC Media Player for Linux (Free)
Related: 10 Popular Windows Apps for Linux Users
GNOME Videos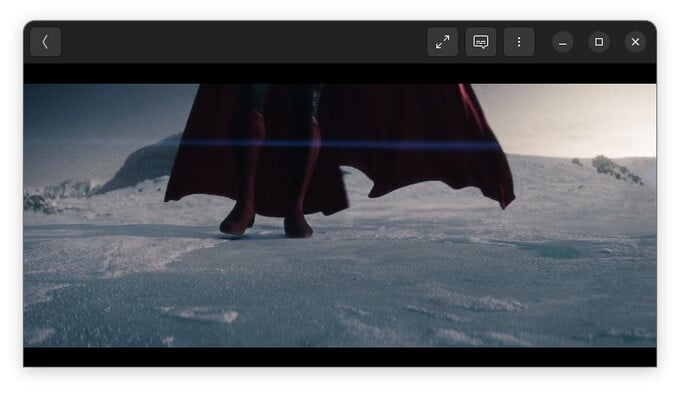 GNOME Videos, in many ways, is the opposite of VLC, at least in terms of design. VLC Media Player's interface is very Windows 7, heavy with the menus and the mostly empty bottom control panel. GNOME Videos adopts GNOME's minimal design philosophy. It's definitely one of the best choices if you're using GNOME desktop. It does ship as the default video player with GNOME desktop.
GNOME Videos supports every major format, but still not as many as VLC. While it does prioritize a minimal UI, it's not the most minimal Linux video player. There are a decent amount of features as well, including the ability to increase or decrease playback speed.
Most stock apps on any platform are decent, but not good enough for many people. But if your video needs aren't too advanced, GNOME Videos is enough to keep you satisfied. In my own personal experience with GNOME desktop and GNOME Videos, many times I even forget to install VLC Media Player for months before I finally run into a situation where I need it.
Pros
Minimal, modern interface
Decent feature set
Default video player on GNOME desktops
Download: GNOME Videos (Free)
Clementine Music Player for Linux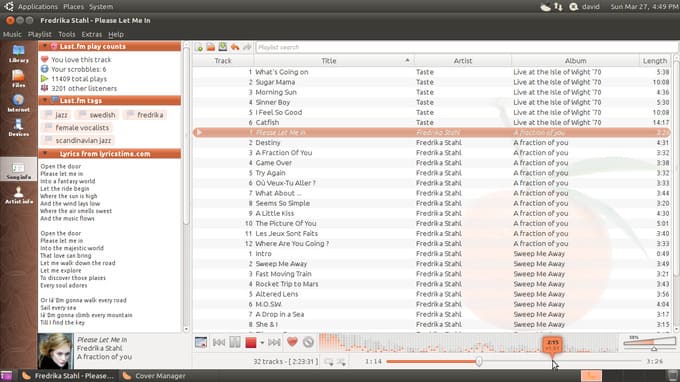 Clementine is perhaps the most advanced audio player on Linux. But at the same time, the interface looks dated, and a bit convoluted for modern times. If you don't mind the older, traditional interface, Clementine has a lot to offer.
Among other things, it lets you customize the interface for the most part, and it also supports skins. You will not find another music player on Linux that packs in as many features as Clementine. From the ability to edit meta tags and fetch missing tags from MusicBrainz.
It even supports streaming radio from Spotify, Grooveshark, SomaFM, Magnatune, Jamendo, SKY.fm, Digitally Imported, JAZZRADIO.com, Soundcloud, Icecast and Subsonic servers. In addition to that, it lets you play songs from your cloud storage service of choice. Currently, it supports Box, Dropbox, Google Drive, and OneDrive.
Pros
Customizable UI

Fetch Lyrics and Music info
Supports Spotify and other streaming
Play songs from cloud storage
Cons
Not very user-friendly
Complex interface
Download: Clementine Music Player (Free)
Related: How to Install Facebook Messenger on Ubuntu and Other Linux Distros
Deepin Movie Player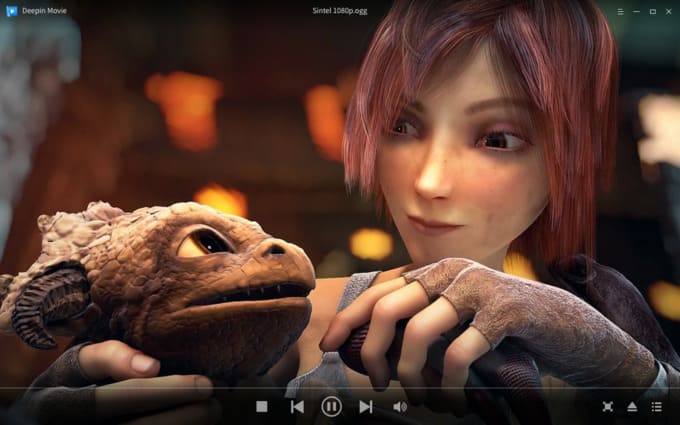 Deepin Movie is the default Linux video player that ships with the Deepin desktop. While there are some Linux media players that focus on having a minimal design, none does it like Deepin. Deepin has a much more modern looking interface than any other media players for Linux. The video beautifully stretches all the way into the title bar, and all the controls have translucent backgrounds.
The iconography can perhaps be made to look more modern still. Deepin Movie for Linux is not big on features, however, it does have all the basic features you'd want in a media player. This includes the ability to create and manage playlists.
Unfortunately, Deepin Movie is not as widely available as some other options on this list. You can download the source code and compile it if you're into that. On Ubuntu and its derivatives, you can even find it in the Software Center. Alternatively, you can also use the following command to install it.
sudo apt install deepin-movie
Pros
Modern and minimal interface
Cons
No built-in codecs
Basic functionality
Download: Deepin Movie (Free)
MPV Player for Linux
MPV Player is another video player for Linux that prioritizes minimal UI. When you're playing the video, the only UI you see is the title bar and nothing else. The controls are automatically hidden like any modern media player.
While the interface is minimal and transparent, it does not look very modern. MPV player for Linux also manages to include all the basic features you expect. Among the more advanced features is the ability to play YouTube videos. That, however, requires using CLI (command line interface).
On Ubuntu, and other distros based on Ubuntu, you can install MPV directly or using the command: sudo apt install mpv
Pros
Minimalist interface
YouTube videos via CLI
Cons
No built-in codecs
Basic functionality
Download: MPV Player (Free)
Related: How to Install WhatsApp for Linux on Ubuntu and Linux Computers
Lollypop Music Player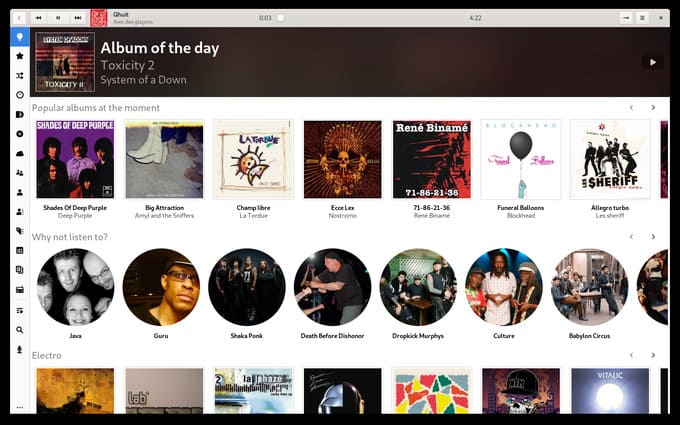 Lollypop is a basic music player app from GNOME. It looks beautiful and modern, and it barely takes up much space on your hard drive. It supports multiple audio formats such as MP3, MP4, FLAC, and OGG Vorbis. There are several browsing options from album covers, artists and music genre. Other features include a built-in search, party mode, album art downloader, and much more.
It complies with the Gnome Human Interface Guidelines and looks right at home on the GNOME desktop. It still works just as intended on any other Linux desktop environment.
To install Lollypop on Ubuntu, or other Linux distros, use the following commands in a Terminal, or use the link below:
sudo add-apt-repository ppa:gnumdk/lollypop
sudo apt-get update
sudo apt-get install lollypop
Pros
Minimal interface
Supports major audio formats
Intuitive
Download: Lollypop (Free)
Haruna Video Player
Haruna is one of the few media players for Linux that are QT-based. That also means it follows the KDE Plasma design language rather than GNOME or Windows. The interface is definitely the opposite of minimal but it does look more modern than some other options on this list.
Haruna can even let you play YouTube videos directly in it, without having to resort to a command-line interface. Other features include the ability to control playback speed, control with keyboard shortcuts, hardware decoding, primary and secondary subtitles, etc.
Haruna supports all the major video formats and includes a built-in screenshot option. The interface is also customizable to some extent.
Pros
QT-based
Wide media formats support
Configurable UI
Extensive keyboard shortcuts
YouTube video streaming
Download: Haruna Video Player (Free)
Related: How to Install DEB File on Ubuntu and Linux Distros
Banshee Media Player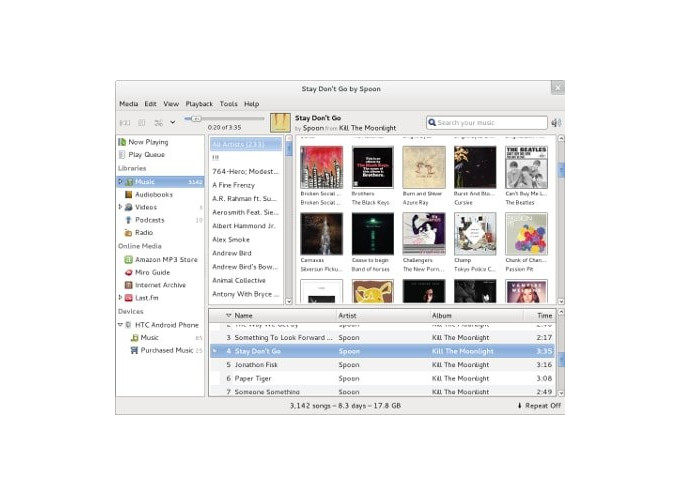 Banshee used to be a default app on Ubuntu 11.04 and 11.10. It's designed to be a music player, but it can also play videos. Banshee is also a great media player choice for podcasts and radio. You can also discover and subscribe to podcasts.
Banshee is completely free and open-source, and also available as a portable app to take with you wherever you go. It can also sync media between your devices, which is a very important feature these days. Other features include smart shuffle, automatic cover art fetching, search, playlists, etc.
On Ubuntu and its derivatives, you can use the following commands to install it:
sudo add-apt-repository ppa:banshee-team/ppa
sudo apt-get update
sudo apt install banshee
Pros
Discover and subscribe to podcasts
Buy new music from Amazon
Sync media between devices
Automatic cover art fetching
Download: Banshee (Free)
Elisa Music Player for Linux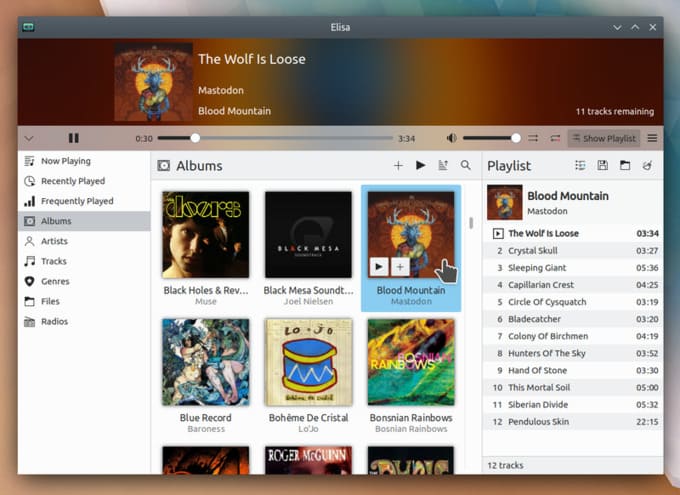 Elisa is a Qt-based music player app developed by the KDE team for the KDE Plasma desktop. Interestingly, Elisa is a lightweight app that does not offer a ton of features and flexibility like most KDE apps. The interface looks modern and unique.
Elisa allows you to browse your music by album, Artists, Songs, Genres, or even the file location on your system. Radios are also supported, as well as playlist management. As already mentioned, this is a lightweight app and isn't packed with a ton of features. The feature set is still decent and a bit more than just the basics.
While Elisa was designed for the KDE desktop, it works just as fine on any other desktop environment.
It's already included in the Ubuntu repositories and, as such, is available directly from the Ubuntu Software Center. You can also install it with a simple command: sudo apt install elisa
Pros
Simple and aesthetic interface
Qt-based
Online radio
Download: Elisa Music Player (Free)
Related: 4 Best Ways You Can Install Any Apps and Software on Ubuntu
This list isn't even scratching the surface of all the media players for Linux. But this isn't a list of all the media players, but rather the best ones. Still, there are far too many contenders and not everyone might agree with every choice on this list. Do you think we missed your favorite video player for Linux that deserves to be here? Let us know in the comments.