WhatsApp even has desktop apps for Windows and Mac. If you're using Linux, though, tough luck. WhatsApp does not offer a native Linux app. You can, however, still install WhatsApp for Linux on Ubuntu and other Linux distributions as well.
In this article, let's see some working methods for installing WhatsApp on Linux and Ubuntu.
Install WhatsApp on Linux/Ubuntu via Snap
Although WhatsApp does not have an official app for Linux users, there are many third-party clients that can do the jobs quite well. The best native WhatsApp for Linux is called WhatsDesk, and it's obviously not made by WhatsApp.
WhatsDesk is a container that simply opens WhatsApp Web in a window, like an app. It also adds some native app features such as the ability to stay on in the background, notifications, and more.
WhatsDesk is available for all Linux distributions in the form of a snap package. So, as long as you have Snap set up on your Linux system, you can install WhatsDesk with a single command. If you're using Ubuntu, here is how to install WhatsApp on Ubuntu using Snap.

Open the Terminal app. You can press Ctrl + Alt + T to do it.
Type or copy and paste this command into the terminal: sudo snap install whatsdesk
Press Enter and type your password, then press Enter again.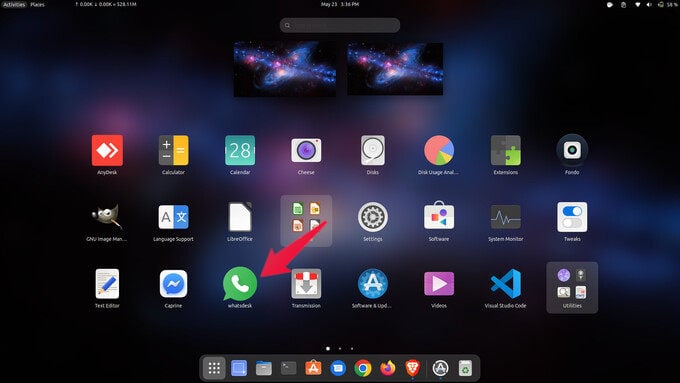 Snap will download and install WhatsDesk on your system, and when it's done you can find the app on your app launcher. Double click the icon to open WhatsDesk and sign in with WhatsApp Web on your Linux PC.
Related: 4 Best Ways You Can Install Any Apps and Software on Ubuntu
Install WhatsApp from Chrome
If you prefer not to install a full-blown app, you can just use your web browser. If you're using Chrome like the rest of the world, you can simply install the web app version of WhatsApp on Linux as an app.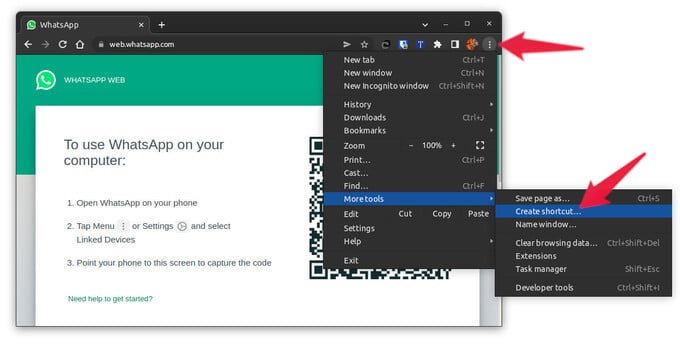 Launch Google Chrome and visit web.whatsapp.com.
Click on the three-dot menu button to open the menu.
Go to More tools > Create shortcut…
Check Open as new window and click Create.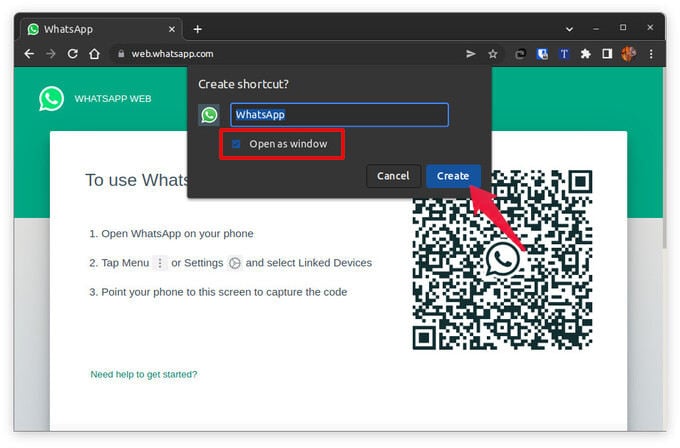 As before, you can now find WhatsApp in your app launcher and launch it from there like you would a regular app. It even opens up in its own window and not as a Chrome tab.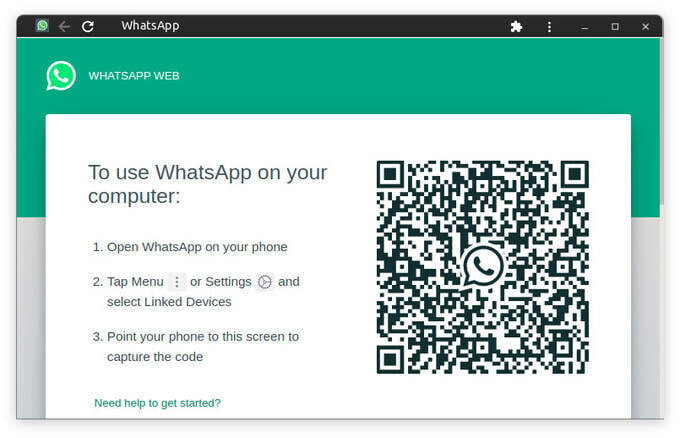 The WhatsApp web app created this way is still just the web app in a browser. It doesn't offer any native desktop app features. If you want, though, you can turn on notifications for WhatsApp in Chrome. To do that, click on the three-dot menu button and go to Settings.

From there, go to Privacy and Security and click View permissions and data stored across sites under Recent activity. Find and click on web.whatsapp.com and then select Allow from the drop-down next to Notifications.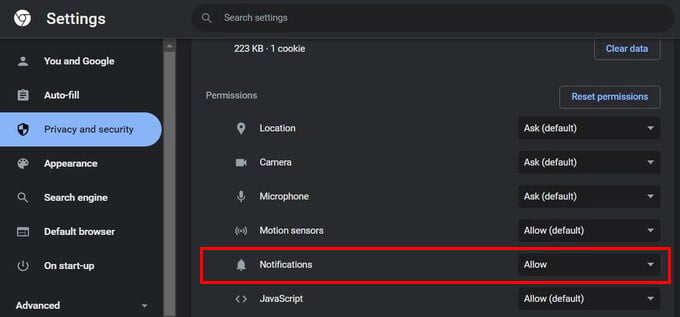 Related: How to Get Gmail Notifications on Desktop Without Any Email Clients
FAQ: Install WhatsApp on Ubuntu or Linux
Can I install WhatsApp on Linux Mint?
WhatsApp does not have an official client for Linux, but you can install an unofficial WhatsApp client for Linux called WhatsDesk. On Linux Mint, that requires installing Snap, after which you can install WhatsDesk using the following command.
sudo snap install whatsdesk
Is there WhatsApp for Ubuntu?
WhatsApp has official desktop clients for Windows and macOS, but not for Linux. However, there are a few community-created web wrapper apps that bring WhatsApp web as a native desktop app for Linux.
Can I use WhatsApp on Linux?
WhatsApp is supposed to be a cross-platform instant messaging service, and for the most part, it is. It has apps for Android, iOS, Windows, and macOS, but there is no official desktop client for Linux. So, can you still use WhatsApp on Linux? Technically, yes you can because WhatsApp is also available as a web app that runs in a browser, which Linux does have.
With these ways, you can have an unofficial WhatsApp Desktop on your Linux or Ubuntu computer. Check out how to install Facebook Messenger on Linux if that interests you.