Even though most mobile network companies have unlimited data plans, they might not be accessible to everyone. Moreover, there are still some carriers in many parts of the world that don't offer unlimited data plans at all. Not only that, but data transfer speed is also an important factor. Android's data saver mode can come in handy.
If you have many apps constantly running in the background to sync or download things, you might find yourself hitting your data limits quite fast. This also results in poor battery life and, in some cases, can cause your phone to heat in your pocket.
Turn on Data Saver Mode on Android
Data saver mode can be turned on from the settings, as well as from a toggle in the quick settings. You won't see the quick settings toggle by default, however.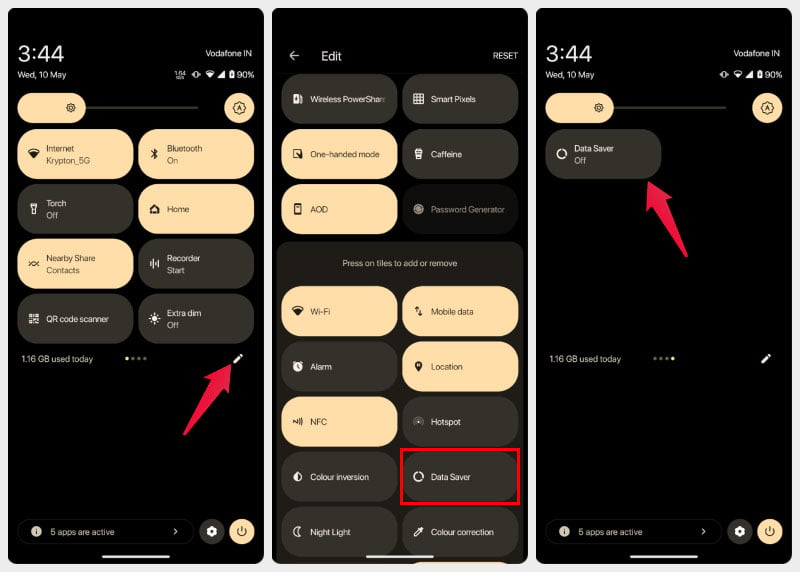 Swipe down from the top of your screen twice to get to the quick settings panel.
Tap in the edit button, which has a pencil icon.
Scroll down until you find the Data Saver toggle, and drag it up to your active toggles.
Go back to save the changes.
From now on, all you have to do to enable Data Saver mode on Android is to pull down the quick settings panel and tap on the Data Saver toggle. If you don't think you will be toggling it off again, you don't really need to add the quick toggle.
Pixel 7A: 10 Must-Have Accessories and Cases for the Pixel 7A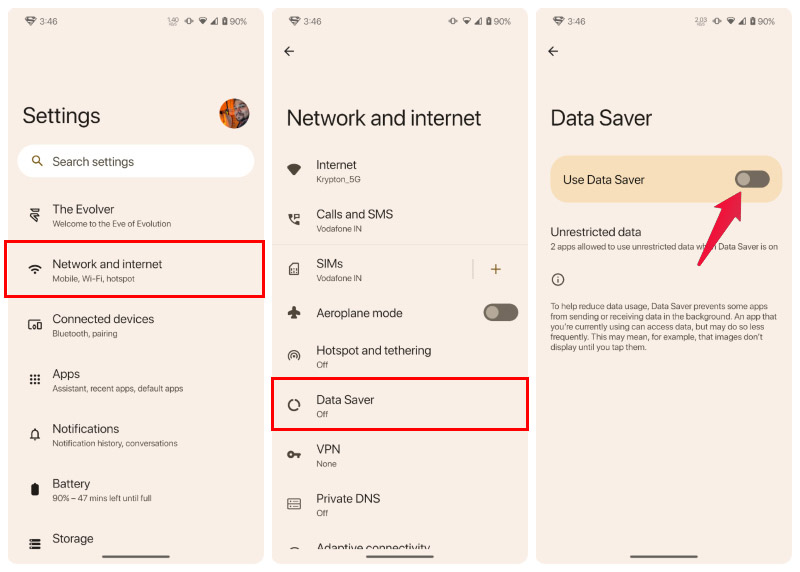 Open Settings.
Go to Network and Internet.
Select Data Saver.
Turn on the toggle next to Use Data Saver.
Allow Apps To Access the Internet While Data Saver is on
You may want to allow some app's data access while the data saver is on. Essential apps, such as email, instant messaging apps, etc., would need background data access to function. And it would be a good idea to provide it to them because what's a smartphone if it can't even notify you about new emails?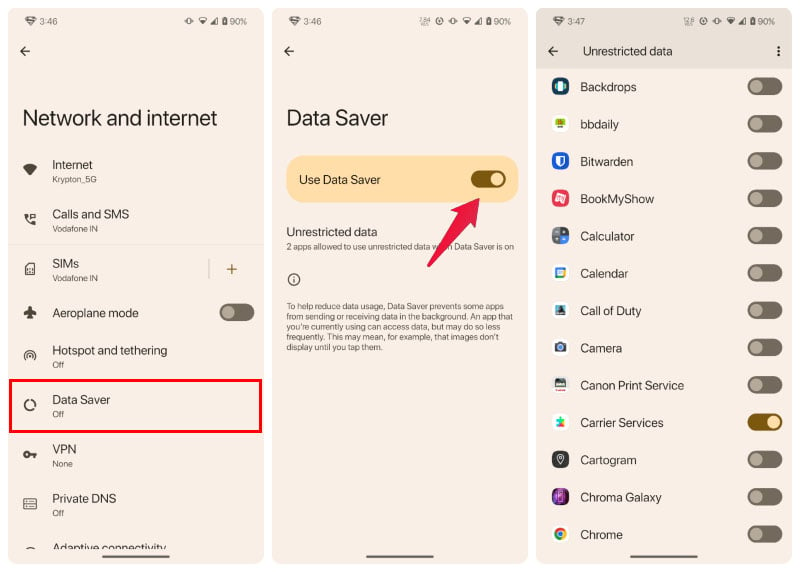 Go to Settings > Network and Internet> Data saver.
Tap on Unrestricted data.
Find and turn on the toggle next to apps that you would like to get notifications from.
Surf in Style: Best 5 Web Browsers for Your Android TV!
What is Data Saver Mode?
Data saver mode on was introduced on Android 7.0 Nougat, in 2017, as a result of Google's endeavors with the "Google for India" program. Under this, Google put efforts into solving some very Indian problems, which, as it turned out, were also applicable all over the world. Today, the situation in many countries, including India, has changed a lot. But the data saver mode on Android is still a useful feature.
Essentially, it limits the amount of data installed apps can use in the background if it isn't obvious. And there are various ways it achieves this because there are various ways your phone consumes your mobile data. For instance, if your phone is connected to a slow Wi-Fi network or if the network keeps dropping, etc., it will switch to mobile data. This is a feature, not a bug, but when you don't have high-speed unlimited data, this absolutely is a problem.
Similarly, video streaming and even instant messaging apps can consume plenty of data in the background, depending on what is being instant messaged. When you turn on data saver mode on Android, background access to your precious data is restricted. So, unless you open an app, it cannot connect to the internet. As a result, you won't get your instant messages until you open the app. Fortunately, you can also allow certain apps to bypass this restriction.
But the good news is that not only will you be saving data, but also increase the battery life you get out of your device.