Running a business and not listing it on the internet or Goole Business is not a good idea to grow your venture further. Google local business listing feature lets anyone add their own business in the search result. Your local business could attract more people, tourists when they search for the similar category shops nearby. So, being on the top of the list is what you should achieve in order to get attention and more visitors from the search result.
Here are a quick guide and some tips to list your business on Google search result and bring it up on the top of the list.
How to List your Business in Google My Business
Google provides a free business listing feature. You can claim a Google local business listing to add your own business, shop or any other firms on the map. Next time someone searches for some shops nearby or scrolls through the Google Map, your business will be visible amongst others. This could drive more customers into your business. There is no paid option in the service, so it is completely free. All you need is to verify your address through a mail verification process. Check out how to add and verify your business.
Go to Google My Business page.
Sign in using your Google Account.
From the Manage Locations tab, you will be able to see your previously listed stores. It will be empty if you are there for the first time. Either way, click on the Add location button on the top.

Provide the name of your business/company and click Next.
Enter your exact street address and location details including ZIP code.
Check the "I deliver goods and services to my customers" if you deliver goods so that people can order things through Google itself.

Click on Next and choose your precise location from the Maps.
Choose the business category from the list and navigate to the next page.
Provide your contact number to get phone calls from customers. You can also add our website URL. If you do not have one, you can also choose to get a free website generated based on your business information.

Verify your information listing and click Finish to jump to the next step.
Choose the method to verify your business address. In most cases, it is the verification by postcard mail. You can also choose to verify later. There are also some alternate methods you can choose to verify your business. They are available for a few business types only. So, in most cases (especially for local businesses), verify by mail is mandatory. Here are some other ways limited to a few types.

Verify by SMS Code on your mobile number.
Email verification.
Instantly verify and list a business (mostly for personal types).
Bulk verification using an Excel file.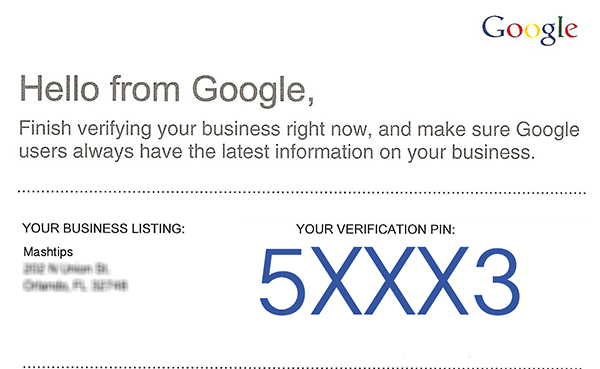 The above image is an example of how your verification mail (when you choose to verify by Email) looks like. The postcard reaches the user within 10-12 days if you get a manual mail verification.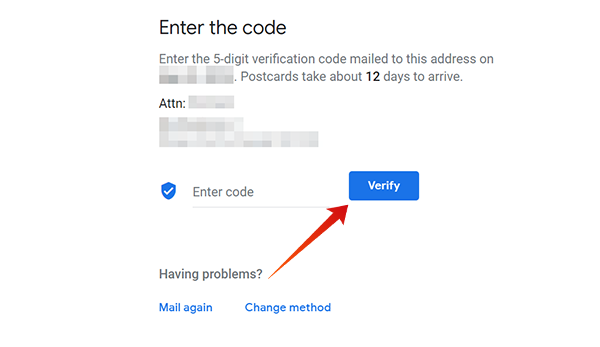 When you receive an enclosed letter, open it and enter the verification code to the verification field on your Google business dashboard.
Related: How to Create the Google Forms Online for your Business?
How to Add More Business Details About your Business
After finishing the step, you will be redirected to your business dashboard. You can add or edit more details regarding your business listing. It is a must to enter the entire details to get more customers and rank better on the local listing.
Click on Info tab on the left pane in Google My Business dashboard.
Tap on Add hours and enter your working time frames, including the holiday schedules.
Add a business description in detail.
If you have not started your business, add the Opening date. Otherwise, leave it blank.
Click on Add photos and upload images of your business. There are options for adding pictures of each section of your firm including interior, exterior, team, identity, workspace, etc. Adding at least a profile and cover pictures will help others to know a little about your business.
You can also change the company name and category in the listing. However, it will take up to 10 days to reflect the changes to the public.
Click on Users to add admins or owners to manage the business listing on Google Local Search.
If your business is pending verification, you might not be able to find it online or edit many details until it gets verified.
Also Read: WhatsApp Business: How to Register, Setup & Use Features for Business?
How to Claim a Googe Local Business Listing?
Do you see your business on Google Search without you applying for it? Maybe someone could have done it before you. The business must be in your account in order to make changes to the listing, add images, updates, etc. If you see your business in such a state, you need to claim it to your own to get the access. Here is how to claim Google Local Business Listing.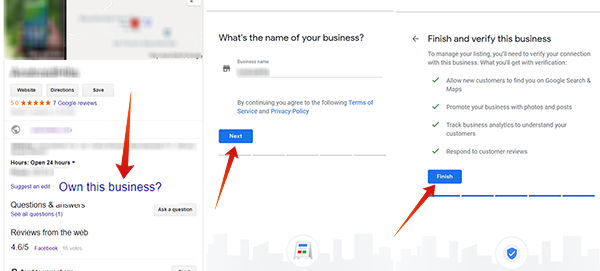 Search for your business on Google.
Choose your business and click on "Own this business?."
Provide the correct information and location details.
Submit your claim application and wait to receive the verification mail.
Also Read: 4 Best Fax Apps to Send and Receive Fax for Android
How to Rank in Top List of Google Local Business Result
The new war on the internet is to get ranked at the top with a great SEO (Search Engine Optimization) strategy. You need to work well on your business listing, as much as you work on to bring your websites forward, to get attention. Google itself provides many options to make your listing look better and attractive to the customers. Check out how to raise your local business' visibility on the internet and eventually rank in Google local business results;
Enter correct & complete info: Provide the complete details about your business. Businesses with advanced details, opening hours, and enough photos seem to tend to be in the first positions. Also, add the services your business provides from the info page.
Reviews: Google allows customers to review your business after the check-in. The best thing you can do to get positive reviews and five-star ratings is to serve your customers greatly. The better you serve them, the better your reviews will. However, you can also ask your friends to review your business on Google listing. Having a few positive reviews might urge other users to rate well. The popularity can be summed by the number of reviews.

Create posts: Google My Business (GMB) supports custom postings. This is like some social media posts or tweets. You can add whatever on the behalf of your business and list it under your business. Having some posts along with your business name is a great way to make your business look like a big one. You can create posts with text, images, videos from your Google My Business dashboard. The post type can be updates, offers, event list, offers, catalogs, etc.

Updates & suggestions: In most cases, Google itself finds some extra details about your business and related services through user surveys and all. The business owner gets receives the timely updates and suggestions. Go to the dashboard and click on GMB Classic to find the Google Suggestions feature. You can find the suggestions and add them to your business.

Messaging: Apart from the calling and website options, the GMB now adds a new feature which lets users text message the business owners. The option is available under the Messaging section and you need to enable it manually. You can either provide the default number or add an extra messaging number to contact. In normal cases, user queries will be directed to you through SMS. Or else, you can choose to get messages through Google Allo messaging app.

Answer all queries and reviews: Another big way to achieve popularity and SEO is to answer every user related queries. Always stick with your Google business updates notifications. Whenever a question is asked or a review is published, you need to reply immediately in order to make a positive influence on customers and Google's algorithm.

Advertise: Google Adwords advertising is a great paid way to create some public attention to your business. You need to run paid campaigns from AdWords in order to get reach. You can set intended actions for advertising so that the like-minded people could reach you easily.
Add a virtual tour: Google's new virtual tour, similar to the Google Stree View is a highly suggested add-on feature for your Business to increase the rating and ranking. It only takes a 360-degree virtual image of your business to set up the virtual tour. Google promises the enhancement in your business' visibility on search results.
Add an action button: If you run a business type that accepts the booking, you can add an action button to receive order, bookings, and appointments through Google. Options for adding a button will be visible in the dashboard home page.

Insights: The most important factor which you need to keep your eyes on every time is the insights. It shows you the complete data of your firm's visibility in search, discoverability by the local people, etc. You can make some conclusions with the chart and make improvements to your listing.
Before just jumping into all the steps, make sure that you have added all the relevant details and nothing inappropriate. The visibility in results also depends on the location your business is located in.
Related: Gmail Money Transfer: A Complete Guide to Transfer Money with Email
How to Delete your Business from Google Business Listing
In case you want to make your business as permanently closed or want to delete the profile itself, go through the following steps.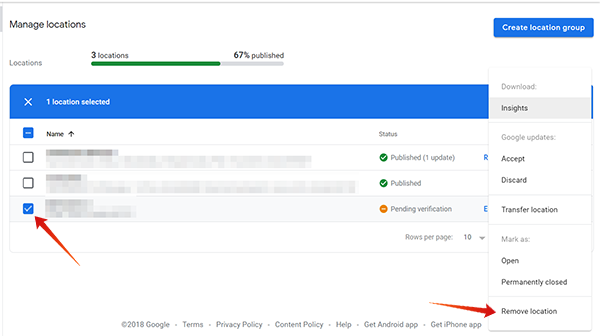 Go to Google My Business homepage.
Check the businesses you want to bulk remove.
Click on Actions button at the top.
Click on Permanently Closed if you want to retain the profile even after you closed it.
In case you want to remove the listing, click on Remove Location and confirm the deletion.
How to Manage your Business Profile Later
You can still use the web-based dashboard from Google My Business to get insights, make updates and create posts. For easier handling, it is better to use Android or iOS app for Google My Business. There is also an active forum by Google to help you with troubles and difficulties.
Show up in Google Business Ranking is definitely going to bring more clients. However, you can't make your business list on top of Google Business search result by overnight. It will take some time and need additional efforts. We hope this article brings you some insights to jump into the process and bring up your business on top of the Google Business Search Results.