Now you can convert your selfies to GIFs and sticker on Android phone. Your own face stickers and GIFs make your messages unique and easy choice to grab attention. As you know, Android has seen a surge in the number of keyboard apps for selfie stickers, emojis, GIFs and moving GIFs. Once you make these selfie sticker and GIFs with the Android phone, you can use these GIFs with any chat apps. Let us see how to create Selfie Stickers and GIFs with your own picture and send to your friends.
Set Android Keyboard for GIF and Stickers
We are going to use the free keyboard App Bobble Keyboard from PlayStore. This free Android keyboard Bobble keyboard is bringing a lot of features like personalized GIFs, Stickers, emojis, and memes where you can insert your own face.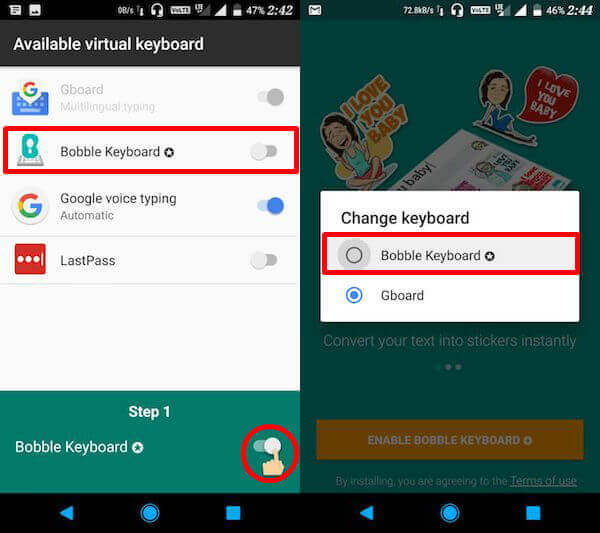 We are not going more details for installing the app, just like other Android keyboard apps, you have to select and turn on Bobble keyboard from the available virtual keyboard on Android settings. You may get the keyboard selection option while installing the app on Android depends on your phone.
Also read: An Ultimate Guide to Use and Create WhatsApp Stickers
Prepare your Face for Sticker& GIFs
To create your own face stickers, you can depend on your Android phone front camera or get the image from the photo library. To start, open the Bobble Keyboard App–>> select the ADD MY FACE TO STICKER  button to launch the camera.And for the best results, adjust the position in such a way that a straight up image of your face is taken.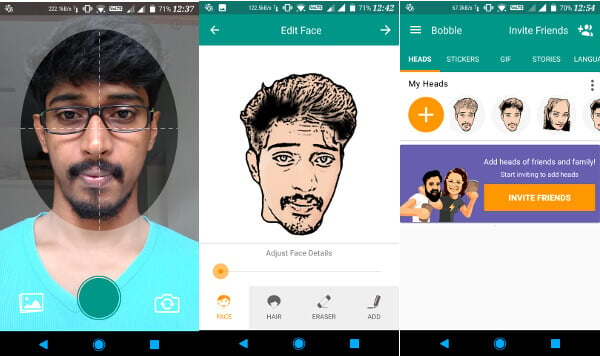 You can proceed to fine tune the sticker according to your wish according to the option of Hair darkness, Adding and Erasing portions from the processed image. The added faces can be accessed from the Heads menu in the app.
Related: Best GIF Creator App for Android and iPhone 
Send Selfie GIFs WhatsApp Stickers on Android
As you can see from the below screenshot there are two ways by which one can share them in WhatsApp and other messaging apps: Directly in the chatbox, using the respective Sticker and GIF icons on the keyboard or through the sharing option in the main app.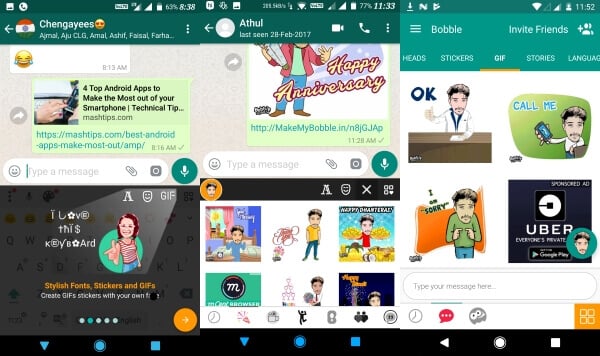 A tap on the available stickers and GIFs in the Bobble keyboard app will initiate the sharing option or a Double tap to save it to the gallery. From there select WhatsApp or any other messaging app and then select the specific contact to share the content.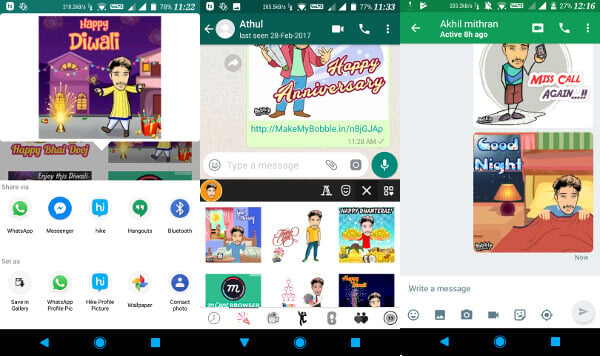 Most would prefer the option of sending it through the chat option itself as it is much easier. To do this, first enable the one tap sharing by going to the access permissions and allowing the permission for Bobble keyboard. Now when you are in the middle of a conversation all that you have to do is to tap on the needed sticker or GIF to send it and save time on additional steps.
Send Selfie GIFs WhatsApp Stickers on iPhone
They also have a native iOS Booble Keyboard Sticker app which contains almost all the features of the Android version. To start with iPhone, install this free app from iTunes. Go to iPhone Settings > General > Keyboards > Keyboards > Add New Keyboard > Select Keyboard > Allow Full Access > Turn On.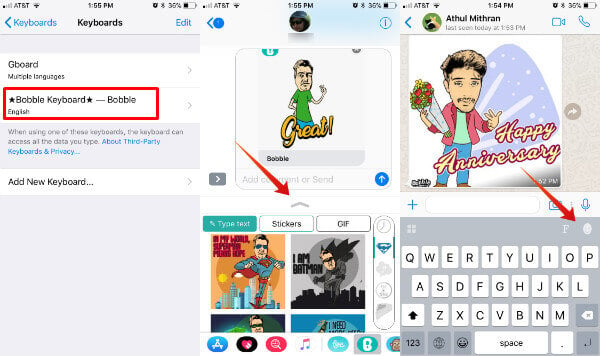 Now you are ready to use this extra keyboard with iPhone Chat Apps. When you use WhatsApp, switch keyboard to Bobble keyboard. Now you can see a face icon on the right top of the keyboard above P, tap on that icon to launch the sticker menu. You can tap on any GIF or sticker and paste on the chat window to send through WhatsApp.
iOS Messages app support GIFs and Bobble keyboard. You can tap on Bobble icon and the sticker window open for you and tap on any sticker or GIFs to send direct through iOS message app.
Also read: Best Apps to Create GIFs on iPhone
Create WhatsApp Sticker& GIFs with your Photos
WhatsApp being one of the most popular messaging apps, still does lack the feature of stickers and this where the Bobble keyboard comes in handy. The successful keyboard app can also be used in many other similar messaging apps and also have the functionality of launching your favorite apps from the keyboard panel itself. The Keyboard app themes are also available to customize the look in different ways which also includes personalized images to be used as background which brings it on par with in terms of features with the majority of the best keyboard apps for Android. Just add your selfie or your friends' images from the photo library and convert theme GIFs stickers. Have fun!