Have you been wondering how to change the font in Android? If you haven't heard it already, Android's biggest selling point according to fans is customization. Android offers many ways to change things around, from live wallpapers to themes and of course, fonts. If you want to change the font on Android, here are the best ways to do it.
Let's begin.
Change Font on Android from Settings
Some Android phones such as Samsung, Xiaomi, etc. have built-in settings that allow the option to change the font on Android. If you have one of those, just follow the steps below to see how to change the system font on Android from phone settings.
Open the Settings app on your Android phone.
Scroll down and tap on Display.
On the Display settings page, select Font style and size. On some phones, this will be labeled differently. For example, on Xiaomi phones, it's called Fonts.
Select Font style on the next page and then select and apply any font you like.
Google has not given it a thought yet, so you will not be able to change the font on Google Pixel phones anytime soon.
Install Custom Fonts on Android from Theme Store
Many Android phones have an additional Themes store, like the Play Store for apps. In the case of Samsung, it is the Galaxy Store. These offer various font styles for purchase and download. The interface of these apps is different for different manufacturers, of course. But on Oppo, Vivo, and Realme, the Theme Store is the only way to change fonts. So we will use the Theme Store for this tutorial.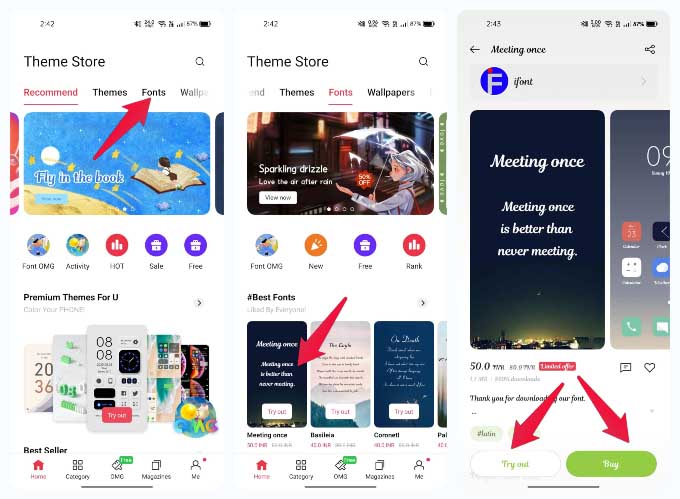 Open the Theme Store app.
Select Fonts from the tabs at the top.
Browse and select any of the fonts you like.
Tap on the Try out button.
The font is instantly downloaded and applied. If you like it, tap Buy to purchase and apply the font.
You can change and apply any font to your Android phone's system texts from such theme stores. In case your Android phone does not have an inbuilt theme or customization app, the option is not available for you yet.
Related: How to Change Font Style and Font Size on iPhone
Use Launchers to Change Home Screen Font on Android
Another way to change fonts is to simply use a different Android launcher app that does allow it. Granted, this will not change the font throughout the OS for other apps or the Settings. But your home screen is what you look at the most, so it's better than nothing.
Some popular third-party launchers on Android are Nova Launcher and Action Launcher. These do offer the ability to customize fonts. There are plenty of other options as well with similar functionality. We will use Nova Launcher for this tutorial since it is by far the most popular third-party launcher on Android.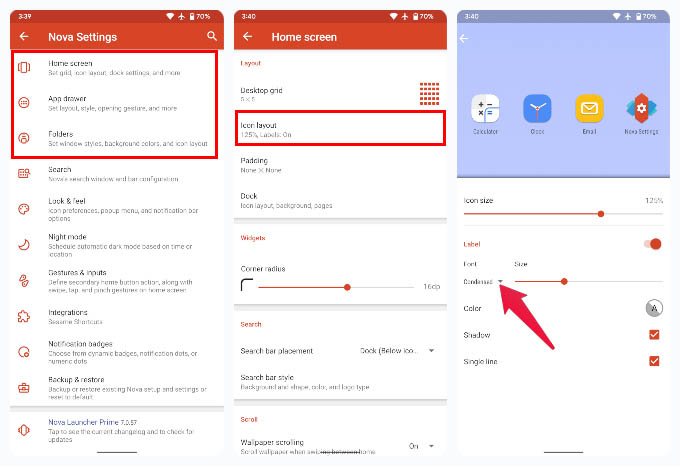 Long-press on the home screen and select Settings.
Select either the Home screen, App drawer, or Folders for which you want to change the font for.
Next, select the Icon layout.
Tap on the drop-down menu under Font and select one of the available font styles.
Nova Launcher does not offer any fancy fonts, but it does let you select from Condensed, Normal, Medium, and Light font styles. The default font used on Nova Launcher still remains Roboto.
Related: How to Enable Android Game Mode for the Best Gaming Experience
Change Font Size or Text Size on Android
While stock Android does not let you change the font style anymore, it lets you change the font or text size. Since this setting is available on stock Android itself, you can change the font size on Android phones from Google Pixel to Samsung Galaxy phones. Here is how.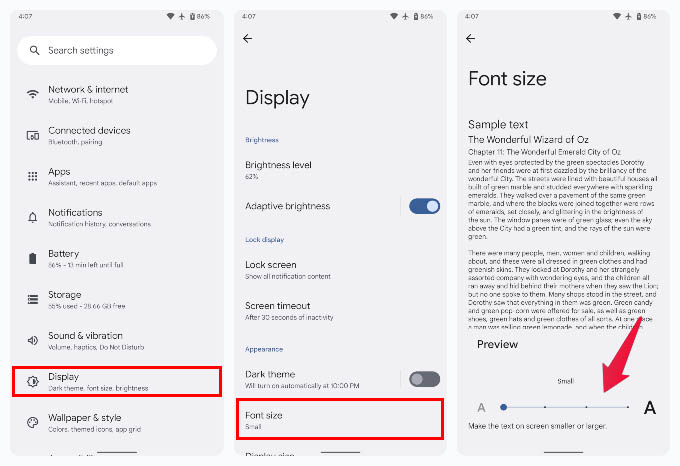 Open the Settings app.
Go to Display.
Tap on Font size.
Use the slider at the bottom to change the font size.
Android currently only offers choices between Small, Default, Large, and Largest font sizes for system fonts.
Install Font Keyboards to Change Typing Font on Android
Changing system font just changes the font of whatever you are seeing on your phone screen. It is also possible to compose text messages and emails in a different font on your Android phone.
To get and type in special fonts on your Android, you have to install font keyboards from Google Play Store. Here are some of the font keyboards that help you do this.
Use Font Apps to Change Fonts on Android
Okay, so the Android does not let you change font unless you happen to have a Samsung, Xiaomi, Oppo. But is there an app to change the font on Android? If you look at the Play Store, there are multiple apps that claim to do just that. However, unless you root your phone, there is currently no way to change the font on Android in a way that applies system-wide.
If your Android phone is rooted, you can install system font changer apps and install any custom font system-wide. Otherwise, you can keep using the font keyboard to type in different fonts until you find an alternate option.