Nova Launcher has remained one of the most, probably the most popular launcher on Android for the better part of a decade now. It's simple, stock-Android-like, and still full of features. There are many new Nova Launcher features that you should try.
Here we covered some of the best Nova launcher tips and tricks you should try on your Android phone.
Content
Get iPhone-Like Widget Drawer
The Widget Library on iPhone is a much convenient way to browse available widgets. Even though Android had widget options, it lacked such a sophisticated window to get widgets. Nova Launcher gets the same on Android. When you long-press on the home screen, the Widgets drawer is no more an option between the Wallpapers and Settings options.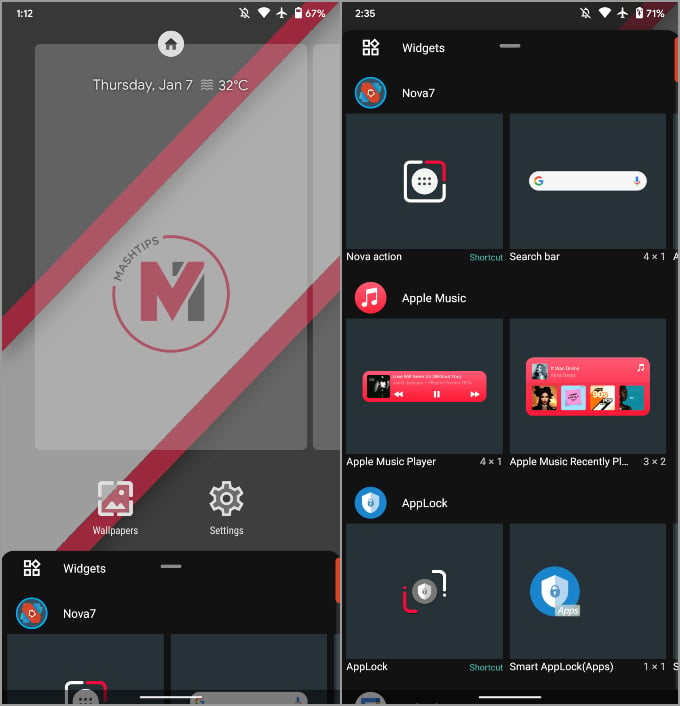 The Home Screen menu looks a lot more like the app drawer and can be brought up with an upward swipe. The "Widget Drawer" is similar to the iPhone WIdget Library. You can easily browse all the available for your Android phone.
Related: These Unique Android Launchers Redefine Your Android Home Screens
Get Minimal App Icon Packs
Nova Launcher can change the app icons style and design in a jiffy. If you do not like the filled app icons on your Android phone, you can change them to the new lined icons in Nova Launcher.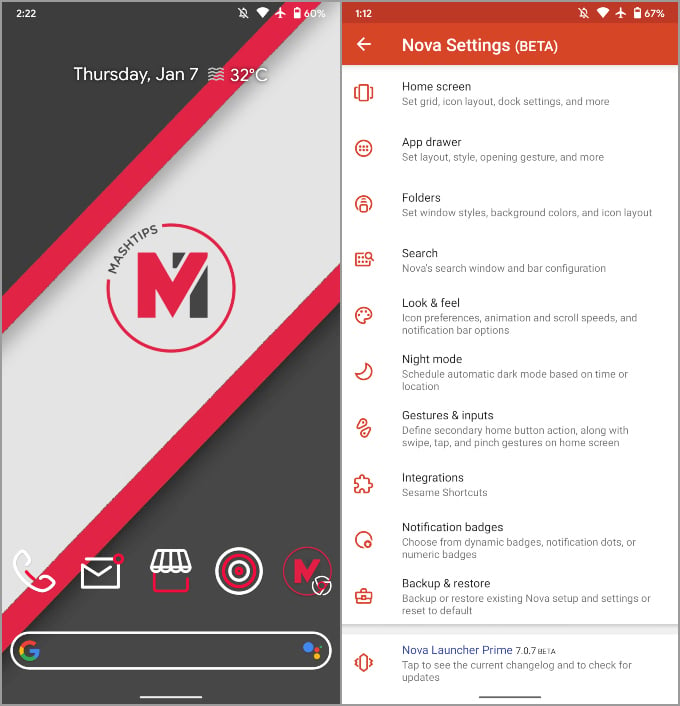 Long press Nova Launcher home screen.
Go to the Settings option.
Navigate to Home Screen > Icons.
Choose the new lined app icons pack from there.
You can also switch back to the normal app icons, instead of the new minimal icons in Nova Launcher. Also, Nova Launcher supports tons of third-party app icon packs.
Icon Swipe Gesture Actions
One of the best features of Nova Launcher has been the swipe up gesture on icons. This really helps limit the number of app icons on the home screen. Just to throw some numbers out there, you could have just 5 app icons on the home screen and still launch 15 apps.
Now with an additional swipe down gesture, you can double that number. These gestures don't necessarily have to trigger an app launch either. You can set them up to launch a shortcut or activity as well. You can add an icon swipe gesture in NOva Launcher by following this method.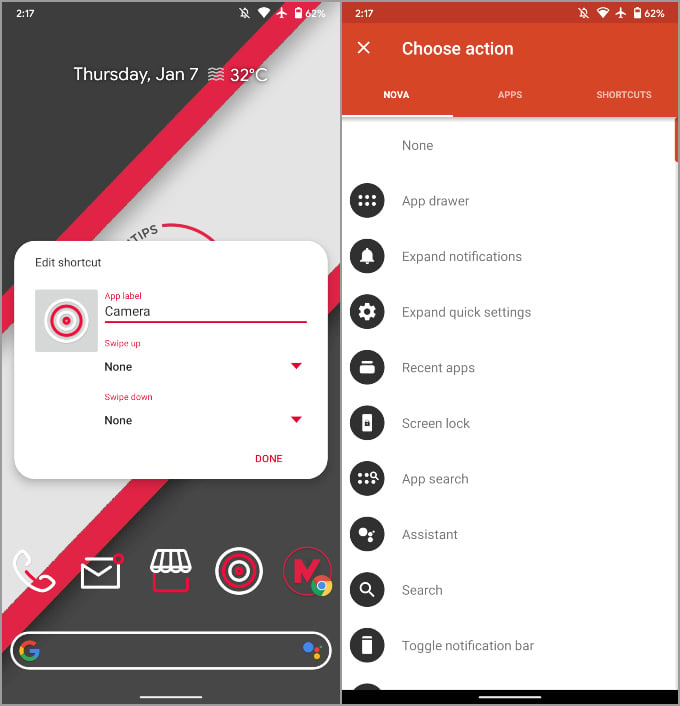 Long-press an app icon on Home Screen.
Choose the Edit option.
From the popup window, choose an action for "Swipe up" and "Swipe down" options.
Get Radial Folder Layout
When it comes to folder layouts, Nova Launcher hasn't had the most extensive set of options. But it still had enough folder layout styles for most people. You can now get a new "Radial" app folder layout design which arranges apps in circular.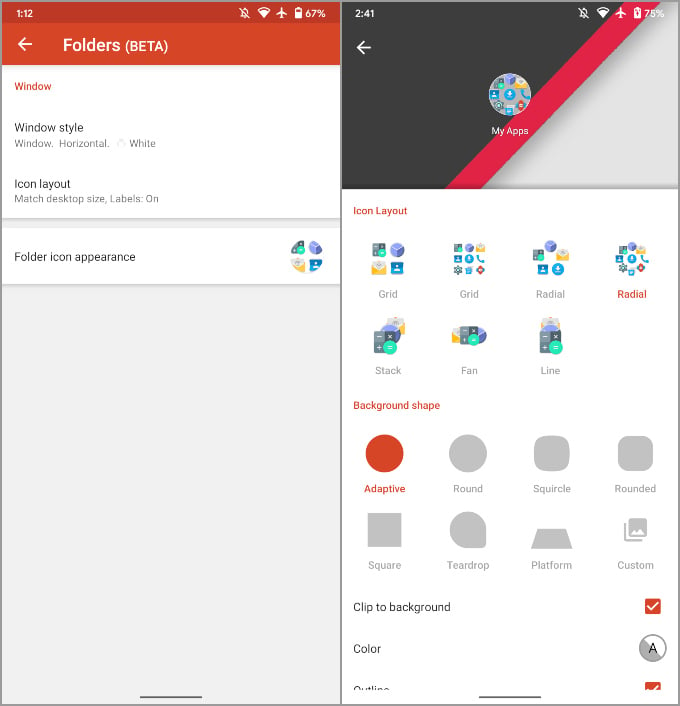 You can go to Nova Settings > Folders > Icon layout to see and get the radial folder layouts on Nova Launcher.
Related: How Change Instagram App Icon on iPhone and Android
Change Folder Scroll into Vertical
Another new Nova Launcher 7 feature is the ability to vertically scroll folders. Android has a single-page vertically scrolling app drawer for a while now. It's more convenient than multiple horizontal pages. The Nova Launcher brings vertically scrolling folders, but it's not quite a single-page design like the App drawer.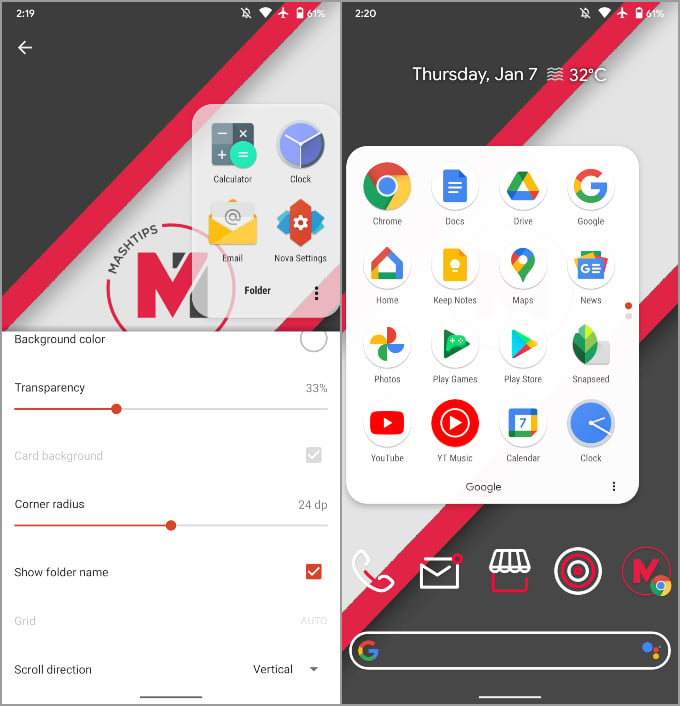 To change the folder scrolling style in Nova Launcher, go to Nova Settings > Folders > Window style. Scroll direction can be found at the bottom of the page.
Save Installed Apps as APKs
These days when pretty much everyone has fast enough unlimited data plans, we don't think much about app sizes. If you still live in a place where data plans are expensive, and maybe the internet isn't always available, this feature might come in handy. Nova Launcher lets you save any installed app as an APK file on your device. This way, you can have an offline backup of the app.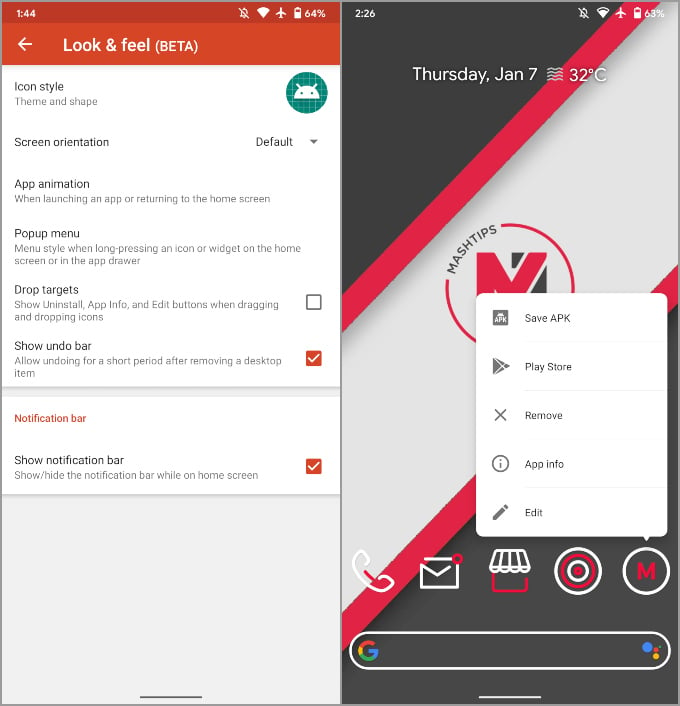 You can enable APK saving option by going to Nova Settings > Look and feel > Popup menu. Once enabled, long-press on any app icon from the home screen or app launcher and select Save APK.
Bottom Search Bar in App Drawer
Not many people probably use them but app drawer tabs are one of the best Nova Launcher features. You now have the option to move the app drawer search bar to the bottom instead of the top. This is, of course, especially helpful considering the large and tall phones these days.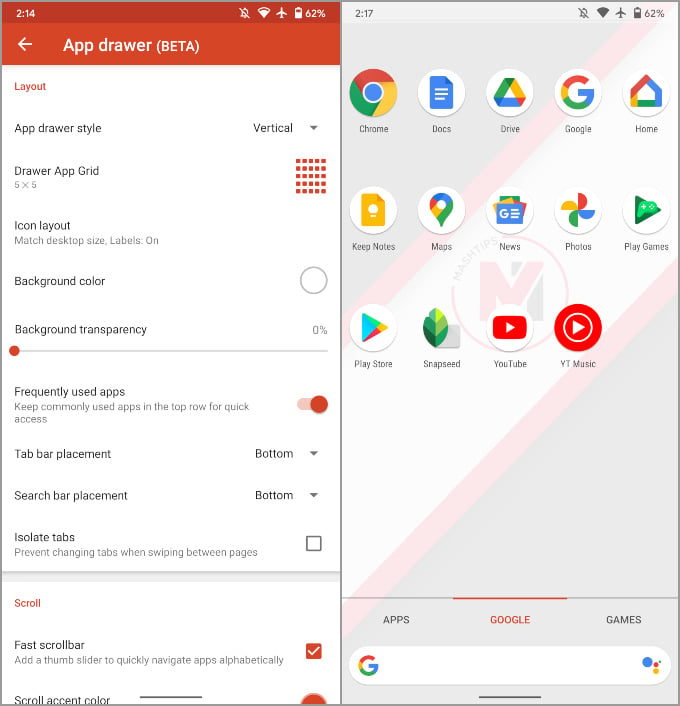 To move the app drawer search bar to the bottom on Android using NovaLauncher, go to Nova Settings > App drawer. Here you can choose Tab bar placement and Search bar placement from the drop-down menus.
Customize Home Screen Search Bar
Nova Launcher lets you customize the look and feel of the home screen Google search bar. You can adjust transparency, color, shadow, icon styles, types, etc. Nova Launcher now also lets you choose search providers. Currently, only Google and Play Store are supported.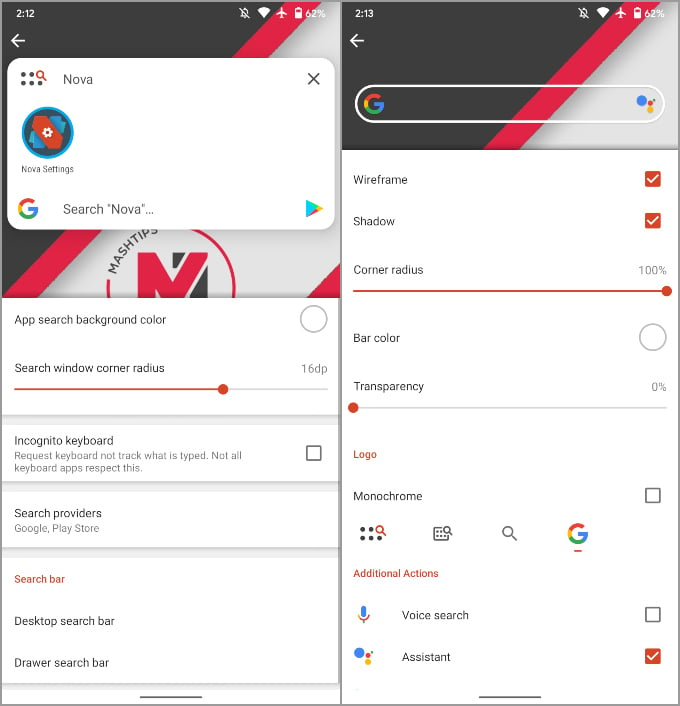 Long press the home screen to go to Nova Settings > Search. You will see the option to customize Home Screen search bar in Android using Nova Launcher.
Nova Launcher lets you customize your Android phone experience. Nova Launcher even lets you convert your Android look into an iPhone-like design with widgets and icons. Most of the tips mentioned above are based on the latest Nova Launcher 7 which is currently under Beta.