As exciting it is to buy new Samsung Galaxy S10, users get excited to buy new accessories for their phones. An excellent phone requires a good selection of accessories to protect galaxy S10 from accidental falls and drops. Samsung S10 has new existing features including powershare and on-display fingerprint scanner. When you shop for galaxy S10 case, you have to make sure the Samsung Case compatible with the powershare feature. Also, the screen protector should support the onscreen fingerprint scanner.
Here is the list of selected accessories like Galaxy S10 cases, screen protectors, shock-proof covers, compatible for Samsung Galaxy S10 and Plus.
Spigen Liquid Air Armor Designed for Samsung Galaxy S10 Case
A matte black, minimal cover for great protection. That is Spigen liquid Air Armor. A textured geometric print is present on the back cover. This print prevents the cover from fingerprint marks. This Samsung S10 Case also protects the cover from scratch marks and dirt. This design gives a minimal look to your phone. And the special, air cushioned corners for drop protection.
Spigen Liquid Armor has passed the Military drop test. The cover prevents the phone from heavy impact while accidentally falling. TPU material used to absorb the sudden shock from falling. This shock-proof cover provides flexibility so that you can remove the cover with ease.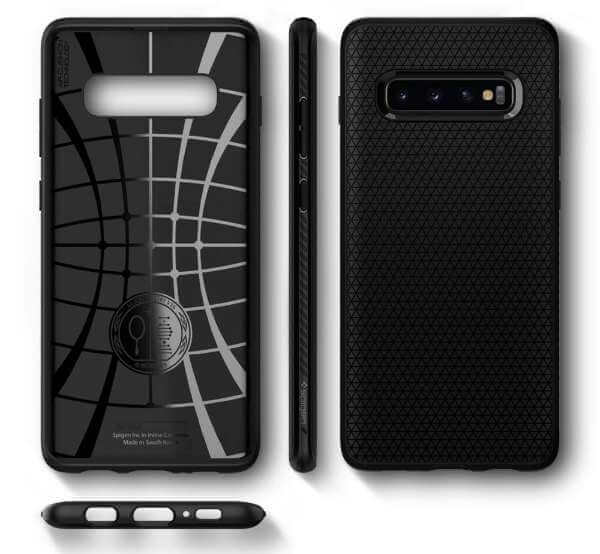 The raised bezels around the camera and at the edges, give protection to back camera and edges. You can use Spigen screen guards with this back cover. This shock-proof cover supports wireless charging and powershare. If you're a minimalist, this cover is perfect for you.
Buy on Amazon Spigen Liquid Air Armor case
Spigen Neo Hybrid Designed for Samsung Galaxy S10 Case
The new Samsung Galaxy edition Galaxy S10 series supports powershare. S10 can share its charge with different phones which support wireless charging. This property of S10 created a headache for the back cover developers. If the back cover cannot support powershare, the feature is useless.
Spigen took this opportunity and created a hybrid case for S10 series. With this hybrid galaxy S10 case, both wireless charging and powershare are possible. This S10 case is sleek and looks so thin on your phone. These qualities made Spigen hybrid cover a hit in Amazon store. Polycarbonate bumper will protect your phone from accidental falls. The buttons on the cover are responsive. It actually feels like there is no cover over the original buttons.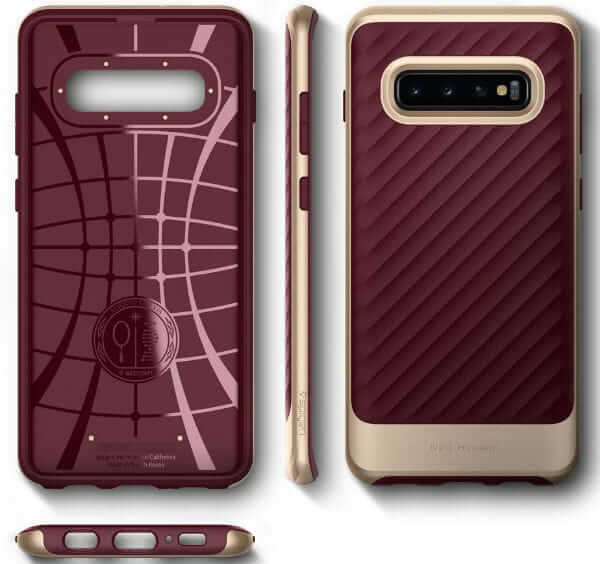 This Galaxy S10 case has passed the military drop test. This shock-proof cover provides full protection to your phone and the curved edges. Neo Hybrid cover also gives protection to the Galaxy S10 back camera. Spigen screen protectors are compatible with this case. This model is available for all S10 series. 4 different colors are there to choose from. Spigen Neo is the most recommended cover for S10, S10+, and S10e.
Buy from Amazon Spigen Hybrid Cases
TORRAS Slim Fit Galaxy S10 Case
An incredible ultra slim, hard plastic, the case for new galaxy S10. The case is so thin that it feels like your holding the phone without the case. Torras created a matte finished, hard plastic case for protecting the back glass of S10. The matte finish protects the cover from fingerprint marks. This Galaxy S10 thin case also gives a firm grip to the phone. The case is also scratch-proof. The back cover is .5mm raised around the back camera to protect it. With this back cover on, you can keep your phone on any surface. The edges are also raised to protect your screen.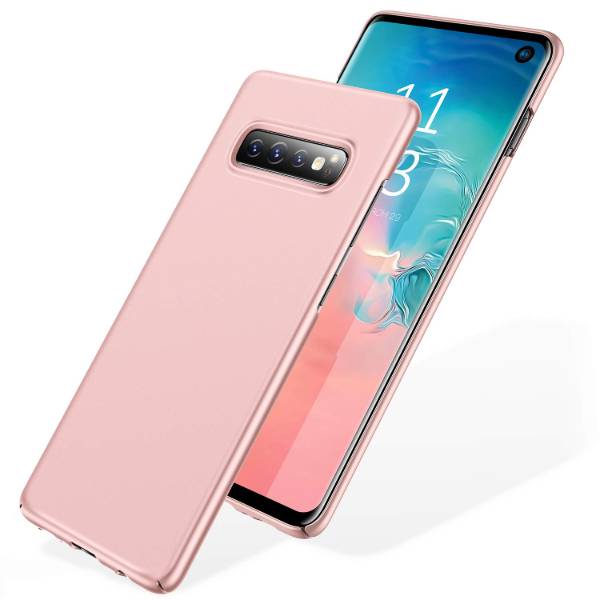 Torras slim fit cases support wireless charging and power share without any hassle. This model is available in four colors. All screen protectors are compatible with this Torras S10 back cover. A popsocket stick perfectly to the back of this cover. Keep in mind that this phone supports wireless charging. Be careful to fix your popsocket accordingly to accomodate wireless charging bed. A lifetime warranty is also provided by the company, for this hard-core slim cover.
Buy on Amazon Torras Slim Fit Case
Crystal Clear Shock Absorption TPU Rubber Gel Case from Anccer
A clear gel case that can protect your phone and helps you show off your phone colors. That is the Rubber gel case from Anccer. Crystal clear rubber gel case specially designed for Samsung S10. Anccer produces this cover only for the S10. It is not available for S10 plus and S10e. Anccer gel case uses TPU bumper cushions in the corners. This bumper cushion prevents heavy impact on phones while falling. Raised borders are present along the back camera for this Galaxy S10 case. These shock-proof covers protect the back camera from scratches while placing the phone down.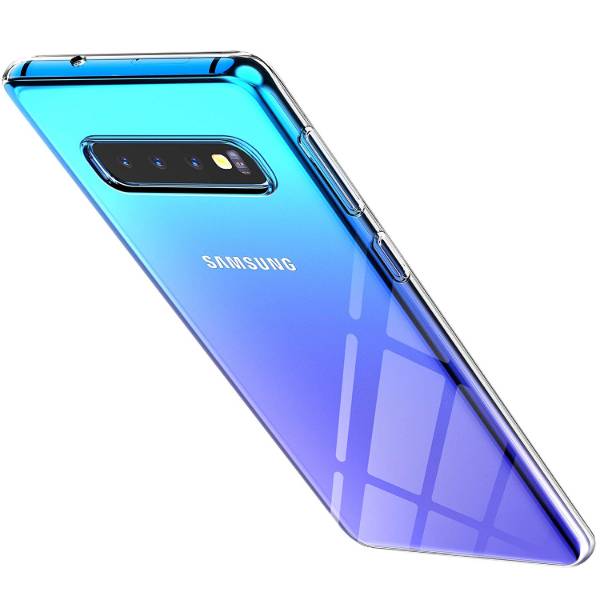 Anccer gel cover supports wireless charging and powershare. Full protection from air bubbles and watermarks on the cover. If the user is not satisfied with the product, they offer a replacement.
Buy on Amazon Rubber gel case from Anccer
Samsung S10 Leather Case by Snake Hive
The leather is a sign of luxury. Adding leather to your S10 gives a luxury look to your luxury phone. Snake Hive leather case, created by the finest leather manufactures in Europe. The outer case uses soft matte velvet leather for better grip. The smooth layer inside the case protects your screen from scratches from the cover.
Snake Hive uses TPU cases to give full protection from accidental falls. This leather cover can hold 3 credit cards in its front flap. This Samsung Galaxy S10 leather case also has a larger pocket to hold scribbled notes. The leather case gives better grip and fits beautifully. Velvet leather adds more life to the leather case.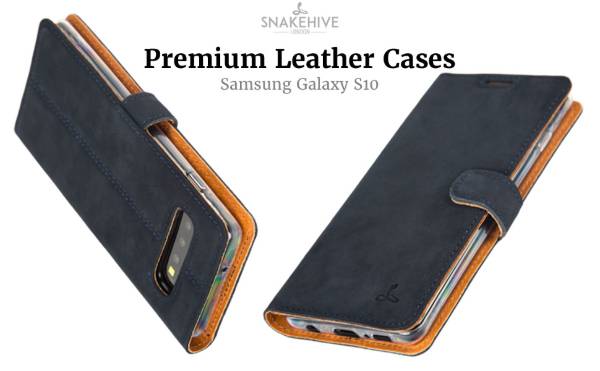 The leather flap is also used as a grip stand for watching movies with S10. You can adjust the flap to keep it on the table and watch movies in landscape mode. Wireless charging and powershare are not supported with this cover. You have to take out your phone to use the wireless facility. Although, this case has responsive buttons for a better feel of clicks. The ports are precision cut for easy access.
Buy on Amazon Snake Hive Leather Case
YouMaker Kickstand Case for Galaxy S10
YouMaker created a protective Kickstand case for Galaxy S10. This kickstand cover acts as a protective cover as well as a stand. Pull the Kickstand from behind and you can watch movies without holding the phone. This kickstand helps you watch movies both vertically and horizontally. You can vlog in portrait mode and watch videos in landscape mode.
The kickstand slides in and out making it easy to use. You can keep your phone anywhere you want with this kickstand. Now, talking about shock-proof cover, YouMaker gives Dual layer protection to your phone. A lightweight front frame and a TPU back cover give complete protection to your phone. The cover is of PC and TPU material for heavy protection. It also passed the military drop test so that your expensive phone will be in safe covers.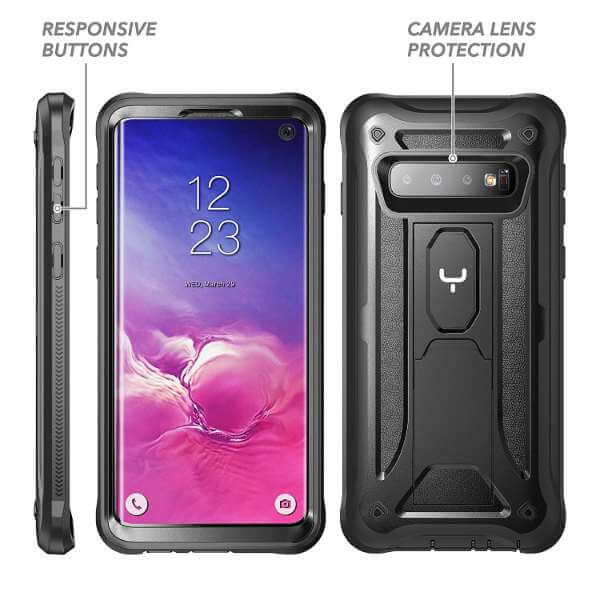 The front screen and the back camera gets protected by the Dual layer protection. The front frame does not have a screen guard. Once you fix both frames, it's a bit hard to remove. This is to ensure that the phone is safe during accidental falls. This shock-proof cover is non-slippery and thin for better grip and handling. Four colors are there to choose from in the Amazon store. A limited Lifetime warranty is available with each protective case. Since it has a kickstand, it does not support wireless charging and powershare.
Buy on Amazon YouMaker Kickstand case
i-Blason Cosmo Series Designed for Galaxy S10 Plus Case
A back case covers the beauty of a phone. Well, not with this case. i-Blason cosmo series is the new back covers for galaxy S10 with glitter design. A selection of beautiful back cover designs is available in the cosmo series. This shock-proof cover gives Dual layer protection for your Samsung S10 plus.
TPU bumper and PC back gives 360 protection to your smartphone. The corners are extra padded for protection from falling to the ground. The front frame is slightly raised to give extra protection to your screen. The main highlight is the glitter back cover. With 3 different designs and colors, your phone will look fabulous. These shock-proof protectors are thin and provide a firm grip while holding.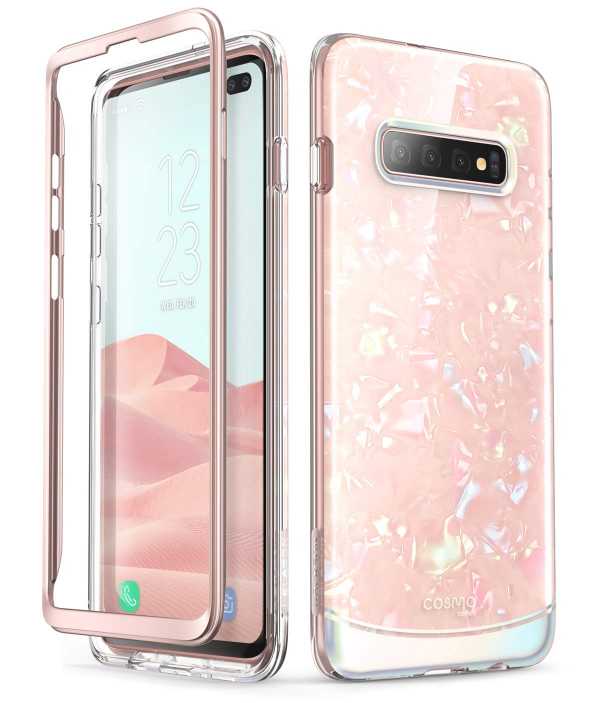 All the buttons are responsive and give immediate feedback. The ports are precision cut for easy plugging. Powershare and wireless charging are possible due to their thin and lightweight back. This model is available for the S10 plus only. Thin screen guards will not cause any problem while placing the front layer.
Buy on Amazon i-Blason Cosmo series Case
Galaxy S10 Screen Protector by Dome Glass
Most of the screen guard companies struggled with the on-screen fingerprint scanner. They were not able to install a perfect glass for S10 series. Dome Glass took this opportunity and used it perfectly. They used Liquid Optical Clear Adhesive Technology. LOCA Technology senses finger above the screen guard and unlocks your phone. A bit pressure required to recognize your fingerprint but it's worth it.
Using Liquid Dispersion Technology used to remove small scratches and marks. Also, Dome glass provides rounded edge protection by using a curved screen guard. So, this protector is perfect in every way. It supports on-screen fingerprint detection. Has curved edges to give full protection to your S10.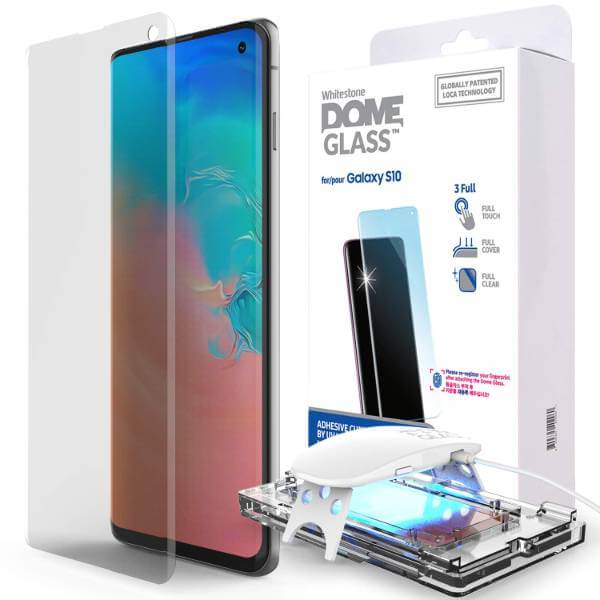 An installation kit which includes UV cure light is available with the product. This installation kit helps you to stick your screen guard onto your device. A video demo of installation is available in Amazon site. Dome glass provides a limited warranty to the screen protector. All damaged screen guards' warranty given by WhiteStone.
Buy on Amazon Screen Protector by Dome Glass
Top Ace Screen Protector for Samsung Galaxy S10 Plus
Samsung Galaxy introduced their first on-screen fingerprint unlocking in S10 series. Since then the many companies are trying to create the best screen protector for this model. Since tempered glasses stick above the sensor, fingerprint unlocking is not that accurate. This makes it slow, even not sensing the fingerprint. Top Ace introduced a hole above the fingerprint sensor. Now the phone screen will get protected and the fingerprint reader will work. This hole is sleek and small making no compromise in the looks of the phone.
This screen protector is available for Galaxy S10 plus only. It also protects the curved screen of this model. Special AB glue used for sticking on to the screen. This glue gets adsorbed to the screen without creating any air bubbles. 9H protective glass for high scratch-resistant. This screen also reduces the appearance of fingerprints on the screen. Top Ace screen guard's glue sticks together during high impact. This protects the screen and also stops glass pieces from spilling.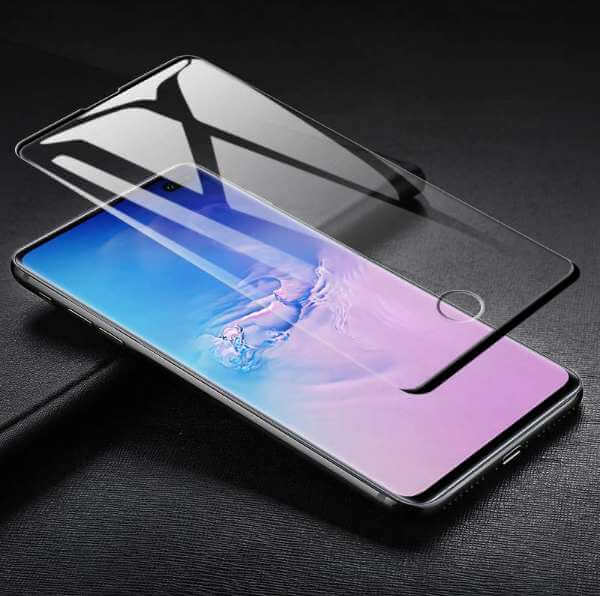 The screen guard comes with a cleaning cloth, Alcohol prep pad, and a dust absorption sticker. A 24 hours customer service is available for Top Ace. If you got any problems with the guard, they will replace the guard as soon as possible.
Buy on Amazon Top Ace Screen Protector
Port Plugs for Galaxy S10 Series
One thing Samsung carried from their previous versions is the headphone jack. Most of the smartphone companies removed headphone jack to make their phones slim. Samsung kept the 3mm jack and made their phone look sleek. The latest edition to the Galaxy S series is S10. This phone supports wireless charging. Samsung also introduced a new set of Bluetooth earbuds for wireless music.
Even though both Type-C charger slot and headphone jack exists, their use got reduced. To keep these ports dust-free and protect from water, we use port plugs. This port plug uses silicon polymer for their production. It helps in staying in ports firmly and not coming off often. You can use these plugs with your phone covers.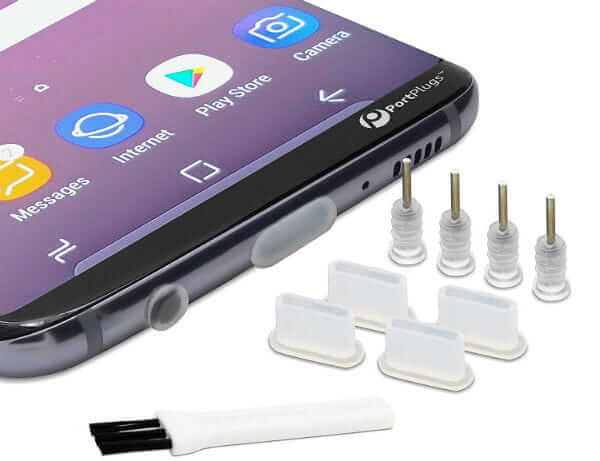 The package comes with 5 pairs of Type-C plugs and headphone jack plugs. Also a small brush to dust off the dirt. These port plus has a special design to fit any cover and any Type-C ports. They're easy to remove for deforming, thanks to the silicone polymer. You can also use this port plugs on your MacBook 2015, Pixel phones, all Type-C gadgets.
Buy on Amazon Silicone Port Plugs
Related Gadgets for Samsung Phones.
Best Protectors and Cases for Samsung Galaxy S10 & Plus
Samsung released its new edition of Galaxy series, the S10. Within the release, the Galaxy S10 series took over the market. The accessories for the new Galaxy S10 was available in Amazon as soon as the phone got released. Stop waiting and buy the perfect accessory for your perfect phone. Protect your favorite Galaxy S10 with case and make full use of it. You can visit the article here for the list of headphones, wireless chargers and other accessory lists for Samsung Galaxy S10. Make sure the selected product has an Amazon Tag. This tag shows the authenticity of the seller and the product. Happy exploring with your new Samsung Galaxy S10.